Abstract
Opisthorchis viverrini, a food-borne trematode parasite endemic in the lower Mekong countries, is conventionally diagnosed by stool examination. However, parasitological stool-based diagnosis can be unreliable in light infections. The goal of this study was to develop the immunodiagnosis of opisthorchiasis using cathepsin F cysteine protease of O. viverrini in both indirect and sandwich ELISA assays. A recombinant O. viverrini cathepsin F (rOv-CF) of 40 kDa was expressed in E. coli strain BL21 (DE3), affinity purified, and deployed in ELISA assays. Human sera from 272 cases were investigated by indirect rOv-CF-based ELISA. Positive antibody response to rOv-CF was found in 137 out of 272 cases (50.37 %) using a cutoff OD (0.400) determined by ROC analysis. In comparison to parasitological stool examined for fluke eggs, the gold standard, the rOv-CF indirect ELISA showed a sensitivity and specificity of 62.1 and 84.05 %, respectively. Serum antibody levels correlated well with egg counts per gram feces (EPG) (P < 0.001). In addition, chicken IgY antibody raised against rOv-CF was tested in a sandwich ELISA for detection of coproantigen in the feces of experimentally infected hamsters. The sandwich ELISA using this chicken IgY in combination with rabbit antibody to O. viverrini somatic antigens showed sensitivity and specificity of 93.3 and 78.57 %, respectively. Together, these findings indicated the potential of rOv-CF for diagnosis of opisthorchiasis, including for uses with chicken IgY for detection of coproantigens of O. viverrini.
This is a preview of subscription content, log in to check access.
Access options
Buy single article
Instant access to the full article PDF.
US$ 39.95
Price includes VAT for USA
Subscribe to journal
Immediate online access to all issues from 2019. Subscription will auto renew annually.
US$ 199
This is the net price. Taxes to be calculated in checkout.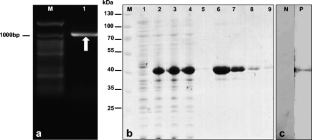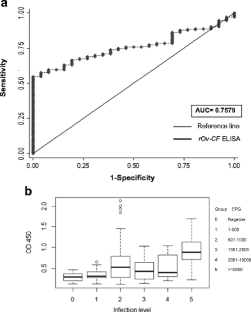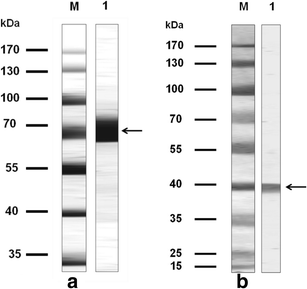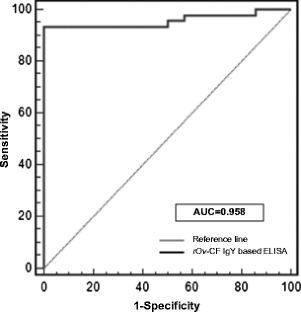 References
Akai PS, Pungpak S, Chaicumpa W et al (1995) Serum antibody responses in opisthorchiasis. Int J Parasitol 25:971–973

Bon B, Houze S, Talabani H et al (2010) Evaluation of a rapid enzyme-linked immunosorbent assay for diagnosis of strongyloidiasis. J Clin Microbiol 48:1716–1719

Chen W, Wang X, Li X et al (2011) Molecular characterization of cathepsin B from Clonorchis sinensis excretory/secretory products and assessment of its potential for serodiagnosis of clonorchiasis. Parasit Vectors 4:149. doi:10.1186/1756-3305-4-149

Cornelissen JBWJ, Gaasenbeek CPH, Borgsteede FHM et al (2001) Early immunodiagnosis of fasciolosis in ruminants using recombinant Fasciola hepatica cathepsin L-like protease. Int J Parasitol 31:728–737

Dixit AK, Dixit P, Sharma RL (2008) Immunodiagnostic-protective role of Cathepsin L cysteine proteinases secreted by Fasciola species. Vet Parasitol 154:177–184

Duenngai K, Boonmars T, Sithithaworn J, Sithithaworn P (2013) Diagnosis of early infection and post chemotherapeutic treatment by copro-DNA detection in experimental opisthorchiasis. Parasitol Res 112:271–278. doi:10.1007/s00436-012-3134-0

Kaewpitoon N, Kaewpitoon S-J, Pengsaa P, Sripa B (2008) Opisthorchis viverrini: the carcinogenic human liver fluke. World J Gastroenterol 14:666–674

Kang TH, Yun DH, Lee EHB et al (2004) A cathepsin F of adult Clonorchis sinensis and its phylogenetic conservation in trematodes. Parasitology 128:195–207

Klinkert MQ, Bommert K, Moser D et al (1991) Immunological analysis of cloned Schistosoma mansoni antigens Sm31 and Sm32 with sera of schistosomiasis patients. Trop Med Parasitol 42:319–324

Laha T, Pinlaor P, Mulvenna J et al (2007) Gene discovery for the carcinogenic human liver fluke, Opisthorchis viverrini. BMC Genomics 8:189

Laha T, Sripa J, Sripa B et al (2008) Asparaginyl endopeptidase from the carcinogenic liver fluke, Opisthorchis viverrini, and its potential for serodiagnosis. Int J Infect Dis 12:e49–e59

Lei J, Liu W, Sun C et al (2009) Detection of circulating antigen in serum of mice infected with Schistosoma japonicum by immunomagnetic bead ELISA based on IgY. Acta Trop 111:39–43

Lei J, Su B, Xu H et al (2011) Evaluation of an IgY-based immunomagnetic enzyme-linked immunosorbent assay system for detection of circulating Schistosoma japonicum antigen in serum samples from patients in China. Am J Trop Med Hyg 85:1054–1059. doi:10.4269/ajtmh.2011.11-0051

Mazidur Rahman SM, Choi M-H, Bae YM, Hong S-T (2012) Coproantigen capture ELISA for detection of Clonorchis sinensis infection in experimentally infected rats. Parasitol Int 61:203–207

McCarthy JS, Lustigman S, Yang G-J et al (2012) A research agenda for helminth diseases of humans: diagnostics for control and elimination programmes. PLoS Negl Trop Dis 6:e1601. doi:10.1371/journal.pntd.0001601

Miyamoto K, Kirinoki M, Matsuda H et al (2014) Field survey focused on Opisthorchis viverrini infection in five provinces of Cambodia. Parasitol Int 63:366–373. doi:10.1016/j.parint.2013.12.003

Müller B, Schmidt J, Mehlhorn H (2007) PCR diagnosis of infections with different species of Opisthorchiidae using a rapid clean-up procedure for stool samples and specific primers. Parasitol Res 100:905–909

Noya O, De Noya BA, Ballen DE et al (2001) Immunogenicity of synthetic peptides from the Sm31 antigen (cathepsin B) of the Schistosoma mansoni adult worms. Parasite Immunol 23:567–573

Pauly D, Chacana PA, Calzado EG, et al. (2011) IgY technology: extraction of chicken antibodies from egg yolk by polyethylene glycol (PEG) precipitation. J Vis Exp. 51. doi: 10.3791/3084

Pinlaor P, Kaewpitoon N, Laha T et al (2009) Cathepsin F cysteine protease of the human liver fluke, Opisthorchis viverrini. PLoS Negl Trop Dis 3:e398

Prasongwatana J, Laummaunwai P, Boonmars T, Pinlaor S (2013) Viable metacercariae of Opisthorchis viverrini in northeastern Thai cyprinid fish dishes--as part of a rational program for control of O. viverrini-associated cholangiocarcinoma. Parasitol Res 112:1323–7. doi:10.1007/s00436-012-3154-9

Robinson MW, Dalton JP, Donnelly S (2008) Helminth pathogen cathepsin proteases: it's a family affair. Trends Biochem Sci 33:601–608

Robinson MW, Brindley PJ, McKerrow JH, Dalton JP (2013) Trematode Cysteine Endopeptidases. In: Rawlings ND, Salvesen G (eds) Handbook of Proteolytic Enzymes, 3rd ed, vol 2. Acad Press, London, pp 1941–1949

Sayasone S, Utzinger J, Akkhavong K, Odermatt P (2015) Multiparasitism and intensity of helminth infections in relation to symptoms and nutritional status among children: a cross-sectional study in southern Lao People's Democratic Republic. Acta Trop 141:322–331. doi:10.1016/j.actatropica.2014.09.015

Sirisinha S, Chawengkirttikul R, Haswell-Elkins MR et al (1995) Evaluation of a monoclonal antibody-based enzyme linked immunosorbent assay for the diagnosis of Opisthorchis viverrini infection in an endemic area. Am J Trop Med Hyg 52:521–524

Sithithaworn P, Tesana S, Pipitgool V et al (1991) Opisthorchis viverrini: relationships between egg counts, worms recovered and antibody levels within an endemic community in northeast Thailand. Trans R Soc Trop Med Hyg 85:765–768

Sithithaworn P, Andrews RH, Van De N et al (2012) The current status of opisthorchiasis and clonorchiasis in the Mekong Basin. Parasitol Int 61:10–16

Sripa B, Kaewkes S (2000) Localisation of parasite antigens and inflammatory responses in experimental opisthorchiasis. Int J Parasitol 30:735–740

Sripa B, Bethony JM, Sithithaworn P et al (2011) Opisthorchiasis and Opisthorchis-associated cholangiocarcinoma in Thailand and Laos. Acta Trop 120:158–168

Sripa J, Brindley PJ, Sripa B et al (2012) Evaluation of liver fluke recombinant cathepsin B-1 protease as a serodiagnostic antigen for human opisthorchiasis. Parasitol Int 61:191–195

Watwiengkam N, Sithithaworn J, Duenngai K et al (2013) Improved performance and quantitative detection of copro-antigens by a monoclonal antibody based ELISA to diagnose human opisthorchiasis. Acta Trop 128:659–665. doi:10.1016/j.actatropica.2013.09.012

WHO (1995) Control of foodborne trematode infections: report of a WHO study group. World Health Organization. World Health Organ Tech Rep Ser 849:1–157

Wongratanacheewin S, Charupatana C, Bunnag D, Sirisinha S (1988) Effect of praziquantel treatment on antibody levels and lymphoproliferative responses in patients with opisthorchiasis. Southeast Asian J Trop Med Public Health 19:109–116

Wongratanacheewin S, Sermswan RW, Sirisinha S (2003) Immunology and molecular biology of Opisthorchis viverrini infection. Acta Trop 88:195–207

Wonkchalee O, Boonmars T, Kaewkes S et al (2011) Opisthorchis viverrini infection causes liver and biliary cirrhosis in gerbils. Parasitol Res 109:545–51. doi:10.1007/s00436-011-2282-y

Wu Z, Boonmars T, Boonjaraspinyo S et al (2011) Candidate genes involving in tumorigenesis of cholangiocarcinoma induced by Opisthorchis viverrini infection. Parasitol Res 109:657–73. doi:10.1007/s00436-011-2298-3

Yeoh K-W, Promthet S, Sithithaworn P et al (2015) Re-examination of Opisthorchis viverrini Infection in Northeast Thailand. Asian Pac J Cancer Prev 16:3413–3418
Acknowledgments
We gratefully acknowledge support from the Higher Education Research Promotion and National Research University Project of Thailand, Office of the Higher Education Commission, through the Health Cluster (SHeP-GMS), Khon Kaen University, from the Thailand Research Fund (TRF) grant number RTA 5680006, from the National Institute of Allergy and Infectious Diseases (NIAID), NIH, grant number P50AI098639 and from the United States Army Medical Research and Materiel Command (USAMRMC), contract number W81XWH-12-C-0267. BS is a TRF Senior Scholar. The content is solely the responsibility of the authors and does not necessarily represent the official views of the USAMRMC, NIAID or the NIH or the funders.
About this article
Cite this article
Teimoori, S., Arimatsu, Y., Laha, T. et al. Immunodiagnosis of opisthorchiasis using parasite cathepsin F. Parasitol Res 114, 4571–4578 (2015). https://doi.org/10.1007/s00436-015-4703-9
Received:

Accepted:

Published:

Issue Date:
Keywords
Opisthorchis viverrini

Cathepsin F

Immunodiagnosis

Coproantigen detection

Opisthorchiasis

Food-borne trematodiasis