Abstract
Natural killer (NK) cells are classic innate immune cells that play roles in many types of infectious disease. Recently, some new characteristics of NK cells were discovered. In this study, C57BL/6 mice were infected with Schistosoma japonicum for 5–6 weeks and lymphocytes were isolated from the spleen to detect some of the NK cell characteristics by multiparametric flow cytometry. The results revealed that the S. japonicum infection induced a large amount of NK cells, although the percentage of NK cells was not increased significantly. At the same time, the results showed that infected mouse splenic NK cells expressed increased levels of CD25 and CD69 and produced more IL-2, IL-4, and IL-17 and less IFN-γ after stimulation with PMA and ionomycin. This meant that NK cells played a role in S. japonicum infection. Moreover, decreased NKG2A/C/E (CD94) expression levels were detected on the surface of NK cells from infected mouse spleens, which might serve as a NK cell activation mechanism. Additionally, high levels of IL-10, but not PD-1, were expressed on the infected mouse NK cells, which implied that functional exhaustion might exist in the splenic NK cells from S. japonicum-infected mice. Collectively, our results suggest that NK cells play important roles in the course of S. japonicum infection.
This is a preview of subscription content, log in to check access.
Access options
Buy single article
Instant access to the full article PDF.
US$ 39.95
Price includes VAT for USA
Subscribe to journal
Immediate online access to all issues from 2019. Subscription will auto renew annually.
US$ 199
This is the net price. Taxes to be calculated in checkout.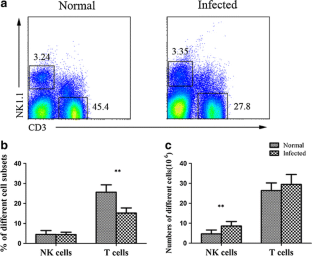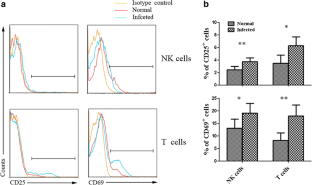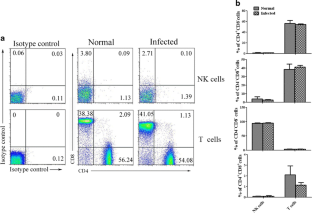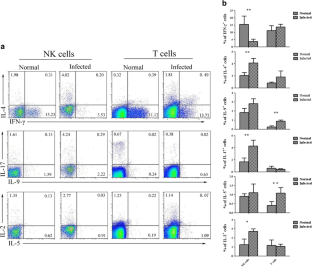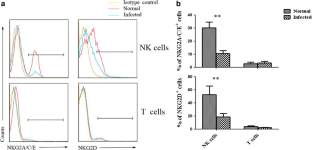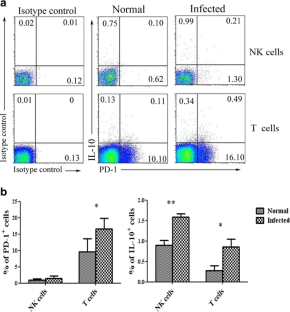 References
Addison EG, North J, Bakhsh I, Marden C, Haq S, Al-Sarraj S, Malayeri R, Wickremasinghe RG, Davies JK, Lowdell MW (2005) Ligation of CD8alpha on human natural killer cells prevents activation-induced apoptosis and enhances cytolytic activity. Immunology 116:354–361

Bengsch B, Martin B, Thimme R (2014) Restoration of HBV-specific CD8+ T cell function by PD-1 blockade in inactive carrier patients is linked to T cell differentiation. J Hepatol 61:1212–1219

Bernstein HB, Plasterer MC, Schiff SE, Kitchen CM, Kitchen S, Zack JA (2006) CD4 expression on activated NK cells: ligation of CD4 induces cytokine expression and cell migration. J Immunol 177:3669–3676

Bernstein HB, Wang G, Plasterer MC, Zack JA, Ramasastry P, Mumenthaler SM, Kitchen CM (2009) CD4+ NK cells can be productively infected with HIV, leading to downregulation of CD4 expression and changes in function. Virology 387:59–66

Blackburn SD, Wherry EJ (2007) IL-10, T cell exhaustion and viral persistence. Trends Microbiol 15:143–146

Chen AL, Qiu XY, Wang W, Zhou CL, Zeng X, Liu XJ, Qiu JF, Wang Y (2014) The quantitative and functional changes of NK cells in mice infected with Angiostrongylus cantonensis. Parasitol Res 113:2087–2094

Chen D, Luo X, Xie H, Gao Z, Fang H, Huang J (2013) Characteristics of IL-17 induction by Schistosoma japonicum infection in C57BL/6 mouse liver. Immunology 139:523–532

Cua DJ, Tato CM (2010) Innate IL-17-producing cells: the sentinels of the immune system. Nat Rev Immunol 10:479–489

Dunphy SE, Guinan KJ, Chorcora CN, Jayaraman J, Traherne JA, Trowsdale J, Pende D, Middleton D, Gardiner CM (2015) 2DL1, 2DL2 and 2DL3 all contribute to KIR phenotype variability on human NK cells. Genes Immun 16:301–310

Gunturi A, Berg RE, Forman J (2004) The role of CD94/NKG2 in innate and adaptive immunity. Immunol Res 30:29–34

Hofer E, Sobanov Y, Brostjan C, Lehrach H, Duchler M (2001) The centromeric part of the human natural killer (NK) receptor complex: lectin-like receptor genes expressed in NK, dendritic and endothelial cells. Immunol Rev 181:5–19

Hoffmann KF, Cheever AW, Wynn TA (2000) IL-10 and the dangers of immune polarization: excessive type 1 and type 2 cytokine responses induce distinct forms of lethal immunopathology in murine schistosomiasis. J Immunol 164:6406–6416

Hou X, Zhou R, Wei H, Sun R, Tian Z (2009) NKG2D-retinoic acid early inducible-1 recognition between natural killer cells and Kupffer cells in a novel murine natural killer cell-dependent fulminant hepatitis. Hepatology 49:940–949

Hou X, Yu F, Man S, Huang D, Zhang Y, Liu M, Ren C, Shen J (2012) Negative regulation of Schistosoma japonicum egg-induced liver fibrosis by natural killer cells. PLoS Negl Trop Dis 6, e1456

Kwilasz AJ, Grace PM, Serbedzija P, Maier SF, Watkins LR (2014) The therapeutic potential of interleukin-10 in neuroimmune diseases. Neuropharmacology 96:55–69

Lanier LL (2003) Natural killer cell receptor signaling. Curr Opin Immunol 15:308–314

Lanier LL (2008) Up on the tightrope: natural killer cell activation and inhibition. Nat Immunol 9:495–502

Licona-Limon P, Henao-Mejia J, Temann AU, Gagliani N, Licona-Limon I, Ishigame H, Hao L, Herbert DR, Flavell RA (2013) Th9 cells drive host immunity against gastrointestinal worm infection. Immunity 39:744–757

Luo X, Xie H, Chen D, Yu X, Wu F, Li L, Wu C, Huang J (2014) Changes in NK and NKT cells in mesenteric lymph nodes after a Schistosoma japonicum infection. Parasitol Res 113:1001–1009

McManus DP, Gray DJ, Li Y, Feng Z, Williams GM, Stewart D, Rey-Ladino J, Ross AG (2010) Schistosomiasis in the People's Republic of China: the era of the Three Gorges Dam. Clin Microbiol Rev 23:442–466

O'Sullivan TE, Sun JC (2015) Generation of natural killer cell memory during viral infection. J Innate Immun. doi: 10.1159/000375494

Pandya AD, Al-Jaderi Z, Hoglund RA, Holmoy T, Harbo HF, Norgauer J, Maghazachi AA (2011) Identification of human NK17/NK1 cells. PLoS One 6, e26780

Raczkowski F, Ritter J, Heesch K, Schumacher V, Guralnik A, Hocker L, Raifer H, Klein M, Bopp T, Harb H, Kesper DA, Pfefferle PI, Grusdat M, Lang PA, Mittrucker HW, Huber M (2013) The transcription factor interferon regulatory factor 4 is required for the generation of protective effector CD8+ T cells. Proc Natl Acad Sci U S A 110:15019–15024

Rodrigues V, Cordeiro-da-Silva A, Laforge M, Ouaissi A, Akharid K, Silvestre R, Estaquier J (2014) Impairment of T cell function in parasitic infections. PLoS Negl Trop Dis 8, e2567

Saunders M, Taubert A, Dafa'Alla T, Zahner H (2008) Effect of chemotherapeutic treatment on cytokine (IFN-gamma, IL-2, IL-4, IL-5, IL-10) gene transcription in response to specific antigens in Brugia malayi-infected Mastomys coucha. Parasitol Res 103:1163–1176

Singh A, Dey AB, Mohan A, Mitra DK (2014) Programmed death-1 receptor suppresses gamma-IFN producing NKT cells in human tuberculosis. Tuberculosis (Edinb) 94:197–206

Smyth MJ, Hayakawa Y, Takeda K, Yagita H (2002) New aspects of natural-killer-cell surveillance and therapy of cancer. Nat Rev Cancer 2:850–861

Sun H, Sun C, Xiao W (2014) Expression regulation of co-inhibitory molecules on human natural killer cells in response to cytokine stimulations. Cytokine 65:33–41

Sun R, Gao B (2004) Negative regulation of liver regeneration by innate immunity (natural killer cells/interferon-gamma). Gastroenterology 127:1525–1539

Vivier E, Tomasello E, Baratin M, Walzer T, Ugolini S (2008) Functions of natural killer cells. Nat Immunol 9:503–510

Vivier E, Raulet DH, Moretta A, Caligiuri MA, Zitvogel L, Lanier LL, Yokoyama WM, Ugolini S (2011) Innate or adaptive immunity? The example of natural killer cells. Science 331:44–49

Weaver CT, Hatton RD, Mangan PR, Harrington LE (2007) IL-17 family cytokines and the expanding diversity of effector T cell lineages. Annu Rev Immunol 25:821–852

Wherry EJ (2011) T cell exhaustion. Nat Immunol 12:492–499

Wilson MS, Mentink-Kane MM, Pesce JT, Ramalingam TR, Thompson R, Wynn TA (2007) Immunopathology of schistosomiasis. Immunol Cell Biol 85:148–154

Xie H, Chen D, Luo X, Gao Z, Fang H, Huang J (2013) Some characteristics of IL-5-producing T cells in mouse liver induced by Schistosoma japonicum infection. Parasitol Res 112:1945–1951

Zafirova B, Wensveen FM, Gulin M, Polic B (2011) Regulation of immune cell function and differentiation by the NKG2D receptor. Cell Mol Life Sci 68:3519–3529

Zhou H, Sun X, Lv Z, Shen Y, Peng H, Yang L, Zheng H, Fung MC, Cao J, Wu Z (2012) The secretions products from invading cercariae of S. japonicum (0-3hRP) restrain mouse dendritic cells to mature. Parasitol Res 110:119–126
Acknowledgments
This work was supported by a grant that was obtained from the College Scientific Research Projects in Guangzhou City (2012C117).
Additional information
Lu Li, Hefei Cha and Xiuxue Yu contributed equally to this work.
About this article
Cite this article
Li, L., Cha, H., Yu, X. et al. The characteristics of NK cells in Schistosoma japonicum-infected mouse spleens. Parasitol Res 114, 4371–4379 (2015). https://doi.org/10.1007/s00436-015-4674-x
Received:

Accepted:

Published:

Issue Date:
Keywords
Schistosoma japonicum

Spleen

NK cell