Abstract
In the present study, Henneguya bicaudi n. sp. infecting gills of Cirrhinus mrigala (Ham.) an Indian major carp from Harike Wetland in Punjab, India, has been described on the basis of myxospore morphology and partial amplification of the SSU rRNA gene. The pseudocysts of H. bicaudi n. sp. were located within the gill filament, whitish with round to irregular outer margin and 0.5–0.7 mm in diameter, 3–4 pseudocysts each containing about 50–100 myxospores were detected per gill. Mature myxospores were oblongate, 21.0 × 6.2 μm had a caudal appendage bifurcating into two thin thread-like branches starting posterior to middle of its length. The two equal polar capsules were 3.14 × 2.02 μm. The present species was compared morphologically with 21 species of the genus Henneguya infecting fresh water fishes in India and related geographical area. H. bicaudi n. sp. differed in having a peculiar oblongate shape and size of the myxospore, equal polar capsules, and also by the location of the point of bifurcation of the caudal appendage. 18S rDNA sequences of H. bicaudi n. sp. obtained revealed 96 % homogeneity with H. pseudorhinogobi (Kageyama et al., Fish Sci 75:657–663, 2009) infecting gill filaments of Rhinogobius sp. (Rutter, PANS Philad 56-90, 1897) in Japan. The intensity of infection was determined by the gill pseudocyst index (GPI) based on the number of countable pseudocysts by stereo zoom trinocular microscopy per gill (on one side).
This is a preview of subscription content, log in to check access.
Access options
Buy single article
Instant access to the full article PDF.
US$ 39.95
Price includes VAT for USA
Subscribe to journal
Immediate online access to all issues from 2019. Subscription will auto renew annually.
US$ 199
This is the net price. Taxes to be calculated in checkout.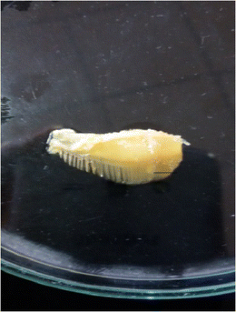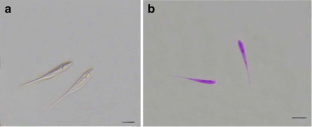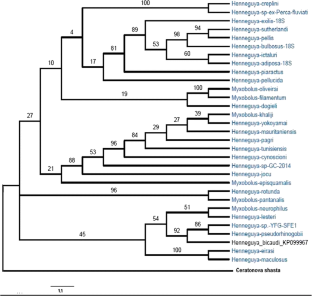 References
Adriano EA, Carriero MM, Maia AAM, Silva MRM, Naldoni J, Ceccarelli PS, Arana S (2012) Phylogenetic and host parasite relationship analysis of Henneguya multiplasmodialis n. sp. infecting Pseudoplatysoma spp. in Brazilian Pantanal Wetland. Vet Parasitol 185(2–4):110–120

Andree KB, Szekely C, Molnar K, Gresoviac SJ,  Hedrick RP (1999) Relationships among members of the genus Myxobolus (Myxozoa: Bilvalvidae) based on small subunit ribosomal DNA sequences. J Parasitol 85:68–74

Barta JR, Martin DS, Liberator PA, Dashkeviez M, Anderson JW, Feighner SD, Elbrecht A, Perkins-Barrow A, Jenkins MC, Danforth HD, Ruff MD, Profous-Juchelka H (1997) Phylogenetic relationships among eight Eimeria species infecting domestic fowl inferred using complete small subunit ribosomal DNA sequences. J Parasitol 83(2):262–271

Baxa DV, Stover A, Clifford M, Kurobe T, Teh SJ, Moyle P, Hedrick RP (2013) Henneguya sp. in yellowfin goby Acanthogobius flavimanus from the San Francisco Estuary. Springer Plus 2:420

Bhatt VS, Siddiqui WA (1964) Four new species of Myxosporidia from the Indian fresh water fish Ophiocephalus punctatus Bloch. J Protozool 11:314–316

Chen CL (1973) Classification of Pathogens. In: Illustration of fish pathogens in Hubei Province. Science Press, Beijing, pp 91–92

Carriero MM, Adriano EA, Silva MR, Ceccarelli PS, Maia AA (2013) Molecular phylogeny of the Myxobolus and Henneguya genera with several new South American species. Plos One 8(9):e73713

Chakravarty M (1939) Studies on Myxosporidia from the fishes of Bengal, with a note on the myxosporidea infection in aquarium fishes. Arch Protistenkd 92:169–178

Eiras JC (2002) Synopsis of the species of the genus Henneguya Thelohan, 1892 (Myxozoa: Myxosporea: Myxobolidae). Syst Parasitol 52:43–54

Eiras JC, Adriano EA (2012) A checklist of new species of Henneguya Thélohan, 1892 (Myxozoa: Myxosporea, Myxobolidae) described between 2002 and 2012. Syst Parasitol 83:95–104

Feist SW (2008) Myxozoan Diseases. In: Eiras JC, Segner H, Wahli T, Kapoor BG (eds) Fish diseases. Science Publishers, Enfield, pp 613–682

Feist SW, Longshaw M (2006) Phylum Myxozoa. In: Woo PTK (ed) Fish diseases and disorders: protozoan and metazoan infections, 2nd edn. CAB International, Oxfordshire, pp 230–296

Gabriel SAM, Edson AA, Marcia RMS, Paulo SC, Antônio AMM (2014) The morphological and molecular characterization of Henneguya rotunda n. sp., a parasite of the gill arch and fins of Salminus brasiliensis from the Mogi Guaçu River, Brazil. Parasitol Res 113:1703–1711

Ganpati PN (1941) On a new Myxosporidian, Henneguya otolithi n. sp. A tissue parasite from the bulbus arteriosus of two species of fish of the genus Otolithus. Proc Indian Acad Sci 13:135–150

Gurley MD (1893) On the classification of the myxosporidia, a group of protozoa parasites infecting fishes. Bull US Fish Comm 11:407–420

Kageyama T, Yanagida T, Ohara K, Yokoyama H (2009) Henneguya pseudorhinogobii n. sp. (Myxozoa: Myxosporea) parasitizing the gills of the freshwater goby Rhinogobius sp. from the Nagara River and redescription of Henneguya rhinogobii. Fish Sci 75:657–663

Kalavati C, Nandi NC (2007) Handbook of myxosporidean parasites of Indian fishes. ZSI, Kolkata, p 293

Kalavati C, Vaidehi J (1991) A new myxosporidian, Thelohanellus chilkensis n. sp. From the gills of the common carp, Labeo rohita in Chilka lake, Orissa, India. Uttar Pradesh J Zool 11(1):73–78

Liu Y, Whipps CN, Gu ZM, Zeng LB (2010) Myxobolus turpisrotundus (Myxosporea: Bivalvulida) spores with caudal appendages: investigating the validity of the genus Henneguya with morphological and molecular evidence. Parasitol Res 107:699–706

Lom J, Dyková I (1992) Myxosporidia (Phylum Myxozoa). In: Lom J, Dyková I (eds) Protozoan parasites of fishes. Developments in aquaculture and fisheries. El-sevier., Publ, Amsterdam, pp 159–235

Lom J, Dyková I (2006) Myxozoan genera: definition and notes on taxonomy, life-cycle terminology and pathogenic species. Folia Parasitol 53:1–36

Menon NG (1986) On a new myxosporidan Henneguya tachysuri sp. nov. from the marine cat fish Tachysurus thalassinus Ruppell from the Gulf of Mannar. J Mar Biol Assoc India 21(1/2):196–199

Narasimhamurti CC, Kalavati C (1975) A new myxosporidian parasite, Henneguya waltairensis n. sp. from the gills of Ohicephalus punctatus BI. Rev Parasitol 36(4):255–259

Székely C, Shaharom-Harrison F, Cech G, Ostoros K, Molnár K (2009) Myxozoan infections in fishes of the Tasik Kenyir Water Reservoir, Terengganu, Malaysia. Dis Aquat Org 83:37–48
Acknowledgments
Thanks are due to funding by the University Grants Commission (UGC) in the form of Major Research Project (MRP). The authors are grateful to Dr. Sukhbir Kaur, Professor in the Department of Zoology, Panjab University, Chandigarh for providing the infrastructure in her Laboratory, and special thanks are due to Dr. Jyoti Joshi, Department of Zoology, Panjab university, Chandigarh for guidance during the experimental work.
Compliance with ethical standards
The authors declare that they have no competing interests.
Financial support was given by the University Grants Commission(UGC) New Delhi in the form of Major Research Project (MRP).
State of welfare of animals
The fishes were collected in fresh form from the fisherman at the wetland site and also from the local fish market near the wetland site.
At the point of time when work began on the myxozoan parasites of freshwater fishes, we approached Committee for the Purpose of Control and Supervision of Experiments on Animals (CPCEA), Ministry of Environment, Forest and Climate Change, and Government of India for ethical clearance. The committee informed that CPCEA instruction's protocol for experimentation on fishes does not require CPCEA approval.
About this article
Cite this article
Kaur, H., Attri, R. Morphological and molecular characterization of Henneguya bicaudi n. sp. (Myxosporea: Myxobolidae) infecting gills of Cirrhinus mrigala (Ham.) in Harike Wetland, Punjab (India). Parasitol Res 114, 4161–4167 (2015). https://doi.org/10.1007/s00436-015-4647-0
Received:

Accepted:

Published:

Issue Date:
Keywords
Henneguya
Cirrhinus mrigala

18S rDNA

Phylogeny