Abstract
Fasciolosis, caused by Fasciola hepatica and Fasciola gigantica, is one of the most neglected tropical zoonotic diseases. One sustainable control strategy against these infections is the employment of vaccines that target proteins essential for parasites' invasion and nutrition acquiring processes. Cathepsin proteases are the most abundantly expressed proteins in Fasciola spp. that have been tested successfully as vaccines against fasciolosis in experimental as well as large animals because of their important roles in digestion of nutrients, invasion, and migration. Specifically, juvenile-specific cathepsin proteases are the more effective vaccines because they could block the invasion and migration of juvenile parasites whose immune evasion mechanism has not yet been fully developed. Moreover, because of high sequence similarity and identity of cathepsins from juveniles with those of adults, the vaccines can attack both the juvenile and adult stages. In this article, the characteristics and vaccine potentials of juvenile-specific cathepsins, i.e., cathepsins L and B, of Fasciola spp. were reviewed.
This is a preview of subscription content, log in to check access.
Access options
Buy single article
Instant access to the full article PDF.
US$ 39.95
Price includes VAT for USA
Subscribe to journal
Immediate online access to all issues from 2019. Subscription will auto renew annually.
US$ 199
This is the net price. Taxes to be calculated in checkout.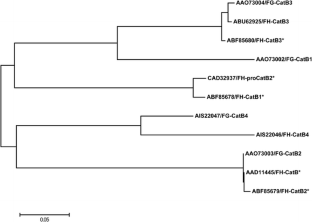 References
Anuracpreeda P, Songkoomkrong S, Sethadavit M, Chotwiwatthanakun C, Tinikul Y, Sobhon P (2011) Fasciola gigantica: production and characterization of a monoclonal antibody against recombinant cathepsin B3. Exp Parasitol 127:340–5

Anuracpreeda P, Srirakam T, Pandonlan S, Changklungmoa N, Chotwiwatthanakun C, Tinikul Y, Poljaroen J, Meemon K, Sobhon P (2014) Production and characterization of a monoclonal antibody against recombinant cathepsin L1 of Fasciola gigantica. Acta Trop 136:1–9

Beckham SA, Piedrafita D, Phillips CI, Samarawickrema N, Law RH, Smooker PM, Quinsey NS, Irving JA, Greenwood D, Verhelst SH, Bogyo M, Turk B, Coetzer TH, Wijeyewickrema LC, Spithill TW, Pike RN (2009) A major cathepsin B protease from the liver fluke Fasciola hepatica has atypical active site features and a potential role in the digestive tract of newly excysted juvenile parasites. Int J Biochem Cell Biol 41:1601–12

Bentancor A, Piacenza L, Carmona C (2002) Immunization with cathepsin L proteinases CL1 and CL2 secreted by Fasciola hepatica elicit a preferential type 1 response based on IgG2a antibodies in rats. J Helminthol 76:199–205

Berasaín P, Goñi F, McGonigle S, Dowd A, Dalton JP, Frangione B, Carmona C (1997) Proteinases secreted by Fasciola hepatica degrade extracellular matrix and basement membrane components. J Parasitol 83:1–5

Cancela M, Acosta D, Rinaldi G, Silva E, Durán R, Roche L, Zaha A, Carmona C, Tort JF (2008) A distinctive repertoire of cathepsins is expressed by juvenile invasive Fasciola hepatica. Biochimie 90:1461–75

Cancela M, Ruétalo N, Dell'Oca N, da Silva E, Smircich P, Rinaldi G, Roche L, Carmona C, Alvarez-Valín F, Zaha A, Tort JF (2010) Survey of transcripts expressed by the invasive juvenile stage of the liver fluke Fasciola hepatica. BMC Genomics 11:227

Carmona C, Dowd AJ, Smith AM, Dalton JP (1993) Cathepsin L proteinase secreted by Fasciola hepatica in vitro prevents antibody-mediated eosinophil attachment to newly excysted juveniles. Mol Biochem Parasitol 62:9–17

Changklungmoa N, Kueakhai P, Riengrojpitak S, Chaithirayanon K, Chaichanasak P, Preyavichyapugdee N, Chantree P, Sansri V, Itagaki T, Sobhon P (2013) Immunization with recombinant leucine aminopeptidase showed protection against Fasciola gigantica in mice. Parasitol Res 112:3653–9

Chantree P, Wanichanon C, Phatsara M, Meemon K, Sobhon P (2012) Characterization and expression of cathepsin B2 in Fasciola gigantica. Exp Parasitol 132:249–56

Chantree P, Phatsara M, Meemon K, Chaichanasak P, Changklungmoa N, Kueakhai P, Lorsuwannarat N, Sangpairoj K, Songkoomkrong S, Wanichanon C, Itagaki T, Sobhon P (2013) Vaccine potential of recombinant cathepsin B against Fasciola gigantica. Exp Parasitol 135:102–9

Chauvin A, Bouvet G, Boulard C (1995) Humoral and cellular immune responses to Fasciola hepatica experimental primary and secondary infection in sheep. Int J Parasitol 25:1227–41

Collins PR, Stack CM, O'Neill SM, Doyle S, Ryan T, Brennan GP, Mousley A, Stewart M, Maule AG, Dalton JP, Donnelly S (2004) Cathepsin L1, the major protease involved in liver fluke (Fasciola hepatica) virulence: propetide cleavage sites and autoactivation of the zymogen secreted from gastrodermal cells. J Biol Chem 279:17038–46

Corvo I, Cancela M, Cappetta M, Pi-Denis N, Tort JF, Roche L (2009) The major cathepsin L secreted by the invasive juvenile Fasciola hepatica prefers proline in the S2 subsite and can cleave collagen. Mol Biochem Parasitol 167:41–7

Cwiklinski K, Dalton JP, Dufresne PJ, La Course J, Williams DJ, Hodgkinson J, Paterson S (2015) The Fasciola hepatica genome: gene duplication and polymorphism reveals adaptation to the host environment and the capacity for rapid evolution. Genome Biol 16:71

Dalton JP, McGonigle S, Rolph TP, Andrews SJ (1996) Induction of protective immunity in cattle against infection with Fasciola hepatica by vaccination with cathepsin L proteinases and with hemoglobin. Infect Immun 64:5066–74

Fairweather I (1999) Mechanisms of fasciolicide action and drug resistance in Fasciola hepatica. In: Dalton JP (ed) Fasciolosis. CABI Publishing, Oxon, pp 225–76

Fairweather I, Boray JC (1999) Fasciolicides: efficacy, actions, resistance and its management. Vet J 158:81–112

Golden O, Flynn RJ, Read C, Sekiya M, Donnelly SM, Stack C, Dalton JP, Mulcahy G (2010) Protection of cattle against a natural infection of Fasciola hepatica by vaccination with recombinant cathepsin L1 (rFhCL1). Vaccine 28:5551–7

Grams R, Vichasri-Grams S, Sobhon P, Upatham ES, Viyanant V (2001) Molecular cloning and characterization of cathepsin L encoding genes from Fasciola gigantica. Parasitol Int 50:105–14

Haçariz O, Sayers G, McCullough M, Garrett M, O'Donovan J, Mulcahy G (2009) The effect of Quil A adjuvant on the course of experimental Fasciola hepatica infection in sheep. Vaccine 27:45–50

Halton DW (1997) Nutritional adaptations to parasitism within the platyhelminthes. Int J Parasitol 27:693–704

Harmsen MM, Cornelissen JB, Buijs HE, Boersma WJ, Jeurissen SH, van Milligen FJ (2004) Identification of a novel Fasciola hepatica cathepsin L protease containing protective epitopes within the propeptide. Int J Parasitol 34:675–82

Haroun ET, Hillyer GV (1986) Resistance to fascioliasis—a review. Vet Parasitol 20:63–93

Jayaraj R, Piedrafita D, Dynon K, Grams R, Spithill TW, Smooker PM (2009) Vaccination against fasciolosis by a multivalent vaccine of stage-specific antigens. Vet Parasitol 160:230–6

Jefferies JR, Campbell AM, van Rossum AJ, Barrett J, Brophy PM (2001) Proteomic analysis of Fasciola hepatica excretory-secretory products. Proteomics 1:1128–32

Kumar N, Anju V, Gaurav N, Chandra D, Samanta S, Gupta SC, Adeppa J, Raina OK (2012) Vaccination of buffaloes with Fasciola gigantica recombinant glutathione S-transferase and fatty acid binding protein. Parasitol Res 110:419–26

Larkin MA, Blackshields G, Brown NP, Chenna R, McGettigan PA, McWilliam H, Valentin F, Wallace IM, Wilm A, Lopez R, Thompson JD, Gibson TJ, Higgins DG (2007) Clustal W and Clustal X version 2.0. Bioinformatics 23:2947–8

Law RH, Smooker PM, Irving JA, Piedrafita D, Ponting R, Kennedy NJ, Whisstock JC, Pike RN, Spithill TW (2003) Cloning and expression of the major secreted cathepsin B-like protein from juvenile Fasciola hepatica and analysis of immunogenicity following liver fluke infection. Infect Immun 71:6921–32

López-Abán J, Casanueva P, Nogal J, Arias M, Morrondo P, Diez-Baños P, Hillyer GV, Martínez-Fernández AR, Muro A (2007) Progress in the development of Fasciola hepatica vaccine using recombinant fatty acid binding protein with the adjuvant adaptation system ADAD. Vet Parasitol 145:287–96

Maggioli G, Acosta D, Silveira F, Rossi S, Giacaman S, Basika T, Gayo V, Rosadilla D, Roche L, Tort J, Carmona C (2011a) The recombinant gut-associated M17 leucine aminopeptidase in combination with different adjuvants confers a high level of protection against Fasciola hepatica infection in sheep. Vaccine 29:9057–63

Maggioli G, Silveira F, Martín-Alonso JM, Salinas G, Carmona C, Parra F (2011b) A recombinant thioredoxin-glutathione reductase from Fasciola hepatica induces a protective response in rabbits. Exp Parasitol 129:323–30

Martínez-Moreno A, Martínez-Moreno FJ, Acosta I, Gutiérrez PN, Becerra C, Hernández S (1997) Humoral and cellular immune responses to experimental Fasciola hepatica infections in goats. Parasitol Res 83:680–6

McGonigle L, Mousley A, Marks NJ, Brennan GP, Dalton JP, Spithill TW, Day TA, Maule AG (2008) The silencing of cysteine proteases in Fasciola hepatica newly excysted juveniles using RNA interference reduces gut penetration. Int J Parasitol 38:149–55

Meemon K, Grams R, Vichasri-Grams S, Hofmann A, Korge G, Viyanant V, Upatham ES, Habe S, Sobhon P (2004) Molecular cloning and analysis of stage and tissue-specific expression of cathepsin B encoding genes from Fasciola gigantica. Mol Biochem Parasitol 136:1–10

Meemon K, Khawsuk W, Sriburee S, Meepool A, Sethadavit M, Sansri V, Wanichanon C, Sobhon P (2010) Fasciola gigantica: histology of the digestive tract and the expression of cathepsin L. Exp Parasitol 125:371–9

Morphew RM, Wright HA, LaCourse EJ, Woods DJ, Brophy PM (2007) Comparative proteomics of excretory-secretory proteins released by the liver fluke Fasciola hepatica in sheep host bile and during in vitro culture ex host. Mol Cell Proteomics 6:963–72

Norbury LJ, Beckham S, Pike RN, Grams R, Spithill TW, Fecondo JV, Smooker PM (2011) Adult and juvenile Fasciola cathepsin L proteases: different enzymes for different roles. Biochimie 93:604–11

Olaechea F, Lovera V, Larroza M, Raffo F, Cabrera R (2011) Resistance of Fasciola hepatica against triclabendazole in cattle in Patagonia (Argentina). Vet Parasitol 178:364–6

Overend DJ, Bowen FL (1995) Resistance of Fasciola hepatica to triclabendazole. Aust Vet J 72:275–6

Piacenza L, Acosta D, Basmadjian I, Dalton JP, Carmona C (1999) Vaccination with cathepsin L proteinases and with leucine aminopeptidase induces high levels of protection against fascioliasis in sheep. Infect Immun 67:1954–61

Preyavichyapugdee N, Sahaphong S, Riengrojpitak S, Grams R, Viyanant V, Sobhon P (2008) Fasciola gigantica and Schistosoma mansoni: vaccine potential of recombinant glutathione S-transferase (rFgGST26) against infections in mice. Exp Parasitol 119:229–37

Reszka N, Cornelissen JB, Harmsen MM, Bieńkowska-Szewczyk K, de Bree J, Boersma WJ, Rijsewijk FA (2005) Fasciola hepatica procathepsin L3 protein expressed by a baculovirus recombinant can partly protect rats against fasciolosis. Vaccine 23:2987–93

Robinson MW, Tort JF, Lowther J, Donnelly SM, Wong E, Xu W, Stack CM, Padula M, Herbert B, Dalton JP (2008) Proteomics and phylogenetic analysis of the cathepsin L protease family of the helminth pathogen Fasciola hepatica: expansion of a repertoire of virulence-associated factors. Mol Cell Proteomics 7:1111–23

Robinson MW, Menon R, Donnelly SM, Dalton JP, Ranganathan S (2009) An integrated transcriptomics and proteomics analysis of the secretome of the helminth pathogen Fasciola hepatica: proteins associated with invasion and infection of the mammalian host. Mol Cell Proteomics 8:1891–907

Robinson MW, Corvo I, Jones PM, George AM, Padula MP, To J, Cancela M, Rinaldi G, Tort JF, Roche L, Dalton JP (2011) Collagenolytic activities of the major secreted cathepsin L peptidases involved in the virulence of the helminth pathogen, Fasciola hepatica. PLoS Negl Trop Dis 5, e1012

Sansri V, Changklungmoa N, Chaichanasak P, Sobhon P, Meemon K (2013) Molecular cloning, characterization and functional analysis of a novel juvenile-specific cathepsin L of Fasciola gigantica. Acta Trop 128:76–84

Sansri V, Meemon K, Changklungmoa N, Kueakhai P, Chantree P, Chaichanasak P, Lorsuwannarat N, Itagaki T, Sobhon P (2015) Protection against Fasciola gigantica infection in mice by vaccination with recombinant juvenile-specific cathepsin L. Vaccine 33:1596–601

Sethadavit M, Meemon K, Jardim A, Spithill TW, Sobhon P (2009) Identification, expression and immunolocalization of cathepsin B3, a stage-specific antigen expressed by juvenile Fasciola gigantica. Acta Trop 112:164–73

Smooker PM, Jayaraj R, Pike RN, Spithill TW (2010) Cathepsin B proteases of flukes: the key to facilitating parasite control? Trends Parasitol 26:506–14

Spithill TW, Smooker PM, Copeman DB (1999) Fasciola gigantica: epidemiology, control, immunology and molecular biology. In: Dalton JP (ed) Fasciolosis. CABI Publishing, Oxon, pp 465–525

Tamura K, Stecher G, Peterson D, Filipski A, Kumar S (2013) MEGA6: Molecular Evolutionary Genetics Analysis version 6.0. Mol Biol Evol 30:2725–9

Tkalcevic J, Ashman K, Meeusen E (1995) Fasciola hepatica: rapid identification of newly excysted juvenile proteins. Biochem Biophys Res Commun 213:169–74

Wilson LR, Good RT, Panaccio M, Wijffels GL, Sandeman RM, Spithill TW (1998) Fasciola hepatica: characterization and cloning of the major cathepsin B protease secreted by newly excysted juvenile liver fluke. Exp Parasitol 88:85–94

Wongwairot S, Kueakhai P, Changklungmoa N, Jaikua W, Sansri V, Meemon K, Songkoomkrong S, Riengrojpitak S, Sobhon P (2015) Monoclonal antibody against recombinant Fasciola gigantica cathepsin L1H could detect juvenile and adult cathepsin Ls of Fasciola gigantica. Parasitol Res 114:133–40

Zawistowska-Deniziak A, Wasyl K, Norbury LJ, Wesołowska A, Bień J, Grodzik M, Wiśniewski M, Bąska P, Wędrychowicz H (2013) Characterization and differential expression of cathepsin L3 alleles from Fasciola hepatica. Mol Biochem Parasitol 190:27–37
Acknowledgments
This review article was supported by Faculty of Science, Mahidol University, and the Thailand Research Fund.
About this article
Cite this article
Meemon, K., Sobhon, P. Juvenile-specific cathepsin proteases in Fasciola spp.: their characteristics and vaccine efficacies. Parasitol Res 114, 2807–2813 (2015). https://doi.org/10.1007/s00436-015-4589-6
Received:

Accepted:

Published:

Issue Date:
Keywords
Fasciola spp.

Fasciolosis

Juvenile

Cathepsin L

Cathepsin B

Characterization

Vaccine