Abstract
High levels of protective immunity can be induced in different animals immunized with radiation-attenuated (RA) Schistosoma cercariae or schistosomula. However, the schistosome-derived molecules responsible for the strong protective effect elicited by RA schistosome larvae have not been identified or characterized. The 70-kDa heat shock proteins of schistosomes are considered major immunogens, and may play an important role in stimulating high levels of innate and adaptive immune responses in an RA schistosome vaccine model. Here, we demonstrate the immunobiological functions of Schistosoma japonicum heat shock protein 70 (SjHSP70) by investigating its expression profile in RA-schistosomula-derived cells, evaluating the protection induced by recombinant SjHSP70 (rSjHSP70) against cercarial challenge, and assaying the humoral and cellular immune responses to rSjHSP70 in BALB/c and C57BL/6 mice. The expression of SjHSP70 on the surfaces of cells from RA or normal schistosomula was determined with flow cytometry. Its expression was significantly higher on early RA schistosomula cells than on the cells from normal parasites. The protection afforded both BALB/c and C57BL/6 mice vaccinated with rSjHSP70 alone, rSj22.6 (a membrane-anchoring protein of S. japonicum) alone, or a combination of rSj22.6 and rSjHSP70 without adjuvant was evaluated. rSjHSP70 alone induced the highest protective effect against S. japonicum cercarial challenge, followed by the rSj22.6 plus rSjHSP70 combination and then rSj22.6 alone, in both mouse strains. Like ISA206 adjuvant, rSjHSP70 enhanced the protective efficacy induced by rSj22.6 in the C57BL/6 mouse strain. Antigen-specific IgG1 and IgG2a responses were detected with enzyme-linked immunosorbent assays in mice immunized with rSjHSP70 alone, rSj22.6 alone, or the rSj22.6 plus rSjHSP70 combination. Immunization with rSjHSP70 or the rSj22.6 plus rSjHSP70 combination induced mixed Th1/Th2-type antibody responses in BALB/c mice and a Th2-type antibody response in C57BL/6 mice. The profiles of cytokine production by splenic lymphocytes in both strains of mice immunized with the antigens described above were detected in vitro using a Cytometric Bead Array. The profiles of the proinflammatory cytokines interferon γ, tumor necrosis factor α, interleukin 6 (IL-6), and IL-17A and the regulatory cytokine IL-10 induced by the rSj22.6 plus rSjHSP70 combination were similar to those induced by rSj22.6 emulsified with the ISA206 adjuvant control. Like the ISA206 adjuvant, rSjHSP70 protein enhanced the proinflammatory and Th2-type or regulatory cytokine production induced by the rSj22.6 antigen. These results indicate that SjHSP70 is exposed on the surfaces of cells from RA schistosomula, and that rSjHSP70 protein is a promising protective antigen with a potential adjuvant function. Thus, SjHSP70 protein might play a key role in the protective immunity elicited by the RA schistosome vaccine.
This is a preview of subscription content, log in to check access.
Access options
Buy single article
Instant access to the full article PDF.
US$ 39.95
Price includes VAT for USA
Subscribe to journal
Immediate online access to all issues from 2019. Subscription will auto renew annually.
US$ 199
This is the net price. Taxes to be calculated in checkout.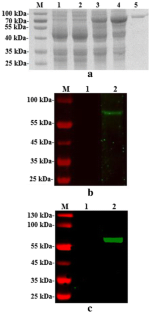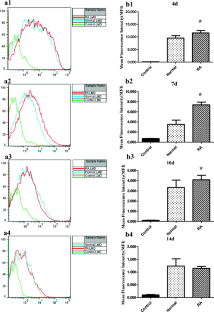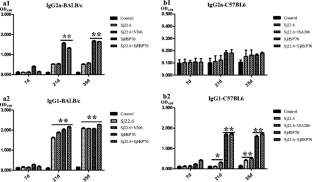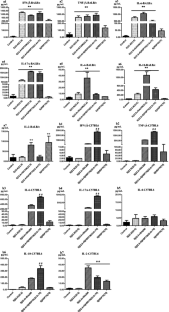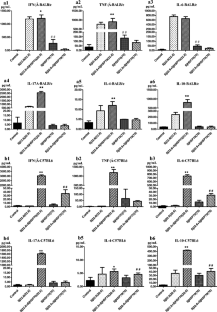 References
Alexandre CO, Camargo LM, Mattei D, Ferreira MU, Katzin AM, Camargo EP, da Silva LH (1997) Humoral immune response to the 72 kDa heat shock protein from Plasmodium falciparum in populations at hypoendemic areas of malaria in western Brazilian Amazon. Acta Trop 64(3–4):155–166

Aosai F, Chen M, Kang HK, Mun HS, Norose K, Piao LX, Kobayashi M, Takeuchi O, Akira S, Yano A (2002) Toxoplasma gondii-derived heat shock protein HSP70 functions as a B cell mitogen. Cell Stress Chaperones 7(4):357–364

Attallah AM, Attia H, Ismail H, Yones E, El-Nashar EM, Abd El-Kader K, Tabll A, Saad A, Sultan A (1999) Vaccination against Schistosoma mansoni infection using 74 kDa Schistosoma protein antigen. Vaccine 17(22):2786–2791

Bickle QD (2009) Radiation-attenuated schistosome vaccination—a brief historical perspective. Parasitology 136(12):1621–1632

Bivik C, Rosdahl I, Ollinger K (2007) Hsp70 protects against UVB induced apoptosis by preventing release of cathepsins and cytochrome c in human melanocytes. Carcinogenesis 28(3):537–544

Bonorino C, Nardi NB, Zhang X, Wysocki LJ (1998) Characteristics of the strong antibody response to mycobacterial Hsp70: a primary, T cell-dependent IgG response with no evidence of natural priming or gamma delta T cell involvement. J Immunol 161(10):5210–5216

Ford MJ, Bickle QD, Taylor MG (1984) Immunization of rats against Schistosoma mansoni using irradiated cercariae, lung schistosomula and liver-stage worms. Parasitology 89:327–344

Ganley-Leal LM, Guarner J, Todd CW, Da'Dara AA, Freeman GL Jr, Boyer AE, Harn DA, Secor WE (2005) Comparison of Schistosoma mansoni irradiated cercariae and Sm23 DNA vaccines. Parasite Immunol 27(9):341–349

Garrod TJ, Grubor-Bauk B, Gargett T, Li Y, Miller DS, Yu W, Major L, Burrell CJ, Wesselingh S, Suhrbier A, Gowans EJ (2014) DNA vaccines encoding membrane-bound or secreted forms of heat shock protein 70 exhibit improved potency. Eur J Immunol 44(7):1992–2002

Golden EB, Frances D, Pellicciotta I, Demaria S, Helen Barcellos-Hoff M, Formenti SC (2014) Radiation fosters dose-dependent and chemotherapy-induced immunogenic cell death. Oncoimmunology 3:e28518

Harrison RAI, Bickle QD, Kiare S, James ER, Andrews BJ, Sturrock RF, Taylor MG, Webbe G (1990) Immunization of baboons with attenuated schistosomula of Schistosoma haematobium: levels of protection induced by immunization with larvae irradiated with 20 and 60 krad. Trans Royal Soc Trop Med Hyg 84:89–99

Hartmann W, Singh N, Rathaur S, Brenz Y, Liebau E, Fleischer B, Breloer M (2014) Immunization with Brugia malayi Hsp70 protects mice against Litomosoides sigmodontis challenge infection. Parasite Immunol 36(4):141–149

He S, Yang L, Lv Z, Hu W, Cao J, Wei J, Sun X, Yang J, Zheng H, Wu Z (2010) Molecular and functional characterization of a mortalin-like protein from Schistosoma japonicum (SjMLP/hsp70) as a member of the HSP70 family. Parasitol Res 107(4):955–966

Hewitson JP, Hamblin PA, Mountford AP (2005) Immunity induced by the radiation-attenuated schistosome vaccine. Parasite Immunol 27(7–8):271–280

Jaiswal AK, Khare P, Joshi S, Kushawaha PK, Sundar S, Dube A (2014) Th1 stimulatory proteins of Leishmania donovani: comparative cellular and protective responses of rTriose phosphate isomerase, rProtein disulfide isomerase and rElongation Factor-2 in combination with rHSP70 against visceral Leishmaniasis. PLoS ONE 9(9):e108556

Jwo J, LoVerde PT (1989) The ability of fractionated sera from animals vaccinated with irradiated cercariae of Schistosoma mansoni to transfer immunity to mice. J Parasitol 75(2):252–260

Kaur T, Sobti RC, Kaur S (2011) Cocktail of gp63 and Hsp70 induces protection against Leishmania donovani in BALB/c mice. Parasite Immunol 33(2):95–103

King CH, Lett RR, Nanduri J, el Ibiary S, Peters PA, Olds GR, Mahmoud AA (1987) Isolation and characterization of a protective antigen for adjuvant-free immunization against Schistosoma mansoni. J Immunol 139(12):4218–4224

Lei ZL, Zheng H, Zhang LJ, Zhu R, Guo JG, Li SZ, Wang LY, Chen Z, Zhou XN (2011) Schistosomiasis status in People's Republic of China in 2010. Zhongguo Xue Xi Chong Bing Fang Zhi Za Zhi 23:599–604

Li J, Li KN, Gao J, Cui JH, Liu YF, Yang SJ (2008) Heat shock protein 70 fused to or complexed with Hantavirus nucleocapsid protein significantly enhances specific humoral and cellular immune responses in C57BL/6 mice. Vaccine 26(25):3175–3187

Lin D, Tian F, Wu H, Gao Y, Wu J, Zhang D, Ji M, McManus DP, Driguez P, Wu G (2011) Multiple vaccinations with UV-attenuated cercariae in pig enhance protective immunity against Schistosoma japonicum infection as compared to single vaccination. Parasit Vector 4:103

Majid AA, Bushara HO, Saad AM, Hussein MF, Taylor MG, Dargie JD, Marshall TF, Nelson GS (1980) Observations on cattle schistosomiasis in the Sudan, a study in comparative medicine. III. Field testing of an irradiated Schistosoma bovis vaccine. Am J Trop Med Hyg 29:452–455

Matsuda M, Hoshino T, Yamashita Y, Tanaka K, Maji D, Sato K, Adachi H, Sobue G, Ihn H, Funasaka Y, Mizushima T (2010) Prevention of UVB radiation-induced epidermal damage by expression of heat shock protein 70. J Biol Chem 285(8):5848–5858

Mayer MP, Bukau B (2005) Hsp70 chaperones: cellular functions and molecular mechanism. Cell Mol Life Sci 62(6):670–684

Mohamed RM, Aosai F, Chen M, Mun HS, Norose K, Belal US, Piao LX, Yano A (2003) Induction of protective immunity by DNA vaccination with Toxoplasma gondii HSP70, HSP30 and SAG1 genes. Vaccine 21(21–22):2852–2861

Mountford AP (1998) Vaccination against schistosomiasis: the case for lung-stage antigens. Parasitol Today 14:109–114

Mountford AP, Coulson PS, Wilson RA (1988) Antigen localization and the induction of resistance in mice vaccinated with irradiated cercariae of Schistosoma mansoni. Parasitology 97(Pt 1):11–25

Mulvenna J, Moertel L, Jones MK, Nawaratna S, Lovas EM, Gobert GN, Colgrave M, Jones A, Loukas A, McManus DP (2010) Exposed proteins of the Schistosoma japonicum tegument. Int J Parasitol 40(5):543–554

Nylandsted J, Gyrd-Hansen M, Danielewicz A, Fehrenbacher N, Lademann U, Høyer-Hansen M, Weber E, Multhoff G, Rohde M, Jäättelä M (2004) Heat shock protein 70 promotes cell survival by inhibiting lysosomal membrane permeabilization. J Exp Med 200(4):425–435

Planelles L, Thomas MC, Alonso C, López MC (2001) DNA immunization with Trypanosoma cruzi HSP70 fused to the KMP11 protein elicits a cytotoxic and humoral immune response against the antigen and leads to protection. Infect Immun 69(10):6558–6563

Radons J, Multhoff G (2005) Immunostimulatory functions of membrane-bound and exported heat shock protein 70. Exerc Immunol Rev 11:17–33

Richter D, Harn DA (1993) Candidate vaccine antigens identified by antibodies from mice vaccinated with 15- or 50-kilorad-irradiated cercariae of Schistosoma mansoni. Infect Immun 61(1):146–154

Richter D, Incani RN, Harn DA (1993) Isotype responses to candidate vaccine antigens in protective sera obtained from mice vaccinated with irradiated cercariae of Schistosoma mansoni. Infect Immun 61(7):3003–3011

Rico AI, Gironès N, Fresno M, Alonso C, Requena JM (2002) The heat shock proteins, Hsp70 and Hsp83, of Leishmania infantum are mitogens for mouse B cells. Cell Stress Chaperones 7(4):339–346

Roman E, Moreno C (1997) Delayed-type hypersensitivity elicited by synthetic peptides complexed with Mycobacterium tuberculosis hsp 70. Immunology 90(1):52–56

Schmitt E, Gehrmann M, Brunet M, Multhoff G, Garrido C (2007) Intracellular and extracellular functions of heat shock proteins: repercussions in cancer therapy. J Leukoc Biol 81(1):15–27

Simon MM, Reikerstorfer A, Schwarz A, Krone C, Luger TA, Jäättelä M, Schwarz T (1995) Heat shock protein 70 overexpression affects the response to ultraviolet light in murine fibroblasts. Evidence for increased cell viability and suppression of cytokine release. J Clin Invest 95(3):926–933

Su C, Ma L, Wang R, Hu X, Chen S, Shao L, Wu H, Shen L, Zhang Z, Wu G (1999) Studies on immunoprotection in mice after immunization with Schistosoma japonicum 22.6 kDa recombinant protein. Zhongguo Ji Sheng Chong Xue Yu Ji Sheng Chong Bing Za Zhi 17(5):288–291

Tian F, Hou M, Chen L, Gao Y, Zhang X, Ji M, Wu G (2013) Proteomic analysis of schistosomiasis japonica vaccine candidate antigens recognized by UV-attenuated cercariae-immunized porcine serum IgG2. Parasitol Res 112(8):2791–2803

Tobian AA, Canaday DH, Harding CV (2004) Bacterial heat shock proteins enhance class II MHC antigen processing and presentation of chaperoned peptides to CD4+ T cells. J Immunol 173(8):5130–5137

Tobian AA, Harding CV, Canaday DH (2005) Mycobacterium tuberculosis heat shock fusion protein enhances class I MHC cross-processing and -presentation by B lymphocytes. J Immunol 174(9):5209–5214

Vega VL, Rodríguez-Silva M, Frey T, Gehrmann M, Diaz JC, Steinem C, Multhoff G, Arispe N, De Maio A (2008) Hsp70 translocates into the plasma membrane after stress and is released into the extracellular environment in a membrane-associated form that activates macrophages. J Immunol 180(6):4299–4307

Waine GJ, Mazzer DR, Brandt ER, McManus DP (1997) A dominant B-cell epitope on the 22 kDa tegumental membrane-associated antigen of Schistosoma japonicum maps to an EF-hand calcium binding domain. Parasite Immunol 19(8):337–345

Wang S, Zhu X, Yang Y, Yang J, Gu Y, Wei J, Hao R, Boireau P, Cui S (2009) Molecular cloning and characterization of heat shock protein 70 from Trichinella spiralis. Acta Trop 110(1):46–51

Wang X, Zhang L, Chi Y, Hoellwarth J, Zhou S, Wen X, He L, Liu F, Wu C, Su C (2010) The nature and combination of subunits used in epitope-based Schistosoma japonicum vaccine formulations affect their efficacy. Parasite Vector 3:109

Watanabe H, Numata K, Ito T, Takagi K, Matsukawa A (2004) Innate immune response in Th1- and Th2-dominant mouse strains. Shock 22(5):460–466

Williams JH, Ireland HE (2008) Sensing danger–Hsp72 and HMGB1 as candidate signals. J Leukoc Biol 83(3):489–492

Wilson RA, Coulson PS (2009) Immune effector mechanisms against schistosomiasis: looking for a chink in the parasite's armour. Trends Parasitol 25(9):423–431

Yang LL, Lv ZY, Hu SM, He SJ, Li ZY, Zhang SM, Zheng HQ, Li MT, Yu XB, Fung MC, Wu ZD (2009) Schistosoma japonicum: proteomics analysis of differentially expressed proteins from ultraviolet-attenuated cercariae compared to normal cercariae. Parasitol Res 105(1):237–248

Zhang YL, Jia K, Zhao BP, Li Y, Yuan CX, Yang JM, Lin JJ, Feng XG (2012) Identification of Th1 epitopes within molecules from the lung-stage schistosomulum of Schistosoma japonicum by combining prediction analysis of the transcriptome with experimental validation. Parasitol Int 61(4):586–593

Zhou F, Lauretti E, di Meco A, Ciric B, Gonnella P, Zhang GX, Rostami A (2013) Intravenous transfer of apoptotic cell-treated dendritic cells leads to immune tolerance by blocking Th17 cell activity. Immunobiology 218(8):1069–1076
Acknowledgments
This study was supported by the Fund on Basic Scientific Research Project of Nonprofit Central Research Institutions of China (grant no. 2013JB15) and the Fund on Sci & Tech Innovation Program of the Chinese Academy of Agricultural Sciences.
Additional information
Ming Ming Duan and Rui Min Xu contributed equally to this work.
About this article
Cite this article
Duan, M.M., Xu, R.M., Yuan, C.X. et al. SjHSP70, a recombinant Schistosoma japonicum heat shock protein 70, is immunostimulatory and induces protective immunity against cercarial challenge in mice. Parasitol Res 114, 3415–3429 (2015). https://doi.org/10.1007/s00436-015-4567-z
Received:

Accepted:

Published:

Issue Date:
Keywords
Heat shock protein 70

Schistosoma japonicum

Immunostimulation

Adjuvant