Abstract
Sarcocystis nesbitti, using snakes as the definitive host, is a causative agent of acute human muscular sarcocystosis in Malaysia. Therefore, it is important to explore the distribution and prevalence of S. nesbitti in snakes. Nevertheless, epizootiological information of S. nesbitti in snakes remains insufficient because few surveys have assessed Sarcocystis infection in snakes in endemic countries. In Japan, snakes are popular exotic pet animals that are imported from overseas, but the degree of Sarcocystis infection in them remains unclear. The possibility exists that muscular sarcocystosis by S. nesbitti occurs in contact with captive snakes in non-endemic countries. For a total of 125 snake faecal samples from 67 snake species collected at animal hospitals, pet shops and a zoo, this study investigated the presence of Sarcocystis using polymerase chain reaction (PCR) for the 18S ribosomal RNA gene (18S rDNA). Four (3.2 %) faecal samples were positive by PCR. Phylogenetic analysis of the 18S rDNA sequences obtained from four amplification products revealed one isolate from a beauty snake (Elaphe taeniura), Sarcocystis zuoi, which uses rat snakes as the definitive host. The isolate from a Macklot's python (Liasis mackloti) was closely related with unidentified Sarcocystis sp. from reticulated pythons in Malaysia. The remaining two isolates from tree boas (Corallus spp.) were closely related with Sarcocystis lacertae, Sarcocystis gallotiae and unidentified Sarcocystis sp. from smooth snakes, Tenerife lizards and European shrews, respectively. This report is the first of a study examining the distribution of Sarcocystis species in captive snakes in Japan.
This is a preview of subscription content, log in to check access.
Access options
Buy single article
Instant access to the full article PDF.
US$ 39.95
Price includes VAT for USA
Subscribe to journal
Immediate online access to all issues from 2019. Subscription will auto renew annually.
US$ 199
This is the net price. Taxes to be calculated in checkout.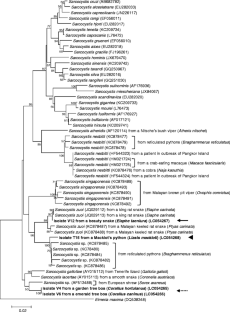 References
AbuBaker S, Teoh BT, Sam SS, Chang LY, Johari J, Hooi PS, Lakhbeer-Singh HK, Italiano CM, Omar SFS, Wong KT, Ramli N, Tan CT (2013) Outbreak of human infection with Sarcocystis nesbitti, Malaysia, 2012. Emerg Infect Dis 19:1989–1991

Beaver PC, Maleckar JR (1981) Sarcocystis singaporensis Zaman and Colley (1975) 1976, Sarcocystis villivillosi sp. n., and Sarcocystis zamani sp. n: development, morphology, and persistence in the laboratory rat, Rattus norvegicus. J Parasitol 67:241–256

Bledsoe B (1980) Sarcocystis idahoensis sp. n. in deer mice Peromyscus maniculatus (Wagner) and gopher snakes Pituophis melanoleucus (Daudin). J Protozool 27:93–102

Enzeroth R, Chobotar B, Scholtyseck E (1985) Sarcocystis crotali sp. n. with the Mojave rattlesnake (Crotalus scutulatus scutulatus)-mouse (Mus musculus) cycle. Arch Protistenkd 129:19–23

Esposito DH, Stich A, Epelboin L, Malvy D, Han PV, Bottieau E, da Silva A, Zanger P, Slesak G, van Genderen PJJ, Rosenthal BM, Cramer JP, Visser LG, Munoz J, Drew CP, Goldsmith CS, Steiner F, Wagner N, Grobusch MP, Plier DA, Tappe D, Sotir MJ, Brown C, Brunette GW, Fayer R, von Sonnenburg F, Neumayr A, Kozarsky PE, Tioman Island Sarcocystosis Investigation Team (2015) Acute muscular sarcocystosis: an international investigation among ill travelers returning from Tioman Island, Malaysia, 2011–2012. Clin Infect Dis 59:1401–1410

Fayer R, Esposito DH, Dubey JP (2015) Human infections with Sarcocystis species. Clin Microbiol Rev 28:295–311

Häfner U, Matuschka FR (1984) Life cycle studies on Sarcocystis dirumpens sp. n. with regard to host specificity. Parasitol Res 70:715–720

Hu JJ, Meng Y, Guo YM, Liao JY, Song JL (2012) Completion of the life cycle of Sarcocystis zuoi, a parasite from the Norway rat, Rattus norvegicus. J Parasitol 98:550–553

Jäkel T (1995) Cyclic transmission of Sarcocystis gerbilliechis n. sp. by the Arabian saw-scaled viper, Echis coloratus, to rodents of the subfamily Gerbilidae. J Parasitol 81:626–631

Lau YL, Chang PY, Subramaniam V, Ng YH, Mahmud R, Ahmad AF, Fong MY (2013) Genetic assemblage of Sarcocystis spp. in Malaysian snakes. Parasite Vector 6:257

Lau YL, Chang PY, Tan CT, Fong MY, Mahmud R, Wong KT (2014) Sarcocystis nesbitti infection in human skeletal muscle: possible transmission from snakes. Am J Trop Med Hyg 90:361–364

Linday DS, Upton SJ, Blagburn BL, Toivio-Kinnucan M, Dubey JP, McAllister CT, Trauth SE (1992) Demonstration that Sarcocystis montanensis has a speckled kingsnake—prairie vole life cycle. J Helminthol Soc Wash 59:9–15

Matuschka FR (1986) Sarcocystis clethrionomyelaphis n. sp. from snakes of the genus Elaphe and different voles of the family Arvicolidae. J Parasitol 72:226–231

Matuschka FR, Bannert B (1987) Cannibalism and autotomy as predator–prey relationship for monoxenous sarcosporidia. Parasitol Res 74:88–93

Matuschka FR, Heydorn AO, Mehlhorn H, Abd-Al-Aal Z, Diesing L, Biehler A (1987) Experimental transmission of Sarcocystis muriviperae n. sp. to laboratory mice by sporocysts from the Palestinian viper (Vipera palaestinae): a light and electron microscope study. Parasitol Res 73:33–40

Morsy K, Bashtar AR, Abdel-Ghaffar F, Mehlhorn H, Al-Quraishy S, Al-Ghamdi A, Koura E, Maher S (2012) Sarcocystis acanthocolubri sp. n. infecting three lizard species of the genus Acanthodactylus and the problem of host specificity. Light and electron microscopic study. Parasitol Res 110:355–362

Munday BL, Mason RW (1980) Sarcocystis and related organisms in Australian wildlife. III. Sarcocystis murinotechis sp. n. life cycle in rats (Rattus, Pseudimys and Mastocomys spp.) and tiger snakes (Notechis ater). J Wildl Dis 16:83–87

Odening K (1998) The present state of species-systematics in Sarcocystis Lankester, 1882 (Protista, Sporozoa, Coccidia). Syst Parasitol 41:209–233

Slapeta JR, Modry D, Koudela B (1999) Sarcocystis atheridis sp. nov., a new sarcosporidian coccidium from Nitsche's bush viper, Atheris nitschei Tornier, 1902, from Uganda. Parasitol Res 85:758–764

Slapeta JR, Modry D, Votypka J, Jirku M, Koudela B, Lukes J (2001) Multiple origin of the dihomoxenous life cycle in sarcosporidian. Int J Parasitol 31:413–417

Slapeta JR, Modry D, Votypka J, Jirku M, Lukes J, Koudela B (2003) Evolutionary relationships among cyst-forming coccidia Sarcocystis spp. (Alveolata: Apicomplexa: Coccidia) in endemic African tree vipers and perspective for evolution of heteroxenous life cycle. Mol Phylogenet Evol 27:464–475

Tian M, Chen Y, Wu L, Rosenthal BM, Liu X, He Y, Dunams DB, Cui L, Yang Z (2012) Phylogenetic analysis of Sarcocystis nesbitti (Coccidia: Sarcocystidae) suggests a snake as its probable definitive host. Vet Parasitol 183:373–376

Volf J, Modry D, Koudela B, Slapeta JR (1999) Discovery of the life cycle of Sarcocystis lacertae Babudieri, 1932 (Apicomplexa: Sarcocystidae), with a species redescription. Folia Parasitol 46:257–262
Acknowledgments
This study was supported by a Grant-in-Aid for Scientific Research (C) (26460818) from the Japan Society for the Promotion of Sciences (JSPS).
Conflict of interest
None declared.
About this article
Cite this article
Abe, N., Matsubara, K., Tamukai, K. et al. Molecular evidence of Sarcocystis species in captive snakes in Japan. Parasitol Res 114, 3175–3179 (2015). https://doi.org/10.1007/s00436-015-4564-2
Received:

Accepted:

Published:

Issue Date:
Keywords
Sarcocystis zuoi

Captive snakes

Molecular identification

18S ribosomal RNA gene