Abstract
Caused by the consumption of raw or undercooked freshwater fish containing infective metacercariae of Clonorchis sinensis, human clonorchiasis remains a major public health problem in China. In previous study, we had expressed enolase from C. sinensis (CsENO) on the surface of Bacillus subtilis spore and the recombinant spore induced a pronounced protection in terms of reduced worm burden and eggs per gram feces, suggesting B. subtilis spore as an ideal vehicle for antigen delivery by oral treatment and CsENO as a promising vaccine candidate against clonorchiasis. In the current study, we detected CsENO-specific IgG and IgA levels both in serum and in intestinal mucus from rats orally administrated with B. subtilis spore surface expressing CsENO by ELISA. Lysozyme levels in serum and in intestinal mucus were analyzed too. In addition, IgA-secreting cells in intestine epithelium of the rats were detected by immunohistochemistry assay. The intestinal villi lengths of duodenum, jejunum, and ileum were also measured. Rats orally treated with B. subtilis spore or normal saline were used as controls. Our results showed that, compared with the control groups, oral administration of B. subtilis spore expressing CsENO induced both systemic and local mucosal immune response. The recombinant spores also enhanced non-specific immune response in rats. The spores had no side effect on liver function. Moreover, it might facilitate food utilization and digestion of the rats. Our work will pave the way to clarify the involved mechanisms of protective efficacy elicited by B. subtilis spore expressing CsENO and encourage us to carry out more assessment trails of the oral treated spore to develop vaccine against clonorchiasis.
This is a preview of subscription content, log in to check access.
Access options
Buy single article
Instant access to the full article PDF.
US$ 39.95
Price includes VAT for USA
Subscribe to journal
Immediate online access to all issues from 2019. Subscription will auto renew annually.
US$ 199
This is the net price. Taxes to be calculated in checkout.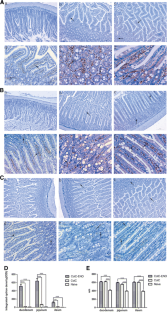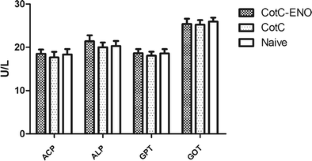 References
Amuguni H, Tzipori S (2014) Bacillus subtilis. Hum Vacc Immunother 8:979–986

Bhowmick IP, Kumar N, Sharma S, Coppens I, Jarori GK (2009) Plasmodium falciparum enolase: stage-specific expression and sub-cellular localization. Malar J 8:179

Braschi S, Curwen RS, Ashton PD, Verjovski-Almeida S, Wilson A (2006) The tegument surface membranes of the human blood parasite Schistosoma mansoni: a proteomic analysis after differential extraction. Proteomics 6:1471–1482

Cegielska-Radziejewska R, Szablewski T (2013) Effect of modified lysozyme on the microflora and sensory attributes of ground pork. J Food Prot 76:338–342

Cerutti A, Chen K, Chorny A (2011) Immunoglobulin responses at the mucosal interface. Annu Revimmunol 29:273–293

Chen T, Ning D, Sun H, Li R, Shang M, Li X, Wang X, Chen W, Liang C, Li W, Mao Q, Li Y, Deng C, Wang L, Wu Z, Huang Y, Xu J, Yu X (2014) Sequence analysis and molecular characterization of Clonorchis sinensis hexokinase, an unusual trimeric 50-kDa glucose-6-phosphate-sensitive allosteric enzyme. Plos One 9:e107940

Daifalla N, Cayabyab MJ, Xie E, Kim HB, Tzipori S, Stashenko P, Duncan M, Campos-Neto A (2014) Commensal Streptococcus mitis is a unique vector for oral mucosal vaccination. Microbes Infect

de Souza RD, Batista MT, Luiz WB, Cavalcante RC, Amorim JH, Bizerra RS, Martins EG, Ferreira LC (2014) Bacillus subtilis spores as vaccine adjuvants: further insights into the mechanisms of action. Plos One 9:e87454

Feo S, Arcuri D, Piddini E, Passantino R, Giallongo A (2000) ENO1 gene product binds to the c-myc promoter and acts as a transcriptional repressor: relationship with Myc promoter-binding protein 1 (MBP-1). Febs Lett 473:47–52

Hart BA (1986) Cellular and biochemical response of the rat lung to repeated inhalation of cadmium. Toxicol Appl Pharmacol 82:281–291

Hinc K, Iwanicki A, Obuchowski M (2013) New stable anchor protein and peptide linker suitable for successful spore surface display in B. subtilis. Microb Cell Fact 12:22

Holmgren J, Czerkinsky C (2005) Mucosal immunity and vaccines. Nat Med 11:S45–S53

Hong HA, Huang JM, Khaneja R, Hiep LV, Urdaci MC, Cutting SM (2008) The safety of Bacillus subtilis and Bacillus indicus as food probiotics. J Appl Microbiol 105:510–520

Kaiser P, Diard M, Stecher B, Hardt WD (2012) The streptomycin mouse model for Salmonella diarrhea: functional analysis of the microbiota, the pathogen's virulence factors, and the host's mucosal immune response. Immunol Rev 245:56–83

Keiser J, Utzinger J (2009) Food-borne trematodiases. Clin Microbiol Rev 22:466–483

Knecht LD, Pasini P, Daunert S (2011) Bacterial spores as platforms for bioanalytical and biomedical applications. Anal Bioanal Chem 400:977–989

le Duc H, Hong HA, Uyen NQ, Cutting SM (2004) Intracellular fate and immunogenicity of B. subtilis spores. Vaccine 22:1873–1885

Li L, Hu X, Wu Z, Xiong S, Zhou Z, Wang X, Xu J, Lu F, Yu X (2009) Immunogenicity of self-adjuvanticity oral vaccine candidate based on use of Bacillus subtilis spore displaying Schistosoma japonicum 26 KDa GST protein. Parasitol Res 105:1643–1651

Nguyen AT, Pham CK, Pham HT, Pham HL, Nguyen AH, Dang LT, Huynh HA, Cutting SM, Phan TN (2014) Bacillus subtilis spores expressing the VP28 antigen: a potential oral treatment to protect Litopenaeus vannamei against white spot syndrome. Fems Microbiol Lett 358:202–208

Pancholi V, Fischetti VA (1998) alpha-enolase, a novel strong plasmin(ogen) binding protein on the surface of pathogenic streptococci. J Biol Chem 273:14503–14515

Papachristou GI, Schoedel KE, Ramanathan R, Rabinovitz M (2005) Clonorchis sinensis-associated cholangiocarcinoma: a case report and review of the literature. Dig Dis Sci 50:2159–2162

Qu H, Xu Y, Sun H, Lin J, Yu J, Tang Z, Shen J, Liang C, Li S, Chen W, Li X, Wu Z, Huang Y, Yu X (2014) Systemic and local mucosal immune responses induced by orally delivered Bacillus subtilis spore expressing leucine aminopeptidase 2 of Clonorchis sinensis. Parasitol Res 113:3095–3103

Reichling JJ, Kaplan MM (1988) Clinical use of serum enzymes in liver disease. Dig Dis Sci 33:1601–1614

Reynoso-Paz S, Coppel RL, Mackay IR, Bass NM, Ansari AA, Gershwin ME (1999) The immunobiology of bile and biliary epithelium. Hepatology 30:351–357

Rubio CA (2014) The natural antimicrobial enzyme lysozyme is up-regulated in gastrointestinal inflammatory conditions. Pathogens 3:73–92

Rubio CA, Befrits R (2009) Increased lysozyme expression in gastric biopsies with intestinal metaplasia and pseudopyloric metaplasia. Int J Clin Exp Med 2:248–253

Strugnell RA, Wijburg OL (2010) The role of secretory antibodies in infection immunity. Nat Rev Microbiol 8:656–667

Turksma AW, Bontkes HJ, Ruizendaal JJ, Scholten KB, Akershoek J, Rampersad S, Moesbergen LM, Cillessen SA, Santegoets SJ, de Gruijl TD, Leemans CR, Meijer CJ, Hooijberg E (2013) Exploring dendritic cell based vaccines targeting survivin for the treatment of head and neck cancer patients. J Transl Med 11:152

Wang CR, Qiu JH, Zhao JP, Xu LM, Yu WC, Zhu XQ (2006) Prevalence of helminthes in adult dogs in Heilongjiang Province, the People's Republic of China. Parasitol Res 99:627–630

Wang X, Chen W, Hu F, Deng C, Zhou C, Lv X, Fan Y, Men J, Huang Y, Sun J, Hu D, Chen J, Yang Y, Liang C, Zheng H, Hu X, Xu J, Wu Z, Yu X (2011) Clonorchis sinensis enolase: identification and biochemical characterization of a glycolytic enzyme from excretory/secretory products. Mol Biochem Parasitol 177:135–142

Wang X, Chen W, Tian Y, Mao Q, Lv X, Shang M, Li X, Yu X, Huang Y (2014) Surface display of Clonorchis sinensis enolase on Bacillus subtilis spores potentializes an oral vaccine candidate. Vaccine 32:1338–1345

Zhou Z, Xia H, Hu X, Huang Y, Li Y, Li L, Ma C, Chen X, Hu F, Xu J, Lu F, Wu Z, Yu X (2008) Oral administration of a Bacillus subtilis spore-based vaccine expressing Clonorchis sinensis tegumental protein 22.3 kDa confers protection against Clonorchis sinensis. Vaccine 26:1817–1825
Acknowledgments
This work was supported by the National Natural Science Foundation of China (No. 81101270 and No. 81171602), Science and Technology Planning Project of Guangdong Province (No.2013B010404010), Fundamental Research Funds for the Central Universities of China (No. 3161036), Innovative Research Teams Project of South Wisdom Valley, Shunde, Guangdong province (2013CXTD03), National Key Basic Research and Development Project of China (973 project, No. 2010CB530000), and the National S & T Major Program (2012ZX10004-220).
Conflict of interest
The authors declare that they have no competing interests.
Additional information
Jinyun Yu and Tingjin Chen contributed equally to this work.
About this article
Cite this article
Yu, J., Chen, T., Xie, Z. et al. Oral delivery of Bacillus subtilis spore expressing enolase of Clonorchis sinensis in rat model: induce systemic and local mucosal immune responses and has no side effect on liver function. Parasitol Res 114, 2499–2505 (2015). https://doi.org/10.1007/s00436-015-4449-4
Received:

Accepted:

Published:

Issue Date:
Keywords
Clonorchis sinensis
Bacillus subtilis spore

Enolase

Oral immunization

Immune response

Liver function