Abstract
Pearsonema plica is a widely distributed nematode parasite that occurs in the urinary tract of various domestic and wild carnivores. The aim of this study was to investigate the occurrence and geographical distribution of P. plica and associated urinary bladder pathology in 112 red foxes (70 males, 42 females; 87 adults >1 year, 25 juveniles <1 year) from six different geographical regions in Bosnia and Herzegovina. The urinary bladders of the red foxes were subjected to gross examination and histopathology. Urine content (n = 40) and mucosal smears (n = 71) of the urinary bladders were examined microscopically for the presence of P. plica. Overall, adults and eggs of P. plica were detected in 65 (58.0 %; 95 % CI 48.9–67.2 %) of the foxes. Out of the positive foxes, 42 were males (64.6 %) and 23 females (35.3 %). According to age, 49 adults (75.3 %) and 16 juveniles (24.6 %) were positive. There were no statistically significant differences in the infection prevalence between the geographical regions (p = 0.701), sex (p = 0.693), or age (p = 0.646) of the host. Also, no significant differences in the prevalence of parasites in urine content (48.7 %; 20/41) and mucosal smears (63.3 %; 45/71) were observed (p = 0.165). Eosinophilic cystitis characterized with mild to severe infiltrates of eosinophils in the propria of the bladder mucosa accompanied by hyperemia and edema was observed in 36 examined foxes, 24 of which were P. plica positive. Parasites attached and embedded into the mucosa and free in the lumen were recorded in both cystitis positive and negative foxes. Beside clear numerical differences, the influence of P. plica infection on the occurrence of cystitis was not significant (p = 0.309). The results of this study give the first insight into the distribution of P. plica infection among the red fox population in Bosnia and Herzegovina. Observed microscopic changes may contribute toward a better understanding of pathology caused by this widely distributed parasite in free-ranging red foxes.
This is a preview of subscription content, log in to check access.
Access options
Buy single article
Instant access to the full article PDF.
US$ 39.95
Price includes VAT for USA
Subscribe to journal
Immediate online access to all issues from 2019. Subscription will auto renew annually.
US$ 199
This is the net price. Taxes to be calculated in checkout.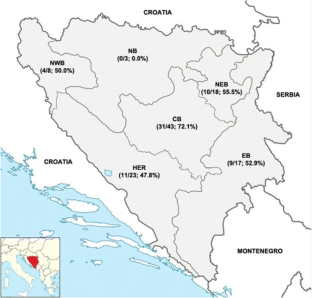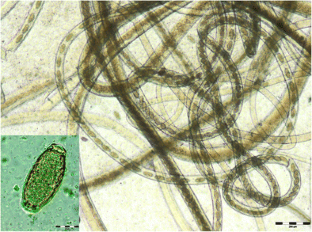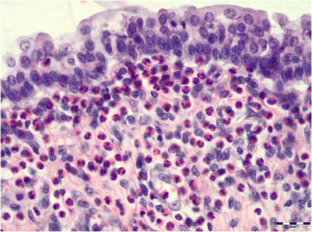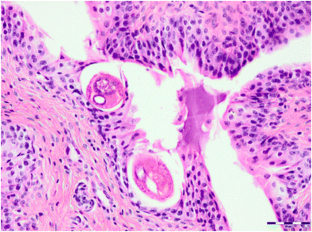 References
Aguirre AA (2009) Wild canids as sentinels of ecological health: a conservation medicine perspective. Parasit Vectors 2(Suppl 1):S7

Balestrieri A, Remonti L, Ferrari N, Ferrari A, Lo Valvo T, Roberto S, Orusa R (2006) Sarcoptic mange in wild carnivores and its co-occurrence with parasitic helminths in the Western Italian Alps. Eur J Wildl Res 52:196–201

Basso W, Spänhauer Z, Arnold S, Deplazes P (2014) Capillaria plica (syn. Pearsonema plica) infection in a dog with chronic pollakiuria: challenges in the diagnosis and treatment. Parasitol Int 63:140–142

Behm CA, Ovington KS (2000) The role of eosinophils in parasitic helminth infections: insights from genetically modified mice. Parasitol Today 16(5):202–209

Bordes F, Morand S (2009) Coevolution between multiple helminth infestations and basal immune investment in mammals: cumulative effects of polyparasitism? Parasitol Res 106:33–37

Bordes F, Morand S (2011) The impact of multiple infections on wild animal hosts: a review. Infect Ecol Epidemiol 1:7346

Bork-Mimm S, Rinder H (2011) High prevalence of Capillaria plica infections in red foxes (Vulpes vulpes) in southern Germany. Parasitol Res 108:1063–1067

Bowman DD (2014) Urinary capillariasis. In: Georgis' Parasitology for veterinarians, 10th edn. Saunders Elsevier Inc, St. Louis, pp 226-227

Bružinskaitė-Schmidhalter R, Šarkūnas M, Malakauskas A, Mathis A, Torgerson PR, Deplazes P (2012) Helminths of red foxes (Vulpes vulpes) and raccoon dogs (Nyctereutes procyonoides) in Lithuania. Parasitologia 139:120–127

Butterworth EW, Beverley-Burton M (1980) The taxonomy of Capillaria spp. (Nematoda: Trichuroidea) in carnivorous mammals from Ontario, Canada. System Parasitol 1:211–236

Callegari D, Kramer L, Cantoni AM, Di Lecce R, Dodi PL, Grandi G (2010) Canine bladderworm (Capillaria plica) infection associated with glomerular amyloidosis. Vet Parasitol 168:338–341

Cox FEG (2001) Concomitant infections, parasites and immune responses. Parasitologia 122:S23–S38

Davidson RK, Gjerde B, Vikøren T, Lillehaug A, Handeland K (2006) Prevalence of Trichinella larvae and extra-intestinal nematodes in Norwegian red foxes (Vulpes vulpes). Vet Parasitol 136:307–316

Fenton A (2008) Worms and germs: the population dynamic consequences of microparasite-macroparasite co-infection. Parasitologia 135:1545–1560

Fernández-Aguilar X, Mattsson R, Meijer T, Osterman-Lind E, Gavier-Widén D (2010) Pearsonema (syn Capillaria) plica associated cystitis in a Fennoscandian arctic fox (Vulpes lagopus): a case report. Acta Vet Scand 52:39

Foster N, Elsheikha HM (2012) The immune response to parasitic helminths of veterinary importance and its potential manipulation for future vaccine control strategies. Parasitol Res 110:1587–1599

Fuentealba IC, Illanes OG (2000) Eosinophilic cystitis in 3 dogs. Can Vet J 41:130–131

Giannitti F, Diab SS, Uzal FA, Fresneda K, Rossi D, Talmi-Frank D, Baneth G (2012) Infection with a Hepatozoon sp. closely related to Hepatozoon felis in a wild Pampas gray fox (Lycalopex – Pseudalopex – gymnocercus) co-infected with canine distemper virus. Vet Parasitol 186:497–502

Gloor S, Bontadina F, Hegglin D, Deplazesa P, Breitenmoser U (2001) The rise of urban fox population in Switzerland. Mamm Biol 66:155–164

Hodžić A, Latrofa MS, Annoscia G, Alić A, Beck R, Lia RP, Dantas-Torres F, Otranto D (2014) The spread of zoonotic Thelazia callipaeda in the Balkan area. Parasit Vectors 7:352

Kirkpatrick CE, Nelson GR (1987) Ivermectin treatment of urinary capillariasis in a dog. J Am Vet Med Assoc 191(6):701–702

Lamina J (1964) Der Parasitenbefall bei Rotfüchsen in Siidhessen. Z Jagdwiss 10:137–142 (In German)

Magi M, Guardone L, Prati MC, Mignone W, Macchioni F (2014) Extraintestinal nematodes of the red fox Vulpes vulpes in north-west Italy. J Helminthol. doi:10.1017/S0022149X1400025X

McDonald DW (1980) The red fox, Vulpes vulpes, as a predator upon earthworms, Lumbricus terrestris. Z Tierpsychol 52:171–200

Rajković-Janje R, Marinculić A, Bosnić S, Benić M, Vinković B, Mihaljević Ž (2002) Prevalence and seasonal distribution of helminth parasites in red foxes (Vulpes vulpes) from the Zagreb County (Croatia). Z Jagdwiss 48:151–160

Rossi M, Messina N, Ariti G, Riggio F, Perrucci S (2011) Symptomatic Capillaria plica infection in a young European cat. J Feline Med Surg 13:793–795

Rothenberg ME, Hogan SP (2006) The eosinophil. Annu Rev Immunol 24:147–174

Saeed I, Maddox-Hyttel C, Monrad J, Kapel CMO (2006) Helminths of red foxes (Vulpes vulpes) in Denmark. Vet Parasitol 139:168–179

Scott DM, Berg MJ, Tolhurst BA, Chauvenet ALM, Smith GC, Neaves K, Lochhead J, Baker PJ (2014) Changes in the distribution of red foxes (Vulpes vulpes) in urban areas in Great Britain: findings and limitations of a media-driven nationwide survey. PLoS ONE 9(6):e99059

Segovia JM, Torres J, Miquel J (2004) Helminth parasites of the red fox (Vulpes vulpes L., 1758) in the Iberian Peninsula: an ecological study. Acta Parasitol 49(1):67–79

Senior DF, Solomon GB, Goldschmidt MH, Joyce T, Bovee KC (1980) Capillaria plica infection in dogs. J Am Vet Med Assoc 176(9):901–905

Sréter T, Széll Z, Marucci G, Pozio E, Varga I (2003) Extraintestinal nematode infections of red foxes (Vulpes vulpes) in Hungary. Vet Parasitol 115:329–334

Taylor MA, Coop RL, Wal RL (2007) Parasites of dogs and cats. In: Veterinary parasitology, 3rd edn. Blackwell Publishing Ltd, Oxford, pp 429-430

Timm SF, Munson L, Summers BA, Terio KA, Dubovi EJ, Rupprecht CE, Kapil S, Garcelon DK (2009) A suspected canine distemper epidemic as the cause of a catastrophic decline in Santa Catalina Island foxes (Urocyon Littoralis Catalinae). J Wildl Dis 45(2):333–343

Wilson-Hanson S, Prescot CV (1982) Capillaria in the bladder of the domestic cat. Aust Vet J 59:190–191
Acknowledgments
Authors would like to thank Samir Bogunić and Alma Jahić for technical support (Department of Pathology, Faculty of Veterinary Medicine in Sarajevo), as well as to all hunting societies that participated in this study.
About this article
Cite this article
Alić, A., Hodžić, A., Kadrić, M. et al. Pearsonema plica (Capillaria plica) infection and associated urinary bladder pathology in red foxes (Vulpes vulpes) from Bosnia and Herzegovina. Parasitol Res 114, 1933–1938 (2015). https://doi.org/10.1007/s00436-015-4382-6
Received:

Accepted:

Published:

Issue Date:
Keywords
Pearsonema plica

Red fox

Vulpes vulpes

Urinary bladder

Eosinophilic cystitis

Bosnia and Herzegovina