Abstract
Liver granuloma is a major pathogenic factor responsible for schistosomiasis, and no effective drugs or therapy methods to treat it have been found so far. Praziquantel (PZQ) has shown some anti-schistosomal effect, but little information is available about the effect of PZQ-prolonged administration on granuloma formation around schistosome eggs. Herein, we investigated the effect of PZQ on hepatic granuloma formation by treating the mice infected with Schistosoma japonicum using a long-term PZQ transdermal delivery. The results showed that the mean area of granulomas in the group treated with PZQ transdermal agent was (175.47 ± 116.73) × 103 μm2 at the 49th day postinfection and (71.96 ± 45.99) × 103 μm2 at the 56th day, while that in the control group was (304.51 ± 140.55) × 103 μm2 and (526.44 ± 268.06) × 103 μm2, respectively. The content of hydroxyproline in the livers of mice approached to the normal level on the 154th day in the treatment group, but it continued to increase from the 28th day to the 154th day after infection in the control group and nontreatment group. The ALT activity in serum of mice in the treatment group was also significantly lower than that in the control group (*P ≤ 0.05). Our results suggest that the long-term PZQ transdermal delivery is critical in the therapeutic approach to control the progress of hepatic schistosomiasis induced by egg granulomas.
This is a preview of subscription content, log in to check access.
Access options
Buy single article
Instant access to the full article PDF.
US$ 39.95
Price includes VAT for USA
Subscribe to journal
Immediate online access to all issues from 2019. Subscription will auto renew annually.
US$ 199
This is the net price. Taxes to be calculated in checkout.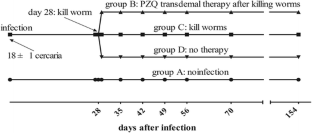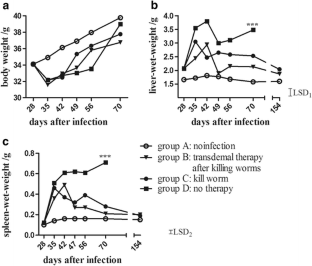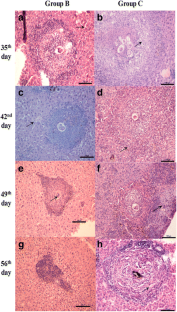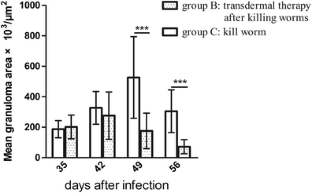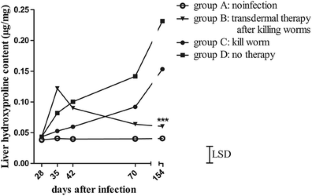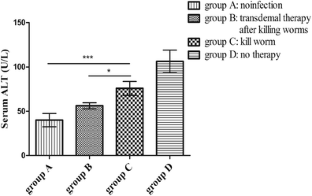 References
Abdel-Hafeez EH, Ahmad AK, Abdulla AM, Aabdel-Wahab S, Mosalem FA (2012) Therapeutic effect of alpha lipoic acid combined with praziquantel on liver fibrosis induced by Schistosoma mansoni challenged mice. Parasitol Res 111:577–586

Andrews P, Thomas H, Pohlke R, Seubert J (1983) Praziquantel. Med Res Revs 3:147–200

Anthony BJ, James KR, Gobert GN, Ramm GA, McManus DP (2013) Schistosoma japonicum eggs induce a proinflammatory, anti-fibrogenic phenotype in hepatic stellate cells. Plos One 8(6):e68479

Boros DL, Warren KS (1970) Delayed hypersensitivity-type granuloma formation and dermal reaction induced and elicited by a soluble factor isolated from Schistosoma mansoni eggs. J Exp Med 132:488–507

Botros SS, Metwally AA, Khayyal MT (1984) The immunological aspects of praziquantel in unsensitized mice with experimentally induced schistosome pulmonary granuloma. T Roy Soc Trop Med H 78:569–572

Chen F, Cai WM, Chen Z, Chen XM, Liu RH (2002) Dynamic changes in the collagen metabolism of liver fibrosis at the transcription level in rabbits with schistosomiasis japonica. Chinese Med J-peking 115:1637–1640

Chen BL, Zhang GY, Wang SP, Li Q, Xu MH, Shen YM, Yan L, Gu H, Li J, Huang YL, Mu YB (2012) The combined treatment of praziquantel with osteopontin immunoneutralization reduces liver damage in Schistosoma japonicum-infected mice. Parasitology 139:522–529

Cioli D, Pica-Mattoccia L (2003) Praziquantel. Parasitol Res 90:S3–S9

El-Malky MA, Lu SH, El-Beshbishi SN, Saudy NS, Ohta N (2013) Effect of Mirazid in Schistosoma japonicum-infected mice: parasitological and pathological assessment. Parasitol Res 112:373–377

Gryseels B, Polman K, Clerinx J, Kestens L (2006) Human schistosomiasis. Lancet 368:1106–1118

Hirata M, Takushima M, Kage M, Fukuma T (1993) Comparative analysis of hepatic, pulmonary, and intestinal granuloma formation around freshly laid Schistosoma japonicum eggs in mice. Parasitol Res 79:316–321

Hirsch C, Zouain CS, Alves JB, Goes AM (1997) Induction of protective immunity and modulation of granulomatous hypersensitivity in mice using PIII, an anionic fraction of Schistosoma mansoni adult worm. Parasitology 115(Pt 1):21–28

Huang YX, Xu YL, Yu CX, Li HJ, Yin XR, Wang TS, Wang W, Liang YS (2011) Effect of praziquantel prolonged administration on granuloma formation around Schistosoma japonicum eggs in lung of sensitized mice. Parasitol Res 109:1453–1459

Jaffe JJ, Doremus HM, Dunsford HA, Meymarian E (1975) Treatment of schistosomiasis mansoni and japonica in baboons with tubercidin given by direct intravenous injection. Am J Trop Med Hyg 24:835–842

Lei L, Cheng L, Hou JW, Guo SR, Zhu CG, Shi YJ, Jiang Y, Lin JJ (2012) Prevention of Schistosoma japonicum infection in mice with long-acting praziquantel implants. Exp Parasitol 131:442–447

Liang YJ, Luo J, Yuan Q, Zheng D, Liu YP, Shi L, Zhou Y, Chen AL, Ren YY, Sun KY, Sun Y, Wang Y, Zhang ZS (2011) New insight into the antifibrotic effects of praziquantel on mice in infection with Schistosoma japonicum. Plos One 6:e20247

Mahmoud AA (1977) Schistosomiasis. New Engl J Med 297:1329–1331

Mahmoud TY, Rizk SM, Maghraby AS, Shaheen AA (2014) Propolis enhances the effectiveness of praziquantel in experimental schistosomiasis: biochemical and histopathological study. Parasitol Res 113:4513–4523

Mata-Santos HA, Lino FG, Rocha CC, Paiva CN, Lima Castelo Branco MT, Pyrrho AS (2010) Silymarin treatment reduces granuloma and hepatic fibrosis in experimental schistosomiasis. Parasitol Res 107:1429–1434

Prakash S, Postlethwaite AE, Stricklin GP, Wyler DJ (1990) Fibroblast stimulation in schistosomiasis. IX. Schistosomal egg granulomas from congenitally athymic mice are deficient in production of fibrogenic factors. J Immunol (Baltimore, Md : 1950) 144:317–322

Prausnitz MR, Langer R (2008) Transdermal drug delivery. Nat Biotechnol 26:1261–1268

Prausnitz MR, Mitragotri S, Langer R (2004) Current status and future potential of transdermal drug delivery. Nat Rev Drug Discov 3:115–124

Reda ES, Ouhtit A, Abdeen SH, El-Shabasy EA (2012) Structural changes of Schistosoma mansoni adult worms recovered from C57BL/6 mice treated with radiation-attenuated vaccine and/or praziquantel against infection. Parasitol Res 110:979–992

Sadun EH, von Lichtenberg F, Erickson DG, Cheever AW, Bueding EE, Anderson JS (1974) Effects of chemotherapy on the evolution of schistosomiasis japonica in chimpanzees. Am J Trop Med Hyg 23:639–661

Steiner K, Garbe A, Diekmann HW, Nowak H (1976) The fate of praziquantel in the organism I. Pharmacokinetics in animals. Eur J Drug Metab Ph 1:85–95

Tucker MS, Karunaratne LB, Lewis FA, Freitas TC, Liang Y-s (2001) Schistosomiasis. In: Current protocols in immunology. John Wiley & Sons, Inc

Wang L, Zheng X, Fang Y, Wang Y, Duan C, Yao B (2011) Transdermal evaporation delivery system of praziquantelfor schistosomiasis japonicum chemotherapy. J Pharm Sci 100:2769–2777

Wang W, Wang L, Liang Y-S (2012) Susceptibility or resistance of praziquantel in human schistosomiasis: a review. Parasitol Res 111:1871–1877

Warren KS (1984) The kinetics of hepatosplenic schistosomiasis. Semin Liver Dis 4:293–300

Warren KS, Moore DE (1966) Murine hepatosplenic schistosomiasis japonica. Am J Trop Med Hyg 15:22–27

Woessner JF Jr (1961) The determination of hydroxyproline in tissue and protein samples containing small proportions of this imino acid. Arch Biochem Biophys 93:440–447

Wu W, Huang YX (2013) Application of praziquantel in schistosomiasis japonica control strategies in China. Parasitol Res 112:909–915

Xiao SH, Mei JY, Jiao PY (2011) Schistosoma japonicum-infected hamsters (Mesocricetus auratus) used as a model in experimental chemotherapy with praziquantel, artemether, and OZ compounds. Parasitol Res 108:431–437
Acknowledgments
The authors thank Dr. Hu Xue-Ying, Pathologist, for the help in the analysis of the pathological sections, and Xia Ping-feng, Medical Technologist from CDC, for the help in the schistosomiasis infection experiment.
About this article
Cite this article
Li-zhi, W., Xin-Sheng, Z., Jiang-shan, D. et al. Transdermal praziquantel administration attenuates hepatic granulomatosis in mice infected with Schistosoma japonicum . Parasitol Res 114, 1417–1424 (2015). https://doi.org/10.1007/s00436-015-4324-3
Received:

Accepted:

Published:

Issue Date:
Keywords
Praziquantel

Granuloma

Transdermal agent

Schistosoma japonicum

Schistosomiasis

Liver fibrosis