Abstract
New myxosporean species are described from Indian fishes cultured in pond farms of Meerut, Uttar Pradesh (UP) state. Based upon plasmodia found in the Indian major carps (Catla catla, Cirrhinus cirrhosus, Labeo rohita and their hybrids), three new Myxobolus spp., Myxobolus basuhaldari sp. n., Myxobolus kalavatiae sp. n. and Myxobolus meerutensis sp. n., are described, and two species, Myxobolus catlae and Myxobolus bhadrensis, are redescribed. Plasmodia of M. basuhaldari sp. n., M. kalavatiae sp. n., M. meerutensis sp. n. and M. catlae developed in small cysts in the gill lamellae, while plasmodia and scattered spores of M. bhadrensis were found in the muscles and kidney, respectively. Plasmodia and spores found in these fishes differed from each other with respect to their morphology, tissue tropism and 18S ribosomal DNA (18S rDNA) sequence. No major pathological changes were found, but severe infections were observed.
This is a preview of subscription content, log in to check access.
We're sorry, something doesn't seem to be working properly.
Please try refreshing the page. If that doesn't work, please contact support so we can address the problem.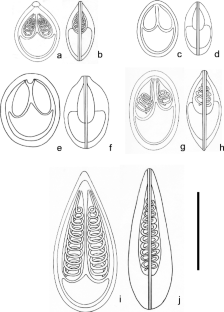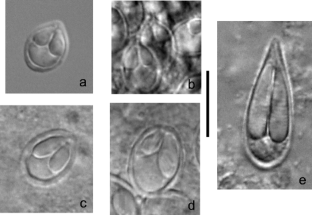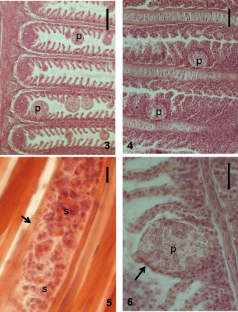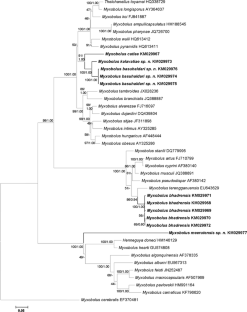 References
Banerjee S, Bandyopadhyay PK, Gocmen B, Mitra AK (2011) Myxobolus lalbaghensis sp. n. from a freshwater fish of West Bengal, India. North-Western J Zool 7:1–4

Barman HK, Barat A, Yadav BM, Banerjee S, Meher PK, Reddy PVGK, Jana RK (2003) Genetic variation between four species of Indian major carps as revealed by random amplified polymorphic DNA assay. Aquaculture 217:115–123

Barta JR, Martin DS, Liberator PA, Dashkevicz M, Anderson JW, Feighner SD, Elbrecht A, Perkins-Barrow A, Jenkins MC, Danforth HD, Ruff MD, Profous-Juchelka H (1997) Phylogenetic relationships among eight Eimeria species infecting domestic fowl inferred using complete small subunit ribosomal DNA sequences. J Parasitol 83:262–271

Baska F (1987) Histological studies on the development of Myxobolus pseudodispar Gorbunova, 1936 in the roach (Rutilus rutilus). Acta Vet Hung 35:251–257

Basu S, Haldar DP (2002) Observations on three new species of Myxobolus Bütschli, 1882 from hybrid carps of West Bengal, India. Indian J Environ and Ecoplan 6:629–640

Basu S, Haldar DP (2003) Three new species of Myxobolus Bütschli, 1882 from different food fishes of West Bengal, India. Acta Protozool 42:245–251

Basu S, Haldar DP (2004) Description of three new myxosporean species (Myxozoa: Myxosporea: Bivalvulida) of the genera Myxobilatus Davis, 1944 and Myxobolus Bütschli, 1882. Acta Protozool 43:337–343

Cech G, Molnár K, Székely C (2012) Molecular genetic studies on morphologically indistinguishable Myxobolus spp. infecting cyprinid fishes, with the description of three new species, M. alvarezae sp. nov., M. sitjae sp. nov. and M. eirasianus sp. nov. Acta Parasitol 57:354–366

Chakravarty MM (1943) Studies on myxosporidia from the common food fishes of Bengal. Proc Indian Acad Sci 18:21–35

Cone DK, Overstreet RM (1998) Species of Myxobolus (Myxozoa) from the Bulbus arteriosus of centrarchid fishes in North America, with a description of two new species. J Parasitol 84:371–374

Dyková I, Pecková H, Kostka M (2008) Introduction of Mayorella gemmifera Schaeffer, 1926 into phylogenetic studies of Amoebozoa. Acta Protozool 47:205–210

Eiras JC, Molnár K, Lu YS (2005) Synopsis of the genus Myxobolus Bütschli, 1882 (Myxozoa: Myxosporea: Myxobolidae). Syst Parasitol 61:1–46

Eszterbauer E, Székely C (2004) Molecular phylogeny of the kidney-parasitic Sphaerospora renicola from common carp (Cyprinus carpio) and Sphaerospora sp. from goldfish (Carassius auratus auratus). Acta Vet Hung 52:469–478

Ferguson JA, Atkinson SD, Whipps CM, Kent ML (2008) Molecular and morphological analysis of Myxobolus spp. of salmonid fishes with the description of a new Myxobolus species. J Parasitol 94:1322–1334

Hallett SL, Diamant A (2001) Ultrastructure and small-subunit ribosomal DNA sequence of Henneguya lesteri n. sp. (Myxosporea), a parasite of sand whiting Sillago analis (Sillaginidae) from the coast of Queensland, Australia. Dis Aquat Org 46:197–212

Hedrick RP, McDowell TS, Mukkatira K, Georgiadis MP, MacConnel E (2001) Susceptibility of three species of anadromous salmonids to experimentally induced infectious with Myxobolus cerebralis, the causative agent of whirling disease. J Aquat Anim Health 13:43–50

Kalavati C, Nandi NC (2007) Handbook on myxosporean parasites of Indian fishes. Zoological Survey of India, Kolkata, India

Kaur H, Singh R (2010a) One new myxosporidian species, Myxobolus slendrii sp. nov., and one known species, M. punjabensis Gupta and Khera, 1989, infecting freshwater fishes in wetlands of Punjab, India. Parasitol Res 106:1043–1047

Kaur H, Singh R (2010b) A new myxosporean species Myxobolus sclerii sp. nov. and one known species M. stomum Ali et al. 2003 from two Indian major carp fishes. J Parasitol Dis 34:33–39

Kaur H, Singh R (2011) Two new species of Myxobolus (Myxozoa: Myxosporea: Bivalvulida) infecting an Indian major carp in Ropar and Kanjali wetlands (Punjab). J Parasitol Dis 35:23–32

Kaur H, Singh R (2012) A synopsis of the species of Myxobolus Butschli, 1882 (Myxozoa: Bivalvulida) parasitising Indian fishes and a revised dichotomous key to myxosporean genera. Syst Parasitol 81:17–37

Kaur H, Attri R, Singh R (2012) Incidence of gill myxoboliosis in Catla catla (Hamilton-Buchanan) in Harike wetland of Punjab. Trends Parasitol 1:2319–3158

Kaur H, Dar SA, Singh R (2013) On new and three already known myxosporean parasites of Indian major carps in Punjab (India). Species 4:17–24

Li Y, Sato H, Tanaka S, Ohnishi T, Kamata Y, Sugita-Konishi Y (2013) Characterization of the ribosomal RNA gene of Kudoa neothunni (Myxosporea: Multivalvulida) in tunas (Thunnus spp.) and Kudoa scomberi n. sp. in a chub mackerel (Scomber japonicus). Parasitol Res 112:1991–2003

Lom J, Arthur JR (1989) A guideline for the preparation of species descriptions in Myxosporea. J Fish Dis 12:151–156

Lom J, Dyková I (2006) Myxozoan genera: definition and notes on taxonomy, life-cycle terminology and pathogenic species. Folia Parasitol 53:1–36

Madhavan R, Bandyopadhyay PK, Santosh B (2013) Observations on two new species of Myxobolus Butschli, 1882 from minor carps of Tripura, India. J Parasitol Dis 37:56–61

Majumder S, Panda S, Ghosh S, Bandyopadhyay PK (2013) Description of a new species of Myxobolus Butschli, 1882 from the Cirrhinus mrigala Hamilton, 1822 an edible fish of India. J Parasitol Dis. doi:10.1007/s12639-013-0369-3

Milne I, Lindner D, Bayer M, Husmeier D, McGuire G, Marshall DF, Wright F (2008) TOPALi v2: a rich graphical interface for evolutionary analyses of multiple alignments on HPC clusters and multi-core desktops. Bioinformatics 25:126–127. doi:10.1093/bioinformatics/btn575

Molnár K (1994) Comments on the host, organ and tissue specificity of fish myxosporeans and on the types of their intrapiscine development. Parasitol Hung 27:5–20

Molnár K, Kovács-Gayer E (1985) The pathogenicity and development within the host fish of Myxobolus cyprini Doflein, 1898. Parasitol 90:549–555

Molnár K, Bakos J, Krasznai Z (1984) Parasites of hybrid fishes. Parasitol Hung 17:29–34

Molnár K, Eszterbauer E, Székely C, Dán Á, Harrach B (2002) Morphological and molecular biological studies on intramuscular Myxobolus spp. of cyprinid fish. J Fish Dis 25:643–652

Rocha S, Azevedo C (2012) Light and electron microscopy applied to the characterization of marine species belonging to the genus Chloromyxum, as a study model for myxosporean parasites. Current Microscopy Contributions to Advances in Science and Technology. In: Méndez-Vilas, A. (Ed). Microscopy Series no. 5, Volume 1, pp. 471–477. ISBN 978-84-939843-5-9

Sanaullah M, Ahmed ATA (1980) Gill myxoboliasis of major carps in Bangladesh. J Fish Dis 3:349–354

Sarkar NK, Mazumder SK, Pramanik A (1985) Observations on four new species of myxosporidia (Myxozoa) from channid (Ophiocephalid) fishes of West Bengal, India. Arch Protistenkd 130:289–296

Seenappa D, Manohar L (1981) Five new species of Myxobolus (Myxosporea: Protozoa), parasitic in Cirrhina mrigala (Ham.) and Labeo rohita (Ham.), with a note on a new host record. J Protozool 28:358–360

Singh R, Kaur H (2012) Biodiversity of myxozoan parasites infecting freshwater fishes of three main wetlands of Punjab, India. Protistol 7:79–89

Székely C, Shaharom-Harrison F, Cech G, Ostoros G, Molnár K (2009) Myxozoan infections in fishes of the Tasik Kenyir Water Reservoir, Terengganu, Malaysia. Dis Aquat Org 83:37–48

Tamura K, Stecher G, Peterson D, Filipski A, Kumar S (2013) MEGA6: Molecular Evolutionary Genetics Analysis Version 6.0. Mol Biol Evol 30:2725–2729

Thompson JD, Higgins DG, Gibson TJ (1994) CLUSTAL W: improving the sensitivity of progressive multiple sequence alignment through sequence weighting, position-specific gap penalties and weight matrix choice. Nucl Acids Res 22:4673–4680

Tripathi YR (1952) Studies on parasites of Indian fishes. Protozoa: Myxosporidia together with a check-list of parasitic protozoa described from Indian fishes. Rec Indian Music 50:63–88
Acknowledgments
The authors thank the staff of the Department of Zoology, Chaudhary Charan Singh University, Meerut, Uttar Pradesh, India, for their help in laboratory work and fish collection. We are grateful to Ms. Györgyi Ostoros for the histology and the drawings. The work was supported by the Bilateral Program of the Hungarian Academy of Sciences—Indian Academy, the Hungarian Scientific Research Fund (OTKA K 100132), the grant of the Hungarian Government (KTIA AIK-12-1-2013-0017) and partially by the type D Scholarship provided by Balassi Institute, Hungarian Scholarship Board, to AC (project no. MÖB/112-3/2013).
About this article
Cite this article
Székely, C., Cech, G., Chaudhary, A. et al. Myxozoan infections of the three Indian major carps in fish ponds around Meerut, UP, India, with descriptions of three new species, Myxobolus basuhaldari sp. n., M. kalavatiae sp. n. and M. meerutensis sp. n., and the redescription of M. catlae and M. bhadrensis . Parasitol Res 114, 1301–1311 (2015). https://doi.org/10.1007/s00436-014-4307-9
Received:

Accepted:

Published:

Issue Date:
Keywords
Myxozoa

New Myxobolus spp.

Morphology

Histology

Tissue tropism

18S rDNA

India