Abstract
A new microsporidium was isolated from Histia rhodope Cramer (Lepidoptera, Zygaenidae), a pest of Bischofia javanica BL. in China. The morphology and molecular systematic of this novel microsporidian isolate had been described in this study. The spores were long oval and measured 3.1 × 1.9 μm on fresh smears. Ultrastructure of the spores was characteristic for the genus Nosema: 14–15 polar filament coils, posterior vacuole, and a diplokaryon. The sequenced rRNA gene of this isolate is 4309 bp long. The organization of the rRNA gene is 5′-LSU rRNA-ITS-SSU rRNA-IGS-5S-3′, which is similar to that of other Nosema species (such as Nosema bombycis). Phylogenetic analysis based on LSU rRNA gene and SSU rRNA gene both revealed that this novel micorsporidian which isolated from H. rhodope had close relationship to the genus Nosema. Additionally, this isolate can also cause systemic infection of Bombyx mori. So, we should pay attention not only to N. bombycis, but also to other microsporidian (such as Nosema sp. HR) in sericulture in the future.
This is a preview of subscription content, log in to check access.
Access options
Buy single article
Instant access to the full article PDF.
US$ 39.95
Price includes VAT for USA
Subscribe to journal
Immediate online access to all issues from 2019. Subscription will auto renew annually.
US$ 199
This is the net price. Taxes to be calculated in checkout.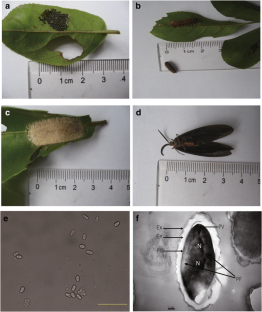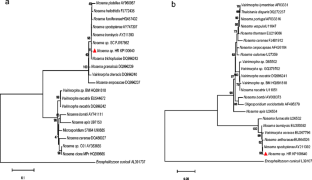 References
Abdel-Ghaffar F, Bashtar A, Morsy K, Mehlhorn H, Quraishy SA, AL-Rasheid K, Abdel-Gaber R (2012) Morphological and molecular biological characterization of Pleistophora aegyptiaca sp. nov. infecting the Red Sea fish Saurida tumbil. Parasitol Res 110:741–752

Canning EU, Curry A, Cheney S, Lafranchi-Tristem NJ, Haque MA (1999) Vairimorpha imperfect n. sp., a microsporidian exhibiting an abortive octosporous sporogony in Plutella xylostella L. (Lepidoptera: Yponomeutidae). Parasitology 119(Pt 3):273–286

Casal G, Matos E, Teles-Grilo ML, Azevedo C (2009) Morphological and genetically description of Loma psittaca sp. n. isolated from the Amazonian fish species Colomesus psittacus. Parasitol Res 105:1261–1271

Choi JY, Kim JG, Choi YC, Goo TW, Chang JH, Je YH, Kim KY (2002) Nosema sp. isolated from cabbage white butterfly (Pieris rapae) collected in Korea. J Microbiol 40:199–204

Corradi N, Haag KL, Pombert JF, Ebert D, Keeling PJ (2009) Draft genome sequence of Daphnia pathogen Octosporea bayeri: insights into the gene content of a large microsporidian genome and a model for host-parasite interactions. Genome Biol 10:R106

Franzen C, Muller A (1999) Molecular techniques for detection, species differentiation, and phylogenetic analysis of microsporidia. Clin Microbiol Rev 12:243–285

Huang WF, Tsai SJ, Lo CF, Soichi Y, Wang CH (2004) The novel organization and complete sequence of the ribosomal RNA gene of Nosema bombycis. Fungal Genet Biol 41:473–481

Joseph J, Sharma S, Murthy SI, Krishna PV, Garg P, Nutheti R, Kenneth J, Balasubramanian D (2006) Microsporidial keratitis in India: 16S rRNA gene-base PCR assay for diagnosis and species identification of microsporidia in clinical samples. Invest Ophthalmal Vis Sci 47:4468–4473

Ku CT, Wang CY, Tsai YC, Tzeng CC, Wang CH (2007) Phylogenetic analysis of two putative Nosema isolateds from Cruciferous Lepidopteran pests in Taiwan. J Invertebr Pathol 95:71–76

Liu H, Pan G, Song S, Xu J, Li T, Deng Y, Zhou Z (2008) Multiple rDNA units distributed on all chromosomes of Nosema bombycis. J Invertebr Pathol 99:235–238

Liu H, Pan G, Li T, Huang W, Luo B, Zhou Z (2012) Ultrasturcture, chromosomal karyotype, and molecular phylogeny of a new isolate of microsporidian Vairimorpha sp. BM (Microsporidia, Nosematidae) from Bombyx mori in China. Parasitol Res 110:205–210

Liu H, Pan G, Dang X, Li T, Zhou Z (2013) Characterization of active ribosomal RNA harboring MITEs insertion in microsporidian Nosema bombycis genome. Parasitol Res 112:1011–1020

Morsy K, Abdel-Ghaffar F, Mehlhorn H, Bashtar A, Abdel-Gaber R (2012) Ultrastructure and molecular phylogenetics of a new isolate of Pleistophora pagri sp. nov. (Microsporidia, Pleistophoridae) from Pagrus pagrus in Egypt. Parasitol Res 111:1587–1597

Morsy K, Bashtar AR, Abdel-Ghaffar F, Al-Quraishy S (2013) Morphological and phylogenetic description of a new xenoma-inducing microsporidian, Microsporidium aurata nov. sp., parasite of the gilthead seavream Sparus aurata from the Red Sea. Parasitol Res 112:3905–3915

Saito N, Nei M (1987) The neighbor-joining method: a new method for reconstructing phylogenetic trees. Mol Biol Evol 4:406–425

Sprague V (1982) Microspora. In: Parker SP (ed) Synopsis and classification of living organism, vol 1. McGraw-Hill, New York, pp 589–594

Tamura K, Dudley J, Nei M, Kumar S (2007) MEGA4: Molecular Evolutionary Genetics Analysis (MEGA) software version 4.0. Mol Biol Evol 24:1596–1599

Tsai SJ, Lo CF, Soichi Y, Wang CH (2003) The characterization of microsporidian isolates (Nosematidae: Nosema) from five important lepidopteran pests in Taiwan. J Invertebr Pathol 83:51–59

Tsai SJ, Huang WF, Wang CH (2005) Complete sequence and gene organization of the Nosema spodopterae rRNA gene. J Eukaryot Microbiol 52:52–54

Tsai YC, Solter LF, Wang CY, Fan HS, Chang CC, Wang CH (2009) Morphological and molecular studies of a microsporidium (Nosema sp.) isolated from the thee spot grass yellow butterfly, Eurema blanda arsakia (Lepidoptera: Pieridae). J Invertebr Pathol 100:85–93

Wang LL, Chen KP, Zhang Z, Yao Q, Gao GT, Zhao Y (2006) Phylogenetic analysis of Nosema antheraeae (Microsporidia) isolated from Chinese oak silkworm, Antheraea pernyi. J Eukaryot Microbiol 53:310–313

Weiss LM (2001) Microsporidia 2001: Cincinnati. J Eukaryot Microbiol (Suppl.):474–495

Wittner M, Weiss LM (1999) The microsporidia and microsporidiosis. ASM Press, Washington, p 553

Zhao W, Zhang W, Wang R, Liu W, Liu A, Yang D, Yang F, Karim MR, Zhang L (2014) Enterocytozoon bieneusi in sika deer (Cervus nippon) and red deer (Cervus elaphus): deer specificity and zoonotic potential of ITS genotypes. Parasitol Res 113:4243–4250
Acknowledgments
We thank all the authors for their free-charged software cited and used in this article. This work is supported by the Pre-research project of the National Natural Science Foundation of CQMU under Grant No. NSFYY201318 and National Natural Science Foundation of China under Grant No. 81270912.
Additional information
Nucleotide sequence reported in this study has been submitted to the GenBank™, EMBL, and DDBJ databases under the accession number KP100640.
About this article
Cite this article
Liu, H., Ding, S., Qin, Q. et al. Morphological and phylogenetic analysis of Nosema sp. HR (Microsporidia, Nosematidae): a new microsporidian pathogen of Histia rhodope Cramer (Lepidoptera, Zygaenidae). Parasitol Res 114, 983–988 (2015). https://doi.org/10.1007/s00436-014-4264-3
Received:

Accepted:

Published:

Issue Date:
Keywords
Microsporidian

Nosema sp. HR

rRNA

Morphology

Phylogenetic analysis