Abstract
During the years 2009–2012, faeces of African penguins (Spheniscus demersus L.) from South African rehabilitation centres were examined for helminths. In total, 46 out 555 samples (8.29 %), mostly belonging to adult birds, were found to contain oval schistosome eggs with a spine on one pole. Their dimensions were 153.21 ± 9.07 × 87.14 ± 8.67 μm. Selected DNA fragments (18S, 28S and ITS rDNA) were sequenced and compared to other schistosome isolates deposited in GenBank. The shape of the eggs suggests that they belong to the genus Gigantobilharzia; however, due to the insufficient stage of knowledge of the genus and limited number of species available for comparison, we were not able to assign the isolate unambiguously to this genus based on either the egg morphology or the results of molecular analysis.
This is a preview of subscription content, log in to check access.
Access options
Buy single article
Instant access to the full article PDF.
US$ 39.95
Price includes VAT for USA
Subscribe to journal
Immediate online access to all issues from 2019. Subscription will auto renew annually.
US$ 199
This is the net price. Taxes to be calculated in checkout.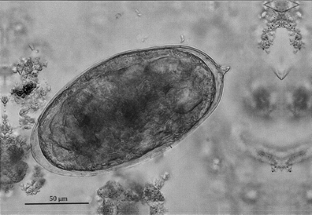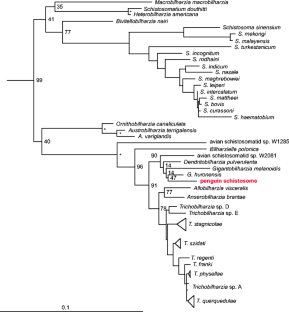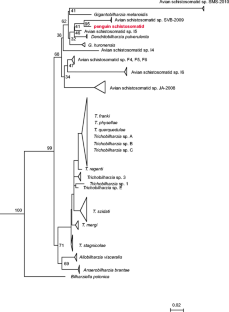 References
Akramova FD, Azimov DA, Shakarbaev EB (2010) The morphology and biology of the trematode Gigantobilharzia acotylea (Digenea, Schistosomatidae). Vestn Zoologii 44:403–412

Aldhoun JA, Faltýnková A, Karvonen A, Horák P (2009a) Bird schistosomes in the North: a unique finding from a prosobranch snail using molecular tools. Parasitol Int 58:314–317

Aldhoun JA, Kolářová L, Horák P, Skírnisson K (2009b) Bird schistosome diversity in Iceland: molecular approach. J Helminthol 83:173–180

Aldhoun JA, Podhorský M, Holická M, Horák P (2012) Bird schistosomes in planorbid snails in the Czech Republic. Parasitol Int 61:250–259

Appleton CC (1982) The eggs of some blood-flukes (Trematoda: Schistosomatidae) from South African birds. S Afr J Zool 17:147–150

Appleton CC (1986) Occurrence of avian Schistosomatidae (Trematoda) in South African birds as determined by faecal survey. S Afr J Zool 21:60–67

Brackett S (1942) Five new species of avian schistosomes from Wisconsin and Michigan with the life cycle of Gigantobilharzia gyrauli (Brackett, 1940). J Parasitol 28:25–42

Brant SV (2007) The occurrence of the avian schistosome Allobilharzia visceralis Kolářová, Rudolfová, Hampl et Skírnisson, 2006 (Schistosomatidae) in the tundra swan, Cygnus columbianus (Anatidae), from North America. Folia Parasitol 54:99–104

Brant SV, Loker ES (2009) Schistosomes in the Southwest United States and their potential for causing cercarial dermatitis or "swimmer's itch". J Helminthol 83:191–198

Brant SV, Morgan JAT, Mkoji GM, Snyder SD, Rajapakse RPVJ, Loker ES (2006) An approach to revealing blood flukes life cycles, taxonomy, and diversity: provision of key reference data including DNA sequence from single life cycle stages. J Parasitol 92:77–88

Brant SV, Cohen AN, James D, Hui L, Hom A, Loker ES (2010) Cercarial dermatitis transmitted by exotic marine snail. Emerg Infect Dis 16:1357–1365

Crawford RJM, Kemper J, Underhill LG (2013) African penguin (Spheniscus demersus). In: Borboroglu PG, Boersma PD (eds) Penguins—natural history and conservation. University of Washington Press, Seattle, pp 211–231

Devkota R, Brant SV, Thapa S, Loker ES (2014) Two avian schistosome cercariae from Nepal, including a Macrobilharzia-like species from Indoplanorbis exustus. Parasitol Int 63:374–380

Dvořák J, Vaňáčová Š, Hampl V, Flegr J, Horák P (2002) Comparison of European Trichobilharzia species based on ITS1 and ITS2 sequences. Parasitology 124:307–313

Fain A (1955a) Etude sur les schistosomes d'oiseaux au Ruanda-Urundi (Congo Belge). Un nouveau schistosome du Tantale ibis (Ibis ibis Lin.) Gigantobilharzia tantali n. sp. Ann Parasitol Hum Comp 30:321–328

Fain A (1955b) Un nouveau schistosome du Crabier de Madagascar (Ardeola idea Hartl) Gigantobilharzia ardeolae n. sp. Rev Zool Bot Afr 52:97–100

Fain A (1960) Nouveaux schistosomes d'oiseaux du genre Gigantobilharzia Odhner. Ann Parasitol Hum Comp 35:292–304

Farley J (1963) A redescription of Gigantobilharzia lawayi Brackett, 1942. J Parasitol 49:465–467

Farley J (1971) A review of the family Schistosomatidae: excluding the genus Schistosoma from mammals. J Helminthol 45:290–320

Grim KC, Van den Merwe E, Sullivan M, Parsons N, McCutchan TF, Cranfield M (2003) Plasmodium juxtanucleare associated with mortality in black-footed penguins (Spheniscus demersus) admitted to a rehabilitation center. J Zool Wildl Med 34:250–255

Grodhaus G (1965) Laboratory rearing and natural occurrence of Gigantobilharzia elongata (= Cercaria elongata). J Parasitol 51:680–681

Guindon S, Gascuel O (2003) A simple, fast, and accurate algorithm to estimate large phylogenies by maximum likelihood. Syst Biol 52:696–704

Huyse T, Webster BL, Geldof S, Stothard JR, Diaw OT, Polman K, Rollinson D (2009) Bidirectional introgressive hybridization between a cattle and human schistosome species. PLoS Pathog 5:e1000571. doi:10.1371/journal.ppat.1000571

Johnston DA, Kane RA, Rollinson D (1993) Small subunit (18S) ribosomal RNA gene divergence in the genus Schistosoma. Parasitology 107:147–156

Karamian M, Aldhoun JA, Maraghi S, Hatam G, Farhangmehr B, Sadjjadi SMS (2011) Parasitological and molecular study of the furcocercariae from Melanoides tuberculata as a probable agent of cercarial dermatitis. Parasitol Res 108:955–962

Khalifa R (1974) Studies on Schistosomatidae Looss, 1899 (Trematoda) of aquatic birds of Poland. II. Gigantobilharzia mazuriana sp. n., with a discussion of the subfamily Gigantobilharziinae Mehra, 1940. Acta Parasitol Pol 22:265–284

Khalil KF (2002) Family Schistosomatidae Stiles & Hassall, 1898. In: Gibson DI, Jones A, Bray RA (eds) Keys to the Trematoda. CAB International and the Natural History Museum, London, pp 419–432

Kolářová L (2007) Schistosomes causing cercarial dermatitis: a mini-review of current trends in systematics and of host specificity and pathogenicity. Folia Parasitol 54:81–87

Kolářová L, Rudolfová J, Hampl V, Skirnisson K (2006) Allobilharzia visceralis gen. nov. sp. nov. (Schistosomatidae - Trematoda) from Cygnus cygnus (L.) Anatidae. Parasitol Int 55:179–186

Kolářová L, Skirnisson K, Ferté H, Jouet D (2013) Trichobilharzia mergi sp. nov. (Trematoda: Digenea: Schistosomatidae) a visceral schistosome of Mergus serrator (L.) (Aves: Anatidae). Parasitol Int 62:300–308

Lal MB (1937) Studies on the trematode parasites of birds. Part II. Morphology and systematic position of some new blood-flukes of the family Schistosomatidae. Proc Indian Acad Sci Sect B 6:274–283

Leigh WH (1955) The morphology of Gigantobilharzia huttoni (Leigh, 1953) an avian schistosome with marine dermatitis producing larvae. J Parasitol 4:262–269

Lockyer AE, Olson PD, Ostergaard P, Rollinson D, Johnston DA, Attwood SW, Southgate VR, Horak P, Snyder SD, Le TH, Agatsuma T, McManus DP, Carmichael AC, Naem S, Littlewood DTJ (2003) The phylogeny of the Schistosomatidae based on three genes with emphasis on the interrelationships of Schistosoma Weinland, 1858. Parasitology 126:203–224

Morgan JA, DeJong RJ, Kayibwe F, Mkoji GM, Loker ES (2003) A newly identified lineage of Schistosoma. Int J Parasitol 33:977–985

Najim AT (1956) Life history of Gigantobilharzia huronensis Najim, 1950. A dermatitis-producing bird-blood fluke (Trematoda-Schistosomatidae). Parasitology 46:443–469

Oran LAM, El-Naffar MK, Mandour AM (1976) Gigantobilharzia aegypti sp. nov. in the domestic sparrow, Passer domesticus. J Egypt Vet Med Assoc 36:75–87

Posada D (2008) jModelTest: phylogenetic model averaging. Mol Biol Evol 25:1253–1256

Randall RM (1989) Jackass penguins. In: Payne AIL, Crawford RJM (eds) Oceans of life off Southern Africa. Vlaeberg Publishers, Cape Town, pp 244–256

Reimer L (1963) Gigantobilharzia vittensis, ein neuer Schistosomatidae aus Darmvenen von Larus canus und Cercaria hiddensoensis spec. nov. als möglich Larvenstadium dieser Art. Zool Anz 171:469–478

Rohde K (1978) The bird schistosome Gigantobilharzia sp. in the silver gull, Larus novaehollandiae, a potential agent of schistosome dermatitis in Australia. Search 9:40–42

Rudolfová J, Hampl V, Bayssade-Dufour C, Lockyer AE, Littlewood DTJ, Horák P (2005) Validity reassessment of Trichobilharzia species using Lymnaea stagnalis as the intermediate host. Parasitol Res 95:79–89

Rudolfová J, Littlewood DTJ, Sitko J, Horák P (2007) Bird schistosomes of wildfowl in the Czech Republic and Poland. Folia Parasitol 54:88–93

Schuster RK, Aldhoun JA, O'Donovan D (2014) Gigantobilharzia melanoidis n. sp. (Trematoda: Schistosomatidae) from Melanoides tuberculata (Gastropoda: Thiaridae) in the United Arab Emirates. Parasitol Res 113:959–972

Skirnisson K, Kolářová L (2008) Diversity of bird schistosomes in anseriform birds in Iceland based on egg measurements and egg morphology. Parasitol Res 103:43–50

Snyder SD (2004) Phylogeny and paraphyly among tetrapod blood flukes (Digenea: Schistosomatidae and Spirorchiidae). Int J Parasitol 34:1385–1392

Szidat L (1930) Gigantobilharzia monocotylea n. sp., ein neuer Blutparasit aus ostpreussischen Wasservögeln. Z Parasitkde 2:583–588

Tanabe H (1948) Cercaria segmentinae n. sp. J Yonago Med Assoc 1:2–3

Waeschenbach A, Webster BL, Bray RA, Littlewood DTJ (2007) Added resolution among ordinal level relationships of tapeworms (Platyhelminthes: Cestoda) with complete small and large subunit nuclear ribosomal RNA genes. Mol Phylogenet Evol 45:311–325

Yabsley MJ, Parsons NJ, Horne EC, Shock BC, Purdee M (2012) Novel relapsing fever Borrelia detected in African penguins (Sphenisus demersus) admitted to two rehabilitation centers in South Africa. Parasitol Res 110:1125–1130
Acknowledgments
The authors would like to thank Southern African Foundation for the Conservation of Coastal Birds (SANCCOB) and South African Marine Rehabilitation and Education Centre (SAMREC). Financial support for molecular analysis of the samples was provided by the Natural History Museum Disease Initiative.
About this article
Cite this article
Aldhoun, J.A., Horne, E.C. Schistosomes in South African penguins. Parasitol Res 114, 237–246 (2015). https://doi.org/10.1007/s00436-014-4185-1
Received:

Accepted:

Published:

Issue Date:
Keywords
African penguins

Avian schistosomes

Gigantobilharzia

Egg morphology