Abstract
The ultrastructure of the haptoral clamps of the chimaericolid monogenean Chimaericola leptogaster, a basal polyopisthocotylean from the gills of a holocephalan fish, is described. These clamps are characterized by the presence of two muscle blocks interrupted mid-anteriorly and mid-posteriorly and different kinds of hard structures: a single median and paired lateral sclerites embedded in the clamp wall; six spine-like structures directed towards the clamp lumen; and electron dense surface structures along the internal surface of the anterior clamp lips and along the luminal surface of the tegument of the clamp lumen. The lateral sclerites are situated deep within muscular tissue and are closely bounded by radial myofibrils, possessing a uniform electron dense matrix within which are hollow areas of different sizes. The median sclerite occupies an area between the clamp wall myofibrils and the luminal epithelium, is surrounded by a basement lamina and is composed of a heterogeneous matrix comprising two different morphological layers related to variations in the type and concentration of fibrils. Four of the spine-like structures are extensions of the margins of the two spindle-like muscle blocks in the clamps, i.e. the two anterior and two posterior structures, and the two others are situated at the lateral constrictions of the left and right muscle blocks. The electron dense surface structures are derivations of the clamp tegument or, to be more precise, its outer, densely fibrous region. These results are discussed in relation to the evidence that the haptoral clamps of C. leptogaster are apparently ancient origin.
This is a preview of subscription content, log in to check access.
Access options
Buy single article
Instant access to the full article PDF.
US$ 39.95
Price includes VAT for USA
Subscribe to journal
Immediate online access to all issues from 2019. Subscription will auto renew annually.
US$ 199
This is the net price. Taxes to be calculated in checkout.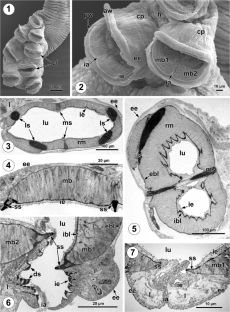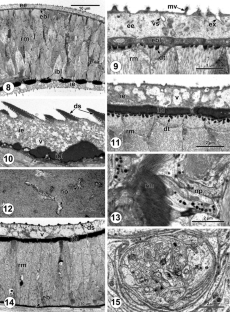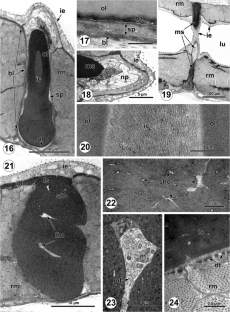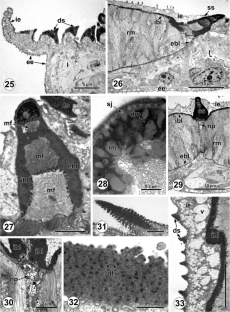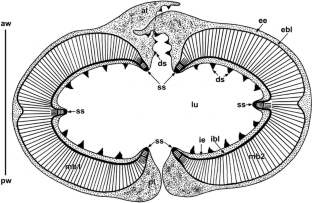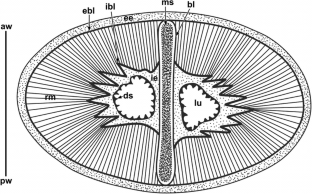 References
Boeger WA, Kritsky DC (1997) Coevolution of the Monogenoidea (Platyhelminthes) based on a revised hypothesis of parasite phylogeny. Int J Parasitol 27:1495–14511. doi:10.1016/S0020-7519(97)00140-9

Boeger WA, Kritsky DC (2001) Phylogenetic relationships of the Monogenoidea. In: Littlewood DTJ, Bray RA (eds) Interrelationships of the Platyhelminthes. Taylor & Francis, London, pp 92–102

Brinkmann A Jr (1942) On "Öctobothrium" leptogaster F.S. Leuckart. Göteborgs Kungl. Vetenskaps och Vitterhets Samhälles Handlingar. Ser B 2:3–29

Bychowsky BE (1957) Monogenetic trematodes, their systematics and phylogeny. Izdatel'stvo Academiya Nauk SSSR, Moscow, Russia. In Russian

El-Naggar MM (1992) Ultrastructural observations on the marginal hooklets of the monogenean gill parasite Cichlidogyrus halli typicus. Int J Parasitol 22:613–619. doi:10.1016/0020-7519(92)90009-A

El-Naggar MM (1993) Ultrastructural observations on the hamuli of the monogenean gill parasite Cichlidogyrus halli typicus. Int J Parasitol 23:745–748. doi:10.1016/0020-7519(93)90070-F

Inoue JG, Miya M, Lam K, Tay BH, Danks JA, Bell J, Walker TI, Venkatesh B (2010) Evolutionary origin and phylogeny of the modern holocephalans (Chondrichthyes: Chimaeriformes): a mitogenomic perspective. Mol Biol Evol 27:2576–2586. doi:10.1093/molbev/msq147

Jovelin R, Justine J-L (2001) Phylogenetic relationships within the polyopisthocotylean monogeneans (Platyhelminthes) inferred from partial 28S rDNA sequences. Int J Parasitol 31:393–401. doi:10.1016/S0020-7519(01)00114-X

Justine J-L, Rahmouni C, Gey D, Schoelinck C, Hoberg EP (2013) The monogenean which lost its clamps. PLoS One 8(11):e79155

Llewellyn J (1965) The evolution of parasitic Platyhelminths. In: Taylor A (ed) Third symposium of the British society for parasitology. Blackwell Scientific Publications, Oxford, pp 47–78

Lyons KM (1966) The chemical nature and evolutionary significance of monogenean attachment sclerites. Parasitology 56:63–100

Martens EE (1984) Ultrastructure of the spines in the copulatory organ of some Monocelididae (Turbellaria, Proseriata). Zoomorphology 104:261–265. doi:10.1007/BF00312007

Olson PD, Littlewood DTJ (2002) Phylogenetics of the Monogenea—evidence from a medley of molecules. Int J Parasitol 32:233–244

Pascoe PL (1997) Monogenean parasites of deep-sea fishes from the rockall trough (N.E. Atlantic) including a new species. J Marine Biol Assoc UK 67:603–622. doi:10.1017/S0025315400027326

Poddubnaya LG, Hemmingsen W, Gibson DI (2013) Ultrastructural characteristics of the vaginae of the basal monogenean Chimaericola leptogaster (Leuckart, 1830). Parasitol Res 112:1169–1177. doi:10.1007/s00436-013-3596-8

Ramasamy P, Bhuvaneswari R (1993) The ultrastructure of the tegument and clamp attachment organ of Gotocotyla bivaginalis (Monogenea, Polyopisthocotylea). Int J Parasitol 23:213–220. doi:10.1016/0020-7519(93)90143-M

Ramasamy P, Hanna REB, Threadgold T (1986) The surface topography and ultrastructure of the tegument and haptor of Price multae (Monogenea). Int J Parasitol 16:581–589. doi:10.1016/0020-7519(86)90024-X

Shaw MK (1979a) The ultrastructure of the clamp wall of the monogenean gill parasite Gastrocotyle trachuri. Parasitol Res 58:243–258. doi:10.1007/BF00933931

Shaw MK (1979b) The ultrastructure of the clamp sclerites in Gastrocotyle trachuri and other clamp-bearing monogeneans. Parasitol Res 59:43–51. doi:10.1007/BF00927845

Shaw MK (1979c) The development of the clamp attachment organs of the monogenean Gastrocotyle trachuri. Parasitol Res 59:277–294. doi:10.1007/BF00927522

Shinn AP, Gibson DI, Sommerville C (1995) A study of the composition of the sclerites of Gyrodactylus Normann, 1932 (Monogenea) using X-ray elemental analysis. Int J Parasitol 25:797–805. doi:10.1016/0020-7519(95)00008-P
Acknowledgments
Special thanks are due to Prof. Odd Halvorsen, Natural History Museum, Oslo University, Norway, for his kind assistance with finding a source of chimaeras. The authors would like to thank the staff of the RV 'Johan Ruud', belonging to Tromsø University, for their invaluable help with the fishing. We are also grateful to the staff of the Centre of Electron Microscopy of the I.D. Papanin Institute of the Biology for Inland Waters, RAS, for technical assistance. The present study was supported by the Russian Foundation for Fundamental Research project no. 12-04-00149a (to LGP).
About this article
Cite this article
Poddubnaya, L.G., Hemmingsen, W. & Gibson, D.I. Clamp ultrastructure of the basal monogenean Chimaericola leptogaster (Leuckart, 1830) (Polyopisthocotylea: Chimaericolidae). Parasitol Res 113, 4023–4032 (2014). https://doi.org/10.1007/s00436-014-4070-y
Received:

Accepted:

Published:

Issue Date:
Keywords
Monogenea

Ultrastructure

Haptoral clamps

Relict fauna

Chimaericola

Hard structures