Abstract
A new species of Coccidia (Protozoa: Apicomplexa: Eimeriidae) isolated from emus, Dromaius novaehollandiae, which was observed in Brazil is described and named. Oocysts of Isospora dromaii n. sp. are subspheroidal to ovoid in shape, measure 21.6 × 19.8 μm, and have a double and smooth wall thickness of approximately 1.4 μm. In this species, micropyle, oocyst residuum, and polar granules are absent. The sporocysts are slightly ovoid in shape and measure 13.7 × 10.0 μm. Nipple-like Stieda body and prominent sub-Stieda body are present. The sporocyst residuum is composed of small dispersed granules of varying sizes. The sporozoites are characterized by an oblong refractile body and one centrally located nucleus. This is the first description of isosporid coccidia infecting birds of the family Dromaiidae.
This is a preview of subscription content, log in to check access.
Access options
Buy single article
Instant access to the full article PDF.
US$ 39.95
Price includes VAT for USA
Subscribe to journal
Immediate online access to all issues from 2019. Subscription will auto renew annually.
US$ 199
This is the net price. Taxes to be calculated in checkout.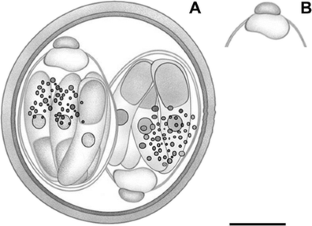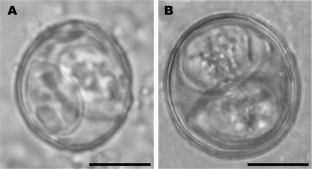 References
Christidis L, Boles WE (2008) Systematics and taxonomy of Australian birds. CSIRO, Melbourne

Davies SJJF (1976) The natural history of the emu in comparison with that of other ratites. In: Frith HJ, Calaby JH (eds) The 16th international ornithological congress. Australian Academy of Science, Canberra, pp 109–120

Duszynski DW, Wilber PG (1997) A guideline for the preparation of species descriptions in the Eimeridae. J Parasitol 83:333–336

Faust BS, Pappas PW (1977) A survey of coccidia and helminth parasites of birds at the Columbus (Ohio) Zoo. J Zoo Anim Med 8:18–23

Jeffrey JS (2001) Emu production. http://gallus.tamu.edu/Extension%20publications/emuproduction.pdf. Accessed 16 Oct 2013

Malecki IA, Martin GB, O'Malley PJ, Meyer GT, Talbot RT, Sharp PJ (1998) Endocrine and testicular changes in a short-day seasonally breeding bird, the emu (Dromaius novaehollandiae), in southwestern Australia. Anim Reprod Sci 53:143–155

Papini R, Girivetto M, Marangi M, Mancianti F, Giangaspero A (2012) Endoparasite infections in pet and zoo birds in Italy. Sci World J 2012:1–9

Ponce Gordo F, Herrera S, Castro AT, García Durán B, Martínez Díaz RA (2002) Parasites from ostriches (Strutio camelus) and rheas (Rhea americana) in Europe. Vet Parasit 107:137–160

Rose ME, Long PL (1980) Vaccination against coccidiosis in chickens. In: Taylor AER, Muller R (eds) Vaccination against parasites. Blackwell Scientific, Oxford, pp 57–74

Vermeulen AN, Schaap DC, Schetters TPM (2001) Control of coccidiosis in chickens by vaccination. Vet Parasitol 100:13–20

Yakimoff WL (1940) Isospora struthionis n. sp., coccidie de l'autruche africaine. Ann Soc Med Trop 20:137–138
About this article
Cite this article
dos Santos Teixeira, C., Gallo, S.S.M., Ederli, N.B. et al. Isospora dromaii n. sp. (Apicomplexa, Eimeriidae) isolated from emus, Dromaius novaehollandiae (Casuariiformes, Casuariidae). Parasitol Res 113, 3953–3955 (2014). https://doi.org/10.1007/s00436-014-4059-6
Received:

Accepted:

Published:

Issue Date:
Keywords
Isospora

Eimeriidae

Coccidia

Oocyst

Ratites