Abstract
To seek natural products for the development of environment friendly mosquito control agents, fumigant activity of eleven essential oil compounds and the joint action of the active compounds were evaluated against Culex pipiens pallens adults. Fumigant bioassay demonstrated that carvacrol exhibited the highest fumigant activity followed by thymol and l-perillaldehyde, with LC50 values of 0.26, 0.28, and 0.34 mg/L air, respectively. Among the binary mixtures of four compounds with preferable performance, only the binary mixture of carvacrol and thymol (1:1, w/w) displayed a synergistic effect with the co-toxicity coefficient (CTC) value of 174.1 and LC50 value of 0.16 mg/L air. Furthermore, the actual efficacy of the binary mixture at 300 mg/mat (KT50 = 7.9, 15.8, and 22.0 min after 0, 2, and 4 h of preliminary heating, respectively) was comparable with that of d-allethrin at 30 mg/mat (KT50 = 8.7, 17.9, and 21.2 min after 0, 2, and 4 h of preliminary heating, respectively) tested in vaporizing mats by the glass chamber method (70 × 70 × 70 cm). These results revealed that carvacrol, thymol, and their binary mixture have potential for the development of natural fumigants for adult mosquito control.
This is a preview of subscription content, log in to check access.
Access options
Buy single article
Instant access to the full article PDF.
US$ 39.95
Price includes VAT for USA
Subscribe to journal
Immediate online access to all issues from 2019. Subscription will auto renew annually.
US$ 199
This is the net price. Taxes to be calculated in checkout.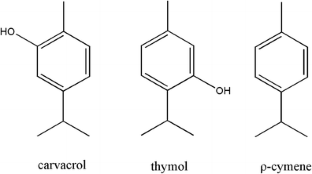 References
Abbassy MA, Abdelgaleil SAM, Rabie RYA (2009) Insecticidal and synergistic effects of Majorana hortensis essential oil and some of its major constituents. Entomol Exp Appl 131:225–232

Abbott WS (1925) A method for computing the effectiveness of an insecticide. J Econ Entomol 18:265–267

Akhtar Y, Pages E, Stevens A, Bradbury R, da Camara CAG, Isman MB (2012) Effect of chemical complexity of essential oils on feeding deterrence in larvae of the cabbage looper. Physiol Entomol 37:81–91

Anderson JA, Coates JR (2012) Acetylcholinesterase inhibition by nootkatone and carvacrol in arthropods. Pestic Biochem Physiol 102:124–128

Avicor SW, Owusu EO, Wajidi MFF (2013) D-allethrin based mosquito coils for mosquito control: knockdown and mortality effects on the malaria vector Anopheles gambiae sensu lato. Int J Agric Biol 15:1035–1038

Cheng SS, Liu JY, Huang CG, Hsui YR, Chen WJ, Chang ST (2009) Insecticidal activities of leaf essential oils from Cinnamomum osmophloeum against three mosquito species. Bioresour Technol 100:457–464

Cheng SS, Lin CY, Chung MJ, Liu YH, Huang CG, Chang ST (2013) Larvicidal activities of wood and leaf essential oils and ethanolic extracts from Cunninghamia konishii Hayata against the dengue mosquitoes. Ind Crop Prod 47:310–315

Enan E (2001) Insecticidal activity of essential oils: octopaminergic sites of action. Comp Biochem Physiol C: Pharmacol Toxicol 130:325–337

Enan EE (2005a) Molecular response of Drosophila melanogaster tyramine receptor cascade to plant essential oils. Insect Biochem Mol Biol 35:309–321

Enan EE (2005b) Molecular and pharmacological analysis of an octopamine receptor from American cockroach and fruit fly in response to plant essential oils. Arch Insect Biochem Physiol 59:161–171

Finney DJ (1971) Probit analysis, 3rd edn. Cambridge University, Cambridge, United Kingdom

Fu CC, Wan T, Jiang ZL, Wu H, Feng JT, Ma ZQ, Zhang X (2013) Fumigation activity of 41 essential oils against Culex pipiens pallens (Diptera: Culicidae). Acta Ecol Sin 56:779–785

Govindarajan M, Sivakumar R (2013) Mosquito larvicidal activity of thymol from essential oil of Coleus aromaticus Benth. against Culex tritaeniorhynchus, Aedes albopictus, and Anopheles subpictus (Diptera: Culicidae). Parasitol Res 112:3713–3721

Hahn S, Schneider K, Gartiser S, Heger W, Manglesdorf I (2010) Consumer exposure to biocide—identification of relevant sources and evaluation of possible health effects. Environ Health 9:7

Hemingway J (2004) Taking aim at mosquitoes. Nature 430:936

Houghton P, Ren Y, Howes M (2006) Acetylcholinesterase inhibitors from plants and fungi. Nat Prod Rep 23:181–199

Hummelbrunner LA, Isman MB (2001) Acute, sublethal, antifeedant, and synergistic effects of monoterpenoid essential oil compounds on the tobacco cutworm, Spodoptera litura (Lep., Noctuidae). J Agric Food Chem 49:715–720

Isman MB (1999) Pesticides based on plant essential oils. Pestic Outlook 10:68–73

Isman MB (2006) Botanical insecticides, deterrents, and repellents in modern agriculture and an increasingly regulated world. Annu Rev Entomol 51:45–66

Jiang ZL, Akhtar Y, Bradbury R, Zhang X, Isman MB (2009) Comparative toxicity of essential oils of Litsea pungens and Litsea cubeba and blends of their major constituents against the cabbage looper, Trichoplusia ni. J Agric Food Chem 57:4833–4837

Kiran SR, Devi PS (2007) Evaluation of mosquitocidal activity of essential oil and sesquiterpenes from leaves of Chloroxylon swietenia DC. Parasitol Res 101:413–418

Lahlou M (2004) Methods to study the phytochemistry and bioactivity of essential oils. Phytother Res 18:435–448

Liu NN, Xu Q, Zhu F, Zhang L (2006) Pyrethroid resistance in mosquitoes. Insect Sci 13:159–166

Liu NN, Xu Q, Li T, He L, Zhang L (2009) Permethrin resistance and target site insensitivity in the mosquito Culex quinquefasciatus in Alabama. J Med Entomol 46:1424–1429

Lucia A, Licastro S, Zerba E, Gonzalez Audino P, Masuh H (2009) Sensitivity of Aedes aegypti adults (Diptera: Culicidae) to the vapors of Eucalyptus essential oils. Bioresour Technol 100:6083–6087

Lucia A, Juan LW, Zerba E, Harrand L, Marcó M, Masuh H (2012) Validation of models to estimate the fumigant and larvicidal activity of Eucalyptus essential oils against Aedes aegypti (Diptera: Culicidae). Parasitol Res 110:1675–1686

Lucia A, Licastro S, Zerba E, Masuh H (2013) Knockdown and larvicidal activity of six monoterpenes against Aedes aegypti (Diptera: Culicidae) and their structure-activity relationships. Parasitol Res 112:4267–4272

Mansour NA, Eldefrawi ME, Toppozada A, Zeid M (1966) Toxocological studies on the Egyptian cotton leaf worm, Prodenia litura. VI. Potentiation and antagonism of organophosphorus and carbamate insecticides. J Econ Entomol 59:307–311

Miresmailli S, Isman MB (2014) Botanical insecticides inspired by plant-herbivore chemical interactions. Trends Plant Sci 19:29–35

Omolo MO, Okinyo D, Ndiege IO, Lwande W, Hassanali A (2005) Fumigant toxicity of the essential oils of some African plants against Anopheles gambiae sensu stricto. Phytomedicine 12:241–246

Pandey SK, Upadhyay S, Tripathi AK (2009) Insecticidal and repellent activities of thymol from the essential oil of Trachyspermum ammi (Linn) Sprague seeds against Anopheles stephensi. Parasitol Res 105:507–512

Park IK, Kim JN, Lee YS, Lee SG, Ahn YJ, Shin SC (2008) Toxicity of plant essential oils and their components against Lycoriella ingenua (Diptera: Sciaridae). J Econ Entomol 101:139–144

Perumalsamy H, Kim NJ, Ahn YJ (2009) Larvicidal activity of compounds isolated from Asarum heterotropoides against Culex pipiens pallens, Aedes aegypti, and Ochlerotatus togoi (Diptera: Culicidae). J Med Entomol 46:1420–1423

Priestley CM, Williamson EM, Wafford KA, Sattelle DB (2003) Thymol, a constituent of thyme essential oil is a positive allosteric modulator of human GABA receptors and a homo-oligomeric GABA receptor from Drosophila melanogaster. Br J Pharmacol 140:1363–1372

Rattan RS (2010) Mechanism of action of insecticidal secondary metabolites of plant origin. Crop Prot 29:913–920

Shafer TJ, Meyer DA, Crofton KM (2005) Developmental neurotoxicity of pyrethroid insecticides: critical review and future research needs. Environ Health Perspect 113:123–136

Sun YP, Johnson ER (1960) Analysis of joint action of insecticides against house flies. J Econ Entomol 53:887–892

Tang X, Chen S, Wang L (2011) Purification and identification of carvacrol from the root of Stellera chamaejasme and research on its insecticidal activity. Nat Prod Res 25:320–325

Tong F, Gross AD, Dolan MC, Coats JR (2013) The phenolic monoterpenoid carvacrol inhibits the binding of nicotine to the housefly nicotinic acetylcholine receptor. Pest Manag Sci 69:775–780

Weinzieri RA, Palevitch D, Craker L (1994) Volatile oils as potential insecticides. Herb Spice Med Plant Dig 12:1–8

WHO (1996) Report of the WHO informal consultation on the evaluation and testing of insecticides. WHO, Geneva, Switzerland

WHO (2006) Pesticides and their application for the control of vectors and pests of public health importance. 6th ed. Geneva, WHO/CDS/NTD/WHOPES. GCDPP/2006.a

Wu H, Fu CC, Yu DD, Feng JT, Zhang X, Ma ZQ (2013) Repellent activity screening of 11 kinds of essential oils against Aedes albopictus Skuse: microcapsule preparation of Herba Schizonepetae oil and repellent bioassay on hand skin. Trans R Soc Trop Med Hyg 107:471–479
Acknowledgments
This study was supported the National High Technology Research and Development Program of China (863 Program, No. 2011AA10A202) and the Introduction of International Advanced Agriculture Science and Technology (948 Program, No. 2012-S11).
About this article
Cite this article
Ma, W., Feng, J., Jiang, Z. et al. Fumigant activity of eleven essential oil compounds and their selected binary mixtures against Culex pipiens pallens (Diptera: Culicidae). Parasitol Res 113, 3631–3637 (2014). https://doi.org/10.1007/s00436-014-4028-0
Received:

Accepted:

Published:

Issue Date:
Keywords
Fumigant activity

Culex pipiens pallens

Carvacrol

Thymol

Mosquito control