Abstract
Two new species of Annulotrema Paperna & Thurston, 1969 were collected from the gills of the African tiger fish, Hydrocynus brevis, from the Gambia River basin in the Niokolo-Koba National Park, Senegal. Annulotrema besalis n. sp. is characterized by having a male copulatory organ (MCO) composed of an arcuate copulatory tube articulated to an eight-shaped accessory piece with terminal claw. The new species resembles Annulotrema pikei (Price, Peebles & Bamford, 1969) in having morphologically similar types of haptoral sclerites and MCO. As a result of the differential diagnosis made for A. besalis n. sp., new information on taxonomically important features of A. pikei is provided based on illustrations of the sclerotized parts of the holotype from Hydrocynus vittatus. The report of A. pikei on the gills of Hydrocynus forskahlii by Paperna in 1979 is shown to be erroneous. Annulotrema uncata n. sp. is similar to Annulotrema alestesimberi Paperna, 1973 in its possession of a coiled copulatory tube with about two and a half rings. Features distinguishing the new species include the sharply curved shaft of the ventral anchor, the base of the copulatory tube extending to a sock-like structure and a leech-shaped vagina. The necessity of emending the generic diagnosis of Annulotrema is briefly discussed.
This is a preview of subscription content, log in to check access.
Access options
Buy single article
Instant access to the full article PDF.
US$ 39.95
Price includes VAT for USA
Subscribe to journal
Immediate online access to all issues from 2019. Subscription will auto renew annually.
US$ 199
This is the net price. Taxes to be calculated in checkout.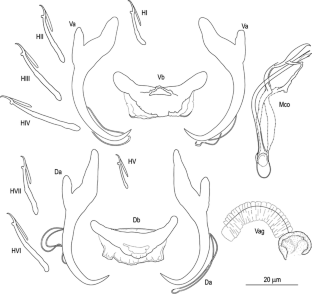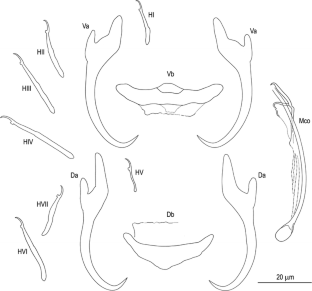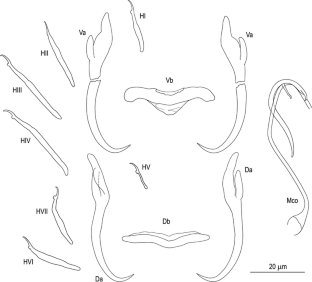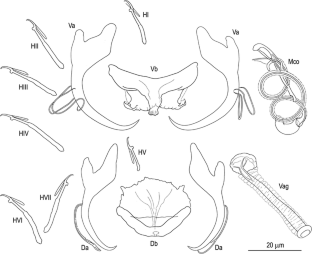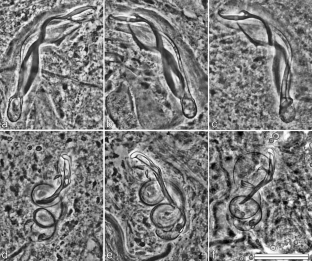 References
Birgi E (1988) Les monogenes de Characoidea de la zone forestiere Camerounaise. Ann Fac Sci Biol Biochem 111:59–111

Ergens R (1988) Four species of the genus Annulotrema Paperna et Thurston, 1969 (Monogenea: Ancyrocephalinae) from Egyptian freshwater fish. Folia Parasitol 35:209–215

Froese R, Pauly D (eds) (2012). FishBase. World wide web electronic publication. http://www.fishbase.org/, version (02/2014)

Guégan J-F, Lambert A, Birgi É (1988) Some observations on the branchial parasitism from characid fishes, genus Hydrocynus in West Africa. Description of a new species, Annulotrema pikoides n. sp. (Monogenea, Ancyrocephalidae) from Hydrocynus vittatus (Castelnau, 1861). Ann Parasitol Hum Comp 63:91–98

Kritsky DC, Boeger WA (1995) Neotropical Monogenoidea. 26. Annulotrematoides amazonicus, a new genus and species (Dactylogyridae: Ancyrocephalinae), from the gills of Psectrogaster rutiloides (Kner) (Teleostei: Characiformes: Curimatidae) from the Brazilian Amazon. Proc Biol Soc Wash 108:528–532

Mizelle JD (1936) New species of trematodes from the gills of Illinois fishes. Am Midl Nat 17:785–806

Musilová N, Řehulková E, Gelnar M (2009) Dactylogyrids (Platyhelminthes: Monogenea) from the gills of the African carp, Labeo coubie Rüppell (Cyprinidae), from Senegal, with descriptions of three new species of Dactylogyrus and the redescription of Dactylogyrus cyclocirrus Paperna, 1973. Zootaxa 2241:47–68

Paperna I (1969) Monogenetic trematodes of the fish of the Volta Basin and South Ghana. Bulletin de l'I.F.A.N. 31:840−880

Paperna I (1973) New species of Monogenea (Vermes) from African freshwater fish. A preliminary report. Rev Zool Bot Afr 87:505–518

Paperna I (1979) Monogenea of inland water fish in Africa. Ann Musee Roy Afr Centr Ser 8 Sci Zool 226:1–131

Paperna I, Thurston JP (1969) Annulotrema n. gen., a new genus of monogenetic trematodes (Dactylogyridae, Bychowski, 1933) from African characid fish. Zool Anz 182:444–449

Price CE, Peebles HE, Bamford T (1969) The monogenean parasites of African fishes: IV. Two new species from South African hosts. Rev Zool Bot Afr 79:117–124

Řehulková E, Mendlová M, Šimková A (2013) Two new species of Cichlidogyrus (Monogenea: Dactylogyridae) parasitizing the gills of African cichlid fishes (Perciformes) from Senegal: morphometric and molecular characterization. Parasitol Res 112:1399–1410. doi:10.1007/s00436-013-3291-9

Thurston JP (1970) The incidence of monogenea and parasitic crustacea on the gills of fish in Uganda. Rev Zool Bot Afr 82(1–2):111–130

Wedl C (1861) Zur Helminthenfauna Aegyptiens. (2Abt.). Sber. dt. Akad. Land wiss. Wien 44:463–482
Acknowledgements
We thank Radim Blažek, Andrea Šimková, and Martina Dávidová (Masaryk University, Czech Republic) for their participation in collecting the parasites. We also thank Martin Reichard and Barbora Bímová (Academy of Sciences of the Czech Republic) for fish collection and identification. We are also grateful to Eric Hoberg and Patricia Pilitt (US National Parasite Collection, Beltsville, MD, USA) and Rudy Jocqué (Royal Museum for Central Africa, Tervuren, Belgium) for the kind loan of type and voucher specimens. This study was supported by the Czech Science Foundation (project No. P505/12/G112).
About this article
Cite this article
Řehulková, E., Musilová, N. & Gelnar, M. Annulotrema (Monogenea: Dactylogyridae) from Hydrocynus brevis (Characiformes: Alestidae) in Senegal, with descriptions of two new species and remarks on Annulotrema pikei . Parasitol Res 113, 3273–3280 (2014). https://doi.org/10.1007/s00436-014-3990-x
Received:

Accepted:

Published:

Issue Date:
Keywords
Monogenea

Dactylogyridae

Annulotrema besalis n. sp
Annulotrema uncata n. sp
Annulotrema pikei

Characiformes

Alestidae

Hydrocynus brevis

Senegal