Abstract
Enteric protozoa are frequently found in snakes. Nevertheless, few studies regarding genetic characterization of these parasites have been carried out. We describe here the first molecular survey of protozoan pathogens from snakes in China and the first report on Enterocytozoon bieneusi genotyping in snakes in the world. Here, 240 fecal specimens were collected from two species of captive snakes, Naja naja (Indian cobra) and Ptyas mucosus (Oriental rat snake), in Guangxi Province, China, and examined by PCR amplification of the small subunit-ribosomal RNA of enteric protozoa and the internal transcribed spacer of ribosomal RNA of E. bieneusi. Cryptosporidium serpentis was identified in three specimens (2.1 %) of Oriental rat snakes. Caryospora was found in 5.4 % specimens, including eight from cobras (8.1 %) and five from rat snakes (3.6 %), and represented six new species—Caryospora sp. SKC-2014a to Caryospora sp. SKC-2014 f. Three new Eimeria species, Eimeria sp. SKE-2014a to Eimeria sp. SKE-2014c, were detected in three specimens (2.1 %) from rat snakes. Additionally, Sarcocystis sp. SKS-2014 was detected in one specimen from a cobra. The infection rates of E. bieneusi were 3.0 % in cobras and 5.7 % in rat snakes. Sequence analysis of 11 PCR products revealed the presence of six E. bieneusi genotypes—two known genotypes (type IV and Henan V) and four new genotypes (CRep-1 to CRep-4). All six E. bieneusi genotypes belonged to the zoonotic group (group 1). This result raised the possibility that E. bieneusi could be present in animals consumed by snakes. This should be taken into consideration to better understand the diversity of the parasite, its transmission through the predator–prey relationship, and public health implications.
This is a preview of subscription content, log in to check access.
Access options
Buy single article
Instant access to the full article PDF.
US$ 39.95
Price includes VAT for USA
Subscribe to journal
Immediate online access to all issues from 2019. Subscription will auto renew annually.
US$ 199
This is the net price. Taxes to be calculated in checkout.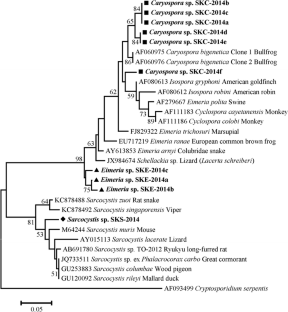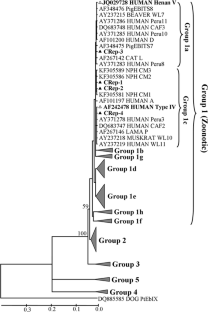 References
Abdel-Ghaffar F, Bashter A, Al-Quraishy S, Nasr IA, Mehlhorn H (2009) Sarcocystis infecting reptiles in Saudi Arabia. Parasitol Res 104:503–508

Barta JR, Martin DS, Carreno RA, Siddall ME, Profous-Juchelkat H, Hozza M, Powles MA, Sundermann C (2001) Molecular phylogeny of the other tissue coccidia: Lankesterella and Caryospora. J Parasitol 87:121–127

Benson K (1999) Reptilian gastrointestinal diseases. Semin Avian Exotic Pet Med 8:90–97

Brownstein DG, Strandberg JD, Montali RJ, Bush M, Fortner J (1977) Cryptosporidium in snakes with hypertrophic gastritis. Vet Pathol 14:606–617

Cranfield MR, Graczyk TK (1994) Experimental infection of elaphid snakes with Cryptosporidium serpentis (Apicomplexa: Cryptosporidiidae). J Parasitol 80:823–826

Denver MC (2008) Reptile protozoa. In: Fowler ME, Miller RE (eds) Zoo and wild animal medicine current therapy, vol 6. Elsevier, St Louis, pp 154–159

Díaz P, Rotab S, Marchesi B, Lópeza C, Panaderoa R, Fernándeza G, Díez-Baños P, Morrondoa P, Poglayen G (2013) Cryptosporidium in pet snakes from Italy: molecular characterization and zoonotic implications. Vet Parasitol 197:68–73

Dolezel D, Koudela B, Jirku M, Hypsa V, Obornik M, Votypka J, Modry D, Slapeta JR, Lukes J (1999) Phylogenetic analysis of Sarcocystis spp. of mammals and reptiles supports the coevolution of Sarcocystis spp. with their final hosts. Int J Parasitol 29(5):795–798

Duszynski DW, Upton SJ (2009) The Biology of the coccidia (Apicomplexa) of snakes of the world. Create Space, USA

Fayer R (2004) Sarcocystis spp. in human infections. Clin. Microbiol Rev 17:894–902

Fayer R (2010) Taxonomy and species delimitation in Cryptosporidium. Exp Parasitol 124:90–97

Ghosh K, Weiss LM (2009) Molecular diagnostic tests for microsporidia. Interdiscip Perspect Infect Dis 2009:926521

Guo Y, Alderisio KA, Yang W, Cama V, Feng Y, Xiao L (2014) Host specificity and source of Enterocytozoon bieneusi genotypes in a drinking source watershed. Appl Environ Microbiol 80:218–225

Henriques-Gil N, Haro M, Izquierdo F, Fenoy S, del Aguila C (2010) Phylogenetic approach to the variability of the microsporidian Enterocytozoon bieneusi and its implications for interand intrahost transmission. Appl Environ Microbiol 76:3333–3342

Karim MR, Wang R, He X, Zhang L, Li J, Rume FI, Dong H, Qi M, Jian F, Zhang S, Sun M, Yang G, Zou F, Ning C, Xiao L (2014a) Multilocus sequence typing of Enterocytozoon bieneusi in nonhuman primates in China. Vet Parasitol 200:13–23

Karim MR, Wang R, Dong H, Zhang L, Li J, Zhang S, Rume FI, Qi M, Jian F, Sun M, Yang G, Zou F, Ning C, Xiao L (2014b) Genetic polymorphism and zoonotic potential of Enterocytozoon bieneusi from nonhuman primates in China. Appl Environ Microbiol 80:1893–1898

Koudela B, Modry D (1998) New species of Cryptosporidium (Apicomplexa, Cryptosporidiidae) from lizards. Folia Parasitol (Praha) 45:93–100

Lau YL, Chang PY, Subramaniam V, Ng YH, Mahmud R, Ahmad AF, Fong MY (2013) Genetic assemblage of Sarcocystis spp. in Malaysian snakes. Parasit Vectors 6(1–6):257

Li W, Kiulia NM, Mwenda JM, Nyachieo A, Taylor MB, Zhang X, Xiao L (2011) Cyclospora papionis, Cryptosporidium hominis, and human-pathogenic Enterocytozoon bieneusi in captive baboons in Kenya. J Clin Microbiol 49:4326–4329

Li N, Xiao L, Wang L, Zhao S, Zhao X, Duan L, Guo M, Liu L, Feng Y (2012) Molecular surveillance of Cryptosporidium spp., Giardia duodenalis, and Enterocytozoon bieneusi by genotyping and subtyping parasites in wastewater. PLoS Negl Trop Dis 6:e1809

Morgan UM, Xiao L, Fayer R, Graczyk TK, Lal AA, Deplazes P, Thompson RC (1999) Phylogenetic analysis of Cryptosporidium isolates from captive reptiles using 18S rDNA sequence data and random amplified polymorphic DNA analysis. J Parasitol 85:525–530

Okano T, Onuma M, Nagamine T, Nakaya Y (2012) First record of muscular sarcocystosis in Ryukyu long-furred rats (Diplothrix legata). Jpn J Zoo Wildl Med 17:145–151

Pavlasek I, Ryan U (2008) Cryptosporidium varanii takes precedence over C. saurophilum. Exp Parasitol 118:434–437

Pavlasek I, Lavickova M, Horak P, Kral J, Kral B (1995) Cryptosporidium varanii n. sp. (Apicomplexa, Cryptosporidiidae) in Emerald monitor (Varanus prasinus) Schegel (1893) in captivity at Prague zoo. Gazella 22:99–108

Pedraza-Díaz S, Ortega-Mora LM, Carrión BA, Navarro V, Gómez-Bautista M (2009) Molecular characterization of Cryptosporidium isolates from pet reptiles. Vet Parasitol 160:204–210

Plutzer J, Karanis P (2007) Molecular identification of a Cryptosporidium saurophilum from corn snake (Elaphe guttata guttata). Parasitol Res 101:1141–1145

Richter B, Nedorost N, Maderner A, Weissenböck H (2011) Detection of Cryptosporidium species in feces or gastric contents from snakes and lizards as determined by polymerase chain reaction analysis and partial sequencing of the 18S ribosomal RNA gene. J Vet Diagn Investig 23:430–435

Rinaldi L, Capasso M, Mihalca AD, Cirillo R, Cringoli G, Cacciò S (2012) Prevalence and molecular identification of Cryptosporidium isolates from pet lizards and snakes in Italy. Parasite 19:437–440

Santin M, Fayer R (2009) Enterocytozoon bieneusi genotype nomenclature based on the internal transcribed spacer sequence: a consensus. J Eukaryot Microbiol 56:34–38

Santin M, Fayer R (2011) Microsporidiosis: Enterocytozoon bieneusi in domesticated and wild animals. Res Vet Sci 90:363–371

Scullion FT, Scullion MG (2009) Gastrointestinal protozoal diseases in reptiles. J Exot Pet Med 18:266–278

Slapeta JR, Modry D, Koudela B (1999) Sarcocystis atheridis sp. nov., a new sarcosporidian coccidium from Nitsche's bush viper, Atheris nitschei Tornier, 1902, from Uganda. Parasitol Res 85(8–9):758–764

Sulaiman IM, Fayer R, Lal AA, Trout JM, Schaefer FW 3rd, Xiao L (2003) Molecular characterization of microsporidia indicates that wild mammals harbor host-adapted Enterocytozoon spp. as well as human-pathogenic Enterocytozoon bieneusi. Appl Environ Microbiol 69:4495–4501

Thellier M, Breton J (2008) Enterocytozoon bieneusi in human and animals focus on laboratory identification and molecular epidemiology. Parasite 15:349–358

Tian M, Chen Y, Wu L, Rosenthal BM, Liu X, He Y, Dunams DB, Cui L, Yang Z (2012) Phylogenetic analysis of Sarcocystis nesbitti (Coccidia: Sarcocystidae) suggests a snake as its probable definitive host. Vet Parasitol 183(3–4):373–376

Upton SJ, Oppert CJ (1991) Description of the oöcysts of Eimeria arnyi n. sp. (Apicomplexa: Eimeriidae) from the eastern ringneck snake Diadophis punctatus arnyi (Serpentes: Colubridae). Syst Parasitol 20:195–197

Upton SJ, Current WL, Barnard SM (1986) A review of the genus Caryospora Léger, 1924 (Apicomplexa:Eimeriidae). Syst Parasitol 8:3–21

Viana LA, Winck GR, Coelho CD, Flausino W, Duarte Rocha CF (2013) A new species of Caryospora Léger, 1904 (Apicomplexa:Eimeriidae) from the snake Philodryas olfersii Lichtenstein (Colubridae) from a coastal habitat in Brazil. Syst Parasitol 85:195–199

Wang L, Zhang H, Zhao X, Zhang L, Zhang G, Guo M, Liu L, Feng Y, Xiao L (2013a) Zoonotic Cryptosporidium species and Enterocytozoon bieneusi genotypes in HIV-positive patients on antiretroviral therapy. J Clin Microbiol 51:557–563

Wang L, Xiao L, Duan L, Ye J, Guo Y, Guo M, Liu L, Feng Y (2013b) Concurrent infections of Giardia duodenalis, Enterocytozoon bieneusi, and Clostridium difficile in children during a cryptosporidiosis outbreak in a pediatric hospital in China. PLoS Negl Trop Dis 7:e2437

Xiao L, Singh A, Limor J, Graczyk TK, Gradus S, Lal AA (2001) Molecular characterization of Cryptosporidium oocysts in samples of raw surface water and wastewater. Appl Environ Microbiol 67:1097–1101

Xiao L, Ryan UM, Graczyk TK, Limor J, Li L, Kombert M, Junge R, Sulaiman IM, Zhou L, Arrowood MJ, Koudela B, Modry D, Lal AA (2004) Genetic diversity of Cryptosporidium spp. in captive reptiles. Appl Environ Microbiol 70:891–899

Ye J, Xiao L, Ma J, Guo M, Liu L, Feng Y (2012) Anthroponotic enteric parasites in monkeys in public park, China. Emerg Infect Dis 18:1640–1643

Zhang X, Wang Z, Su Y, Liang X, Sun X, Peng S, Lu H, Jiang N, Yin J, Xiang M, Chen Q (2011) Identification and genotyping of Enterocytozoon bieneusi in China. J Clin Microbiol 49:2006–2008
Acknowledgments
This study was supported in part by the State Key Program of National Natural Science Foundation of China (31330079), Innovation Scientists and Technicians Troop Construction Projects of Henan Province (134200510012), the Key National Science and Technology Specific Projects (no. 2012ZX10004220-001), and the Program for Science and Technology Innovative Research Team in University of Henan Province (012IRTSTHN005).
About this article
Cite this article
Karim, M.R., Yu, F., Li, J. et al. First molecular characterization of enteric protozoa and the human pathogenic microsporidian, Enterocytozoon bieneusi, in captive snakes in China. Parasitol Res 113, 3041–3048 (2014). https://doi.org/10.1007/s00436-014-3967-9
Received:

Accepted:

Published:

Issue Date:
Keywords
Enteric protozoa

Enterocytozoon bieneusi

Molecular characterization

Snakes

China