Abstract
For reliable predictions of clinical and parasitological outcome of experimental infections with parasites, different models must be evaluated for possible influences of infection time point, infection dose and host-specific parameters such as breed or litter size. To address these issues for Cystoisospora (syn. Isospora) suis, the causative agent of porcine neonatal coccidiosis, 181 piglets from 90 litters (hybrid crosses of different breeds) were included in a retrospective study to evaluate differences in time point and dose of infection in four different experimental models ((1) 1,500 oocysts on the 4th day of life, d.o.l.; (2) 1,000 oocysts, 4th d.o.l.; (3) 1,000 oocysts, 1st d.o.l.; (4) 5,000 oocysts, 4th d.o.l.). The target variables body weight gain, faecal consistency and oocyst excretion were evaluated during the acute phase of infection (5–10 days post infection), and the influences of the dependent variables breed or litter size were estimated. Despite differences in the time course of excretion and faecal consistency, neither the average amount of excretion nor the average faecal consistency differed among models, breeds or litters of different size. High individual variability was seen in all four models as described earlier for higher infection doses. When infections on the 1st vs. 4th day of life were compared, no differences in averages could be found, in contrast to previous observations on the influence of age. Other, not yet defined, variables appear to have a greater impact on the outcome of infection than doses and time points in the tested range, despite the reliable outcome of infection with high excretion rates and signs of clinical disease.
This is a preview of subscription content, log in to check access.
Access options
Buy single article
Instant access to the full article PDF.
US$ 39.95
Price includes VAT for USA
Subscribe to journal
Immediate online access to all issues from 2019. Subscription will auto renew annually.
US$ 199
This is the net price. Taxes to be calculated in checkout.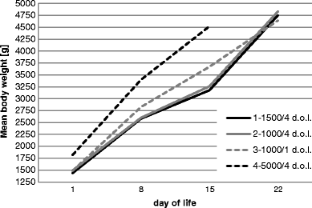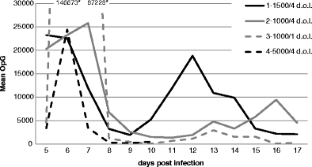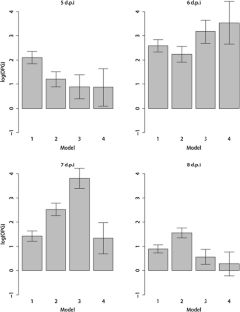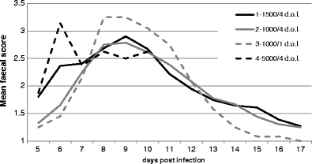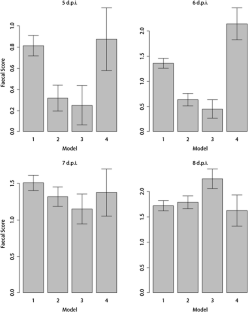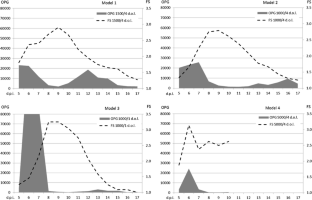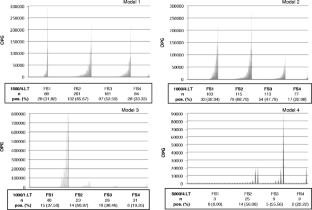 References
Daugschies A, Bialek R, Joachim A, Mundt HC (2001) Autofluorescence microscopy for the detection of nematode eggs and protozoa, in particular Isospora suis, in swine faeces. Parasitol Res 87:409–412

Gabner S, Zbyněk T, Tichy A, Saalmüller A, Worliczek HL, Joachim A, Witter K (2012) Immunohistochemical detection and quantification of T cells in the small intestine of Isospora suis-infected piglets—influence of fixation technique and intestinal segment. Microscopy Res Techn 75:408–415

Harleman JH, Meyer RC (1985) Pathogenicity of Isospora suis in gnotobiotic and conventionalised piglets. Vet Rec 116:561–565

Joachim A, Mundt HC (2011) Efficacy of sulfonamides and Baycox® against Isospora suis in experimental infections of suckling piglets. Parasitol Res 109:1653–1659

Koudela B, Kučerová S (1999) Role of acquired immunity and natural age resistance on course of Isospora suis coccidiosis in nursing piglets. Vet Parasitol 82:93–99

Lindsay DS, Current WL, Taylor JR (1985) Effects of experimentally induced Isospora suis infection on morbidity, mortality, and weight gains in nursing pigs. Am J Vet Res 46:1511–1512

Martineau GP, del Castillo J (2000) Epidemiological, clinical and control investigations on field porcine coccidiosis: clinical, epidemiological and parasitological paradigms? Parasitol Res 86:834–837

Mengel H, Krüger M, Krüger MU, Westphal B, Swidsinski A, Schwarz S, Mundt HC, Dittmar K, Daugschies A (2012) Necrotic enteritis due to simultaneous infection with Isospora suis and clostridia in newborn piglets and its prevention by early treatment with toltrazuril. Parasitol Res 110:1347–1355

Mundt HC, Joachim A, Daugschies A, Zimmermann M (2003) Population biology studies on Isospora suis in piglets. Parasitol Res 90:S158–S159

Mundt HC, Joachim A, Becka M, Daugschies A (2006) Isospora suis an experimental model for mammalian intestinal coccidiosis. Parasitol Res 98:167–175

Mundt HC, Mundt-Wüstenberg S, Daugschies A, Joachim A (2007) Efficacy of various anticoccidials against experimental porcine neonatal isosporosis. Parasitol Res 100:401–411

Schwarz L, Joachim A, Worliczek HL (2013) Transfer of Cystoisospora suis-specific colostral antibodies and their correlation with the course of neonatal porcine cystoisosporosis. Vet Parasitol 197:487–497

Severins M (2012) A modeller's perspective on infection dynamics within and between hosts. Vet Quarterly 32:169–178

Worliczek HL, Buggelsheim M, Saalmüller A, Joachim A (2007) Porcine isosporosis: Infection dynamics, pathophysiology and immunology of experimental infections. Wien Klin Wschr 119:33–39

Worliczek HL, Mundt HC, Ruttkowski B, Joachim A (2009a) Age, not infection dose, determines the outcome of Isospora suis infections in suckling piglets. Parasitol Res 105:S157–S162

Worliczek HL, Gerner W, Joachim A, Mundt HC, Saalmüller A (2009b) Porcine coccidiosis - investigations on the cellular immune response against Isospora suis. Parasitol Res 105:S151–S155

Worliczek HL, Buggelsheim M, Alexandrowicz R, Witter K, Schmidt P, Gerner W, Saalmüller A, Joachim A (2010a) Changes in lymphocyte populations in suckling piglets during primary infections with Isospora suis. Parasite Immunol 32:232–244

Worliczek HL, Ruttkowski B, Saalmüller A, Joachim A, Gerner W (2010b) Faeces, FACS, and functional assays—preparation of Isospora suis oocyst antigen and representative controls for immunoassays. Parasitology 137:1637–1643

Worliczek HL, Joachim A (2011) Neonatal porcine coccidiosis. In: Mehlhorn H (ed) Progress in parasitology. Parasitology research monographs 2, 1st edn. Heidelberg, Springer, pp 79–91
Acknowledgments
The authors gratefully acknowledge the technical support of the animal and laboratory staff of the Institute of Parasitology, University of Veterinary Medicine Vienna.
Conflict of interest
The authors declare that they have no conflict of interest. Hans-Christian Mundt is employed by Bayer Animal Health, Germany.
About this article
Cite this article
Joachim, A., Schwarz, L., Hinney, B. et al. Which factors influence the outcome of experimental infection with Cystoisospora suis?. Parasitol Res 113, 1863–1873 (2014). https://doi.org/10.1007/s00436-014-3834-8
Received:

Accepted:

Published:

Issue Date:
Keywords
Coccidiosis

Cystoisosporosis

Neonatal pig

Swine

Model

Diarrhoea