Abstract
Personnel protection is one of the methods for protection from bites of mosquitoes and other arthropod vectors transmitting many dreadful diseases. Insect repellents and other plant products are normally used to ward off mosquitoes. Application of synthetic pyrethroid permethrin on cloth is adopted for repelling arthropod vectors in many countries for military and civil purposes. In the present study, attempt has been made to impregnate permethrin in the army uniform cloth and to evaluate for its knockdown and repellency against unfed female Aedes aegypti mosquitoes in laboratory condition. WHO protocols were adopted for impregnation of permethrin on cloth and evaluation for its knockdown and repellency after different cycles of washing. Results showed that 93.33 % of mosquitoes were knocked down within 1 h after the first washing while its efficacy reduced gradually till the fifty-fifth washing. Landing of mosquitoes on the permethrin-treated cloth was found to increase with respect to number of washings as compared to the untreated cloth. Within 24 h, 100 % mortality of all the mosquitoes exposed to permethrin-impregnated cloth was observed. SEM-EDX studies on the texture of untreated cloth and permethrin-treated cloth after different cycles of washing also revealed presence of permethrin on treated cloth.
This is a preview of subscription content, log in to check access.
Access options
Buy single article
Instant access to the full article PDF.
US$ 39.95
Price includes VAT for USA
Subscribe to journal
Immediate online access to all issues from 2019. Subscription will auto renew annually.
US$ 199
This is the net price. Taxes to be calculated in checkout.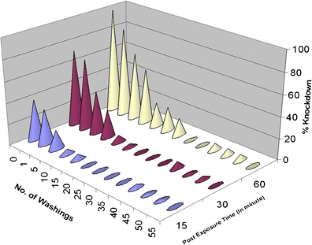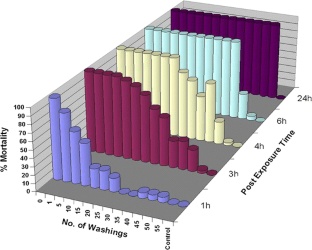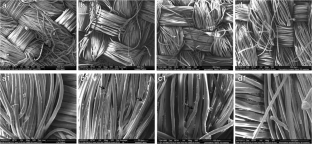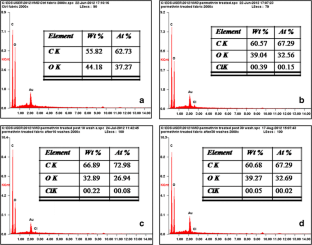 References
Appel KE, Gundert RU, Fischer H, Falude M, Mross KG, Letzel S, Rossbach B (2008) Risk assessment of Bundheshwer (German Federal Armed Forces) permethrin-impregnated battle dress uniforms (BDU). Int J Hyg Environ Health 211(1–2):88–104

Armed Forces Pest Management Board (AFPMB) (2009) Personal protective measures against insects and other arthropods of military significance. Technical Guide No. 36, pp.61

Asilian A, Sadeghinia A, Shariati F, Jome MI, Ghoddusi A (2003) Efficacy of permethrin-impregnated uniforms in the prevention of cutaneous leishmaniasis in Iranian soldiers. J Clin Pharm Ther 28(3):175–178

Bissinger BW, Zhu J, Apperson CS, Sonenshine DE, Watson DW, Roe RM (2009) Comparative efficacy of BioUD to other commercially available arthropod repellents against the ticks Amblyomma americanum and Dermacentor variabilis on cotton cloth. Am J Trop Med Hyg 81(4):685–690

Debboun M, Strickman D (2012) Insect repellents and associated personal protection for a reduction in human disease. Med Vet Entomol 27:1–9

Faulde MK, Uedelhovent WM, Maleriust M, Robbins RG (2006a) Factory-based permethrin impregnation of uniforms: residual activity against Aedes aegypti and Ixodes ricinus in battle dress uniforms worn under field conditions, and cross-contamination during the laundering and storage process. Mil Med 171(6):472–477

Faulde MK, Uedelhoven WM (2006b) A new clothing impregnation method for personal protection against ticks and biting insects. Int J Med Microbiol 296:225–229

Faulde MK, Uedelhoven WM, Robbins RG (2003) Contact toxicity and residual activity of different permethrin-based fabric impregnation methods for Aedes aegypti (Diptera: Culicidae), Ixodes ricinus (Acari: Ixodidae), and Lepisma saccharina (Thysanura: Lepismatidae). J Med Entomol 40(6):935–941

Faulde MK, Albiez G, Nehring O (2010) Insecticidal, acaricidal and repellent effects of DEET- and IR3535-impregnated bed nets using a novel long-lasting polymer-coating technique. Parasitol Res 106(4):957–965

Frances SP, Cooper RD (2007) Personal protective measures against mosquitoes: insecticide-treated uniforms, bed nets and tents. Inf Disp 8:50–56

Frances SP, Auliff AM, Edstein MD, Cooper RD (2003a) Survey of personal protection measures against mosquitoes among Australian Defence Force Personnel deployed to East Timor. Mil Med 168(3):227–230

Frances SP, Watson K, Constable BG (2003b) Comparative toxicity of permethrin- and bifenthrin-treated cloth fabric for Anopheles farauti and Aedes aegypti. J Am Mosq Control Assoc 19(3):275–278

Fryauff DJ, Shoukry MA, Hanafi HA, Choi YM, Kamel KE, Schreck CE (1996) Contact toxicity of permethrin-impregnated military uniforms to Culex pipiens (Diptera: Culicidae) and Phleobotomous papatasi (Diptera: Psychodidae): effect of laundering and time of exposure. J Am Mosq Control Assoc 12(1):84–90

Fryauff DJ, Shoukry MA, Wassef HY, Gray G, Schreck CE (1998) Contact toxicity of permethrin-impregnated fabric to Hyalomma anatolicum excavatum (Acari: Ixodidae): effect of laundering and exposure and recovery times. Entomol Soc Am 35(3):335–339

Gupta RK, Sweeney AW, Rutledge LC, Cooper RD, Frances SP, Westrom DR (1987) Effectiveness of controlled-release personal-use arthropod repellents and permethrin-impregnated clothing in the field. J Am Mosq Control Assoc 3(4):556–560

Hogsette JA, Nalli A, Foil LD (2008) Evaluation of different insecticides and fabric types for development of treated targets for stable fly (Diptera: Muscidae) control. J Econ Entomol 101(3):1034–1038

Jelinek T (2009) Trends in the epidemiology of dengue fever and their relevance for importation to Europe. Euro Surv 14(25). http://www.eurosurveillance.org/ViewArticle.aspx?ArticleId=19250

Leggat PA (2009) Dengue in northen Queensland, Australia: risk from travelers or risk to travelers. Travel Med Infect Dis 7(4):212–214

McCain WC, Leach GJ (2007) Repellents used in fabric: the Experience of the U.S. Military. In: Debboun M, Frances SP, Stickman D (eds) Insect Repellents: Principles, Methods and Uses, 1st edn. CRC Press, Boca Raton, pp 261–273

Mehr ZA, Rutledge LC, Morales EL, Meixsell VE, Korte DW (1985) Laboratory evaluation of controlled-release insect repellent formulations. J Am Mosq Control Assoc 1(2):143–147

Miller RJ, Wing J, Cope SE, Klavons JA, Kline DL (2004) Repellency of permethrin-treated battle dress uniforms during Operation Tandem Thrust 2001. J Am Mosq Control Assoc 20(4):462–464

Mirospecos MM, Garcia JJ, Tornesello J, Marino P, Della VM, Defain TMV, Hermida LG (2010) Microencapsulated citronella oil for mosquito repellent finishing of cotton textiles. Trans R Soc Trop Med Hyg 104(10):653–658

Pages F, Faulde MK, Orlandi-Pradines E, Parola P (2010) The past and present threat of vector-borne diseases in deployed troops. Clin Microbiol Infect 16(3):209–224

Pennetier C, Chabi J, Martin T, Chandre F, Rogier C, Hougard JM, Pages F (2010) New protective battle-dress impregnated against mosquito vector bites. Parasites Vectors 3:81

Rezza G, Nicoletti L, Angelini R, Romi R, Finarelli AC, Panning M, Cordioli P, Fortuna C, Boros S, Magurano F, Silvi G, Angelini P, Dottori M, Ciufolini MG, Majori GC, Cassone A (2007) Infection with chikungunya virus in Italy: an outbreak in a temperate region. Lancet 370(9602):1840–1846

Rutledge LC, Sofield RK, Moussa MA (1978) A bibliography of diethyl toluamide. Bull Entomol Soc Am 24(4):431–439

Schreck CE, Weidhaas DE, Smith N, Posey KH (1977) Chemical treatment of wide-mesh net clothing for personal protection against blood-feeding arthropods. Mosq News 37:455–462

Schreck CE, Smith N, Weidhaas D, Posey K, Smith D (1978) Repellents vs. toxicants as clothing treatments for protection from mosquitoes and other biting flies. J Econ Entomol 71:919–922

Schreck CE, Kline DL, Chaniotis BN, Wilkinson N, McGovern TP, Weidhaas DE (1982) Evaluation of personal protection methods against phlebotomine sand flies including vectors of leishmaniasis in Panama. Am J Trop Med Hyg 31(5):1046–1053

Schreck CE, Haile DG, Kline DL (1984) The effectiveness of permethrin and DEET, alone or in combination for protection against Aedes taeniorhynchus. Am J Trop Med Hyg 33(4):725–730

Sholdt LL, Schreck CE, Mwangelwa MI, Nondo J, Stachinji VJ (l989) Evaluation of permethrin-impregnated clothing and three topical repellent formulations of DEET against tsetse fly in Zambia. Med Vet Entomol 3(2):153–158

Simon F, Parola P, Grandadam M, Fourcade S, Oliver M, Brouqui P, Hance P, Kraemer P, Ali MA, de Lamballerie X, Charrel R, Tolou H (2007) Chikungunya infection: an emerging rheumatism among travelers returned from Indian Ocean islands. Report of 47 cases. Med (Baltimore) 86(3):123–137

Soto J, Medina F, Dember N, Berman J (1995) Efficacy of permethrin-impregnated uniforms in the prevention of malaria and leishmaniasis in Colombian soldiers. Clin Infect Dis 21(3):599–602

Vaughn MF, Meshnick SR (2011) Pilot study assessing the effectiveness of long-lasting permethrin-impregnated clothing for the prevention of tick bites. Vect Born Zoo Dis 11(7):869–875

Vickery JP, Tribble DR, Putnam SD, McGraw T, Sanders JW, Armstrong AW, Riddle MS (2008) Factors associated with the use of protective measures against vector-borne among troops deployed to Iraq and Afghanistan. Mil Med 173(11):1060–1067

WHO (2001a) Vectors of diseases: hazards and risks for travelers—Part I. WER 25:189–194

WHO (200lb) Vectors of diseases: hazards and risks for travelers—Part II. WER 26:201–203

WHO (1989) The use of impregnated bed nets and other materials for vector borne diseases control. World Health Organization, Geneva, document WHO/VBC, 89.981

WHO (2005) Communicable Disease Control, Prevention and Eradication, WHO Pesticide Evaluation Scheme (WHOPES) & Protection of the Human Environment Programme on Chemical Safety (PCS), Safety of pyrethroids for public health use. WHO/CDS/WHOPES/GCDPP/2005.10

Young GD, Evans S (1998) Safety and efficacy of DEET and Permethrin in the prevention of arthropod attack. Mil Med 163(5):3241–330
Acknowledgments
All the authors are thankful to Prof. (Dr.) M. P. Kaushik, Director, Defence Research and Development Establishment, Gwalior, for his constant encouragement. Authors also thankfully acknowledge all other staff of Vector Management Division for their help in the maintenance of mosquito colony and other supports during the above study.
About this article
Cite this article
Sukumaran, D., Sharma, A.K., Wasu, Y.H. et al. Knockdown and repellent effect of permethrin-impregnated army uniform cloth against Aedes aegypti after different cycles of washings. Parasitol Res 113, 1739–1747 (2014). https://doi.org/10.1007/s00436-014-3819-7
Received:

Accepted:

Published:

Issue Date:
Keywords
Aedes aegypti

Army uniform

Knockdown

Permethrin

Repellent textile