Abstract
Blastocystis sp. is one of the most common parasites in the human intestinal tract. This infection commonly is accompanied by diarrhoea and abdominal pain, but extraintestinal symptoms, such as skin lesions, may also accompany the disease. In this study, our aim was to assess the frequency, clinical symptoms and skin manifestations of confirmed positive Blastocystis sp. infections. Data of 80 patients with confirmed positive Blastocystis sp. infections were assessed retrospectively. The average age of the patients was 46.3 years of age (with a range between 13 and 85 years of age). The number of female patients was higher than the number of males (48 vs. 32; 60 vs. 40 %). Gastrointestinal and dermatological symptoms and the results of routine biochemical and haematological blood tests of enrolled patients were collected and analyzed. The skin manifestations were analyzed using the data available (including descriptions, photos and histologies). We discovered that 11.25 % of our enrolled patients exhibited skin manifestations associated to Blastocystis sp., mainly on the females. The occurrence of Blastocystis sp. was 6 % in symptomatic patients who required medical attendance in the time period between 2005 and 2013. Of the 80 patients, 73.75 % indicated that they had gastrointestinal symptoms: 40 patients complained of abdominal pain and 17 with blood in their stool, while other symptoms, such as meteorism (15 subjects), weigh loss (8 subjects), perianal pain or itching (6 subjects), passing stool with mucus (5 subjects), vomiting (2 subjects) and fever (2 subjects) were less frequent. The prevalence of abdominal pain in the cohort without skin lesions was higher compared to those patients with skin problems (p = 0.007). The mean value of C-reactive protein showed elevated levels, but eosinophils were within a normal range. In addition, we did not find significant difference in eosinophilia between patients with vs. without skin manifestations. Thus, we suggest that eosinophilia is not an obligatory laboratory finding in protozoon infections, such as Blastocystis sp. In the light of our results, we suggest a stool parasite examination for patients with skin lesions of unknown origin.
This is a preview of subscription content, log in to check access.
Access options
Buy single article
Instant access to the full article PDF.
US$ 39.95
Price includes VAT for USA
Subscribe to journal
Immediate online access to all issues from 2019. Subscription will auto renew annually.
US$ 199
This is the net price. Taxes to be calculated in checkout.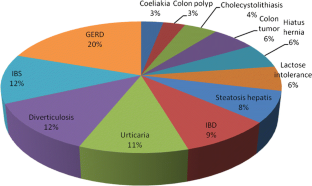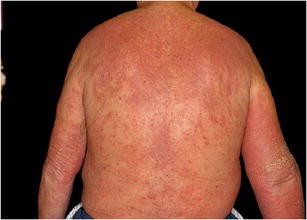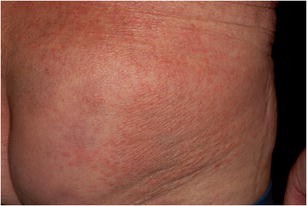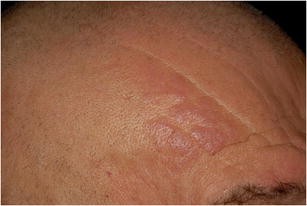 References
Alfellani MA, Stensvold CR, Vidal-Lapiedra A et al (2013) Variable geographic distribution of Blastocystis subtypes and its potential implications. Acta Tropica 126:11–18

Barahona Rodón L, Maguina Vargas C, Náquira Velarde C et al (2003) Human blastocystosis: prospective study symptomatology and associated epidemiological factors. Rev Gastroenterol Peru 23(1):29–35

Basak S, Rajurkar MN, Mallick SK (2014) Detection of Blastocystis hominis: a controversial human pathogen. Parasitol Res 113:261–265

Boroom KF, Smith H, Nimri L (2008) Oh my aching gut: irritable bowel syndrome, Blastocystis, and asymptomatic infection. Parasites Vectors 1:40

Dagci H, Ustun S, Taner MS et al (2002) Protozoon infections and intestinal permeability. Acta Trop 81(1):1–5

Dilek AR, Dilek N, Saral Y (2012) The role of protozoa in the etiology of chronic urticaria. Dermatol Sin 30:90–92

Garcia LS, Bruckner DA (1993a) Intestinal protozoa: amebae. DiagnMed Parasitol 2:6–30

Garcia LS, Bruckner DA (1993b) Macroscopic and microscopic examination of faecal specimen. Diagn Med Parasitol 2:501–540

Garcia LS, Bruckner DA (Ed.) (1993) Parasite recovery: culture methods, animal inoculation and xenodiagnosis. In: Diagnostic medical parasitology. 2nd ed. 595–617

Ghevariya V, Singhal S, Anand S (2013) The skin: a mirror to the gut. Int J Colorectal Dis 28(7):889–913

Ghoshal UC, Park H, Gwee KA (2010) Bugs and irritable bowel syndrome: the good, the bad and the ugly. J Gastroen Hepatol 25:244–251

Grattan CE, Humphreys F (2007) Guidelines for evaluation and management of urticaria in adults and children. Br J Dermatol 157:1116–1123

Gupta R, Parsi K (2006) Chronic urticaria due to Blaytocystis hominis. Australas J Dermatol 47:117–119

Hameed DM, Hassanin OM (2011) Association of Blastocystis hominis genetic subtypes with urticaria. Parasitol Res 108:553–560

Hotez P (2000) The other intestinal protozoa: enteric infections caused by Blastocystis hominis, Entamoeba coli, and Dientamoeba fragilis. Semin Pediatr Infect Dis 11:178–181

Iguchi A, Ebisu A, Nagata S et al (2007) Infectivity if different genotypes of human Blastocystis hominis isolates in chicken and rats. Parasitol Int 56(2):107–112

Jones MS, Whipps CM, Ganac RD et al (2009) Association of Blastocystis subtype 3 and 1 with patients from an Oregon community presenting with chronic gastrointestinal illness. Parasitol Res 104:341–345

Karaman U, Sener S, Calik S et al (2011) Investigation of microsporidia in patients with acute and chronic urticaria. Microbiol Bul 45(1):68–73

Katsarou-Katsari A, Vassalos CM, Tzanetou K et al (2008) Acute urticaria associated with amoeboid forms of Blastocystis hominis sp subtype 3. Acta Derm-Venereolog 88:80–81

Kick G, Rueff F, Przybilla B (2002) Palmoplantar pruritus subsiding after Blastocystis hominis eradication. Acta Derm Venereol 82:60

Kumarasamy V, Ruppusamy UR, Samudi C, Kumar S (2013) Blastocystis sp. subtype 3 triggers higher proliferation of human colorectal cells, HCT116. Parasitol Res 112:3551–3555

Leber AL, Novak-Weekly S (2011) Intestinal and urogenital amebae, flagellates and ciliates. Man Clin Microbiol 10(2):2149–2171

Pasqui AL, Savini E, Saletti M et al (2004) Chronic urticaria and Blastocystis hominis infection: a case report. Eur Rev Med Pharmacol Sci 8(3):117–120

Scanlan PD (2012) Blastocystis: past pitfalls and future perspectives. Trends Parasitol 28(8):327–334

Sohail MR, Fisher PR (2005) Blastocystis hominis and travelers. Travel Med Infect Dis 3:33–38

Stensvold CR, Nielsen HV, Molbak K et al (2008) Pursuing the clinical significance of Blastocystis-diagnostic limitations. Trend Parasitol 25(1):23–29

Stenzel DJ, Boreham PFL (1996) Blastocystis hominis revisited. Clin Microbiol Rev 9(4):563–584

Tai W-P, Hu P-J, Wu J, Lin X-C (2011) Six ulcerative colitis patients with refractory symptoms co-infective with Blastocystis hominis in China. Parasitol Res 108:1207–1210

Tan Kevin SW, Mirza H, Teo Joshua DW et al (2010) Current views on the clinical Relevance of Blastocystis spp. Curr InfectDis Rep 12(1):28–35

Tan TC, Suresh KG, Smith HV (2008) Phenotypic genotypic characterisation of Blastocystis hominis isolates implicates subtype 3 as a subtype with pathogenic potential. Parasitol Res 104:85–93

Ustün S, Turgay N (2006) Blastocystis and bowel diseases. Turkiye Parazitol Derg 30(1):72–76

Valsecchi R, Leghissa P, Greco V (2004) Cutaneous lesions in Blastocystis hominis infection. Acta Derm Venereol 84:322–323

Verma R, Delfanian K (2013) Blastocystis hominis associated acute urticaria. Am J Med Sci 346(1):80–81

Wedi B, Raap U, Wieczorek D, Kapp A (2009) Urticaria and infections. Allergy Asthma Clin Immunol 5:10

Yamamoto-Furusho JK, Torijano-Carrera E (2010) Intestinal protozoa infections among patients with ulcerative colitis: prevalence and impact on clinical disease course. Digestion 82:18–23

Zaglool DAM, Khodari YA, Farooq MU (2012) Blastocystis hominis and allergic skin disease; a single centre experience. J Health Sci 2(1):66–69
Acknowledgments
This work was supported by OTKA Research Proposal PD 105948 (PI: Klaudia Farkas) and TÁMOP-4.2.2.A-11/1/KONV-2012-0035, TÁMOP-4.2.2-A-11/1/KONV-2012 0052 TÁMOP-4.2.2.A-11/1/KONV-2012-0073 and TÁMOP-4.2.2.A-11/1/KONV-2012-0052.
About this article
Cite this article
Bálint, A., Dóczi, I., Bereczki, L. et al. Do not forget the stool examination!—cutaneous and gastrointestinal manifestations of Blastocystis sp. infection. Parasitol Res 113, 1585–1590 (2014). https://doi.org/10.1007/s00436-014-3805-0
Received:

Accepted:

Published:

Issue Date:
Keywords
Irritable Bowel Syndrome

Skin Lesion

Rifaximin

Lactose Intolerance

Small Intestinal Bacterial Overgrowth