Abstract
Granulomatous amebic encephalitis (GAE) from Balamuthia mandrillaris, a free-living ameba, has a case fatality rate exceeding 90 % among recognized cases in the USA. In August 2010, a GAE cluster occurred following transplantation of infected organs from a previously healthy landscaper in Tucson, AZ, USA, who died from a suspected stroke. As B. mandrillaris is thought to be transmitted through soil, a serologic survey of landscapers and a comparison group of blood donors in southern Arizona was performed. Three (3.6 %) of 83 serum samples from landscapers and 11 (2.5 %) of 441 serum samples from blood donors were seropositive (p = 0.47). On multivariable analysis, county of residence was associated with seropositivity, whereas age, sex, and ethnicity were not. Exposure to B. mandrillaris, previously unexamined in North America, appears to be far more common than GAE in Southern Arizona. Risk factors for disease progression and the ameba's geographic range should be examined.
This is a preview of subscription content, log in to check access.
Access options
Buy single article
Instant access to the full article PDF.
US$ 39.95
Price includes VAT for USA
Subscribe to journal
Immediate online access to all issues from 2019. Subscription will auto renew annually.
US$ 199
This is the net price. Taxes to be calculated in checkout.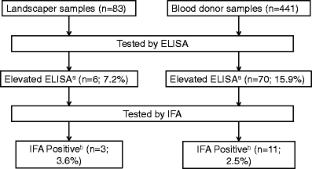 References
Ahmad AF, Andrew PW, Kilvington S (2011) Development of a nested PCR for environmental detection of the pathogenic free-living amoeba Balamuthia mandrillaris. J Eukaryot Microbiol 58:269–271

Booton GC, Carmichael JR, Visvesvara GS, Byers TJ, Fuerst PA (2003) Genotyping of Balamuthia mandrillaris based on nuclear 18S and mitochondrial 16S rRNA genes. Am J Trop Med Hyg 68:65–69

Centers for Disease Control and Prevention (2010a) Balamuthia mandrillaris transmitted through organ transplantation—Mississippi, 2009. MMWR Morb Mortal Wkly Rep 59:1165–1170

Centers for Disease Control and Prevention (2010b) Notes from the field: transplant-transmitted Balamuthia mandrillaris—Arizona, 2010. Morb Mortal Wkly Rep 59:1182

Dunnebacke TH, Schuster FL, Yagi S, Booton GC (2004) Balamuthia mandrillaris from soil samples. Microbiology 150:2837–2842

Huang ZH, Ferrante A, Carter RF (1999) Serum antibodies to Balamuthia mandrillaris, a free-living amoeba recently demonstrated to cause granulomatous amoebic encephalitis. J Infect Dis 179:1305–1308

Kiderlen AF, Laube U, Radam E, Tata PS (2007) Oral infection of immunocompetent and immunodeficient mice with Balamuthia mandrillaris amebae. Parasitol Res 100:775–782

Kiderlen AF, Radam E, Tata PS (2009) Assessment of Balamuthia mandrillaris-specific serum antibody concentrations by flow cytometry. Parasitol Res 104:663–670

Kiderlen AF, Radam E, Schuster FL, Adjogoua EV, Akoua-Koffi C, Leendertz FH (2010) Balamuthia and Acanthamoeba-binding antibodies in West African human sera. Exp Parasitol 126:28–32

Kucerova Z, Sriram R, Wilkins PP, Visvesvara GS (2011) Identification of antigenic targets for immunodetection of Balamuthia mandrillaris infection. Clin Vaccine Immunol 18:1297–1301

Matin A, Siddiqui R, Jayasekera S, Khan NA (2008) Increasing importance of Balamuthia mandrillaris. Clin Microbiol Rev 21:435–448

Niyyati M, Lorenzo-Morales J, Rezaeian M, Martin-Navarro CM, Haghi AM, Maciver SK, Valladares B (2009) Isolation of Balamuthia mandrillaris from urban dust, free of known infectious involvement. Parasitol Res 106:279–281

Schuster FL, Glaser C, Gilliam S, Visvesvara GS (2001) Survey of sera from encephalitis patients for Balamuthia mandrillaris antibody. J Eukaryot Microbiol 48:10s–12s

Schuster FL, Dunnebacke TH, Booton GC, Yagi S, Kohlmeier CK, Glaser C, Vugia D, Bakardjiev A, Azimi P, Maddux-Gonzalez M, Martinez AJ, Visvesvara GS (2003) Environmental isolation of Balamuthia mandrillaris associated with a case of amebic encephalitis. J Clin Microbiol 41:3175–3180

Schuster FL, Glaser C, Honarmand S, Maguire JH, Visvesvara GS (2004) Balamuthia amebic encephalitis risk, Hispanic Americans. Emerg Infect Dis 10:1510–1512

Schuster FL, Honarmand S, Visvesvara GS, Glaser CA (2006) Detection of antibodies against free-living amoebae Balamuthia mandrillaris and Acanthamoeba species in a population of patients with encephalitis. Clin Infect Dis 42:1260–1265

Schuster FL, Yagi S, Wilkins PP, Gavali S, Visvesvara GS, Glaser CA (2008) Balamuthia mandrillaris, agent of amebic encephalitis: detection of serum antibodies and antigenic similarity of isolates by enzyme immunoassay. J Eukaryot Microbiol 55:313–320

Schuster FL, Yagi S, Gavali S, Michelson D, Raghavan R, Blomquist I, Glastonbury C, Bollen AW, Scharnhorst D, Reed SL, Kuriyama S, Visvesvara GS, Glaser CA (2009) Under the radar: Balamuthia amebic encephalitis. Clin Infect Dis 48:879–887

Seas RC, Bravo PF (2006) Amebic granulomatosis encephalitis due to Balamuthia mandrillaris: a fatal disease increasingly recognized in Latin America [in Spanish]. Rev Chilena Infectol 23:197–199

Siddiqui R, Khan NA (2008) Balamuthia amoebic encephalitis: an emerging disease with fatal consequences. Microb Pathog 44:89–97

U.S. Census Bureau (2013) State & county quick facts: Pima, Pinal, and Yuma Counties. http://quickfacts.census.gov/qfd/states/04000.html. Accessed 20 Aug 2013

U.S. Department of Agriculture (2013) State fact sheets: Arizona. http://www.ers.usda.gov/StateFacts/AZ.htm. Accessed 20 Aug 2013

Visvesvara GS, Martinez AJ, Schuster FL, Leitch GJ, Wallace SV, Sawyer TK, Anderson M (1990) Leptomyxid ameba, a new agent of amebic meningoencephalitis in humans and animals. J Clin Microbiol 28:2750–2756

Visvesvara GS, Moura H, Schuster FL (2007) Pathogenic and opportunistic free‐living amoebae: Acanthamoeba spp., Balamuthia mandrillaris, Naegleria fowleri, and Sappinia diploidea. FEMS Immunol Med Microbiol 50:1–26
Acknowledgments
We thank the landscapers for their participation and Chukwuma Mbaeyi, Eileen Farnon, Matthew Kuehnert, Brad McKinney, Michelle McDonald, Sherry Daniels, Ken Komatsu, Myrna Seiter, Orion McCotter, Michael Arrowood, and Anna Yaffee for contributing to this investigation.
Disclaimer
The findings and conclusions in this report are those of the authors and do not necessarily represent the views of the Centers for Disease Control and Prevention.
Ethical standards
The investigation described in this manuscript complied with the laws of the USA.
Conflict of interest
None.
About this article
Cite this article
Jackson, B.R., Kucerova, Z., Roy, S.L. et al. Serologic survey for exposure following fatal Balamuthia mandrillaris infection. Parasitol Res 113, 1305–1311 (2014). https://doi.org/10.1007/s00436-014-3769-0
Received:

Accepted:

Published:

Issue Date:
Keywords
Blood Donor

Serum Specimen

Cysticercosis

Serologic Survey

Soil Exposure