Abstract
Trichomonas vaginalis causes trichomoniasis in humans, a sexually transmitted disease commonly treated with metronidazole (MTZ). MTZ is known to cause undesirable side effects, and MTZ-resistant parasites have been reported. Thus, the development of an alternative treatment is desirable. Miltefosine (MLT) is an alkylphosphocholine synthetic lipid analogue that displays antiparasitic activity against Leishmania, Trypanosoma cruzi, Entamoeba histolytica, Acanthamoeba spp., Giardia lamblia, T. vaginalis and some fungi. Moreover, it has been used for oral treatment of visceral leishmaniosis in several countries. Here, we analysed the MLT-induced antiproliferative effect on T. vaginalis as well its effect on the fine structure and viability of the parasite. We observed a dose-dependent effect with an IC50 of 14.5 and 20 μM after 24 and 48 h, respectively. Furthermore, reversibility assays demonstrated that new incubations were necessary in order to maintain the antiproliferative effect. Ultrastructural analyses demonstrated that MLT induced several alterations, including the appearance of wrinkled and rounded cells, membrane blebbing, intense vacuolization and nuclear condensation, all indicative of cell death by apoptosis. In addition, the quantitative analyses of the viability assays using combined markers of live and dead cells demonstrated that treatment with the IC50 concentration of MLT significantly reduced the number of viable parasites compared with untreated cells. Taken together, these observations suggest that MLT is a promising compound for the treatment of trichomoniasis.
This is a preview of subscription content, log in to check access.
Access options
Buy single article
Instant access to the full article PDF.
US$ 39.95
Price includes VAT for USA
Subscribe to journal
Immediate online access to all issues from 2019. Subscription will auto renew annually.
US$ 199
This is the net price. Taxes to be calculated in checkout.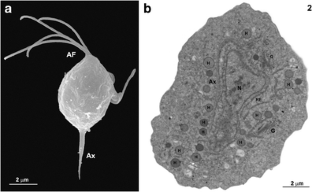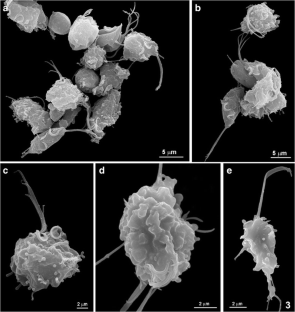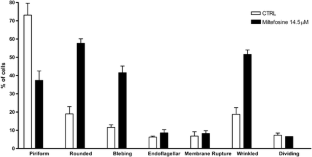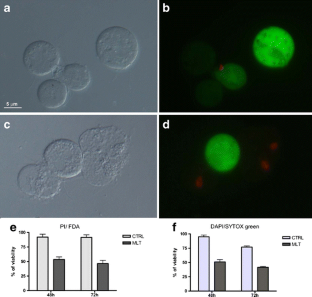 References
Bertão HG, da Silva RA, Padilha RJ, de Azevedo Albuquerque MC, Rádis-Baptista G (2012) Ultrastructural analysis of miltefosine-induced surface membrane damage in adult Schistosoma mansoni BH strain worms. Parasitol Res 110:2465–2473

Blaha C, Duchêne M, Aspöck H, Walochnik J (2006) In vitro activity of hexadecylphosphocholine (miltefosine) against metronidazole-resistant and -susceptible strains of Trichomonas vaginalis. J Antimicrob Chemother 57:273–278

Cabrera-Serra MG, Lorenzo-Morales J, Romero M, Valladares B, Piñero JE (2007) In vitro activity of perifosine: a novel alkylphospholipid against the promastigote stage of Leishmania species. Parasitol Res 100:1155–1157

Clive S, Gardiner J, Leonard RC (1999) Miltefosine as a topical treatment for cutaneous metastases in breast carcinoma. Cancer Chemother Pharmacol 44:S29–S30

Cotch MF, Pastorek JG, Nugent RP, Hillier SL, Gibbs RS, Martin DH, Eschenbach DA, Edelman R, Carey JC, Regan JA, Krohn MA, Klebanoff MA, Rao AV, Rhoads GG (1997) Trichomonas vaginalis associated with low birth weight and preterm delivery. The vaginal infections and prematurity study group. Sex Transm Dis 24:353–360

Croft SL, Neal RA, Pendergast W, Chan JH (1987) The activity of alkyl phosphorylcholines and related derivatives against Leishmania donovani. Biochem Pharmacol 36:2633–2636

Croft SL, Snowdon D, Yardley V (1996) The activities of four anticancer alkyllysophospholipids against Leishmania donovani, Trypanosoma cruzi and Trypanosoma brucei. J Antimicrob Chemother 38:1041–1047

Diamond LS (1957) The establishment of various trichomonads of animals and man in axenic cultures. J Parasitol 43:488–490

Edwards DI (1993) Nitroimidazole drugs—action and resistance mechanisms. I. Mechanisms of action. J Antimicrob Chemother 31:9–20

Eissa MM, Amer EI (2012) Giardia lamblia: a new target for miltefosine. Int J Parasitol 42:443–452

Eissa MM, El-Azzouni MZ, Amer EI, Baddour NM (2011a) Miltefosine, a promising novel agent for schistosomiasis mansoni. Int J Parasitol 41:235–242

Eissa MM, El Bardicy S, Tadros M (2011b) Bioactivity of miltefosine against aquatic stages of Schistosoma mansoni, Schistosoma haematobium and their snail hosts, supported by scanning electron microscopy. Parasitol Vectors 4:73

Escobar P, Matu S, Marques C, Croft SL (2002) Sensitivities of Leishmania species to hexadecylphosphocholine (miltefosine), ET-18-OCH(3) (edelfosine) and amphotericin B. Acta Trop 81:151–157

Hilgard P, Klenner T, Stekar J, Unger C (1993) Alkylphosphocholines: a new class of membrane-active anticancer agents. Cancer Chemother Pharmacol 32:90–95

Jha TK, Sundar S, Thakur CP, Bachmann P, Karbwang J, Fischer C, Voss A, Berman J (1999) Miltefosine, an oral agent, for the treatment of Indian visceral leishmaniasis. N Engl J Med 341:1795–1800

Johnston VJ, Mabey DC (2008) Global epidemiology and control of Trichomonas vaginalis. Curr Opin Infect Dis 21:56–64

Khademvatan S, Gharavi MJ, Rahim F, Saki J (2011) Miltefosine-induced apoptotic cell death on Leishmania major and L. tropica strains. Korean J Parasitol 49:17–23

Kuhlencord A, Maniera T, Eibl H, Unger C (1992) Hexadecylphosphocholine: oral treatment of visceral leishmaniasis in mice. Antimicrob Agents Chemother 36:1630–1634

Kulda J, Vojtĕchovská M, Tachezy J, Demes P, Kunzová E (1982) Metronidazole resistance of Trichomonas vaginalis as a cause of treatment failure in trichomoniasis—a case report. Br J Ven Dis 58:394–399

Kurohara ML, Kwong FK, Lebherz TB, Klaustermeyer WB (1991) Metronidazole hypersensitivity and oral desensitization. J Allergy Clin Immunol 88:279–280

Lira R, Contreras LM, Rita RM, Urbina JA (2001) Mechanism of action of anti-proliferative lysophospholipid analogues against the protozoan parasite Trypanosoma cruzi: potentiation of in vitro activity by the sterol biosynthesis inhibitor ketoconazole. J Antimicrob Chemother 47:537–546

Lossick JG, Muller M, Gorrell TE (1986) In vitro drug susceptibility and doses of metronidazole required for cure in cases of refractory vaginal trichomoniasis. J Infect Dis 153:948–955

Lossick JG (1990) Treatment of sexually transmitted vaginosis/vaginitis. Rev Infect Dis Suppl 6:S665–681

Madeiro da Costa RF, Benchimol M (2004) The effect of drugs on cell structure of Tritrichomonas foetus. Parasitol Res 92:159–170

Mariante RM, Guimarães CA, Linden R, Benchimol M (2003) Hydrogen peroxide induces caspase activation and programmed cell death in the amitochondrial Tritrichomonas foetus. Histoch Cell Biol 120:129–141

Mariante RM, Vancini RG, Benchimol M (2006) Cell death in trichomonads: new insights. Histoch Cell Biol 125:545–556

Martin MB, Grimley JS, Lewis JC, Heath HT, Bailey BN, Kendrick H, Yardley V, Caldera A, Lira R, Urbina JA, Moreno SN, Docampo R, Croft SL, Oldfield E (2001) Bisphosphonates inhibit the growth of Trypanosoma brucei, Trypanosoma cruzi, Leishmania donovani, Toxoplasma gondii, and Plasmodium falciparum: a potential route to chemotherapy. J Med Chem 44:909–916

Meingassner JG, Thurner J (1979) Strain of Trichomonas vaginalis resistant to metronidazole and other 5-nitroimidazoles. Antimicrob Agents Chemother 15:254–257

Meri T, Jokiranta TS, Suhonen L, Meri S (2000) Resistance of Trichomonas vaginalis to metronidazole: report of the first three cases from Finland and optimization of in vitro susceptibility testing under various oxygen concentrations. J Clin Microbiol 38:763–767

Muller M, Meingassner JG, Miller WA, Ledger WJ (1980) Three metronidazole-resistant strains of Trichomonas vaginalis from the United States. Am J Obstet Gynecol 138:808–812

Noel JC, Fayt I, Romero Munoz MR, Simon P, Engohan-Aloghe C (2010) High prevalence of high-risk human papillomavirus infection among women with Trichomonas vaginalis infection on monolayer cytology. Arch Gynecol Obstet 282:503–505

Polat ZA, Obwaller A, Vural A, Walochnik J (2012) Efficacy of miltefosine for topical treatment of Acanthamoeba keratitis in Syrian hamsters. Parasitol Res 110:515–520

Robinson SC (1962) Trichomonal vaginitis resistant to metranidazole. Can Med As J 86:665–666

Rosa IA, Rocha DA, de Souza W, Urbina JA, Benchimol M (2011) Ultrastructural alterations induced by Δ(24(25))-sterol methyltransferase inhibitors on Trichomonas vaginalis. FEMS Microbiol Lett 315:72–78

Santa-Rita RM, Santos Barbosa H, Meirelles MN, de Castro SL (2000) Effect of the alkyl-lysophospholipids on the proliferation and differentiation of Trypanosoma cruzi. Acta Trop 75:219–228

Santa-Rita RM, Barbosa HS, de Castro SL (2006) Ultrastructural analysis of edelfosine-treated trypomastigotes and amastigotes of Trypanosoma cruzi. Parasitol Res 100:187–190

Saraiva VB, Gibaldi D, Previato JO, Mendonça-Previato L, Bozza MT, Freire-De-Lima CG, Heise N (2002) Proinflammatory and cytotoxic effects of hexadecylphosphocholine (miltefosine) against drug-resistant strains of Trypanosoma cruzi. Antimicrob Agents Chemother 46:3472–3477

Saraiva VB, Wengert M, Gomes-Quintana E, Heise N, Caruso-Neves C (2009) Na(+)-ATPase and protein kinase C are targets to 1-O-hexadecylphosphocoline (miltefosine) in Trypanosoma cruzi. Arch Biochem Biophys 481:65–71

Secor WE (2012) Trichomonas vaginalis: treatment questions and challenges. Expert Rev Anti Infect Ther 10:107–109

Seifert K, Duchêne M, Wernsdorfer WH, Kollaritsch H, Scheiner O, Wiedermann G, Hottkowitz T, Eibl H (2001) Effects of miltefosine and other alkylphosphocholines on human intestinal parasite Entamoeba histolytica. Antimicrob Agents Chemother 45:1505–1510

Serrano-Martín X, Payares G, De Lucca M, Martinez JC, Mendoza-León A, Benaim G (2009) Amiodarone and miltefosine act synergistically against Leishmania mexicana and can induce parasitological cure in a murine model of cutaneous leishmaniasis. Antimicrob Agents Chemother 53:5108–5113

Shakya N, Sane SA, Gupta S (2011) Antileishmanial efficacy of fluconazole and miltefosine in combination with an immunomodulator—picroliv. Parasitol Res 108:793–800

Shakya N, Sane SA, Haq W, Gupta S (2012) Augmentation of antileishmanial efficacy of miltefosine in combination with tuftsin against experimental visceral leishmaniasis. Parasitol Res 111:563–570

Smilack JD, Wilson WR, Cockerill FR III (1991) Tetracyclines, chloramphenicol, erythromycin, clindamycin, and metronidazole. Mayo Clin Proceed 66:1270–1280

Soper D (2004) Trichomoniasis: under control or undercontrolled? Am J Obstet Gynecol 190:281–290

Sorvillo F, Kerndt P (1998) Trichomonas vaginalis and amplification of HIV-1 transmission. Lancet 351:213–214

Sorvillo F, Smith L, Kerndt P, Ash L (2001) Trichomonas vaginalis, HIV and African-Americans. Emerg Infect Dis 7:927–932

Soto J, Soto P (2006) Current situation and future of anti-leishmanial therapy in Colombia. Biomedica 1:194–206

Soto J, Arana BA, Toledo J, Rizzo N, Vega JC, Diaz A, Luz M, Gutierrez P, Arboleda M, Berman JD, Junge K, Engel J, Sindermann H (2004) Miltefosine for new world cutaneous leishmaniasis. Clin Infect Dis 38:1266–1272

Sutcliffe S, Giovannucci E, Alderete JF, Chang TH, Gaydos CA, Zenilman JM, De Marzo AM, Willett WC, Platz EA (2006) Plasma antibodies against Trichomonas vaginalis and subsequent risk of prostate cancer. Cancer Epidemio Biom Prev 15:939–945

Van Der Pol B, Kwok C, Pierre-Louis B, Rinaldi A, Salata RA, Chen PL, van de Wijgert J, Mmiro F, Mugerwa R, Chipato T, Morrison CS (2008) Trichomonas vaginalis infection and human immunodeficiency virus acquisition in African women. J Infect Dis 197:548–554

Walochnik J, Duchêne M, Seifert K, Obwaller A, Hottkowitz T, Wiedermann G, Eibl H, Aspock H (2002) Cytotoxic activities of alkylphosphocholines against clinical isolates of Acanthamoeba spp. Antimicrob Agents Chemother 46:695–701

Widmer F, Wright LC, Obando D, Handke R, Ganendren R, Ellis DH, Sorrell TC (2006) Hexadecylphosphocholine (miltefosine) has broad-spectrum fungicidal activity and is efficacious in a mouse model of cryptococcosis. Antimicrob Agents Chemother 50:414–421

World Health Organization (WHO) (2001) Global prevalence and incidence of selected curable sexually transmitted infections. In Global Program on AIDS, Geneva, Switzerland: World Health Organization 2–27

Zhang ZF, Begg CB (1994) Is Trichomonas vaginalis a cause of cervical neoplasia? Results from a combined analysis of 24 studies. Int J Epidemiol 23:682–690
Acknowledgments
This work was supported by Conselho Nacional de Desenvolvimento Científico e Tecnológico (CNPq), Programa de Núcleos de Excelência (PRONEX), Fundação Carlos Chagas Filho de Amparo à Pesquisa do Estado do Rio de Janeiro (FAPERJ) and Associação Universitária Santa Úrsula (AUSU).
Ethical standards
The experiments comply with the current laws of this country.
Conflict of interest
The authors declare that they have no conflict of interest.
About this article
Cite this article
Rocha, D.A.S., de Andrade Rosa, I., de Souza, W. et al. Evaluation of the effect of miltefosine on Trichomonas vaginalis . Parasitol Res 113, 1041–1047 (2014). https://doi.org/10.1007/s00436-013-3738-z
Received:

Accepted:

Published:

Issue Date:
Keywords
Visceral Leishmaniasis

Parasite Growth

Perifosine

Entamoeba Histolytica

Miltefosine