Abstract
The present study evaluated efficacy of thymol against engorged females and unengorged larvae of Rhipicephalus microplus when diluted in 1 % dimethyl sulfoxide (DMSO) (formulation 1) and diluted in hydro-ethanol solutions of 50 % (formulation 2), 40 % (formulation 3), and 30 % (formulation 4). The immersion test was used on the engorged females for all dilution methods, while the larval packet method was applied to the larvae to test formulations 3 and 4 since the other two had already been tested before. Two control groups were established in both experiments; in one, ticks were treated with 1 % DMSO, and in the other, with 50 % ethanol, with ten repetitions for each treatment. The groups were maintained at 27 ± 1 °C and RH > 80 ± 10 %. For engorged females, the parameters weight before oviposition, egg mass weight, hatching percentage of larvae, and percentage of control were evaluated, while for larvae, percentage of mortality was evaluated. The egg mass weight of all treatments differed significantly (p < 0.05) from the control groups; however, the reduction in egg mass weight was more accentuated (p < 0.05) in the treatments with formulations 1, 3, and 4. The values of hatching percentage of the group treated with formulation 2 and control group were statistically similar (p > 0.05). The group treated with formulation 2 attained the lowest percentage of control (66 %). In the other treatments, the control percentages were greater than 99 %. In larval test, the mortality was 100 % in all the treatments, and there was no mortality in the control groups.
This is a preview of subscription content, log in to check access.
Access options
Buy single article
Instant access to the full article PDF.
US$ 39.95
Price includes VAT for USA
Subscribe to journal
Immediate online access to all issues from 2019. Subscription will auto renew annually.
US$ 199
This is the net price. Taxes to be calculated in checkout.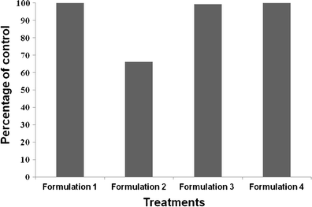 References
Apel MA, Ribeiro VLS, Bordignon SAL, Henrique AT, Von Poser G (2009) Chemical composition and toxicity of the essential oils from Cunila species (Lamiaceae) on the cattle tick Rhipicephalus (Boophilus) microplus. Parasitol Res 105:863–868

Ayres M, Ayres Junior M, Ayres DL, Santos AAS (2007) Aplicações estatísticas nas áreas das ciências bio-médicas. Instituto Mamirauá, Belém

Daemon E, Monteiro CMO, Rosa LS, Clemente MA, Arcoverde A (2009) Evaluation of the acaricide activity of thymol on engorged and unengorged larvae of Rhipicephalus sanguineus (Latreille, 1808) (Acari: Ixodidae). Parasitol Res 105:495–497

Daemon E, Maturano R, Monteiro CMO, Scoralik MG, Massoni T (2012a) Acaricidal activity of hydroethanolic formulations of thymol against Rhipicephalus sanguineus (Acari: Ixodidae) and Dermacentor nitens (Acari: Ixodidae) larvae. Vet Parasitol 186:542–545

Daemon E, Monteiro CM, Maturano R, Senra TOS, Calmon F, Faza A, Prata MCA, Georgopoulos SL, de Oliveira LF (2012b) Spectroscopic evaluation of thymol dissolved by different methods and influence on acaricidal activity against larvae of Rhipicephalus microplus (Acari: Ixodidae). Parasitol Res 111:1901–1906

Drummond RO, Ernest SE, Trevino JL, Gradney WJ, Graham OH (1973) Boophilus anulatus and Boophilus microplus: laboratory tests of insecticides. J Econ Entomol 66:30–133

Farmacopeia Portuguesa VIII. 2005. Lisboa, PT: INFARMED

Ferreira P, Soares GLG, D'avila S, ECA BESSA (2009) The influence of caffeine and thymol on the survival, growth and reproduction of Subulina octona (BRUGÜIÈRE, 1789) (MOLLUSCA, SUBULINIDAE). Braz Arch Biol Technol 52(4):945–952

Furlong J, Martins JRS, Prata MCA (2004) Controle estratégico do carrapato dos bovinos. A Hora Vet 23:53

Furlong J, Martins JR, Prata MCA (2007) O carrapato dos bovinos e a resistência: temos o que comemorar (The cattle ticks and resistance: we have to celebrate)? A Hora Vet 27(159):1–7

Grisi L, Massard CL, Moya-Borja GE, Pereira JB (2002) Impacto econômico das principais ectoparasitoses em bovinos no Brasil (Economic impact of the main infestation in cattle in Brazil). A Hora Vet 21(125):8–10

Guimarães JH, Tucci EC, Barros-Battesti DM (2001) Ectoparasitos de importância veterinária (Ectoparasites of veterinary importance). Plêiade/FAPESP, São Paulo

Hu D, Coats J (2008) Evaluation of the environmental fate of thymol and phenethyl propionate in the laboratory. Pest Manag Sci 64:775–779

Imdorf A, Kilchenman V, Bogdanov S (1995) Toxiziät von thymol, campher, menthol und eucaliptol auf Varroa jacobsoni oud ind Apis mellifera L. in labortest. Apidologie 26:27–31

Ji P, Momol MT, Olson SM, Pradhanang PM, Jones JB (2005) Evaluation of thymol as biofumigant for control of bacterial wilt of tomato under field conditions. Plant Dis 89:497–500

Klafke GM (2008) Resistência de Rhipicephalus (Boophilus) microplus aos carrapaticidas. In: Pereira MC, Labruna MB, Szabo MPJ, Klafke GM (eds) Rhipicephalus (Boophilus) microplus: Biologia, Controle e Resistência. MEDVET, São Paulo, pp 81–105

Mansour SA, Messehea SS, El-Gengaihi SE (2000) Botanical biocides. 4. Mosquitocidal activity of certain Thymus capitatus constituents. J Nat Toxins 9:49–62

Martinez-Velazques M, Rosario-Cruz R, Castillo-Herrera G, Flores-Fernandez JM, Alvarez AH, Lugo-Cervantes E (2011) Acaricidal effect of essential oils from Lippia graveolens (Lamiales: Lamiaceae), Rosmarinus officinalis (Lamiales: Lamiaceae), and Allium sativum (Liliales: Liliaceae) against Rhipicephalus (Boophilus) microplus (Acari: Ixodidae). J Med Entomol 48:822–827

Martins JRS, Leite RC (2006) Controle de carrapatos. In: Barros-Battesti DM, Arzua M, Bechara GH (eds) Carrapatos de importância médico-veterinária da região neotropical, São Paulo, p 145–153

Mendes AS, Daemon E, Monteiro CMO, Maturano R, Brito FC, Massoni T (2011) Acaricidal activity of thymol on larvae and nymphs of Amblyomma cajennense (Acari: Ixodidae). Vet Parasitol 183:136–139

Monteiro CMO, Daemon E, Clemente MA, Rosa LS, Maturano R (2009) Acaricidal efficacy of thymol on engorged nymphs and females of Rhipicephalus sanguineus (Latreille, 1808) (Acari: Ixodidae). Parasitol Res 105:1093–1097

Monteiro CMO, Daemon E, Silva AMR, Maturano R, Amaral CD (2010) Acaricide and ovicide activities of thymol on engorged females and eggs of Rhipicephalus (Boophilus) microplus (Acari: Ixodidae). Parasitol Res 106:615–619

Monteiro CMO, Maturano R, Daemon E, Catunda-Junior FEA, Calmon F, Senra TOS, Faza A, Carvalho MG (2012) Acaricidal activity of eugenol on Rhipicephalus microplus (Acari: Ixodidae) and Dermacentor nitens (Acari: Ixodidae) larvae. Parasitol Res 111:1295–1300

Novelino AMS, Daemon E, Soares GLG (2007) Evaluation of acaricide effect of thymol, menthol, salycilic acid and methyl salycilate on Boophilus microplus (Canestrini, 1887) (Acari: Ixodidae) larvae. Parasitol Res 101:809–811

Pereira, MC (2008) Introdução. In: Pereira MC, Labruna MB, Szabo MPJ, Klafke GM (eds) Rhipicephalus (Boophilus) microplus: Biologia, controle e resistência. MEDVET, São Paulo, pp 1–5 US-EPA (1993) United States Environmental Protection Agency, Office of Prevention Pesticide and Toxic

Ribeiro VLS, Rolim V, Bordignon S, Henriques AT, Dorneles GG, Limberger RP, Poser GV (2008) Chemical composition and larvicidal properties of the essential oils from Drimys brasiliensis Miers (Winteraceae) on the cattle tick Rhipicephalus (Boophilus) microplus and the brown dog tick Rhipicephalus sanguineus. Parasitol Res 102:531–535

Scoralik M, Daemon E, Monteiro CMO, Maturano R (2012) Enhancing the acaricide effect of thymol on larvae of the cattle tick Rhipicephalus microplus (Acari: Ixodidae) by solubilization in ethanol. Parasitol Res 110:645–648

Senra TOS, Calmon F, Zeringóta V, Monteiro CMO, Maturano R, Matos RSM, Melo D, Gomes GA, Carvalho MG, Daemon E (2013) Investigation of activity of monoterpenes and phenylpropanoids against immature stages of Amblyomma cajennense and Rhipicephalus sanguineus (Acari: Ixodidae). Parasitol Res 112:3471–3476

Spinosa HS, Górniak SL, Bernardi MM (2006) Farmacologia aplicada à medicina veterinária, 4th edn. Guanabara Koogan, Rio de Janeiro

Stone BF, Haydock KP (1962) A method for measuring the acaricide susceptibility of the cattle Boophilus microplus (Canestrini). Bull Entomol Res 53:563–578

Substances Program. Thymol R.E.D Facts. Available: http://www.epa.gov/oppsrrd1/REDs/factsheets/3143fact.pdf. Accessed April 16, 2013
About this article
Cite this article
Matos, R.S., Melo, D.R., Monteiro, C.M.O. et al. Determination of the susceptibility of unengorged larvae and engorged females of Rhipicephalus microplus (Acari: Ixodidae) to different methods of dissolving thymol. Parasitol Res 113, 669–673 (2014). https://doi.org/10.1007/s00436-013-3694-7
Received:

Accepted:

Published:

Issue Date:
Keywords
Thymol

Spinosa

Engorge Female

Acaricidal Activity

Control Percentage