Abstract
It is well known that toxoplasmosis can be life threatening to immunocompromised individuals such as AIDS and organ transplantation patients. Glucocorticoids (GCs) are widely used in the clinic for the treatment of autoimmune diseases and organ transplantation resulting in acute toxoplasmosis in these patients. However, the interaction and mechanism between the development of acute toxoplasmosis and GC therapy are still unknown. The aims of this study were to investigate the infection of Toxoplasma gondii in the peritoneal macrophages of rats treated with glucocorticoids. Our results showed that the growth rate of T. gondii RH strain was significantly increased in the peritoneal macrophages of rats treated with glucocorticoids in vivo. For instance, 242 (±16) tachyzoites were found in 100 macrophages from the rats treated with methylprednisolone (MP), while only 16 (±4) tachyzoites were counted in the macrophages from the non-treated control rats 24 h after infection (P < 0.01). We also demonstrated that a significant inhibition of nitric oxide (NO) production was detected in the macrophages collected from the rats post-treated with GCs with 12.90 μM (±0.99 μM) of nitrite production from the rats treated with MP, while 30.85 μM (±1.62 μM) was found in the non-treated control rats 36 h after incubation (P < 0.01). Furthermore, glucocorticoids could significantly inhibit the expression of inducible nitric oxide synthase mRNA and its protein in the rat peritoneal macrophages. Our results strongly indicate that the decrease of NO in the rat peritoneal macrophages is closely linked to the cause of acute toxoplasmosis in the host. Additionally, there was a significant increase in the number of cysts produced by the naturally cyst forming, T. gondii Prugniaud strain with an average of 2,795 (±422) cysts of the parasite being detected in the brains of the rats treated with dexamethasone, while only 1,356 (±490) cysts were found in the non-treated control animals (P < 0.01). As rats and humans are both naturally resistant to T. gondii infection, these novel data could lead to a better understanding of the development of acute toxoplasmosis during glucocorticoid therapy in humans.
This is a preview of subscription content, log in to check access.
Access options
Buy single article
Instant access to the full article PDF.
US$ 39.95
Price includes VAT for USA
Subscribe to journal
Immediate online access to all issues from 2019. Subscription will auto renew annually.
US$ 199
This is the net price. Taxes to be calculated in checkout.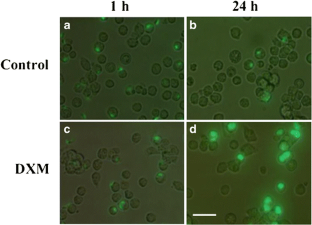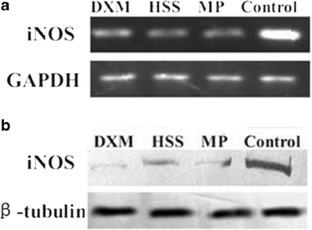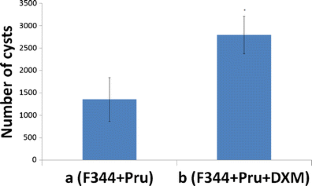 References
Adams LB, Hibbs RR, Krahenbuhl JL (1990) Microbiostatic effect of murine-activated macrophages for Toxoplasma gondii. Role for synthesis of inorganic nitrogen oxides from L-arginine. J Immunol 144(7):2725–2729

Bohne W, Heesemann J, Gross U (1994) Reduced replication of Toxoplasma gondii is necessary for induction of bradyzoite-specific antigens, a possible role for nitric oxide in triggering stage conversion. Infect Immun 62(5):1761–1767

Cape JL, Hurst JK (2009) The role of nitrite ion in phagocyte function-perspectives and puzzles. Arch Biochem Biophys 484(2):190–196

Chandrasekar PH, Momin F (1997) Disseminated toxoplasmosis in marrow recipients, a report of three cases and a review of the literature. Bone Marrow Transplant 19(7):685–689

Chen X, Chen S, Li C, Zhu Y, Peng B (2011) Skewed T-cell subsets and enhanced macrophages phagocytosis in the spleen of patients with immune thrombocytopenia failing glucocorticoids. Int J Hematol 94(3):248–254

Da-Silva RC, Da-Silva AV, Langoni H (2010) Recrudescence of Toxoplasma gondii infection in chronically infected rats (Rattus norvegicus). Exp Parasitol 125(4):409–412

De-Medeiros BC, De-Medeiros CR, Werner B, Loddo G, Pasquini R, Bleggi-Torres LF (2001) Disseminated toxoplasmosis after bone marrow transplantation, report of 9 cases. Transpl Infect Dis 3(1):24–28

Derouin F, Lacroix C, Sumyuen MH, Romand S, Garin YJ (1995) Experimental models of toxoplasmosis. Pharmacological applications. Parasite 2(3):243–256

Dimitriu C, Bacb M, Lagreze WA, Jeble M (2008) Methylprednisolone fails to preserve retinal ganglion cells and visual function after ocular ischemia in rats. Invest Ophthalmol Vis Sci 49(11):5003–5007

Djurkovic-Djakvoic O, Milenkovic V (2001) Murine model of drug-induced reactivation of Toxoplasma gondii. Acta Protozool 40(6):99–106

Dubey JP (2011) Toxoplasma gondii of animals and humans. CRC, New York

El-Mahmoudy M, Matsuyama H, Borgan MA, Shimizu Y, El-Sayed MG, Minamoto N, Takewaki T (2002) Thymoquinone suppresses expression of inducible nitric oxide synthase in rat macrophages. Int Immunopharmacol 2(11):1603–1611

Everson GT, Trotter JF, Kugelmas M, Forman L (2003) Immunosuppression in liver transplantation. Minerva Chir 58(5):725–740

Freyre A, Falcón J, Mendez J, González M, Venzal JM, Morgades D (2003) Fetal Toxoplasma infection after oocyst inoculation of pregnant rats. Parasitol Res 89(5):352–353

Geller DA, Nussler AK, Silvio M, Lowenstein CJ, Shapiro RA, Wang SC, Simmons RL, Billiar TR (1993) Cytokines, endotoxin, and glucocorticoids regulate the expression of inducible nitric oxide synthase in hepatocytes. Proc Natl Acad Sci U S A 90(2):522–526

Green LC, Wagner DA, Glogowski J, Skipper PL, Wishnok JS, Tannenbaum SR (1982) Analysis of nitrate, nitrite, and [15N] nitrate in biological fluids. Anal Biochem 126(1):131–138

Hayashi S, Chan CC, Gazzinelli R, Roberge FG (1996) Contribution of nitric oxide to the host parasite equilibrium in toxoplasmosis. J Immunol 156(4):1476–1481

Hide G, Morley EK, Hughes JM, Gerwash O, Elmahaishi MS, Thomasson D, Wright EA, Williams RH, Murphy RG, Smith JE (2009) Evidence for high levels of vertical transmission in Toxoplasma gondii. Parasitology 136(14):1877–1886

Kugler DG, Mittelstadt PR, Ashwell JD, Sher A, Jankovic D (2013) CD4+ T cells are trigger and target of the glucocorticoid response that prevents lethal immunopathology in toxoplasma infection. J Exp Med 210(10):1919–1927

Lang C, Gross U, Lüder CG (2007) Subversion of innate and adaptive immune responses by Toxoplasma gondii. Parasitol Res 100(2):191–203

Li Z, Zhao ZJ, Zhu XQ, Ren QS, Nie FF, Gao JM, Gao XJ, Yang TB, Zhou WL, Shen JL, Wang Y, Lu FL, Chen XG, Hide G, Ayala FJ, Lun ZR (2012) Differences in iNOS and arginase expression and activity in the macrophages of rats are responsible for the resistance against T. gondii infection. PLoS One 7(4):e35834

Minneci PC, Deans KJ, Banks SM, Eichacker PQ, Natanson C (2004) Meta-analysis, the effect of steroids on survival and shock during sepsis depends on the dose. Ann Intern Med 141(1):47–56

Montoya JG, Liesenfeld O (2004) Toxoplasmosis. Lancet 363(9425):1965–1976

Nishikawa Y, Xuan X, Makala L, Vielemeyer O, Joiner KA, Nagasawa H (2003) Characterisation of Toxoplasma gondii engineered to express mouse interferon-gamma. Int J Parasitol 33(13):1525–1535

Nishikawa Y, Kawase O, Vielemeyer O, Suzuki H, Joiner KA, Xuan X, Nagasawa H (2007) Toxoplasma gondii infection induces apoptosis in noninfected macrophages, role of nitric oxide and other soluble factors. Parasite Immunol 29(7):375–385

Rady MY, Johnson DJ, Patel B, Larson J, Helmers R (2006) Corticosteroids influence the mortality and morbidity of acute critical illness. Crit Care 10(4):R 101

Sathasivam S (2008) Steroids and immunosuppressant drugs in myasthenia gravis. Nat Clin Pract Neurol 4(6):317–327

Scharton-Kersten TM, Yap G, Magram J, Sher A (1997) Inducible nitric oxide is essential for host control of persistent but not acute infection with the intracellular pathogen Toxoplasma gondii. J Exp Med 185(7):1261–1273

Seabra SH, Da-Souza W, Da-Matta RA (2002) Toxoplasma gondii partially inhibits nitric oxide production of activated murine macrophages. Exp Parasitol 100(1):62–70

Severin VI, Soliman H, El-Matbouli M (2010) Expression of immune-regulatory genes, arginase-2 and inducible nitric oxide synthase (iNOS), in two rainbow trout (Oncorhynchus mykiss) strains following exposure to Myxobolus cerebralis. Parasitol Res 106(2):325–334

Sibley LD (1993) Interactions between Toxoplasma gondii and its mammalian host cells. Semin Cell Biol 4(5):335–344

Silva MT (2010) When two is better than one, macrophages and neutrophils work in concert in innate immunity as complementary and cooperative partners of a myeloid phagocyte system. J Leukoc Biol 87(1):93–106

Skariah S, McIntyre MK, Mordue DG (2010) Toxoplasma gondii: determinants of tachyzoite to bradyzoite conversion. Parasitol Res 107(2):253–260

Sternberg EM (2006) Neural regulation of innate immunity, a coordinated non-specific host response to pathogens. Nat Rev Immunol 6(4):318–328

Sumyuen MH, Garin YJ, Derouin F (1996) Effect of immunosuppressive drug regimens on acute and chronic murine toxoplasmosis. Parasitol Res 82(8):681–686

Suzuki Y, Orellana MA, Schreiber RD, Remington JS (1988) Interferon gamma, the major mediator of resistance against Toxoplasma gondii. Science 240(4851):516–518

Tarpataki N (2006) Recent developments in canine atopic dermatitis, a review. Acta Vet Hung 54(4):473–484

Thomasson D, Wright EA, Hughes JM, Dodd NS, Cox AP, Boyce K, Gerwash O, Abushahma M, Lun ZR, Murphy RG, Rogan MT, Hide G (2011) Prevalence and coinfection of Toxoplasma gondii and Neospora caninum in Apodemus sylvaticus in an area relatively free of cats. Parasitology 138(9):1117–1123

Tsianakas A, Varga G, Barczyk K, Bode G, Nippe N, Kran N, Roth J, Luger TA, Ehrchen J, Sunderkoetter C (2012) Induction of an anti-inflammatory human monocyte subtype is a unique property of glucocorticoids, but can be modified by IL-6 and IL-10. Immunobiology 217(3):329–335

Xiang XD, Zhou HY, Chen P (2000) Effects of nitroglycerin and dexamethasone on nitric oxide and endothelin derived from alveolar macrophages in patients with mild and middle asthma. Hunan Yi Ke Da Xue Xue Bao 25(4):363–366

Zhao YL, Ferguson DJ, Wilson DC, Howard JC, Sibley LD, Yap GS (2009) Virulent Toxoplasma gondii evade immunity-related GTPase-mediated parasite vacuole disruption within primed macrophages. J Immunol 182(6):3775–3781

Zhao ZJ, Zhang J, Wei J, Li Z, Wang T, Yi SQ, Shen JL, Yang TB, Hide G, Lun ZR (2013) Lower expression of inducible nitric oxide synthase and higher expression of arginase in rat alveolar macrophages are linked to their susceptibility to Toxoplasma gondii infection. PLoS One 8(5):e63650
Acknowledgments
The authors are thankful to Dr. X.N. Xuan for providing Toxoplasma gondii RH-GFP strain. The work was supported by National Basic Research Program of China (973 program; no. 2010CB530000), http://www.973.gov.cn/English/Index.aspx.
About this article
Cite this article
Wang, T., Gao, J., Yi, S. et al. Toxoplasma gondii infection in the peritoneal macrophages of rats treated with glucocorticoids. Parasitol Res 113, 351–358 (2014). https://doi.org/10.1007/s00436-013-3661-3
Received:

Accepted:

Published:

Issue Date:
Keywords
Nitric Oxide

Chronic Infection

Peritoneal Macrophage

Toxoplasmosis

iNOS mRNA