Abstract
Lepidapedon sereti n. sp. is described from the macrourid Coelorinchus sereti from the deep water off Vanuatu. It is placed in the Elongatum group and Elongatum subgroup. It differs from the other species described in this subgroup by the distinctly dorsally subterminal excretory pore. It also differs from other species in combinations of size, excretory vesicle length, proportions of forebody, post-testicular region and other metric features. This constitutes the first record of a Lepidapedon (sensu stricto) from the Central Western Pacific Ocean.
This is a preview of subscription content, log in to check access.
Access options
Buy single article
Instant access to the full article PDF.
US$ 39.95
Price includes VAT for USA
Subscribe to journal
Immediate online access to all issues from 2019. Subscription will auto renew annually.
US$ 199
This is the net price. Taxes to be calculated in checkout.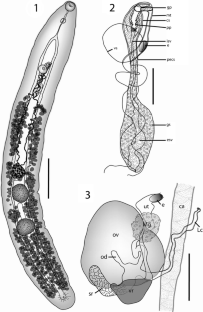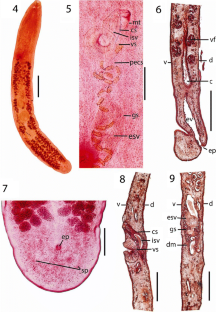 References
Appy RG, Burt MDB (1982) Metazoan parasites of cod, Gadus morhua L., in Canadian Atlantic waters. Can J Zool 60:1573–1579

Blend CK, Dronen NO, Armstrong HW (2000) Six new species of Lepidapedon Stafford, 1904 (Digenea: Lepocreadiidae) from deep-sea macrourid fishes from the Gulf of Mexico and Caribbean Sea, with revised keys to the species of the genus. Syst Parasitol 45:29–51

Bray RA (1995) Annotated checklist of digenean parasites of Macrouridae (Teleostei, Gadiformes). Acta Parasitol 40:168–192

Bray RA (2004) The bathymetric distribution of the digenean parasites of deep-sea fishes. Folia Parasitol 51:268–274

Bray RA, Cribb TH (1997) Paralepidapedon ostorhinchi (Korotaeva, 1974) n. comb. (Digenea: Lepocreadiidae) in Oplegnathus woodwardi (Waite) (Teleostei: Perciformes: Oplegnathidae) from off Rottnest Island, Western Australia. Syst Parasitol 36:229–233

Bray RA, Cribb TH (2012) Reorganisation of the superfamily Lepocreadioidea Odhner, 1905 based on an inferred molecular phylogeny. Syst Parasitol 83:169–177. doi:10.1007/s11230-012-9386-3

Bray RA, des Clers SA (1992) Multivariate analyses of metrical features in the Lepidapedon elongatum (Lebour, 1908) species-complex (Digenea, Lepocreadiidae) in deep and shallow water gadiform fishes of the NE Atlantic. Syst Parasitol 21:223–232

Bray RA, Gibson DI (1995) The Lepocreadiidae (Digenea) of fishes from the north-east Atlantic: a review of the genus Lepidapedon Stafford, 1904. Syst Parasitol 31:81–132

Bray RA, Jones JB (1993) A new species of Lepidapedon Stafford, 1904 (Digenea: Lepocreadiidae) in the gadiform fish Coelorhinchus bollonsi McCann & McKnight (Macrouridae) from Chatham Rise, New Zealand. Syst Parasitol 26:69–73

Bray RA, Kuchta R (2006) Digeneans from deep-sea marine teleosts off the Outer Hebrides, Scotland, including the description of Brachyenteron helicoleni sp. nov. (Zoogonidae). Acta Parasitol 51:169–175

Bray RA, Littlewood DTJ, Herniou EA, Williams B, Henderson RE (1999) Digenean parasites of deep-sea teleosts: a review and case studies of intrageneric phylogenies. Parasitology 119(Supplement):S125–S144

Bray RA, Waeschenbach A, Cribb TH, Weedall GD, Dyal P, Littlewood DTJ (2009) The phylogeny of the Lepocreadioidea (Platyhelminthes: Digenea) inferred from nuclear and mitochondrial genes: implications for their systematics and evolution. Acta Parasitol 54:310–329. doi:10.2478/s11686-009-0045-z

Campbell RA, Bray RA (1993) Lepidapedon spp. (Digenea: Lepocreadiidae) from deep-sea gadiform fishes of the NW Atlantic Ocean, including four new species. Syst Parasitol 24:99–110

Gavrilyuk-Tkachuk LD (1979) New species of trematodes from commercial fishes of the Indian Ocean. Biol Morya Vladivostok 3:83–86 (In Russian)

Heath BM (1989) A study of the endoparasitic helminths of deep sea fishes from southeastern Australia: taxonomy, zoogeography and host-parasite ecology. PhD thesis. Armidale: University of New England, pp. 360. [n. v.]

Heidenhain M (1915) Über die mallorysche bindegewebsfärbjung mit karmin und azokarmin als vorfarben. Z Wiss Mikrosk 32:361–372

Køie M (1984) Digenetic trematodes from Gadus morhua L. (Osteichthyes, Gadidae) from Danish and adjacent waters, with special reference to their life-histories. Ophelia 23:195–222

Køie M (2000) Metazoan parasites of teleost fishes from Atlantic waters off the Faroe Islands. Ophelia 52:25–44

Kuramochi T (2005) Digenean trematodes of fishes from deep-sea areas off Ryukyu Islands, Southern Japan. In: Hasegawa M, Shinohara G, Takeda M (eds) Deep-sea Fauna and Pollutants in Nansei Islands, vol 29. National Science Museum Monographs, Tokyo, pp 23–35

Kuramochi T (2006) Digenean trematodes of fishes caught in the Sagami Sea, central Japan. Mem Natl Sci Mus Tokyo 40:175–186

Kuramochi T (2009) Digenean trematodes of fishes from deep-sea areas off the Pacific Coast of Northern Honshu, Japan. In: Fujita T (ed) Deep-sea fauna and pollutants off Pacific coast of Northern Japan, vol 39. National Museum of Nature and Science Monographs, Tokyo, pp 25–37

Kuramochi T (2011) Digenean trematodes of fishes caught in Sagami Bay, off Izu Islands and off Ogasawara Islands. Mem Natl Mus Nat Sci Tokyo 47:51–63

Langeron M (1949) Précis de microscopie. Masson & Cie, Paris

Manter HW (1931) Further studies on trematodes of Tortugas fishes. Carnegie Inst Wash Yearb 30:386–388

Manter HW (1934) Some digenetic trematodes from deep-water fish of Tortugas, Florida. Pap Tortugas Lab 28:257–345

Manter HW (1954) Some digenetic trematodes from fishes of New Zealand. Trans R Soc NZ 82:475–568

Perdiguero-Alonso D, Montero FE, Raga JA, Kostadinova A (2008) Composition and structure of the parasite faunas of cod, Gadus morhua L. (Teleostei: Gadidae), in the North East Atlantic. Parasite Vector 1(23):1–18. doi:10.1186/1756-3305-1-23

Tkachuk LP (2002) Lepidapedon alvigae is a new name for Tormopsolus coelorhynchi Gavrilyuk-Tkachuk, 1979. Ekol Morya 61:44 (In Russian)

Yamaguti S (1934) Studies on the helminth fauna of Japan. Part 2. Trematodes of fishes, I. Jpn J Zool 5:249–541

Yamaguti S (1938) Studies on the helminth fauna of Japan. Part 21. Trematodes of fishes, IV. Satyû Yamaguti, Kyoto

Zdzitowiecki K, Cielecka D (1997) Digenea of fishes of the Weddell Sea. I. Parasites of Macrourus whitsoni (Gadiformes, Macrouridae). Acta Parasitol 42:23–30
Acknowledgments
We are grateful to B. Richer de Forges (IRD, Nouméa, New Caledonia), Bernard Séret (Museum National d'Histoire Naturelle, Paris France), and the crew members of the NO Alis for their help in collecting and/or identifying the fish species.
About this article
Cite this article
Bray, R.A., Faliex, E., Allienne, J.F. et al. Lepidapedon sereti n. sp. (Digenea: Lepidapedidae) in Coelorinchus sereti (Gadiformes: Macrouridae) from deep waters off Vanuatu. Parasitol Res 112, 3981–3989 (2013). https://doi.org/10.1007/s00436-013-3642-6
Received:

Accepted:

Published:

Issue Date:
Keywords
Body Length

Ventral Sucker

Sensu Stricto

Oral Sucker

Excretory Pore