Abstract
Due to its delayed fluorescence of a lanthanide chelate, high accuracy and low background the broad linear range, long fluorescent life-time and large Stoke's shift of europium chelates, the time-resolved fluorescence has been developed for higher sensitive immunoassay. In this article, a simple, sensitive and specific method-time-resolved fluoroimmunoassay (TRFIA) was adopted for immunoassay of clonorchiasis, and recombinant glutathione transferases 2 of Clonorchis sinensis (rCsGST2) was used as a diagnostic antigen. To evaluate this novel assay for clinical applications, 409 serum samples were investigated. The diagnostic accuracy of the antigen was evaluated by receiver-operating characteristic (ROC) analysis. The area under the ROC curve (AUC) was 0.965, 95 % confidence interval (CI, 0.946, 0.985). To eliminate the random influence of ambient temperature, test parameters, photometric instruments and so on, the cut-off value was expressed as ratios between the fluorescence of sample and that of a well-defined negative control serum, and the deduced cut-off value was 9.3605. At the optimum cut-off criteria, the technique has a sensitivity of 95.80 %, specificity of 93.60 %. And the cross reactivity revealed that its cross reactivity with Schistosoma japonicum, round worm, hook worm, whip worm, and Toxoplasma gondii was 9.3, 8.3, 7.6, 9.8, and 5.0 %, respectively. Kappa score of agreement between TRFIA and microscopic examination of stools was 0.892, P < 0.05. These combined results showed that our method is feasible and could be used for the clinical determination of clonorchiasis.
This is a preview of subscription content, log in to check access.
Access options
Buy single article
Instant access to the full article PDF.
US$ 39.95
Price includes VAT for USA
Subscribe to journal
Immediate online access to all issues from 2019. Subscription will auto renew annually.
US$ 199
This is the net price. Taxes to be calculated in checkout.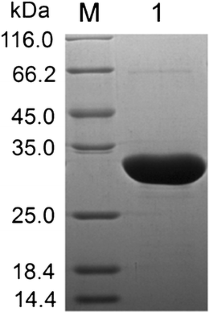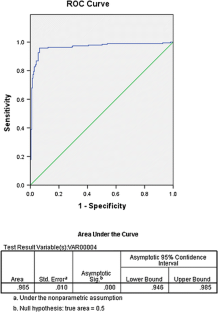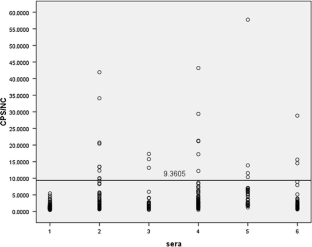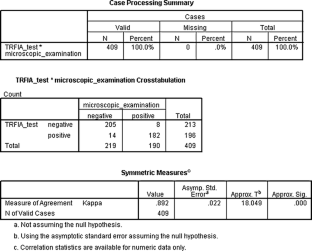 References
Aceti A, Pennica A, Caferro M, Celestino D, Paparo BS, Sebastiani A (1987) Application of time-resolved fluoroimmunoassay (TR-FIA) for the diagnosis of invasive amoebiasis. Trans R Soc Trop Med Hyg 81(5):764–767

Aceti A, Pennica A, Celestino D, Paparo SB, Caferro M, Sanguigni S, Marangi M, Sebastiani A (1988) A new serological technique, time-resolved fluoroimmunoassay (TRFIA), for the immunological diagnosis of urinary schistosomiasis. Trans R Soc Trop Med Hyg 82(3):445–447

Aceti A, Pennica A, Teggi A, Fondacaro LM, Caferro M, Leri O, Tacchi G, Celestino D, Quaranta G, De Rosa F et al (1993) IgG subclasses in human hydatid disease: prominence of the IgG4 response. Int Arch Allergy Immunol 102(4):347–351

Ahmad R, Srivastava AK (2007) Purification and biochemical characterization of cytosolic glutathione-S-transferase from malarial parasites Plasmodium yoelii. Parasitol Res 100(3):581–588

Choi MH, Park IC, Li S, Hong ST (2003) Excretory-secretory antigen is better than crude antigen for the serodiagnosis of clonorchiasis by ELISA. Korean J Parasitol 41(1):35–39

Crompton DW (1999) How much human helminthiasis is there in the world? J Parasitol 85(3):397–403

Deng C, Yu X, Li X, Sun J, Wang L, Wang X, Chen W, Lv X, Hu X, Wu Z, Liang C, Xu J (2012) Molecular expression and characterization of a novel protein phosphatase 2A gene from Clonorchis sinensis. Parasitol Res 110(5):1951–1957

El-Moamly AA, El-Sweify MA (2012) ImmunoCard STAT! cartridge antigen detection assay compared to microplate enzyme immunoassay and modified Kinyoun's acid-fast staining technique for detection of Cryptosporidium in fecal specimens. Parasitol Res 110(2):1037–1041

Eursitthichai V, Viyanant V, Tesana S, Sithithaworn P, Kosa N, Grams R (2010) Opisthorchis viverrini: evaluation of 28 kDa glutathione S-transferase as diagnostic tool in human opisthorchiasis. Acta Trop 114(2):76–80

Greiner M, Pfeiffer D, Smith RD (2000) Principles and practical application of the receiver-operating characteristic analysis for diagnostic tests. Prev Vet Med 45(1–2):23–41

Hakangard C, Deelder AM, Gabone RM, Nilsson LA, Ouchterlony O (1996) A comparative study on specific antibodies and circulating antigen (CAA) in serum and parasitological findings for diagnosis of Schistosomiasis mansoni in an endemic area in Tanzania. Acta Trop 61(3):213–222

Hong ST, Fang Y (2012) Clonorchis sinensis and clonorchiasis, an update. Parasitol Int 61(1):17–24

Hong ST, Kho WG, Lee M, Lee JS, Lee SH (1997) Immunoblot patterns of clonorchiasis. Korean J Parasitol 35(2):87–93

Hong ST, Lee M, Sung NJ, Cho SR, Chai JY, Lee SH (1999) Usefulness of IgG4 subclass antibodies for diagnosis of human clonorchiasis. Korean J Parasitol 37(4):243–248

Hong SJ, Yun Kim T, Gan XX, Shen LY, Sukontason K, Kang SY (2002) Clonorchis sinensis: glutathione S-transferase as a serodiagnostic antigen for detecting IgG and IgE antibodies. Exp Parasitol 101(4):231–233

Kang SY, Ahn IY, Park CY, Chung YB, Hong ST, Kong Y, Cho SY, Hong SJ (2001) Clonorchis sinensis: molecular cloning and characterization of 28-kDa glutathione S-transferase. Exp Parasitol 97(4):186–195

Kim TY, Lee JY, Kim TI, Moon KH, Kang SY, Hong SJ (2007) Molecular cloning and enzymatic characterization of a class mu glutathione S-transferase of Paragonimus westermani. Parasitol Res 101(5):1225–1231

Li S, Shin JG, Cho PY, Kim TI, Hong ST, Hong SJ (2011) Multiple recombinant antigens of Clonorchis sinensis for serodiagnosis of human clonorchiasis. Parasitol Res 108(5):1295–1302

Li Y, Huang Y, Hu X, Liu X, Ma C, Zhao J, Wu Z, Xu J, Yu X (2012) 41.5-kDa Cathepsin L protease from Clonorchis sinensis: expression, characterization, and serological reactivity of one excretory-secretory antigen. Parasitol Res 111(2):673–680

Loukas A, Opdebeeck J, Croese J, Prociv P (1996) Immunoglobulin G subclass antibodies against excretory/secretory antigens of Ancylostoma caninum in human enteric infections. Am J Trop Med Hyg 54(6):672–676

Lun ZR, Gasser RB, Lai DH, Li AX, Zhu XQ, Yu XB, Fang YY (2005) Clonorchiasis: a key foodborne zoonosis in China. Lancet Infect Dis 5(1):31–41

Luo QL, Qiao ZP, Zhou YD, Li XY, Zhong ZR, Yu YJ, Zhang SH, Liu M, Zheng MJ, Bian MH, Shen JL (2009) Application of signaling protein 14-3-3 and 26 kDa glutathione-S-transferase to serological diagnosis of Schistosomiasis japonica. Acta Trop 112(2):91–96

Lv X, Chen W, Wang X, Li X, Sun J, Deng C, Men J, Tian Y, Zhou C, Lei H, Liang C, Yu X (2012) Molecular characterization and expression of a cysteine protease from Clonorchis sinensis and its application for serodiagnosis of clonorchiasis. Parasitol Res 110(6):2211–2219

McKie A, Vyse A, Maple C (2002) Novel methods for the detection of microbial antibodies in oral fluid. Lancet Infect Dis 2(1):18–24

Merio L, Pettersson K, Lovgren T (1996) Monoclonal antibody-based dual-label time-resolved fluorometric assays in a simplified one-step format. Clin Chem 42(9):1513–1517

Nagano I, Pei F, Wu Z, Wu J, Cui H, Boonmars T, Takahashi Y (2004) Molecular expression of a cysteine proteinase of Clonorchis sinensis and its application to an enzyme-linked immunosorbent assay for immunodiagnosis of clonorchiasis. Clin Diagn Lab Immunol 11(2):411–416

Parvathi A, Sanath Kumar H, Kenchanna Prakasha B, Lu J, Xu X, Hu W, Feng Z, Karunasagar I (2007) Clonorchis sinensis: development and evaluation of a nested polymerase chain reaction (PCR) assay. Exp Parasitol 115(3):291–295

Peippo P, Hagren V, Lovgren T, Tuomola M (2004) Rapid time-resolved fluoroimmunoassay for the screening of narasin and salinomycin residues in poultry and eggs. J Agric Food Chem 52(7):1824–1828

Qiao T, Zheng PM, Ma RH, Luo XB, Luo ZL (2012) Development of a real-time PCR assay for the detection of Clonorchis sinensis DNA in gallbladder bile and stone samples from patients with cholecystolithiasis. Parasitol Res 111(4):1497–1503

Rahman SM, Bae YM, Hong ST, Choi MH (2011) Early detection and estimation of infection burden by real-time PCR in rats experimentally infected with Clonorchis sinensis. Parasitol Res 109(2):297–303

Rao UR, Salinas G, Mehta K, Klei TR (2000) Identification and localization of glutathione S-transferase as a potential target enzyme in Brugia species. Parasitol Res 86(11):908–915

Salih DE, Ahmed JS, Bakheit MA, Ali EB, El Hussein AM, Hassan SM, Shariff OE, Fadl M, Jongejan F (2005) Validation of the indirect TaSP enzyme-linked immunosorbent assay for diagnosis of Theileria annulata infection in cattle. Parasitol Res 97(4):302–308

Shen J, Zhang Z, Yao Y, Shi W, Liu Y, Zhang S (2007) Time-resolved fluoroimmunoassay for ractopamine in swine tissue. Anal Bioanal Chem 387(4):1561–1564

Vibanco-Perez N, Jimenez L, Mendoza-Hernandez G, Landa A (2002) Characterization of a recombinant mu-class glutathione S-transferase from Taenia solium. Parasitol Res 88(5):398–404

Viera AJ, Garrett JM (2005) Understanding interobserver agreement: the kappa statistic. Fam Med 37(5):360–363

Wang K, Huang B, Zhang J, Zhou B, Gao L, Zhu L, Jin J (2009) A novel and sensitive method for the detection of deoxynivalenol in food by time-resolved fluoroimmunoassay. Toxicol Mech Methods 19(9):559–564

Wanzala W, Kyule NM, Zessin KH, Onyango-Abuje AJ, Kang'ethe KE, Ochanda H, Harrison JS (2007) Evaluation of an antigen-ELISA in the diagnosis of bovine cysticercosis in Kenyan cattle. Parasitol Res 100(3):539–548

Wu Z, Wu D, Hu X, Xu J, Chen S, Yu X (2006) Molecular cloning and characterization of cDNA encoding a novel cytosolic glutathione transferase from Clonorchis sinensis. Parasitol Res 98(6):534–538

Yuan J, Wang G, Kimura H, Matsumoto K (1997) Highly sensitive time-resolved fluoroimmunoassay of human immunoglobulin E by using a new europium fluorescent chelate as a label. Anal Biochem 254(2):283–287

Zhao QP, Moon SU, Lee HW, Na BK, Cho SY, Kong Y, Jiang MS, Li AH, Kim TS (2004) Evaluation of Clonorchis sinensis recombinant 7-kilodalton antigen for serodiagnosis of clonorchiasis. Clin Diagn Lab Immunol 11(4):814–817

Zweig MH, Campbell G (1993) Receiver-operating characteristic (ROC) plots: a fundamental evaluation tool in clinical medicine. Clin Chem 39(4):561–577
Acknowledgments
This work was supported by grants from the National Basic Research Program of China (973 program; no.2010CB530000), the Natural Science Foundation of Guangdong province (815100891000005), the Medical Research Foundation of Guangdong province (A2008157), and Science and technology projects of Guangzhou (10A31021473). We thank gratefully the staff of Centers for Disease Control (CDC) of Guangxi Zhuang Autonomous Region, China, and the staff of CDC Binyang County, Nanning City.
Conflicts of interest
The authors declared no potential conflicts of interest with respect to the authorship, research, and/or publication of this article.
Additional information
Jin Xu and Lexun Wang contributed equally to this work.
About this article
Cite this article
Xu, J., Wang, L., Deng, C. et al. The serological diagnosis of human clonorchiasis by time-resolved fluoroimmunoassay based on GST2-specific IgG4 detection. Parasitol Res 113, 149–155 (2014). https://doi.org/10.1007/s00436-013-3637-3
Received:

Accepted:

Published:

Issue Date:
Keywords
Schistosomiasis

Stool Examination

Schistosoma Japonicum

Clonorchiasis

Fecal Examination