Abstract
Leucine aminopeptidase (LAP) is expressed in all stages of Fasciola gigantica and, hence, is considered as a potential vaccine candidate. In this study, we have tested a vaccine potential of LAP and the types of immune responses it elicited in vaccinated mice. Recombinant F. gigantica leucine aminopeptidase (rFgLAP) was expressed in Escherichia coli, BL21 (DE3). The imprinting control region mice subcutaneously immunized with 50 μg of rFgLAP combined with Freund's adjuvant (n = 10) exhibited a significant reduction in worm recoveries when compared with non-immunized and Freund's adjuvant controls at 60.8 and 64.3 %, respectively, and both T helper (Th)1 and Th2 humoral immune responses were elicited in the hosts as reflected by the levels of IgG1 and IgG2a, with Th2 predominating. The levels of IgG1- and IgG2a-specific antibodies to rFgLAP were inversely and significantly correlated with the numbers of worm recoveries. The rFgLAP-vaccinated mice showed significantly reduced levels of serum glutamic oxaloacetic transaminase and serum glutamic pyruvic transaminase and liver damage. These indicated that rFgLAP has a potential as a vaccine candidate against F. gigantica, whose efficacy will be studied further in economic animals including cattle, sheep, and goat.
This is a preview of subscription content, log in to check access.
Access options
Buy single article
Instant access to the full article PDF.
US$ 39.95
Price includes VAT for USA
Subscribe to journal
Immediate online access to all issues from 2019. Subscription will auto renew annually.
US$ 199
This is the net price. Taxes to be calculated in checkout.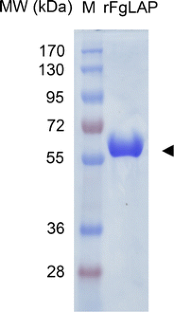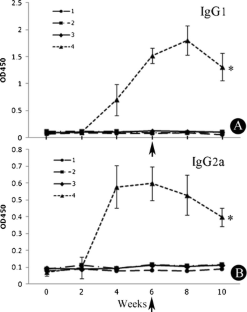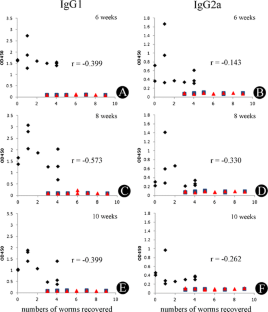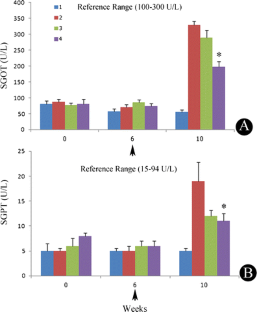 References
Acosta D, Cancela M, Piacenza L, Roche L, Carmona C, Tort JF (2008) Fasciola hepatica leucine aminopeptidase, a promising candidate for vaccination against ruminant fasciolosis. Mol Biochem Parasitol 158:52–64

Allen JE, Maizels RM (2011) Diversity and dialogue in immunity to helminthes. Nat Rev Immunol 11:375–388

Anthony RM, Rutitzky LI, Urban JF Jr, Stadecker MJ, Gause WC (2007) Protective immune mechanisms in helminth infection. Nat Rev Immunol 7:975–987

Behm CA, Sangster NC (1999) Pathology, pathophysiology and clinical aspects. In: Dalton JP (ed) Fasciolosis. CAB International, Wallingford, pp 185–217

Brennan GP, Fairweather I, Trudgett A, Hoey E, McCoy MCM, Meaney M, Robinson M, McFerran N, Ryan L, Lanusse C, Mottier L, Alvarez L, Solana H, Virkel G, Brophy PM (2007) Understanding triclabendazole resistance. Exp Mol Pathol 82:104–109

Changklungmoa N, Chaithirayanon K, Kueakhai P, Meemon K, Riengrojpitak S, Sobhon P (2012) Molecular cloning and characterization of leucine aminopeptidase from Fasciola gigantica. Exp Parasitol 131:283–291

Devine C, Brennan GP, Lanusse CE, Alvarez LI, Trudgett A, Hoey E, Fairweather I (2010) Potentiation of triclabendazole sulphoxide-induced tegumental disruption by methimazole in a triclabendazole-resistant isolate of Fasciola hepatica. Parasitol Res 106:1351–1363

Edith R, Godara R, Sharma RL, Thilagar MB (2010) Serum enzyme and hematological profile of Fasciola gigantica immunized and experimentally infected riverine buffaloes. Parasitol Res 106:947–956

Espino AM, Hillyer GV (2004) A novel Fasciola hepatica saposinlike recombinant protein with immunoprophylactic potential. J Parasitol 90:876–879

Ford EJH (1974) Activity of gamma-glutamyl transpeptidase and other enzymes in the serum of sheep with liver or kidney damage. J Comp Pathol 84(2):231–243

Golden O, Flynn RJ, Read C, Sekiya M, Donnelly SM, Stack C, Dalton JP, Mulcahy G (2010) Protection of cattle against a natural infection of Fasciola hepatica by vaccination with recombinant cathepsin L1 (rFhCL1). Vaccine 28:5551–5557

Jia H, Nishikawa Y, Luo Y, Yamagishi J, Sugimoto C, Xuan X (2010) Characterization of a leucine aminopeptidase from Toxoplasma gondii. Mol Biochem Parasitol 170:1–6

Kapsenberg ML (2003) Dendritic-cell control of pathogen-driven T-cell polarization. Nat Rev Immunol 3:984–993

Maggioli G, Acosta D, Silveira F, Rossi S, Giacaman S, Basika T, Gayo V, Rosadilla D, Roche L, Tort J, Carmona C (2011) The recombinant gut-associated M17 leucine aminopeptidase in combination with different adjuvants confers a high level of protection against Fasciola hepatica infection in sheep. Vaccine 29:9057–9063

McCarthy E, Stack C, Donnelly SM, Doyle S, Mann VH, Brindley PJ, Stewart M, Day TA, Maule AG, Dalton JP (2004) Leucine aminopeptidase of the human blood flukes, Schistosoma mansoni and Schistosoma japonicum. Int J Parasitol 34:703–714

Moll L, Gaasenbeek CPH, Vellema P, Borgsteede FHM (2000) Resistance of Fasciola hepatica against triclabendazole in cattle and sheep in the Netherlands. Vet Parasitol 91:153–158

Moreau E, Chauvin A (2010) Immunity against helminths: interactions with the host and the intercurrent infections. J Biomed Biotech 2010:428593

Mucha A, Drag M, Dalton JP, Kafarski P (2010) Metallo-aminopeptidase inhibitors. Biochimie 92:1509–1529

Nambi PA, Yadav SC, Raina OK, Sriveny D, Saini M (2005) Vaccination of buffaloes with Fasciola gigantica recombinant fatty acid binding protein. Parasitol Res 97:129–135

Overend DJ, Bowen FL (1995) Resistance of Fasciola hepatica to triclabendazole. Aust Vet J 72:275–276

Piacenza L, Acosta A, Basmadjian I, Dalton JP, Carmona C (1999) Vaccination with cathepsin L proteinases and with leucine aminopeptidase induces high levels of protection against fascioliasis in sheep. Infect Immun 67:1954–1961

Preyavichyapugdee N, Sahapong S, Riengrojpitak S, Grams R, Viyanant V, Sobhon P (2008) Fasciola gigantica and Schistosoma mansoni: vaccine potential of recombinant glutathione-S-transferases (rFgGST26) against infections in mice. Exp Parasitol 119:229–237

Raina OK, Nagar G, Varghese A, Prajitha G, Alex A, Maharana BR, Joshi P (2011) Lack of protective efficacy in buffaloes vaccinated with Fasciola gigantica leucine aminopeptidase and peroxiredoxin recombinant proteins. Acta Trop 118:217–222

Sandeman RM, Howell MJ (1981) Response of sheep to challenge infection with Fasciola hepatica. Res Vet Sci 30:294–297

Sinclair KB (1967) Pathogenesis of Fasciola and other-flukes. Helminth Abstr 36:115–134

Skinner-Adams TS, Stack CM, Trenholme KR, Brown CL, Grembecka J, Lowther J, Mucha A, Drag M, Kafarski P, McGowan S, Whisstock JC, Gardiner DL, Dalton JP (2010) Plasmodium falciparum neutral aminopeptidases: new targets for anti-malarials. Trends Biochem Sci 35:53–61
Acknowledgments
This research was supported by grants from the Faculty of Science, Mahidol University, and The Thailand Research Fund to P. Sobhon.
About this article
Cite this article
Changklungmoa, N., Kueakhai, P., Riengrojpitak, S. et al. Immunization with recombinant leucine aminopeptidase showed protection against Fasciola gigantica in mice. Parasitol Res 112, 3653–3659 (2013). https://doi.org/10.1007/s00436-013-3553-6
Received:

Accepted:

Published:

Issue Date:
Keywords
Leucine Aminopeptidase

Subcutaneous Route

Serum Glutamic Pyruvic Transaminase

Imprint Control Region

Serum Glutamic Oxaloacetic Transaminase