Abstract
Among the 16 species of Eimeria from goats, Eimeria arloingi and Eimeria ninakohlyakimovae are regarded as the most pathogenic species in the world and cause clinical caprine coccidiosis. E. arloingi is known to be an important cause of coccidiosis in Iranian kids. Molecular analyses of two portions of nuclear ribosomal DNA (internal transcribed spacer1 (ITS1) and 18S rDNA) were used for the genetic characterization of the E. arloingi. Comparison of the sequencing data of E. arloingi obtained in the present study (ITS1: KC507793 and 18S rDNA: KC507792) with other Eimeria species in the GenBank database revealed a particularly close relationship between E. arloingi and Eimeria spp. from the cattle and sheep. The phylogram based on the ITS1 sequences shows that the E. arloingi, Eimeria bovis, and Eimeria zuernii formed a distinct group separate from the other remaining Eimeria spp. in cattle and poultry. In pairwise alignment, 18S rDNA sequence derived from E. arloingi showed 99 % similarity to Eimeria ahsata with differences observed at only three nucleotides. This study showed that the ITS1 and 18S rDNA gene are useful genetic markers for the specific identification and differentiation of Eimeria spp. in ruminants.
This is a preview of subscription content, log in to check access.
Access options
Buy single article
Instant access to the full article PDF.
US$ 39.95
Price includes VAT for USA
Subscribe to journal
Immediate online access to all issues from 2019. Subscription will auto renew annually.
US$ 199
This is the net price. Taxes to be calculated in checkout.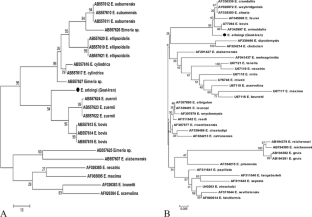 References
Abo-Shehada MN, Abo-Farieha HA (2003) Prevalence of Eimeria species among goats in northern Jordan. Small Rumin Res 49:109–113

Balicka-Ramisz A (1999) Studies on coccidiosis in goats in Poland. Vet Parasitol 81:347–349

Barta JR, Martin DS, Liberator PA, Dashkevicz M, Anderson JW, Feighner SD, Elbrecht A, Perkins-Barta JR, Martin DS, Liberator PA, Dashkevicz M, Anderson JW, Feighner SD, Elbrecht A, Perkins-Bush AO, Fernandez JC, Esch GW, Seed JR (2001) Parasitism: The diversity and ecology of animal parasites. Chapter 3, the Protozoa. Cambridge University Press, Cambridge, pp 42–102

Cere N, Licois D, Humbert JF (1995) Study of the inter- and intra specific variation of Eimeria spp. from the rabbit using random amplified polymorphic DNA. Parasitol Res 81:324–328

Cox FEG (1998) Control of coccidiosis: lessons from other sporozoa. Int J Parasitol 28:165–179

Current WL, Upton SJ, Long PL (1990) Taxonomy and life cycles. In: Long PL (ed) Coccidiosis of man and domestic animals. CRC, Boca Raton, pp 1–16

Duszynski DW, Upton SJ (1999) The common coccidia of wild mammals: Cyclospora, Eimeria, Isospora (Eimeriidae) and Cryptosporidium (Cryptosporidiidae) spp. In: Samuel W, Pybus M, Kocan AA (eds) Parasitic diseases of wild mammals, 2nd edn. Iowa State University, Ames, Iowa (in press)

Hashemnia M, Khodakaram-Tafti A, Razavi SM, Nazifi S (2011) Changing patterns of acute phase proteins and inflammatory mediators in experimental Caprine coccidiosis. Korean J Parasitol 3:1–7

Hashemnia M, Khodakaram-Tafti A, Razavi SM, Nazifi S (2012) Experimental caprine coccidiosis caused by Eimeria arloingi: morphopathologic and electron microscopic studies. Vet Res Commun 1:47–55

Haug A, Thebo P, Mattsson JG (2007) A simplified protocol for molecular identification of Eimeria species in field samples. Vet Parasitol 146:35–45

Hnida JA, Duszynski DW (1999) Taxonomy and phylogeny of some Eimeria (Apicomplexa: Eimeriidae) species of rodents as determined by polymerase chain reaction/restriction-fragment-length polymorphism analysis of 18S rDNA. Parasitol Res 85:887–894

Jalila A, Dorny P, Sani R, Salim NB, Vercruysse J (1998) Coccidiosis infections of goats in Selangor, peninsular Malaysia. Vet Parasitol 74:165–172

Jinneman KC, Wetherington JH, Hill WE, Omiecinski CJ, Adams AM, Johnson JM, Tenge BJ, Dang NL, Wekell MM (1999) An oligonucleotide-ligation assay for the differentiation between Cyclospora and Eimeria spp. polymerase chain reaction amplification products. J Food Prot 62:682–685

Johnston DA, Fernando MA (1995) Eimeria spp. of the domestic fowl: analysis of genetic variability between species and strains using DNA polymorphisms amplified by arbitrary primers and denaturing gradient-gel electrophoresis. Parasitol Res 81:91–97

Jubb KVF, Kennedy PC, Palmer N (2007) Pathology of domestic animals. Vol. 2, 5th edn. Academic, New York. pp 264–267.

Kawahara F, Zhang G, Mingala CN, Tamura Y, Koiwa M, Onuma M, Nunoya T (2010) Genetic analysis and development of species-specific PCR assays based on ITS1 region of rRNA in bovine Eimeria parasites. Vet Parasitol 174:49–57

Khodakaram-Tafti A, Mansourian M (2008) Pathologic lesions of naturally occurring coccidiosis in sheep and goats. Comp Clin Pathol 17:87–91

Kimbita EN, Silayo RS, Mwega ED, Mtau AT, Mroso JB (2009) Studies on the Eimeria of goats at Magadu Dairy Farm SUA, Morogoro, Tanzania. Trop Anim Health Prod 41:1263–1265

Koudela B, Bokova A (1998) Coccidiosis in goats in the Czech Republic. Vet Parasitol 76:261–267

Lew AE, Anderson GR, Minchin CM, Jeston PJ, Jorgensen WK (2003) Inter- and intra-strain variation and PCR detection of the internal transcribed spacer 1 (ITS-1) sequences of Australian isolates of Eimeria species from chickens. Vet Parasitol 28:33–50

Matsubayashi M, Takami K, Abe N, Kimata I, Tani H, Sasai K, Baba E (2005) Molecular characterization of crane Coccidia, Eimeria gruis and E. reichenowi, found in feces of migratory cranes. Parasitol Res 97:80–83

Morrison DA, Bornstein S, Thebo P, Wernery U, Kinne J, Mattsson JG (2004) The current status of the small subunit rRNA phylogeny of the coccidian (Sporozoa). Int J Parasitol 34:501–514

Radostits OM, Blood DC, Gay CC (1994) Veterinary medicine, 6th edn. Bailliere Tindall, London, pp 879–886

Razavi SM, Hassanvand A (2007) A survey on prevalence of different Eimeria species in goats in Shiraz suburbs. J Fac Vet Med Univ Tehran 61:373–376

Ruttkowski B, Joachim A, Daugschies A (2001) PCR-based differentiation of three porcine Eimeria species and Isospora suis. Vet Parasitol 95:17–23

Sayin F, Dincer S, Milli U (1980) The life cycle and pathogenicity of Eimeria arloingi (Marotel, 1905) Martin, 1909, in Angora kids and an attempt at its transmission to lambs. Zentrabl Vet Med (B) 27:382–397

Soulsby EJL (1982) Helminths, arthropods and protozoa of domesticated animals. 7th edn. Bailliere Tindall, London. pp 599–606

Su YC, Fei AC, Tsai FM (2003) Differential diagnosis of five avian Eimeria species by polymerase chain reaction using primers derived from the internal transcribed spacer 1 (ITS-1) sequence. Vet Parasitol 117:221–227

Tamura K, Dudley J, Nei M, Kumar S (2007) MEGA4: Molecular Evolutionary Genetics Analysis (MEGA) software version 4.0. Mol Bio Evol 24:1596–1599

Woods WG, Whithear KG, Richards DG, Anderson GR, Jorgensen WK, Gasser RB (2000) Single-strand restriction fragment length polymorphism analysis of the second internal transcribed spacer (ribosomal DNA) for six species of Eimeria from chickens in Australia. Int J Parasitol 30:1019–1023

Zhao X, Duszynski DW, Loker ES (2001a) Phylogenetic position of Eimeria antrozoi, a bat coccidium (Apicomplexa: Eimeriidae) and its relationship to morphologically similar Eimeria spp. from bats and rodents based on nuclear 18S and plastid 23S rDNA sequences. J Parasitol 87:1120–1123

Zhao X, Duszynski DW, Loker ES (2001b) A simple method of DNA extraction for Eimeria species. J Microbiol Methods 44:131–137
About this article
Cite this article
Khodakaram-Tafti, A., Hashemnia, M., Razavi, S.M. et al. Genetic characterization and phylogenetic analysis of Eimeria arloingi in Iranian native kids. Parasitol Res 112, 3187–3192 (2013). https://doi.org/10.1007/s00436-013-3494-0
Received:

Accepted:

Published:

Issue Date:
Keywords
Basic Local Alignment Search Tool

ITS1 Sequence

Coccidiosis

Eimeria Species

Sporulated Oocyst