Abstract
Toxoplasma gondii is one of the most prevalent intracellular parasites and is threatening the health of both humans and animals, therefore causing incalculable economic losses worldwide. Vaccination is thought to be an efficient way of controlling toxoplasmosis. T. gondii microneme protein 11 (MIC11) is a soluble microneme protein which is presumably considered facilitating the early stage of cell invasion. To evaluate the protective efficacy of T. gondii MIC11, in the present study, a new DNA vaccine-encoding the α-chain of T. gondii MIC11 was constructed using the pcDNA3.1 vector. Expression of MIC11 from this vector was confirmed by indirect immunofluorescence assay following transfection into baby hamster kidney (BHK) cells. Intramuscular immunization of BALB/c mice with pcDNA/MIC11 was carried out to evaluate the immune responses by serum antibodies titers, lymphoproliferation assay, and cytokines assay. The protective efficacy was evaluated by survival rate in mice after challenging with highly virulent strain of T. gondii. The results demonstrated that this vaccination elicited significant humoral responses and T. gondii lysate antigen (TLA)-stimulated lymphoproliferation (p < 0.05). Compared to controls, the pcDNA/MIC11 immunized mice had high production of IFN-γ, IL-12, and IL-2 (p < 0.05), but not IL-4 (p > 0.05), indicating that a predominant Th1 type response was developed. The vaccination also increased the survival rate of immunized mice when they were challenged with a lethal dose of tachyzoites of T. gondii RH strain. These data suggest that T. gondii MIC11 is a reasonable vaccine candidate deserving further studies, and pcDNA/MIC11 is a potential strategy for the control of toxoplasmosis.
This is a preview of subscription content, log in to check access.
Access options
Buy single article
Instant access to the full article PDF.
US$ 39.95
Price includes VAT for USA
Subscribe to journal
Immediate online access to all issues from 2019. Subscription will auto renew annually.
US$ 199
This is the net price. Taxes to be calculated in checkout.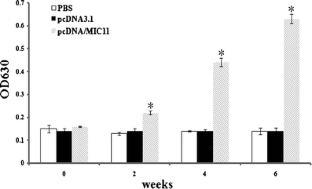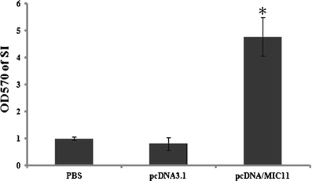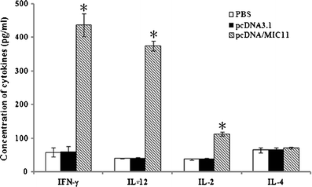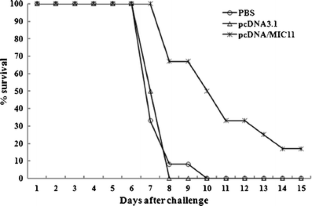 References
Bulow R, Boothroyd J (1991) Protection of mice from fatal Toxoplasma gondii infection by immunization with p30 antigen in liposomes. J Immunol 147:3496–3500

Bunnell BA, Morgan RA (1998) Gene therapy for infectious diseases. Clin Microbiol Rev 11:42–56

Buxton D, Innes E (1995) A commercial vaccine for ovine toxoplasmosis. Parasitology 110:11–16

Buxton D, Thomson K, Maley S, Wright S, Bos H (1993) Experimental challenge of sheep 18 months after vaccination with a live (S48) Toxoplasma gondii vaccine. Vet Rec 133:310–312

Cérède O, Dubremetz JF, Soête M, Deslée D, Vial H, Bout D, Lebrun M (2005) Synergistic role of micronemal proteins in Toxoplasma gondii virulence. J Exp Med 201:453–463

Cong H, Zhang M, Xin Q, Wang Z, Li Y, Zhao Q, Zhou H, He S (2013) Compound DNA vaccine encoding SAG1/SAG3 with A2/B subunit of cholera toxin as a genetic adjuvant protect BALB/c mice against Toxoplasma gondii. Parasit Vectors 6:63

Dautu G, Munyaka B, Carmen G, Zhang G, Omata Y, Xuenan X, Igarashi M (2007) Toxoplasma gondii: DNA vaccination with genes encoding antigens MIC2, M2AP, AMA1 and BAG1 and evaluation of their immunogenic potential. Exp Parasitol 116:273–282

Denkers EY, Gazzinelli RT (1998) Regulation and function of T-cell-mediated immunity during Toxoplasma gondii infection. Clin Microbiol Rev 11:569–588

Donnelly JJ, Wahren B, Liu MA (2005) DNA vaccines: progress and challenges. J Immunol 175:633–639

Dowse T, Soldati D (2004) Host cell invasion by the apicomplexans: the significance of microneme protein proteolysis. Curr Opin Microbiol 7:388–396

Dubey JP (2008) The history of Toxoplasma gondii-the first 100 years. J Eukaryot Microbiol 55:467–475

Dubey J, Hill D, Jones J, Hightower A, Kirkland E, Roberts J, Marcet P, Lehmann T, Vianna MCB, Miska K (2005) Prevalence of viable Toxoplasma gondii in beef, chicken, and pork from retail meat stores in the United States: risk assessment to consumers. J Parasitol 91:1082–1093

Fachado A, Rodriguez A, Angel SO, Pinto DC, Vila I, Acosta A, Amendoeira RR, Lannes-Vieira J (2003) Protective effect of a naked DNA vaccine cocktail against lethal toxoplasmosis in mice. Vaccine 21:1327–1335

Fang R, Nie H, Wang Z, Tu P, Zhou D, Wang L, He L, Zhou Y, Zhao J (2009) Protective immune response in BALB/c mice induced by a suicidal DNA vaccine of the MIC3 gene of Toxoplasma gondii. Vet Parasitol 164:134–140

Gurunathan S, Klinman DM, Seder RA (2000a) DNA vaccines: immunology, application, and optimization. Annu Rev Immunol 18:927–974

Gurunathan S, Wu C, Freidag BL, Seder RA (2000b) DNA vaccines: a key for inducing long-term cellular immunity. Curr Opin Immunol 12:442–447

Harper JM, Zhou XW, Pszenny V, Kafsack BFC, Carruthers VB (2004) The novel coccidian micronemal protein MIC11 undergoes proteolytic maturation by sequential cleavage to remove an internal propeptide. Int J Parasitol 34:1047–1058

Huynh MH, Harper JM, Carruthers VB (2006) Preparing for an invasion: charting the pathway of adhesion proteins to Toxoplasma micronemes. Parasitol Res 98:389–395

Ismael AB, Sekkai D, Collin C, Bout D, Mévélec MN (2003) The MIC3 gene of Toxoplasma gondii is a novel potent vaccine candidate against toxoplasmosis. Infect Immun 71:6222–6228

Keeley A, Soldati D (2004) The glideosome: a molecular machine powering motility and host-cell invasion by Apicomplexa. Trends Cell Biol 14:528–532

Khosroshahi KH, Ghaffarifar F, Sharifi Z, D'Souza S, Dalimi A, Hassan ZM, Khoshzaban F (2012) Comparing the effect of IL-12 genetic adjuvant and alum non-genetic adjuvant on the efficiency of the cocktail DNA vaccine containing plasmids encoding SAG-1 and ROP-2 of Toxoplasma gondii. Parasitol Res 111:403–411

Kur J, Holec-Gąsior L, Hiszczyńska-Sawicka E (2009) Current status of toxoplasmosis vaccine development. Expert Rev Vaccines 8:791–808

Liu MM, Yuan ZG, Peng GH, Zhou DH, He XH, Yan C, Yin CC, He Y, Lin RQ, Song HQ, Zhu XQ (2010) Toxoplasma gondii microneme protein 8 (MIC8) is a potential vaccine candidate against toxoplasmosis. Parasitol Res 106:1079–1084

Lourenco EV, Bernardes ES, Silva NM, Mineo JR, Panunto-Castelo A, Roque-Barreira MC (2006) Immunization with MIC1 and MIC4 induces protective immunity against Toxoplasma gondii. Microbes Infect 8:1244–1251

Meng M, He S, Zhao G, Bai Y, Zhou H, Cong H, Lu G, Zhao Q, Zhu XQ (2012) Evaluation of protective immune responses induced by DNA vaccines encoding Toxoplasma gondii surface antigen 1 (SAG1) and 14-3-3 protein in BALB/c mice. Parasit Vectors 5:273

Miller CM, Boulter NR, Ikin RJ, Smith NC (2009) The immunobiology of the innate response to Toxoplasma gondii. Int J Parasitol 39:23–39

Min J, Qu D, Li C, Song X, Zhao Q, Li XA, Yang Y, Liu Q, He S, Zhou H (2012) Enhancement of protective immune responses induced by Toxoplasma gondii dense granule antigen 7 (GRA7) against toxoplasmosis in mice using a prime-boost vaccination strategy. Vaccine 30:5631–5636

Montgomery DL, Ulmer JB, Donnelly JJ, Liu MA (1997) DNA vaccines. Pharmacol Ther 74:195–205

Pathasarathy S, Fong MY, Ramaswamy K, Lau YL (2013) Protective immune response in BALB/c mice induced by DNA vaccine of the ROP8 gene of Toxoplasma gondii. AmJTrop Med Hyg. doi:10.4269/ajtmh.12-0727

Soldati D, Dubremetz JF, Lebrun M (2001) Microneme proteins: structural and functional requirements to promote adhesion and invasion by the apicomplexan parasite Toxoplasma gondii. Int J Parasitol 31:1293–1302

Sun XM et al (2011) DNA vaccination with a gene encoding Toxoplasma gondii GRA6 induces partial protection against toxoplasmosis in BALB/c mice. Parasit Vectors 4:213

Tenter AM, Heckeroth AR, Weiss LM (2000) Toxoplasma gondii: from animals to humans. Int J Parasitol 30:1217–1258

van Drunen Littel-van den Hurk S, Loehr BI, Babiuk LA (2001) Immunization of livestock with DNA vaccines: current studies and future prospects. Vaccine 19:2474–2479

Vercammen M, Scorza T, Huygen K, De Braekeleer J, Diet R, Jacobs D, Saman E, Verschueren H (2000) DNA vaccination with genes encoding Toxoplasma gondii antigens GRA1, GRA7, and ROP2 induces partially protective immunity against lethal challenge in mice. Infect Immun 68:38–45

Vercruysse J, Knox DP, Schetters TPM, Willadsen P (2004) Veterinary parasitic vaccines: pitfalls and future directions. Trends Parasitol 20:488–492

Wang H, He S, Yao Y, Cong H, Zhao H, Li T, Zhu XQ (2009) Toxoplasma gondii: protective effect of an intranasal SAG1 and MIC4 DNA vaccine in mice. Exp Parasitol 122:226–232

Wu XN, Lin J, Lin X, Chen J, Chen ZL, Lin JY (2012) Multicomponent DNA vaccine-encoding Toxoplasma gondii GRA1 and SAG1 primes: anti-Toxoplasma immune response in mice. Parasitol Res 111:1002–1009

Yan HK, Yuan ZG, Song HQ, Petersen E, Zhou Y, Ren D, Zhou DH, Li HX, Lin RQ, Yang GL, Zhu XQ (2012) Vaccination with a DNA vaccine coding for perforin-like protein 1 and MIC6 induces significant protective immunity against Toxoplasma gondii. Clin Vaccine Immunol 19:684–689

Yu L, Yamagishi J, Zhang S, Jin C, Aboge GO, Zhang H, Zhang G, Tanaka T, Fujisaki K, Nishikawa Y, Xuan X (2012) Protective effect of a prime-boost strategy with plasmid DNA followed by recombinant adenovirus expressing TgAMA1 as vaccines against Toxoplasma gondii infection in mice. Parasitol Int 61:481–486

Yuan ZG, Zhang XX, Lin RQ, Petersen E, He S, Yu M, He XH, Zhou DH, He Y, Li HX, Liao M, Zhu XQ (2011) Protective effect against toxoplasmosis in mice induced by DNA immunization with gene encoding Toxoplasma gondii ROP18. Vaccine 29:6614–6619
Acknowledgments
This work was supported by the National Natural Science Foundation of China (NSFC, Grant No. 30800818 and 31101808) and by the Fundamental Research Funds for the Central Universities (Grant No. 2012ZYTS051). We thank our colleagues in State Key Laboratory of Agricultural Microbiology for their support in making these experiments successful. We also acknowledge Dr. Bang Shen (Washington University School of Medicine, St. Louis, USA) for his critical reading and comments on this manuscript.
About this article
Cite this article
Tao, Q., Fang, R., Zhang, W. et al. Protective immunity induced by a DNA vaccine-encoding Toxoplasma gondii microneme protein 11 against acute toxoplasmosis in BALB/c mice. Parasitol Res 112, 2871–2877 (2013). https://doi.org/10.1007/s00436-013-3458-4
Received:

Accepted:

Published:

Issue Date:
Keywords
Toxoplasmosis

Immunize Mouse

Baby Hamster Kidney Cell

Lymphocyte Proliferation Assay

MIC11 Gene