Abstract
The identification of new anthelmintic drugs becomes a priority because of the availability of a handful of drugs, cost of treatments, and recent emergence of drug resistance. Medicinal plants are a good source of bioactive compounds for development of drugs. In this study, in vivo efficacy of Anogeissus leiocarpus was assessed in sheep naturally infected with gastrointestinal nematodes. Fecal examination, serological analyses, and necropsy were carried out to determine the egg and worm-burden reduction. The administration of ethanolic extract (single oral dose of 80 mg/kg) of A. leiocarpus induced a moderate fecal egg reduction (81 %) and adult worm-burden reduction (87 %) against Haemonchus contortus and Trichostrongylus colubriformis (82 %). The plant exhibited high efficacy against adult Strongyloïdes papillosus (100 %), Gaigeria pachyscelis (90 %), Cooperia curticei (100 %), and Oesophagostomum columbianum (95 %) but low efficacy against Trichostrongylus axei (67 %) and Trichuris globulosa (79 %). All these helminthes were sensitive to fenbendazole, except O. columbianum which showed a decrease susceptibility (17 %). The plant extract also improved certain biological parameters by increasing bodyweight from 0.7 ± 2.9 to 3.3 ± 1.9 % and improving hematocrit of 6.9 ± 1.6 % 3-week posttreatment. It emerges from the results that the plant possesses significant effectiveness on diarrhea; all treated animals gave normal feces. This study has shown that A. leiocarpus could find an application in the control of multiparasitism in small ruminants.
This is a preview of subscription content, log in to check access.
Access options
Buy single article
Instant access to the full article PDF.
US$ 39.95
Price includes VAT for USA
Subscribe to journal
Immediate online access to all issues from 2019. Subscription will auto renew annually.
US$ 199
This is the net price. Taxes to be calculated in checkout.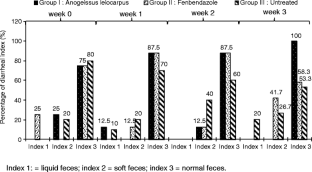 References
Abdel-Ghaffar F, Semmler M, Al-Rasheid KAS, Strassen B, Fischer K, Aksu G, Klimpel S, Mehlhorn H (2011) The effects of different plant extracts on intestinal cestodes and on trematodes. Parasitol Res 108:979–984

Achi YL, Zinsstag J, Yeo N, Dea V, Dorchies P (2003) Epidémiologie des helminthoses des moutons et des chèvres du Nord de La Côte d'Ivoire. Rev Med Vet 154:179–188

Ademola IO, Eloff JN (2011) In vitro anthelmintic effect of Anogeissus leiocarpus (DC.) Guill. & Perr. leaf extracts and fractions on developmental stages of Haemonchus contortus. Afr J Tradit Complement Altern Med 8:134–139

Agaie BM, Onyeyili PA, Muhammad BY, Ladan MJ (2007) Acute toxicity effects of the aqueous leaf extract of Anogeissus leiocarpus in rats. Afr J Biotechnol 6:886–889

Al-Rofaai A, Rahman WA, Abdulghani M (2013) Sensitivity of two in vitro assays for evaluating plant activity against the infective stage of Haemonchus contortus strains. Parasitol Res 112:893–898

Anonymous (2003) Rapport national sur l'état des ressources zoogénétiques. Ministère de la production république de Côte d'lvoire animale et des ressources halieutiques 80 p

Athanasiadou S, Kyriazakis I, Jackson F, Coop RL (2001) Direct anthelmintic effects of condensed tannins towards different gastro-intestinal nematodes of sheep: in vitro and in vivo studies. Vet Parasitol 99:205–219

Barrau E, Fabre N, Fouraste I, Hoste H (2005) Effect of bioactive compounds from sainfoin (Onobrychis viciifolia scop.) on the in vitro larval migration of Haemonchus contortus: role of tannins and flavonol glycosides. Parasitol 131:1–8

Bentounsi B, Khaznadar A, Cabaret J (2012) Resistance of Trichostrongylus spp. (Nematoda) to benzimidazole in Algerian cattle herds grazed with sheep. Parasitol Res 110:1021–1023

Besier B (2007) New anthelmintics for livestock: the time is right. Trends Parasitol 23:21–24

Brady HA, Nichols WT (2009) Drug resistance in equine parasites: an emerging global problem. J Equine Vet Sci 29:285–295

Cabaret J (2004) Genetic and phenotypic diversity in benzimidazole resistant trichostrongyle isolates from ruminants hosts: tools for control of resistance? In: Nematode Parasites Symposium: genetic diversity, virulence genes, diagnosis and control methods

CSAO-OCDE/CEDEAO (2008) Élevage et marché régional au Sahel et en Afrique de l'Ouest: Potentialités et défis. Eds Club du Sahel et de l'Afrique de l'Ouest/OCDE, Paris, France, 179 p

Coles GC, Bauer C, Borgsteede FHM, Geerts S, Klei TR, Taylor MA, Waller PJ (1992) World Association for the Advancement of Veterinary Parasitology (W.A.A.V.P.) methods for the detection of anthelmintic resistance in nematodes of veterinary importance. Vet Parasitol 44:35–44

Coles GC, Jackson F, Pomroy WE, Prichard RK, von Samson-Himmelstjerna G, Silvestre A, Taylor MA, Vercruysse J (2006) The detection of anthelmintic resistance in nematodes of veterinary importance. Vet Parasitol 31:167–185

Cringoli G, VenezianoV RL, Sauvé C, Rubino R, Fedele V, Cabaret J (2007) Resistance of trichostrongyles to benzimidazoles in Italy: a first report in a goat farm with multiple and repeated introductions. Parasitol Res 101:577–58

Dalziel JM (1937) The useful plants of West tropical Africa Crown agents for overseas Governments. Milbank, London, UK, pp 202–204

Debela E (2002) Epidemiology of Gastrointestinal helminthiasis of Rift valley goats under traditional husbandry system in Adami Tulu District, Ethiopia. Ethiop J Sci 25:35–44

Diehl MS, Kamanzi Atindehou K, TERE H, Betschart B (2004) Prospect of anthelmintic plants in the Ivory Coast using ethnobotanical criteria. J Ethnopharmacol 95:277–284

Gordon HM, Whitlock HV (1939) A new technique for counting nematodes eggs in sheep faeces. J Counc Sci Ind Res Aust 12:50–52

Graber M, Perrotin G (1983) Helminthes et helminthoses des ruminants domestiques d'Afrique tropicale. Paris, France, Ed. Le Point vétérinaire, 162 p

Hammond JA, Fielding D, Bishop SC (1997) Prospects for plant anthelmintics in tropical veterinary medicine. Vet Res Com 21:13–28

Kabore A, Belem AMG, Tamboura HH, Traore A, Sawadogo L (2009) In vitro anthelmintic effect of two medicinal plants (Anogeissus leiocarpus and Daniellia oliveri) on Haemonchus contortus, an abosomal nematode of sheep in Burkina Faso. Afr J Biotechnol 8:4690–4695

Kaufmann J (1996) Parasitic infections of domestic animals: a diagnostic manual. Birkhäuser Verlag, Basel, 423 p

Klimpel S, Abdel-Ghaffar F, Al-Rasheid KAS, Aksu G, Fischer K, Mehlhorn H (2011) The effects of different plant extracts on nematodes. Parasitol Res 108:1047–1054

Komoin-Oka C, Zinsstag J, Pandey VS, Fofana F, N'depo A (1999) Epidémiologie des parasites des ovins de la zone sud forestière de la Côte d'Ivoire. Rev Elev Méd Vét Pays trop 52:39–46

Koné WM, Kamanzi Atindehou K, Traoré D, Betschart B (2005) Anthelminthic activity of medicinal plants use in Northern Côte d'Ivoire against helminthiasis. Pharm Biol 43:72–78

Koné WM, Vargas M, Keiser J (2012) Anthelmintic activity of medicinal plants used in Côte d'Ivoire for treating parasitic diseases. Parasitol Res 110:2351–2362

Mann A, Barnabas BB, Daniel II (2010) The effect of methanolic extracts of Anogeissus leiocarpus and Terminalia avicennioides on the growth of some food–borne microorganisms. Aust J Basic Appl Sci 4:6041–6045

Mann A, Yahaya Y, Banso A, Ajayi GO (2008) Phytochemical and antibacterial screening of Anogeissus leiocarpus against some microorganisms associated with infectious wounds. Afr J Microbiol Res 2:060–062

Mehlhorn H, Al-Quraishy S, Al-Rasheid KAS, Jatzlau A, Abdel-Ghaffar F (2011) Addition of a combination of onion (Allium cepa) and coconut (Cocos nucifera) to food of sheep stops gastrointestinal helminthic infections. Parasitol Res 108:1041–1046

Murray M, Murray PK, Mcintyre WIM (1977) An improved parasitological technique for diagnosis of African trypanosomiasis. Trans. R Soc Trop Med Hyg 71:325–326

Niezen JH, Waghorn GC, Charleston WA (1998) Establishment and fecundity of Ostertagia circumcincta and Trichostrongylus colubriformis in lambs fed lotus (Lotus pedunculatus) or perennial ryegrass. Vet Parasitol 78:13–21

Okpekon T, Yolou S, Gleye C, Roblot F, Loiseau P, Bories C, Grellier P, Frappier F, Laurens A, Hocquemiller R (2004) Antiparasitic activities of medicinal plants used in Ivory Coast. J Ethnopharmacol 90:91–97

Paolini V, Fouraste I, Hoste H (2004) In vitro effects of three woody plant and sainfoin extracts on 3rd-stage larvae and adult worms of three gastro-intestinal nematodes. Parasitol 129:69–77

Pessoa LM, Morais SM, Bevilaqua CM, Luciano JH (2002) Anthelmintic activity of essential oil of Ocimum gratissimum Linn. and eugenol against Haemonchus contortus. Vet Parasitol 109:59–63

Powers KG, Wood IB, Eckert J, Gibson T, Smith HJ (1982) World Association for the Advancement Veterinary Parasitology (W.A.A.V.P.) guidelines for evaluating the efficacy of anthelmintics in rumi nants (bovine and ovine). Vet Parasitol 10:265–284

Reinecke RK (1973) The larval anthelmintic test in ruminants. Tech Commun Dept Agric Tech Serv S Afr 106:1–20

Reinecke RK (1980) Chemotherapy in the control of helminthiasis. Vet Parasitol 6:255–292

Rendell DK (2010) Anthelmintic resistance in cattle nematodes on 13 south-west Victorian properties. Aust Vet J 88:504–509

Shuaibu MN, Wuyep PA, Yanagi T, Hirayama K, Tanaka T, Kouno I (2008) The use of microfluorometric method for activity-guided isolation of antiplasmodial compound from plant extracts. Parasitol Res 102:1119–1127

Smith RA, Pontiggia L, Waterman C, Lichtenwalner M, Wasserman J (2009) Comparison of motility, recovery, and methyl-thiazolyltetrazolium reduction assays for use in screening plant products for anthelmintic activity. Parasitol Res 105:1339–1343

Suarez VH, Cristel SL, Busetti MR (2009) Epidemiology and effects of gastrointestinal nematode infection on milk productions of dairy ewes. Parasite 16:141–147

Sykes AR (1994) Parasitism and production in farm animals. Anim Prod 59:155–172

Sykes AR, Coop RL (1977) Intake and utilization of food by growing sheep with abomasal damage caused by daily dosing with Ostertagia circumcincta larvae. J Agric Sci 88:671–677

Terrill TH, Larsen M, Samples O, Husted S, Miller JE, Kaplan RM, Gelaye S (2004) Capability of the nematode-trapping fungus Duddingtonia flagrans to reduce infective larvae of gastrointestinal nematodes in goat feces in the southeastern United States: dose titration and dose time interval studies. Vet Parasitol 120:285–296

Touré G, Ouattara Z, Yapy-Gnaore V, Yo T, Tanoh KG (2005) Sheep Commercialization in Bouake, Côte d'Ivoire: price variations at the small ruminants market. Revue Élev Méd vét Pays trop 58:95–101

Urquhart GM, Armour J, Duncan JL, Dunn AM, Jennings FW (1996) Veterinary parasitology, 2nd edn. Blackwell, Oxford

Valderrábano J, Calvete C, Uriarte J (2010) Effect of feeding bioactive forages on infection and subsequent development of Haemonchus contortus in lamb faeces. Vet Parasitol 172:89–94

Várady M, Papadopoulos E, Dolinská M, Königová A (2011) Anthelmintic resistance in parasites of small ruminants: sheep versus goats. Helminthologia 48:137–144

Waller PJ (1997) Anthelmintic resistance. Vet Parasitol 72:391–412

Westlake WJ (1971) A one-sided version of the Tukey-Duckworth Test. Technometrics 13:901–903

Wolstenholme AJ, Fairweather I, Prichard RK, Samson-Himmelstjerna G, Sangster NC (2004) Drug resistance in veterinary helminths. Trends Parasitol 20:469–476
Acknowledgments
The authors sincerely thank the "Programme Stratégique d'Appui à la Recherche Scientifique (PASRES, Project No. 21)" for financial support and the "Centre Suisse de Recherches Scientifiques en Côte d'Ivoire (CSRS)" for technical assistance. The authors acknowledge support from the consortium Afrique One "Ecosystem and Population Health: Expanding Frontiers in Health," which is funded by the Wellcome Trust (WT087535MA). Thanks are also due to Dr. Esso Emmanuel and Mr. Yao Konan for statistical assistance.
Conflict of interest
The authors declare that they have no conflict of interest.
About this article
Cite this article
Soro, D., Koné, W.M., Bonfoh, B. et al. In vivo anthelmintic activity of Anogeissus leiocarpus Guill & Perr (Combretaceae) against nematodes in naturally infected sheep. Parasitol Res 112, 2681–2688 (2013). https://doi.org/10.1007/s00436-013-3435-y
Received:

Accepted:

Published:

Issue Date:
Keywords
Small Ruminant

Bodyweight Gain

Trichuris

Anthelmintic Activity

Infected Sheep