Abstract
Accumulating evidences suggest that Rab7 GTPase is important for the normal progression of autophagy. However, the role of Rab7 GTPase in regulation of autophagy in Clonorchis sinensis is not known. In this study, a gene encoding Rab7 was isolated from C. sinensis adult cDNA. Recombinant CsRab7 was expressed and purified from Escherichia coli. CsRab7 transcripts were detected in the cDNA of adult worm, metacercaria, cercaria, and egg of C. sinensis, and were highly expressed in the metacercaria. Immunohistochemical localization results revealed that CsRab7 was specifically deposited on the vitellarium and eggs of adult worm. Furthermore, EGFP signal of CsRab7WT and the active mutant CsRab7Q67L were associated with autophagic vesicles in transiently transfected 293T cells. It is concluded from the present study that CsRab7 GTPase possibly contributes to the development of C. sinensis and that the autophagy pathway could be an important site of action with respect to the developmental role of CsRab7 in C. sinensis.
This is a preview of subscription content, log in to check access.
Access options
Buy single article
Instant access to the full article PDF.
US$ 39.95
Price includes VAT for USA
Subscribe to journal
Immediate online access to all issues from 2019. Subscription will auto renew annually.
US$ 199
This is the net price. Taxes to be calculated in checkout.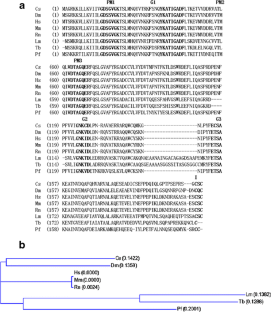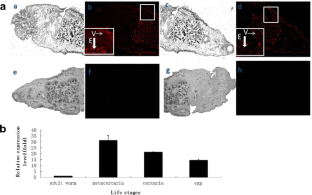 References
Andrade RM, Wessendarp M, Gubbels MJ, Striepen B, Subauste CS (2006) CD40 induces macrophage anti-Toxoplasma gondii activity by triggering autophagy-dependent fusion of pathogen-containing vacuoles and lysosomes. J Clin Investig 116(9):2366–2377. doi:10.1172/JCI28796

Burman C, Ktistakis NT (2010) Autophagosome formation in mammalian cells. Semin Immunopathol 32(4):397–413. doi:10.1007/s00281-010-0222-z

Chavrier P, Goud B (1999) The role of ARF and Rab GTPases in membrane transport. Curr Opin Cell Biol 11(4):466–475. doi:10.1016/S0955-0674(99)80067-2

Eskelinen EL, Saftig P (2009) Autophagy: a lysosomal degradation pathway with a central role in health and disease. Biochim Biophys Acta 1793(4):664–673. doi:10.1016/j.bbamcr.2008.07.014

Eskelinen EL, Schmidt CK, Neu S, Willenborg M, Fuertes G, Salvador N, Tanaka Y, Lullmann-Rauch R, Hartmann D, Heeren J, von Figura K, Knecht E, Saftig P (2004) Disturbed cholesterol traffic but normal proteolytic function in LAMP-1/LAMP-2 double-deficient fibroblasts. Mol Biol Cell 15(7):3132–3145. doi:10.1091/mbc.E04-02-0103

Feng Y, Press B, Wandinger-Ness A (1995) Rab 7: an important regulator of late endocytic membrane traffic. J Cell Biol 131(6 Pt 1):1435–1452

Gutierrez MG, Master SS, Singh SB, Taylor GA, Colombo MI, Deretic V (2004) Autophagy is a defense mechanism inhibiting BCG and Mycobacterium tuberculosis survival in infected macrophages. Cell 119(6):753–766. doi:10.1016/j.cell.2004.11.038

Ho SN, Hunt HD, Horton RM, Pullen JK, Pease LR (1989) Site-directed mutagenesis by overlap extension using the polymerase chain reaction. Gene 77(1):51–59

Hong ST, Fang Y (2012) Clonorchis sinensis and clonorchiasis, an update. Parasitol Int 61(1):17–24. doi:10.1016/j.parint.2011.06.007

Jager S, Bucci C, Tanida I, Ueno T, Kominami E, Saftig P, Eskelinen EL (2004) Role for Rab7 in maturation of late autophagic vacuoles. J Cell Sci 117(Pt 20):4837–4848. doi:10.1242/jcs.01370

Klionsky DJ, Emr SD (2000) Autophagy as a regulated pathway of cellular degradation. Science 290(5497):1717–1721

Kroemer G, Marino G, Levine B (2010) Autophagy and the integrated stress response. Mol Cell 40(2):280–293. doi:10.1016/j.molcel.2010.09.023

Li G, Stahl PD (1993) Structure-function relationship of the small GTPase rab5. J Biol Chem 268(32):24475–24480

Liang C, Hu XC, Lv ZY, Wu ZD, Yu XB, Xu J, Zheng HQ (2009) Experimental establishment of life cycle of Clonorchis sinensis. Zhongguo ji sheng chong xue yu ji sheng chong bing za zhi (Chinese J Parasitol Parasitic Dis) 27(2):148–150

Liao WC, Wang HP, Chiu HM, Chang CY, Lin JT (2006) Multiple hepatic nodules: rare manifestation of clonorchiasis. J Gastroenterol Hepatol 21(9):1497–1500. doi:10.1111/j.1440-1746.2006.03260.x

Lin WJ, Yang CY, Li LL, Yi YH, Chen KW, Lin YC, Liu CC, Lin CH (2012) Lysosomal targeting of phafin1 mediated by Rab7 induces autophagosome formation. Biochem Biophys Res Commun 417(1):35–42. doi:10.1016/j.bbrc.2011.11.043

Livak KJ, Schmittgen TD (2001) Analysis of relative gene expression data using real-time quantitative PCR and the 2(-delta delta C(T)) method. Methods 25(4):402–408. doi:10.1006/meth.2001.1262

Martinez O, Goud B (1998) Rab proteins. Biochim Biophys Acta 1404(1–2):101–112

Mohrmann K, van der Sluijs P (1999) Regulation of membrane transport through the endocytic pathway by rabGTPases. Mol Membr Biol 16(1):81–87

Munafo DB, Colombo MI (2001) A novel assay to study autophagy: regulation of autophagosome vacuole size by amino acid deprivation. J Cell Sci 114(Pt 20):3619–3629

Noda T, Ohsumi Y (1998) Tor, a phosphatidylinositol kinase homologue, controls autophagy in yeast. J Biol Chem 273(7):3963–3966

Nuoffer C, Davidson HW, Matteson J, Meinkoth J, Balch WE (1994) A GDP-bound of rab1 inhibits protein export from the endoplasmic reticulum and transport between Golgi compartments. J Cell Biol 125(2):225–237

Ogawa M, Yoshimori T, Suzuki T, Sagara H, Mizushima N, Sasakawa C (2005) Escape of intracellular Shigella from autophagy. Science 307(5710):727–731. doi:10.1126/science.1106036

Patel N, Singh SB, Basu SK, Mukhopadhyay A (2008) Leishmania requires Rab7-mediated degradation of endocytosed hemoglobin for their growth. Proc Natl Acad Sci USA 105(10):3980–3985. doi:10.1073/pnas.0800404105

Press B, Feng Y, Hoflack B, Wandinger-Ness A (1998) Mutant Rab7 causes the accumulation of cathepsin D and cation-independent mannose 6-phosphate receptor in an early endocytic compartment. J Cell Biol 140(5):1075–1089

Riederer MA, Soldati T, Shapiro AD, Lin J, Pfeffer SR (1994) Lysosome biogenesis requires Rab9 function and receptor recycling from endosomes to the trans-Golgi network. J Cell Biol 125(3):573–582

Shin HR, Oh JK, Masuyer E, Curado MP, Bouvard V, Fang YY, Wiangnon S, Sripa B, Hong ST (2010) Epidemiology of cholangiocarcinoma: an update focusing on risk factors. Canc Sci 101(3):579–585. doi:10.1111/j.1349-7006.2009.01458.x

Sripa B, Kaewkes S, Sithithaworn P, Mairiang E, Laha T, Smout M, Pairojkul C, Bhudhisawasdi V, Tesana S, Thinkamrop B, Bethony JM, Loukas A, Brindley PJ (2007) Liver fluke induces cholangiocarcinoma. PLoS Medicine 4(7):e201. doi:10.1371/journal.pmed.0040201

Stenmark H, Olkkonen VM (2001) The Rab GTPase family. Genome Biology 2 (5):REVIEWS3007

Stenmark H, Parton RG, Steele-Mortimer O, Lutcke A, Gruenberg J, Zerial M (1994) Inhibition of rab5 GTPase activity stimulates membrane fusion in endocytosis. EMBO J 13(6):1287–1296

Tisdale EJ, Bourne JR, Khosravi-Far R, Der CJ, Balch WE (1992) GTP-binding mutants of rab1 and rab2 are potent inhibitors of vesicular transport from the endoplasmic reticulum to the Golgi complex. J Cell Biol 119(4):749–761

Waters MG, Pfeffer SR (1999) Membrane tethering in intracellular transport. Curr Opin Cell Biol 11(4):453–459

Yamaguchi H, Nakagawa I, Yamamoto A, Amano A, Noda T, Yoshimori T (2009) An initial step of GAS-containing autophagosome-like vacuoles formation requires Rab7. PLoS Pathogens 5(11):e1000670. doi:10.1371/journal.ppat.1000670

Yano T, Mita S, Ohmori H, Oshima Y, Fujimoto Y, Ueda R, Takada H, Goldman WE, Fukase K, Silverman N, Yoshimori T, Kurata S (2008) Autophagic control of Listeria through intracellular innate immune recognition in Drosophila. Nat Immunol 9(8):908–916. doi:10.1038/ni.1634

Young ND, Campbell BE, Hall RS, Jex AR, Cantacessi C, Laha T, Sohn WM, Sripa B, Loukas A, Brindley PJ, Gasser RB (2010) Unlocking the transcriptomes of two carcinogenic parasites, Clonorchis sinensis and Opisthorchis viverrini. PLoS Negl Trop Dis 4(6):e719. doi:10.1371/journal.pntd.0000719
Acknowledgments
This work was supported by the National Key Basic Research and Development Project (973 project no. 2010CB530000), National Natural Science Foundation of China (no. 81101270 and no. 81171602), the National Important Sci-tech Special Projects (no. 2012ZX10004220), and the Fundamental Research Funds for the Central Universities (no. 3164015).
Conflict of interest
The authors declare that they have no conflict of interest.
Electronic supplementary material
Below is the link to the electronic supplementary material.
Specific primers used in the present study. (DOC 31 kb)
About this article
Cite this article
Jia, F., Li, Y., Huang, Y. et al. Molecular characterization and expression of Rab7 from Clonorchis sinensis and its potential role in autophagy. Parasitol Res 112, 2461–2467 (2013). https://doi.org/10.1007/s00436-013-3409-0
Received:

Accepted:

Published:

Issue Date:
Keywords
Adult Worm

Autophagy Pathway

Clonorchiasis

Dimethyl Benzene

Autophagic Vesicle