Abstract
The chorioallantoic membrane (CAM) of chicken embryo eggs is a suitable model for viral and bacterial infections. In the present study, a new approach for testing the pathogenesis and virulence of Clostridium perfringens and Eimeria tenella dual infections as a model using the CAM of embryonated chicken eggs was developed. For this purpose, 24 specific pathogen-free (SPF) embryonated chicken eggs were divided into four groups (n = 6) and designated group E, group CP, group CPE, and NC. Sporozoites of E. tenella (20,000 sporozoites) were inoculated into 10-day-old embryonated SPF chicken eggs (groups E and CPE) via allantoic sac route. At 15-day-old, eggs of groups CP and CPE were infected with 104 cfu C. perfringens via the same route. Assessment of pathogenicity was assessed using gross and histopathological lesions. Embryo mortality reached 17 % after mono-infection with C. perfringens and/or E. tenella and 50 % in the mixed-infected group. Lesions in the CAMs were most numerous and most severe in co-infected eggs (group CPE), reaching the maximum score of 3 in 50 % of the inoculated eggs (P < 0.01). In Eimeria spp.-infected eggs (group E), lesions of score were between 1 and 2. Mono-infection with C. perfringens did not lead to a significant occurrence of lesions. Histopathological investigations of the CAM revealed clusters of Gram-positive bacteria, infiltration with leukocytes, lymphocytes, and developmental stages of E. tenella in the co-infected group. These data suggest that embryonated eggs could be an in ovo model for studying the pathogenesis of mixed infection with Eimeria and C. perfringens.
This is a preview of subscription content, log in to check access.
Access options
Buy single article
Instant access to the full article PDF.
US$ 39.95
Price includes VAT for USA
Subscribe to journal
Immediate online access to all issues from 2019. Subscription will auto renew annually.
US$ 199
This is the net price. Taxes to be calculated in checkout.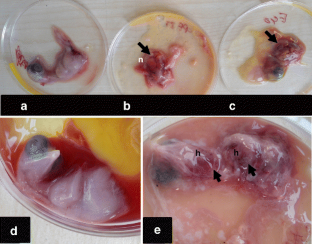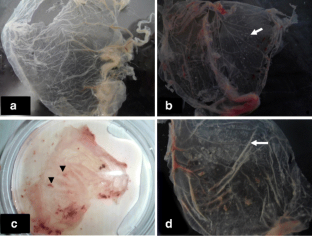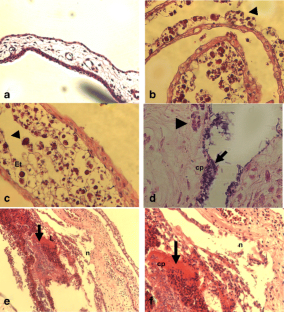 References
Adam R, Mussa S, Lindemann D, Oelschlaeger TA, Deadman M, Ferguson DJ, Moxon R, Schroten H (2002) The avian chorioallantoic membrane in ovo—a useful model for bacterial invasion assays. Int J Med Microbiol 292:267–275

Al-Sheikhly F, Al-Saieg A (1980) Role of coccidia in the occurrence of necrotic enteritis of chickens. Avian Dis 24:324–333

Baums CG, Schotte U, Amtsberg G, Goethe R (2004) Diagnostic multiplex PCR for toxin genotyping of Clostridium perfringens isolates. Vet Microbiol 100:11–16

Hafeez MA, Akhtar M, Hussain I (2006) Protective effect of egg-propagated Eimeria tenella (local isolates) gametocytes as vaccine(s) against mixed species of coccidia in chickens. Parasitol Res 98:539–544

Hodgson JN (1970) Coccidiosis: oocyst counting technique for coccidiostat evaluation. Exp Parasitol 28:99–102

Hofmann J, Raether W (1990) Improved techniques for the in vitro cultivation of Eimeria tenella in primary chick kidney cells. Parasitol Res 76:479–486

Hong YH, Lillehoj HS, Lee SH, Dalloul RA, Lillehoj EP (2006) Analysis of chicken cytokine and chemokine gene expression following Eimeria acervulina and Eimeria tenella infections. Vet Immunol Immunopathol 114:209–223

Jacobsen ID, Grosse K, Slesiona S, Hube B, Berndt A, Brock M (2010) Embryonated eggs as an alternative infection model to investigate Aspergillus fumigatus virulence. Infect Immun 78:2995–3006

Janse EM, Jeurissen SH (1991) Ontogeny and function of two non-lymphoid cell populations in the chicken embryo. Immunobiology 182:472–481

Jiang L, Zhao Q, Zhu S, Han H, Dong H, Huang B (2012) Establishment of Eimeria tenella (local isolate) in chicken embryos. Parasite 19:285–289

Keyburn AL, Boyce JD, Vaz P, Bannam TL, Ford ME, Parker D, Di Rubbo A, Julian R, Robert JM (2008) NetB, a new toxin that is associated with avian necrotic enteritis caused by Clostridium perfringens. PLoS 4:1–11

Long PL, Millard BJ (1973) Eimeria infection of chicken embryos the effect of known anticoccidial drugs against E. tenella and E. mivati. Avian Pathol 2:111–125

Lovland A, Kaldhusdal M (2001) Severely impaired production performance in broiler flocks with high incidence of Clostridium perfringens-associated hepatitis. Avian Pathol 30:73–81

Montgomery D, Jones S, Boyle R, LuoY BA (2005) The embryo lethality of Escherichia coli isolates and its relationship to various in vitro attributes. Avian Dis 49:63–69

Oblinger JL, Koburger JA (1975) Understanding and teaching the most probable number technique. J Milk Food Technol 38:540–545

Park SS, Lillehoj HS, Allen PC, Park DW, FitzCoy S, Bautista DA, Lillehoje EP (2008) Immunopathology and cytokine responses in broiler chickens coinfected with Eimeria maxima and Clostridium perfringens with the use of an animal model of necrotic enteritis. Avian Dis 52:14–22

Raether W, Hofmann J, Uphoff M (1995) In: Eckert J, Braun R, Shirley MW (eds) Biotechnology guidelines on techniques in coccidiosis research. The European Communities, Luxembourg, pp 80–81

Schmatz DM, Crane MS, Murray PK (1984) Purification of Eimeria sporozoites by DE-52 anion exchange chromatography. J Protozool 31:181–183

Su Y, Fei A, Tsai F (2003) Differential diagnosis of five avian Eimeria species by polymerase chain reaction using primers derived from the internal transcribed spacer 1 (ITS-1) sequence. Vet Parasitol 117:221–227

Tierney J, Mulcahy G (2003) Comparative development of Eimeria tenella (Apicomplexa) in host cells in vitro. Parasitol Res 90:301–304

Tomley F (1997) Techniques for isolation and characterization of apical organelles from Eimeria tenella sporozoites. Method San Diego Calif 13:171–176

Van der Sluis W (2000) Clostridial enteritis is an often underestimated problem. World Poult 16:42–43

Van Immerseel F, Rood JI, Moore RJ, Titball RW (2009) Rethinking our understanding of the pathogenesis of necrotic enteritis in chickens. Trends Microbiol 17:32–36

Vargas A, Zeisser-Labouèbe M, Lange N, Gurny R, Delie F (2007) The chick embryo and its chorioallantoic membrane (CAM) for the in vivo evaluation of drug delivery systems. Adv Drug Deliv Rev 59:1162–1176

Williams RB (2005) Intercurrent coccidiosis and necrotic enteritis of chickens: rational, integrated disease management by maintenance of gut integrity. Avian Pathol 34:159–180

Williams RB, Marshall RN, La Ragione RM, Catchpole J (2003) A new method for the experimental production of necrotic enteritis and its use for studies on the relationships between necrotic enteritis, coccidiosis and anticoccidial vaccination of chickens. Parasitol Res 90:19–26

Wu SB, Rodgers N, Choct M (2010) Optimized necrotic enteritis model producing clinical and subclinical infection of Clostridium perfringens in broiler chickens. Avian Dis 54:1058–1065

Xie MQ, Fukata T, Gilbert JM, McDougald LR (1991) Evaluation of anticoccidial drugs in chicken embryos. Parasitol Res 77:595–599
Acknowledgments
The authors would like to thank the Institute of Animal Hygiene and Veterinary Public Health, University Leipzig, and Dr. Dörte Lüschow from Institute of Poultry Diseases, Free University of Berlin, for technical support.
About this article
Cite this article
Alnassan, A.A., Shehata, A.A., Kotsch, M. et al. Embryonated chicken eggs as an alternative model for mixed Clostridium perfringens and Eimeria tenella infection in chickens. Parasitol Res 112, 2299–2306 (2013). https://doi.org/10.1007/s00436-013-3392-5
Received:

Accepted:

Published:

Issue Date:
Keywords
Clostridium Perfringens

Allantoic Fluid

Alpha Toxin

Necrotic Enteritis

Leukocytic Infiltration