Abstract
Haemaphysalis longicornis is known as one of the most important ticks transmitting Babesia parasites in East Asian countries, including Babesia ovata and Babesia gibsoni, as well as Theileria parasites. H. longicornis is not the natural vector of Babesia bovis and Babesia bigemina. Vector ticks and transmitted parasites are thought to have established unique host–parasite interaction for their survival, meaning that vector ticks may have defensive molecules for the growth control of parasites in their bodies. However, the precise adaptation mechanism of tick-Babesia parasites is still unknown. Recently, cyclophilin A (CyPA) was reported to be important for the development of Babesia parasites in ticks. To reveal a part of their adaptation mechanism, the current study was conducted. An injection of B. bovis-infected RBCs into adult female H. longicornis ticks was found to upregulate the expression profiles of the gene and protein of CyPA in H. longicornis (HlCyPA). In addition, recombinant HlCyPA (rHlCyPA) purified from Escherichia coli exhibited significant inhibitory growth effects on B. bovis and B. bigemina cultivated in vitro, without any hemolytic effect on bovine RBCs at all concentrations used. In conclusion, our results suggest that HlCyPA might play an important role in the growth regulation of Babesia parasites in H. longicornis ticks, during natural acquisition from an infected host. Furthermore, rHlCyPA may be a potential alternative chemotherapeutic agent against babesiosis.
This is a preview of subscription content, log in to check access.
Access options
Buy single article
Instant access to the full article PDF.
US$ 39.95
Price includes VAT for USA
Subscribe to journal
Immediate online access to all issues from 2019. Subscription will auto renew annually.
US$ 199
This is the net price. Taxes to be calculated in checkout.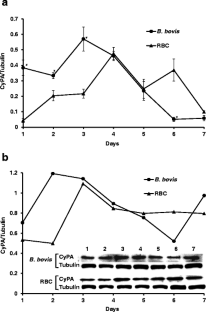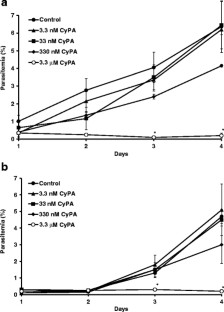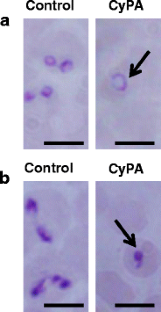 References
AbouLaila M, Sivakumar T, Yokoyama N, Igarashi I (2010) Inhibitory effect of terpene nerolidol on the growth of Babesia parasites. Parasitol Int 59:278–282

Adham FK, Abd-el-Samie EM, Gabre RM, el-Hussein H (2009) Detection of tick blood parasites in Egypt using PCR assay I-Babesia bovis and Babesia bigemina. Parasitol Res 105:721–730

Aung KM, Boldbaatar D, Umemiya-Shirafuji R, Liao M, Tsuji N, Xuan X, Suzuki H, Kume A, Galay RL, Tanaka T, Fujisaki K (2012) HlSRB, a Class B scavenger receptor, is key to the granulocyte-mediated microbial phagocytosis in ticks. PLoS One 7:e33504

Barik S (2006) Immunophilins: for the love of proteins. Cell Mol Life Sci 63:2889–2900

Bastos RG, Ueti MW, Guerrero FD, Knowles DP, Scoles GA (2009) Silencing of a putative immunophilin gene in the cattle tick Rhipicephalus (Boophilus) microplus increases the infection rate of Babesia bovis in larval progeny. Parasit Vectors 2:57

Bell A, Monaghan P, Page AP (2006) Peptidyl-prolyl cis–trans isomerases (immunophilins) and their roles in parasite biochemistry, host–parasite interaction and antiparasitic drug action. Int J Parasitol 36:261–276

Bock R, Jackson L, De Vos A, Jorgensen W (2004) Babesiosis of cattle. Parasitology 129:S247–S269

Boldbaatar D, Kilonzo RM, Battur B, Umemiya R, Liao M, Tanaka T, Xuan X, Fujisaki K (2008) Identification of two forms of cyclophilin from the hard tick Haemaphysalis longicornis. Process Biochem 43:615–625

Bork S, Yokoyama N, Matsuo T, Claveria FG, Fujisaki K, Igarashi I (2003) Growth inhibitory effect of triclosan on equine and bovine Babesia parasites. AmJTrop Med Hyg 68:334–340

Bork S, Yokoyama N, Ikehara Y, Kumar S, Sugimoto C, Igarashi I (2004) Growth-inhibitory effect of heparin on Babesia parasites. Antimicrob Agents Chemother 48:236–241

Chauvin A, Moreau E, Bonnet S, Plantard O, Malandrin L (2009) Babesia and its hosts: adaptation to long-lasting interactions as a way to achieve efficient transmission. Vet Res 40:37

Florin-Christensen M, Schnittger L (2009) Piroplasmids and ticks: a long-lasting intimate relationship. Front Biosci 14:3064–3073

Fujisaki K (1978) Development of acquired resistance precipitating antibody in rabbits experimentally infested with females of Haemaphysalis longicornis (Ixodoidea: Ixodidae). Natl Inst Anim Health Q (Tokyo) 18:27–38

Galat A (1993) Peptidylproline cis–trans isomerases: immunophilins. Eur J Biochem 216:689–707

Galat A (2004) Function-dependent clustering of orthologues and paralogues of cyclophilins. Proteins 56:808–820

Galay RL, Maeda H, Aung KM, Umemiya-Shirafuji R, Xuan X, Igarashi I, Tsuji N, Tanaka T, Fujisaki K (2012) Anti-babesial activity of a potent peptide fragment derived from longicin of Haemaphysalis longicornis. Trop Anim Health Prod 44:343–348

Goo YK, Terkawi MA, Jia H, Aboge GO, Ooka H, Nelson B, Kim S, Sunaga F, Namikawa K, Igarashi I, Nishikawa Y, Xuan X (2010) Artesunate, a potential drug for treatment of Babesia infection. Parasitol Int 59:481–486

Homer MJ, Aguilar-Delfin I, Telford SR 3rd, Krause PJ, Persing DH (2000) Babesiosis. Clin Microbiol Rev 13:451–469

Hubálek Z, Rudolf I (2012) Tick-borne viruses in Europe. Parasitol Res 1:9–36

Krücken J, Greif G, von Samson-Himmelstjerna G (2009) In silico analysis of the cyclophilin repertoire of apicomplexan parasites. Parasit Vectors 2:27

Laemmli UK (1970) Cleavage of structural proteins during the assembly of the head of bacteriophage T4. Nature 227:680–685

Liu X, Sun L, Yu M, Wang Z, Xu C, Xue Q, Zhang K, Ye X, Kitamura Y, Liu W (2009) Cyclophilin A interacts with influenza A virus M1 protein and impairs the early stage of the viral replication. Cell Microbiol 11:730–741

Liu X, Zhao Z, Xu C, Sun L, Chen J, Zhang L, Liu W (2012) Cyclophilin A restricts influenza A virus replication through degradation of the M1 protein. PLoS One 7:e31063

Luban J (2007) Cyclophilin A, TRIM5, and resistance to human immunodeficiency virus type 1 infection. J Virol 81:1054–1061

Nagai A, Yokoyama N, Matsuo T, Bork S, Hirata H, Xuan X, Zhu Y, Claveria FG, Fujisaki K, Igarashi I (2003) Growth-inhibitory effects of artesunate, pyrimethamine, and pamaquine against Babesia equi and Babesia caballi in in vitro cultures. Antimicrob Agents Chemother 47:800–803

Nagy PD, Wang RY, Pogany J, Hafren A, Makinen K (2011) Emerging picture of host chaperone and cyclophilin roles in RNA virus replication. Virology 411:374–382

Rahman M, Tsuji N, Boldbaatar D, Battur B, Liao M, Umemiya-Shirafuji R, You M, Tanaka T, Fujisaki K (2010) Structural characterization and cytolytic activity of a potent antimicrobial motif in longicin, a defensin-like peptide in the tick Haemaphysalis longicornis. J Vet Med Sci 72:149–156

Salama AA, Aboulaila M, Moussa AA, Nayel MA, El-Sify A, Terkawi MA, Hassan HY, Yokoyama N, Igarashi I (2012) Evaluation of in vitro and in vivo inhibitory effects of fusidic acid on Babesia and Theileria parasites. Vet Parasitol (in press)

Schnittger L, Rodriguez AE, Florin-Christensen M, Morrison DA (2012) Babesia: a world emerging. Infect Genet Evol 12:1788–1809

Sonenshine DE, Hynes WL (2008) Molecular characterization and related aspects of the innate immune response in ticks. Front Biosci 13:7046–7063

Stark M, Liu LP, Deber CM (2002) Cationic hydrophobic peptides with antimicrobial activity. Antimicrob Agents Chemother 46:3585–3590

Tanaka T, Maeda H, Matsuo T, Boldbattar D, Umemiya-Shirafuji R, Kume A, Suzuki H, Xuan X, Tsuji N, Fujisaki (2012) Parasiticidal activity of Haemaphysalis longicornis longicin P4 peptide against Toxoplasma gondii. Peptides 34:242–250

Tsuji N, Battsetseg B, Boldbaatar D, Miyoshi T, Xuan X, Oliver JH Jr, Fujisaki K (2007) Babesial vector tick defensin against Babesia sp. parasites. Infect Immun 75:3633–3640

Tsuji N, Miyoshi T, Battsetseg B, Matsuo T, Xuan X, Fujisaki K (2008) A cysteine protease is critical for Babesia spp. transmission in Haemaphysalis longocornis ticks. PLoS Pathog 4:e1000062

Umemiya-Shirafuji R, Tanaka T, Boldbaatar D, Tanaka T, Fujisaki K (2012) Akt is an essential player in regulating cell/organ growth at the adult stage in the hard tick Haemaphysalis longicornis. Insect Biochem Mol Biol 42:164–173

Vannier E, Gewurz BE, Krause PJ (2008) Human babesiosis. Infect Dis Clin North Am 22:469–488

Xu C, Meng S, Liu X, Sun L, Liu W (2010) Chicken cyclophilin A is an inhibitory factor to influenza virus replication. Virol J 7:372

Zhou D, Mei Q, Li J, He H (2012) Cyclophilin A and viral infections. Biochem Biophys Res Commun 424:647–650
Acknowledgments
We are grateful to Dr. C. Kubota, Laboratory of Veterinary Theriogenology, Department of Clinical Veterinary Science, Joint Faculty of Veterinary Medicine, Kagoshima University, and Dr. H. Yamaguchi, Iriki Livestock Farm, Joint Faculty of Veterinary Medicine, Kagoshima University, for the supply of bovine blood. This work was supported by the Bio-oriented Technology Research Advancement Institution (BRAIN) and Grants-in-Aid for Scientific Research (A) and (C) from the Japan Society for the Promotion of Science (JSPS).
Electronic supplementary material
About this article
Cite this article
Maeda, H., Boldbaatar, D., Kusakisako, K. et al. Inhibitory effect of cyclophilin A from the hard tick Haemaphysalis longicornis on the growth of Babesia bovis and Babesia bigemina . Parasitol Res 112, 2207–2213 (2013). https://doi.org/10.1007/s00436-013-3390-7
Received:

Accepted:

Published:

Issue Date:
Keywords
Hemolytic Activity

Triclosan

Cyclophilin

Artesunate

Babesia