Abstract
The northeastern region of Thailand has long been known as an endemic area of the human liver fluke infection which is caused by Opisthorchis viverrini. Humans are infected by ingestion of uncooked cyprinoid fish in traditional dishes such as "koi-pla," "pla-som," "pla-jom," and "pla-ra." To date, the prevalence of this parasite infection remains high because of cultural behavior and local beliefs. The popular misunderstanding among people in this area is that alcohol, lemon juice, and fish sauce can kill the parasites. Thus, they believe that they can eat raw fish without the risk of infection. This study attempts to clarify the effects of ethyl alcohol and acidosis–alkalosis on O. viverrini metacercariae excystation. Metacercariae of O. viverrini were obtained from infected cyprinoid fish in a natural reservoir. Most metacercariae were obtained from small cyprinoid fish. Metacercariae were divided into three experimental groups and were treated with solutions containing four different concentrations of ethyl alcohol, four different concentrations of salt, and a range of acidic/basic pH. Metacercariae excystation was observed at the assigned times, and the data were then analyzed. Salt had no effect on excystation. Interestingly, the optimal conditions for O. viverrini excystation were pH 9 and 25 % ethyl alcohol. The present study suggests that raw fish should not be eaten while drinking alcohol or when consuming other ingredients with pH 9, because both alcohol and pH 9 could induce O. viverrini metacercariae excystation, leading to the early development of parasites in the hepatobiliary system.
This is a preview of subscription content, log in to check access.
Access options
Buy single article
Instant access to the full article PDF.
US$ 39.95
Price includes VAT for USA
Subscribe to journal
Immediate online access to all issues from 2019. Subscription will auto renew annually.
US$ 199
This is the net price. Taxes to be calculated in checkout.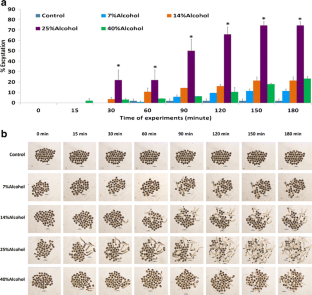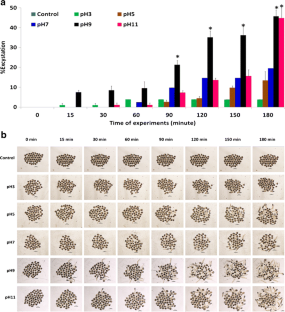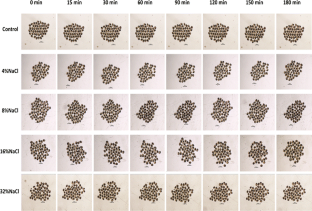 References
Boonmars T, Boonjaraspinyo S, Kaewsamut B (2009) Animal models for Opisthorchis viverrini infection. Parasitol Res 104(3):701–703

Huang XH, Li ZQ, Fang YY, Ruan CY, Zhang XJ, Liu DX, Liang SL (2011) Effect of comprehensive control in demonstration plot of clonorchiasis in Yangshan County, 2006–2009. Chin J Schisto Control 23(569–570):574

International Agency for Research on Cancer (1994) Infection with liver flukes (Opisthorchis viverrini, Opisthorchis felineus and Clonorchis sinensis). IARC Monogr Eval Carcinog Risks Hum 61:121–175

Jongsuksuntigul P, Imsomboon T (1998) Epidemiology of opisthorchiasis and national control program in Thailand. Southeast Asian J Trop Med Public Health 29:327–332

Kaewpitoon N, Kaewpitoon SJ, Pengsaa P, Sripa B (2008) Opisthorchis viverrini: the carcinogenic human liver fluke. World J Gastroenterol 14:666–74

Kurathong S, Lerdverasirikul P, Wongpaitoon V, Pramoolsinsap C, Upatham ES (1987) Opisthorchis viverrini infection in rural and urban communities in northeast Thailand. Trans R Soc Trop Med Hyg 81:411–414

Prasongwatana J, Laummaunwai P, Boonmars T, Pinlaor S (2012) Viable metacercariae of Opisthorchis viverrini in northeastern Thai cyprinid fish dishes—as part of a rational program for control of O. viverrini-associated cholangiocarcinoma. Parasitol Res. doi:10.1007/s00436-012-3154-9

Sithithaworn P, Haswell-Elkins M (2003) Epidemiology of Opisthorchis viverrini. Acta Trop 88(3):187–194

Upatham ES, Brockelman WY, Viyanant V, Lee P, Kaengraeng R, Prayoonwiwat B (1985) Incidence of endemic Opisthorchis viverrini infection in a village in northeast Thailand. Am J Trop Med Hyg 34:903–906

Van De N, Le TH, Murrell KD (2012) Prevalence and intensity of fish-borne zoonotic trematodes in cultured freshwater fish from rural and urban areas of northern Vietnam. J Parasitol 98(5):1023–1025

Wongsawad C, Kawin S, Wongsawad P, Paratasilpin T (2005) Some factors affecting Stellantchasmus falcatus metacercaria in laboratory. Southeast Asian J Trop Med Public Health 36(Suppl 4):117–119

Wonkchalee O, Boonmars T, Kaewkes S, Chamgramol Y, Pairojkul C, Wu Z, Juasook A, Sudsarn P, Boonjaraspinyo S (2011) Opisthorchis viverrini infection causes liver and biliary cirrhosis in gerbils. Parasitol Res 109:545–551

World Health Organization (1995) Control of foodborne trematode infections. WHO technical report series 849. World Health Organization, Geneva

Wu W, Qian X, Huang Y, Hong Q (2012) A review of the control of Clonorchiasis sinensis and Taenia solium taeniasis/cysticercosis in China. Parasitol Res 111(5):1879–84
Acknowledgments
This research was supported by the Higher Education Research Promotion and National Research University Project of Thailand, Office of the Higher Education Commission, through the Health Cluster (Shep-GMS) Khon Kaen University, and TRF Senior Research Scholar Grant no. RTA5580004, Thailand. We thank the research affairs (AS54301), Faculty of Medicine Khon Kaen University, and Department of Parasitology for their support and Mr. Christopher Salisbury for the English editing.
About this article
Cite this article
Sriraj, P., Aukkanimart, R., Boonmars, T. et al. Alcohol and alkalosis enhance excystation of Opisthorchis viverrini metacercariae. Parasitol Res 112, 2397–2402 (2013). https://doi.org/10.1007/s00436-013-3346-y
Received:

Accepted:

Published:

Issue Date:
Keywords
Ethyl Alcohol

Ventral Sucker

Lemon Juice

Fish Sauce

Fermented Fish