Abstract
Given the spread of Aedes albopictus from northern to southern Italy, and the lack of updated data on Dirofilaria infections, this study was carried out to assess the infection risk for dogs and cats in Apulia region. During a 2-year study, 175 A. albopictus female specimens and samples of blood from 427 dogs (309 privately owned dogs and 118 shelter dogs) and 12 cats were collected. All blood samples were subjected to a modified Knott method, to a test for the detection of circulating Dirofilaria immitis antigen, and to a Dirofilaria species-specific real-time PCR for the simultaneous detection of D. immitis and Dirofilaria repens, targeting on partial cytochrome oxidase subunit 1 and internal transcribed spacer-2, respectively. Two abdomen and one thorax pools from A. albopictus were positive for D. immitis, with minimum infection rates of 1.14 and 0.51, respectively, and a probability of a single positive specimen to be infected of P = 0.6 % (95 % confidence interval (CI) = 0.12–1.73). Out of 439 examined subjects, 22 (5.0 %) tested positive for Dirofilaria spp. in at least one diagnostic test. A specific D. immitis infestation rate of 3.5 % was found among the privately owned dogs, while shelter dogs tested positive only for D. repens with a prevalence of 3.4 %; one cat tested molecularly positive for D. immitis. There was a significantly higher rate of positivity among guard dogs for D. immitis (odds ratio, 6.24, 95 % CI, 1.26–25.28; P < 0.05). The increasing risk of D. immitis infection in southern Italy is supported by the noteworthy positivity of A. albopictus populations and the cat. Our data highlight the usefulness to include filarioid infestation in routine diagnosis.
This is a preview of subscription content, log in to check access.
Access options
Buy single article
Instant access to the full article PDF.
US$ 39.95
Price includes VAT for USA
Subscribe to journal
Immediate online access to all issues from 2019. Subscription will auto renew annually.
US$ 199
This is the net price. Taxes to be calculated in checkout.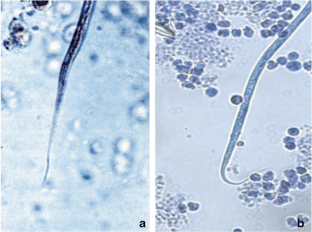 References
Altschul SF, Madden TL, Schäffer AA, Zhang J, Zhang Z, Miller W, Lipman DJ (1997) Gapped BLAST and PSI-BLAST: a new generation of protein database search programs. Nucleic Acids Res 25:3389–3402

Caminade C, Medlock JM, Ducheyne E, McIntyre KM, Leach S, Baylis M, Morse AP (2012) Suitability of European climate for the Asian tiger mosquito Aedes albopictus: recent trends and future scenarios. J R Soc Interface. doi:10.1098/rsif.2012.0138

Cancrini G, Frangipane di Regalbono A, Ricci I, Tessarin C, Gabrielli S, Pietrobelli M (2003) Aedes albopictus is a natural vector of Dirofilaria immitis in Italy. Vet Parasitol 118:195–202

Cancrini G, Scaramozzino P, Gabrielli S, Di Paolo M, Toma L, Romi R (2007) Aedes albopictus and Culex pipiens implicated as natural vectors of Dirofilaria repens in central Italy. J Med Entomol 44:1064–1066

Cinco M, Padovan D, Murgia R, Frusteri L, Maroli M, Van de Pol I, Verbeek-De Kruif N, Rijpkema S, Taggi F (1998) Prevalence of Borrelia burgdorferi infection in Ixodes ricinus in central Italy. Eur J Clin Microbiol Infect Dis 17:134–135

Cringoli G, Rinaldi L, Veneziano V, Capelli G (2001) A prevalence survey and risk analysis of filariosis in dogs from the Mt. Vesuvius area of southern Italy. Vet Parasitol 102:243–252

Di Cesare A, Castagna G, Meloni S, Milillo P, Latrofa S, Otranto D, Traversa D (2011) Canine and feline infections by cardiopulmonary nematodes in central and southern Italy. Parasitol Res 109(Suppl 1):S87–S96

Genchi C, Kramer L, Rivasi F (2011) Dirofilarial infection in Europe. Vector Borne Zoonotic Dis 11:1307–1317

Genchi C, Rinaldi L, Cascone C, Mortarino M, Cringoli G (2005) Is heartworm really spreading in Europe? Vet Parasitol 133:137–148

Genchi C, Rinaldi L, Genchi M (2010) Impact of climate change on Dirofilaria infections in animals and humans. Nuova Acta Leopoldina NF 111:71–77

Genchi C, Venco L, Ferrari N, Mortarino M, Genchi M (2008) Feline heartworm (Dirofilaria immitis) infection: a statistical elaboration of the duration of the infection and life expectancy in asymptomatic cats. Vet Parasitol 158:177–182

Giangaspero A (2011) Ricerche in Puglia. La Zanzara Tigre: passato, presente e futuro. Rapporto scientifico per la Fondazione Banca del Monte. 19 Ottobre 2011, Foggia, Italy (In Italian)

Kartashev V, Batashova I, Kartashov S, Ermakov A, Mironova A, Kuleshova Y, Ilyasov B, Kolodiy I, Klyuchnikov A, Ryabikina E, Babicheva M, Levchenko Y, Pavlova R, Pantchev N, Morchón R, Simón F (2011) Canine and human dirofilariosis in the Rostov Region (Southern Russia). Vet Med Int 11:685–713

Latrofa MS, Montarsi F, Ciocchetta S, Annoscia G, Dantas-Torres F, Ravagnan S, Capelli G, Otranto D (2012) Molecular xenomonitoring of Dirofilaria immitis and Dirofilaria repens in mosquitoes from north-eastern Italy by real-time PCR coupled with melting curve analysis. Parasite Vector 20:5–76. doi:10.1186/1756-3305-5-76

Mandelli G, Mantovani A (1966) Su di un caso di infestazione massiva da Dirofilaria repens nel cane. Parassitologia 8:21–28

McCall JW, Genchi C, Kramer LH, Guerrero J, Venco L (2008) Heartworm disease in animals and humans. Adv Parasitol 66:193–285

Otranto D, Capelli G, Genchi C (2009) Changing distribution patterns of canine vector borne diseases in Italy: leishmaniosis vs. dirofilariosis. Parasite Vector 26(2 Suppl):1–S2. doi:10.1186/1756-3305-2-S1-S2

Otranto D, Eberhard ML (2011) Zoonotic helminths affecting the human eye. Parasite Vector 23:4–41. doi:10.1186/1756-3305-4-41

Otranto D, Lia RP, Testini G, Britti D, Puntorieri EP, Genchi C (2008) Authocthonous cases of canine dirofilariosis in Southern Italy. Parassitologia 50:226

Pampiglione S, Rivasi F (2000) Human dirofilariasis due to Dirofilaria (Nochtiella) repens: an update of world literature from 1995 to 2000. Parassitologia 42:231–254

Piergili Fioretti D, Diaferia M, Grelloni V, Maresca G (2003) Canine filariosis in Umbria: an update of the occurrence one year after the first observation of autochtonous foci. Parassitologia 45:79–83

Puccini V, Abbenante MG (1980) Dirofilariosi del cane in Puglia: indagine epizoologica. Atti SisVet 34:323

Rocconi F, Di Tommaso M, Traversa D, Palmieri C, Pampurini F, Boari A (2012) Allergic dermatitis by Dirofilaria repens in a dog: clinical picture and treatment. Parasitol Res 111:493–496

Sassnau R, Dyacenko V, Pantchev N, Stöckel F, Dittmar K, Daugschies A (2009) Dirofilaria repens Befall in einenm Schlittenhunde-Rudel im Land Brandenburg. Tierärztl Prax 37:95–101

Scaramozzino P, Gabrielli S, Di Paolo M, Sala M, Scholl F, Cancrini G (2005) Dog filariosis in the Lazio region (Central Italy): first report on the presence of Dirofilaria repens. BMC Infect Dis 26:5–75

Severini F, Toma L, Di Luca M, Romi R (2009) Le zanzare italiane: generalità e identificazione degli adulti (Diptera, Culicidae). Fragmenta Entomol 41:213–372

Venco L, Genchi M, Genchi C, Gatti D, Kramer L (2011) Can hearthworm prevalence in dogs be used as provisional data for assessing the prevalence of the infection in cats? Vet Parasitol 176:300–303
Acknowledgments
The authors are grateful to all the veterinarians who collaborated so generously with this study: Sergio Spirito, Antonio Latino, Mauro Saggese, Angelo Marinelli, Raffaele Lellis, Vittoria Piracci, Stefania Luprano, Ruben Leccese, Antonia Mangano, Donato Raele, Eleonora Fonseca, Maria Rosaria Saponaro, Giovanni Normanno, Sandra Di Macchia, Rossana Placentino, Stefania Luprano, Elisabetta De Maio, and Morena Taraschi. The authors also thank Antonio Narducci, Donato Raele, and Raffaella Terlizzi for their valuable work in the field and in the lab. This work was funded by the Fondazione della Banca del Monte, Foggia, Italy (2010–2011).
About this article
Cite this article
Giangaspero, A., Marangi, M., Latrofa, M.S. et al. Evidences of increasing risk of dirofilarioses in southern Italy. Parasitol Res 112, 1357–1361 (2013). https://doi.org/10.1007/s00436-012-3206-1
Received:

Accepted:

Published:

Issue Date:
Keywords
Apulia Region

Heartworm Disease

Minimum Infection Rate

Heartworm Antigen

Dirofilaria Infection