Abstract
The morphology of Nephridiacanthus major (Bremser 1811 in Westrumb 1821) Golvan, 1962 collected from the long-eared hedgehog Hemiechinus auritus (Gmelin 1770) and the Eastern European hedgehog Erinaceus concolor Martin, 1838 (Erinaceidae) is described using SEM for the first time. This acanthocephalan was previously described from hedgehogs in Europe, Asia, and Africa. Measurements of specimens from Iran, Bulgaria, Germany, Central Asia, Morocco, and Egypt show considerable variations in the size of the trunk, proboscis, proboscis hooks and receptacle, and eggs. The SEM studies add new perspectives to its morphology. Features observed for the first time include the near terminal position and shape of the female gonopore and orifice, among others. Histopathological studies for this species are reported for the first time. Tissue sections show extensive damage near the proboscis with hemorrhaging and formation of collagenous connective tissue, compression of the intestinal mucosa, obstruction of intestinal lumen, and extensive necrosis of host epithelial tissue.
This is a preview of subscription content, log in to check access.
Access options
Buy single article
Instant access to the full article PDF.
US$ 39.95
Price includes VAT for USA
Subscribe to journal
Immediate online access to all issues from 2019. Subscription will auto renew annually.
US$ 199
This is the net price. Taxes to be calculated in checkout.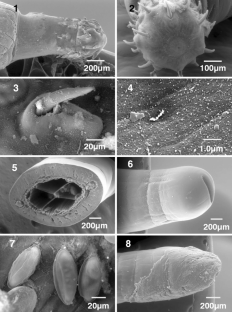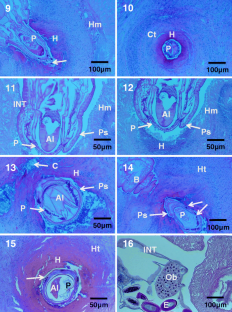 References
Amin OM, Dailey MD (1998) Description of Mediorhynchus papillosus (Acanthocephala: Gigantorhynchidae) from a Colorado, U.S.A., population, with a discussion of morphology and geographical variability. J Helminthol Soc Wash 65:189–300

Cirak VY, Senlik B, Aydogdu A, Selver M, Akyol V (2010) Helminth parasites found in hedgehogs (Erinaceus concolor) from Turkey. Prev Vet Med 97:64–66

Dollfus RPH (1951) Miscellanea Helminthologia Maroccana. I–III. Queleques trématodes, Cestodes, acanthocephales. Arch Inst Pasteur Maroc 4:104–239

Gafurov AK, Isakov SI (1970) Helminth fauna of hedgehogs in Tadzhikistan. Ahboroti Akad Fanhoi RSS Tocikiston 1:87–88

Galigher AE, Kozloff EN (1971) Essentials of practical microtechnique, 2nd edn. Lee and Febiger, Philadelphia, p 531

Genov T (1984) Helminths of insectivorous mammals and rodents in Bulgaria. Publish House Bulg Acad Sci, Sofia, p 348, in Bulgarian

Giannetto S, Niutta PP, Giudice E (1993) Parasitological research on the hedgehog (Erinaceus europaeus) in Sicily. Att Soc It Sci Vet 47:1433–1436

Hoklova IG (1986) The acanthocephalan fauna of terrestrial vertebrates of SSSR. Nauka, Moscow, p 276

Kaikabo AA, Mustapha A, Ali M, Yaroro II (2006) Observations on the helminth parasites of West African nocturnal hedgehog (Atelerix albiventrix) in the semiarid northern Nigeria. Animal Prod Res Adv 2:168–171

Kienan JA (2002) Histological and histochemical methods. theory and practice. Churchill Livingston, Edinburough, p 502

Lee RE (1992) Scanning electron microscopy and X-ray microanalysis. Prentice Hall, Englewood Cliffs, p 458

Meyer A (1931) Neue Acanthocephalen aus dem Berliner Museum. Begrundung eines neuen Acanthocephalensystems auf Grund einer Untersuchung der Berliner Sammlung. Zool Johar, Abt Syst, Oekol Geog Tiere 62:53–108, in German

Meyer A (1933) Acanthocephala. Dr. H. G. Bronns, Classen und Ordnungen des Tier Reichs, Leipzig, Bd. 4, 2 Abt, 2 Buch, 2 Lief.:333–582. (in German)

Nelson DR, Ward HL (1966) Acanthocephala from hedgehogs in Egypt. J Tenn Acad Sci 41:101–105

Petrochenko VI (1958) Acanthocephala of domestic and wild animals. Isdatel'stvo Akad Nauk SSSR, Moscow, p 478, English translation by Israel Program for Scientific Translations, 1971

Poglayen G, Giannetto S, Scala A, Garippa G, Capelli G, Scaravelli D, Brianti E, Reeve NJ (2003) Helminths found in hedgehogs (Erinaceus europaeus) in three areas in Italy. Vet Rec 152:22–24

Porta A (1908) Gli acanthocephali dei mammiferi. Nota Prev Arch Parasitol Paris 12:268–282

Schmidt GD (1972) Oncicola schacheri sp. n. and other Acanthocephala of Lebanese mammals. J Parasitol 58:279–281

Tinnin DS, Ganzorig S, Gardner SL (2011) Helminths of small mammals (Erinaceomorpha, Soricomorpha, Chiroptera, Rodentia, and Lagomorpha) of Mongolia. Spec Publ Mus Texas Tech Univ, 56 pp.
About this article
Cite this article
Heckmann, R.A., Amin, O.M., Halajian, A. et al. The morphology and histopathology of Nephridiacanthus major (Acanthocephala: Oligacanthorhynchidae) from hedgehogs in Iran. Parasitol Res 112, 543–548 (2013). https://doi.org/10.1007/s00436-012-3165-6
Received:

Accepted:

Published:

Issue Date:
Keywords
Host Tissue

Terpineol

Acid Carmine

Collagenous Connective Tissue

Intestinal Lining