Abstract
The muscular attachment sites (MAS) of blowfly larvae can be visualised as "dots" by removing and staining the cuticle. Each segment bears several rows of MAS. The silhouettes of a subset of those rows in the second, third, and fourth segments were previously shown to be specific for four species of L3 blowfly larvae. In this investigation, the MAS patterns are described for a fifth species (Protophormia terraenovae) and throughout larval development of Calliphora vicina and Calliphora vomitoria. The patterns of P. terraenovae show considerable differences to those of the Calliphora species (larger MAS, characteristic "M" shape in row 4A), thus providing further evidence for the viability of the method as tool for species determination. Larvae with a body length of only 3 mm already show a complete set of MAS expressing identical pattern characteristics as L3 larvae with maximal body length. These characteristics are largely unchanged throughout development. Plotting the row length as a function of the body length throughout development reveals a linear correlation. Therefore, in case of requirement (e.g. fragmentation), not only the species but also the approximate larval age can be calculated with this method.
This is a preview of subscription content, log in to check access.
Access options
Buy single article
Instant access to the full article PDF.
US$ 39.95
Price includes VAT for USA
Subscribe to journal
Immediate online access to all issues from 2019. Subscription will auto renew annually.
US$ 199
This is the net price. Taxes to be calculated in checkout.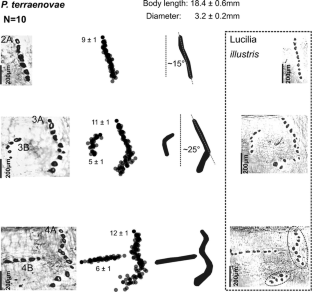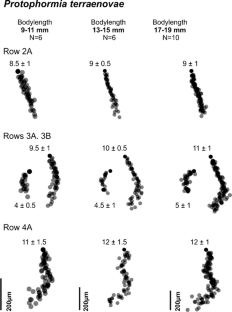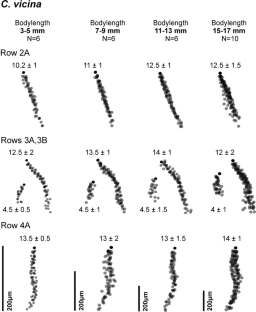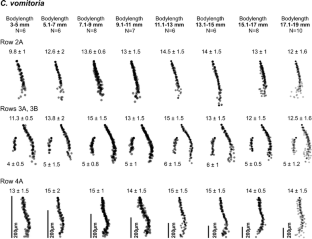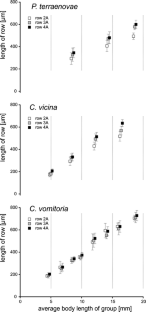 References
Amendt J, Krettek R, Niess C, Zehner R, Bratzke H (2000) Forensic entomology in Germany. Forensic Sci Int 113:309–314

Anderson GS (2000) Minimum and maximum development rates of some forensically important Calliphoridae (Diptera). J Forensic Sci 45(4):824–832

Anderson GS (2004) Determining time of death using blow fly eggs in the early postmortem interval. Int J Legal Med 118:240–241

Boehme P, Amendt J, Disney RHL, Zehner R (2010) Molecular identification of carrion-breeding scuttle flies (Diptera: Phoridae) using COI barcodes. Int J Legal Med 124(6):577–581

Byrd JH, Castner JL (2001) Forensic entomology. The utility of arthropods in legal investigation, vol 1. CRC, Boca Raton

Erzinclioglu YZ (1985) Immature stages of British Calliphora and Cynomya, with a re-evaluation of the taxonomic characters of larval Calliphoridae (Diptera). J Nat Hist 19(1):69–96

Gennard DE (2007) Forensic entomology. An introduction. Wiley, Chichester

Grassberger M, Reiter C (2001) Effect of temperature on Lucilia sericata (Diptera: Calliphoridae) development with special reference to the isomegalen- and isomorphen diagram. Forensic Sci Int 120:32–36

Grassberger M, Reiter C (2002) Effect of temperature on development of the forensically important holarctic blow fly Protophormia terraenovae (Robineau-Desvoidy) (Diptera: Calliphoridae). Forensic Ent Int 128:177–182

Greenberg B (1991) Flies as forensic indicators. J Med Ent 28(5):565–577

Greenberg B, Kunich JC (2002) Entomology and the law. Flies as forensic indicators, vol 1, Paperbackth edn. Cambridge University Press, Cambridge

Greenberg B, Tantawi TI (1993) Different developmental strategies in 2 boreal blow flies (Diptera, Calliphoridae). J Med Entomol 30(2):481–484

Klong-klaew T, Sukontason K, Sribanditmongkol P, Moophayak K, Sanit S, Sukontason KL (2012) Observations on morphology of immature Lucilia porphyrina (Diptera: Calliphoridae), a fly species of forensic importance. Parasitol Res. doi:10.1007/s00436-012-3043-2

Marchenko MI (2001) Medicolegal relevance of cadaver entomofauna for the determination of the time of death. Forensic Sci Int 120:89–109

Martin-Vega D, Gomez-Gomez A, Baz A, Diaz-Aranda LM (2011) New piophilid in town: the first Palaearctic record of Piophila megastigmata and its coexistence with Piophila casei in central Spain. Med Vet Entomol 25(1):64–69

Moophayak K, Sa-Nit SN, Sukontason K, Vogtsberger RC, Sukontason KL (2011) Morphological descriptions for the identification of Hypopygiopsis tumrasvini Kurahashi (Diptera: Calliphoridae). Parasitol Res 109(5):1323–1328

Ngern-Klun R, Sukontason K, Methanitikorn R, Vogtsberger RC, Sukontason KL (2007) Fine structure of Chrysomya nigripes (Diptera: Calliphoridae), a fly species of medical importance. Parasitol Res 100(5):993–1002

Niederegger S, Spiess R (2012) Cuticular muscle attachment sites as a tool for species determination in blowfly larvae. Parasitol Res 110(5):1903–1909

O'Flynn MA, Moorhouse DE (1980) Identification of early immature stages of some common Queensland carrion flies. J Aust Entomol Soc 19:53–61

Queiroz MMD, deMello RP, Lima MM (1997) Morphological aspects of the larval instars of Chrysomya albiceps (Diptera, Calliphoridae) reared in the laboratory. Mem Inst Oswaldo Cruz 92(2):187–196

Reibe S, Madea B (2010) Use of Megaselia scalaris (Diptera: Phoridae) for post-mortem interval estimation indoors. Parasitol Res 106(3):637–640

Reibe S, Schmitz J, Madea B (2009) Molecular identification of forensically important blowfly species (Diptera: Calliphoridae) from Germany. Parasitol Res 106(1):257–261

Reiter C, Wollenek G (1983) Zur Artbestimmung der Maden forensisch bedeutsamer Schmeißfliegen. Z Rechtsmed 90:309–316

Singh D, Garg R, Wadhawan B (2012) Ultramorphological characteristics of immature stages of a forensically important fly Parasarcophaga ruficornis (Fabricius) (Diptera: Sarcophagidae). Parasitol Res 110:821–831

Siriwattanarungsee S, Sukontason KL, Kuntalue B, Piangjai S, Olson JK, Sukontason K (2005) Morphology of the puparia of the housefly, Musca domestica (Diptera: Muscidae) and blowfly, Chrysomya megacephala (Diptera: Calliphoridae). Parasitol Res 96(96):166–170

Sukontason KL, Boonsriwong W, Siriwattanarungsee S, Piangjai S, Sukontason K (2006a) Morphology of puparia of Megaselia scalaris (Diptera: Phoridae), a fly species of medical and forensic importance. Parasitol Res 98(98):268–272

Sukontason KL, Methanitikorn R, Boonsriwong W, Piangjai S, Kurahashi H, Vogtsberger RC, Sukontason K (2006b) Ultrastructure of spiracles of Musca domestica and Hydrotaea chalcogaster (Diptera: Muscidae). Parasitol Res 100(1):19–23

Sukontason KL, Piangjai S, Boonsriwong W, Bunchu N, Ngern-klun R, Vogtsberger RC, Sukontason K (2006c) Observations of the third instar larva and puparium of Chrysomya bezziana (Diptera: Calliphoridae). Parasitol Res 99(6):669–674

Sukontason KL, Piangjai S, Bunchu N, Chaiwong T, Sripakdee D, Boonsriwong W, Vogtsberger RC, Sukontason K (2006d) Surface ultrastructure of the puparia of the blow fly, Lucilia cuprina (Diptera: Calliphoridae), and flesh fly, Liosarcophaga dux (Diptera: Sarcophagidae). Parasitol Res 98(5):482–487

Sukontason KL, Sribanditmongkol P, Chaiwong T, Vogtsberger RC, Piangjai S, Sukontason K (2008) Morphology of immature stages of Hemipyrellia ligurriens (Wiedemann) (Diptera: Calliphoridae) for use in forensic entomology applications. Parasitol Res 103(4):877–887

Sukontason K, Sribanditmongkol P, Ngoen-klan R, Klong-klaew T, Moophayak K, Sukontason KL (2010) Differentiation between Lucilia cuprina and Hemipyrellia ligurriens (Diptera: Calliphoridae) larvae for use in forensic entomology applications. Parasitol Res 106(3):641–646

Szpila K, Pape T, Rusinek A (2008) Morphology of the first instar of Calliphora vicina, Phormia regina and Lucilia illustris (Diptera, Calliphoridae). Med Vet Entomol 22(1):16–25

Wells JD, Sperling FAH (2001) DNA-based identification of forensically important Chrysomyinae (Diptera: Calliphoridae). Forensic Sci Int 120(120):110–115
About this article
Cite this article
Niederegger, S., Miroschnikow, A. & Spieß, R. Marked for life: muscle attachment site patterns in blowfly larvae are constant throughout development. Parasitol Res 112, 347–355 (2013). https://doi.org/10.1007/s00436-012-3142-0
Received:

Accepted:

Published:

Issue Date:
Keywords
Body Length

Species Determination

Mince Meat

Forensic Entomology

Posterior Spiracle