Abstract
Opisthorchis viverrini is considered as a carcinogenic parasite which is responsible for cholangiocarcinoma in Southeast Asia. Effective treatment and control of the parasite to reduce the risk of cancer requires efficient diagnostic methods. Because of the limitations involved in human studies, the present work is aimed at comparing diagnostic performance of copro-DNA detection by PCR and fecal examination by formalin-ethyl acetate concentration technique (FECT) during the course of O. viverrini infection and postcurative chemotherapy in experimentally infected hamsters. A manual method of DNA preparation from fecal specimens previously established in human studies was used in PCR analysis. Following infection with varying doses of metacercariae (5, 10, 25, and 50 cysts/animal), PCR analyses were positive as early as 3 weeks post-infection while FECT were negative. PCR tests were comparable to FECT regardless of intensity of infection beginning from 4 to 12 weeks post infection. In chemotherapeutic experiments, with reference to the presence of worm in liver, treatment failures were detected by PCR but not FECT in a group of hamsters infected with 10 cysts/animal. PCR and FECT both detected residual infection at 1 and 2 weeks post-treatment in the group of animals infected with five cysts per animal. High concordant results between diagnoses by PCR, FECT, and worm burden indicated that PCR is suitable for an early diagnosis, evaluation of drug efficacy, and also re-infection post-treatment.
This is a preview of subscription content, log in to check access.
Access options
Buy single article
Instant access to the full article PDF.
US$ 39.95
Price includes VAT for USA
Subscribe to journal
Immediate online access to all issues from 2019. Subscription will auto renew annually.
US$ 199
This is the net price. Taxes to be calculated in checkout.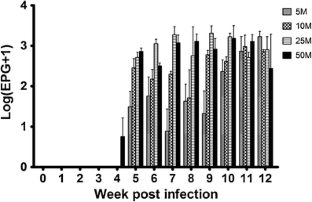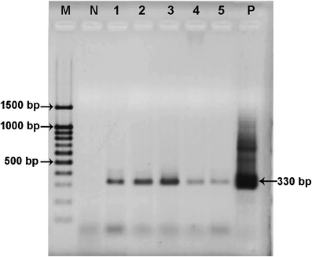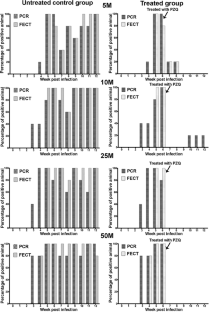 References
Andrews RH, Sithithaworn P, Petney TN (2008) Opisthorchis viverrini: an underestimated parasite in world health. Trends Parasitol 24(11):497–501

Chaicumpa W, Ybanez L, Kitikoon V, Pungpak S, Ruangkunaporn Y, Chongsa-nguan M, Sornmani S (1992) Detection of Opisthorchis viverrini antigens in stools using specific monoclonal antibody. Int J Parasitol 22(4):527–531

Cioli D, Pica-Mattoccia L (2003) Praziquantel. Parasitol Res 90(Supp 1):S3–S9

Duenngai K, Sithithaworn P, Rudrappa UK, Iddya K, Laha T, Stensvold CR, Strandgaard H, Johansen MV (2008) Improvement of PCR for detection of Opisthorchis viverrini DNA in human stool samples. J Clin Microbiol 46(1):366–368

Elkins DB, Haswell-Elkins MR, Mairiang E, Mairiang P, Sithithaworn P, Kaewkes S, Bhudhisawasdi V, Uttaravichien T (1990) A high frequency of hepatobiliary disease and suspected cholangiocarcinoma associated with heavy Opisthorchis viverrini infection in a small community in north-east Thailand. Trans R Soc Trop Med Hyg 84(5):715–719

IARC (2011) IARC monographs on the evaluation of carcinogenic risks to humans: biological agents. IARC monographs on the evaluation of carcinogenic risks to humans/World Health Organization. Int Agency Res Cancer 100B:374–376

Janwan P, Intapan PM, Thanchomnang T, Lulitanond V, Anamnart W, Maleewong W (2011) Rapid detection of Opisthorchis viverrini and Strongyloides stercoralis in human fecal samples using a duplex real-time PCR and melting curve analysis. Parasitol Res 109(6):1593–1601

Johansen MV, Sithithaworn P, Bergquist R, Utzinger J (2010) Towards improved diagnosis of zoonotic trematode infections in Southeast Asia. Adv Parasitol 73:171–195

Keiser J, Utzinger J (2004) Chemotherapy for major food-borne trematodes: a review. Expert Opin Pharmacother 5(8):1711–1726

Muller B, Schmidt J, Mehlhorn H (2007) PCR diagnosis of infections with different species of Opisthorchiidae using a rapid clean-up procedure for stool samples and specific primers. Parasitol Res 100(4):905–909

Olliaro PL, Vaillant MT, Belizario VJ, Lwambo NJ, Ouldabdallahi M, Pieri OS, Amarillo ML, Kaatano GM, Diaw M, Domingues AC, Favre TC, Lapujade O, Alves F, Chitsulo L (2011) A multicentre randomized controlled trial of the efficacy and safety of single-dose praziquantel at 40 mg/kg vs. 60 mg/kg for treating intestinal schistosomiasis in the Philippines, Mauritania, Tanzania and Brazil. PLoS Negl Trop Dis 5(6):e1165

Pungpak S, Radomyos P, Radomyos BE, Schelp FP, Jongsuksuntigul P, Bunnag D (1998) Treatment of Opisthorchis viverrini and intestinal fluke infections with Praziquantel. Se Asian J Trop Med Publ Health 29(2):246–249

Rahman SM, Bae YM, Hong ST, Choi MH (2011) Early detection and estimation of infection burden by real-time PCR in rats experimentally infected with Clonorchis sinensis. Parasitol Res 109(2):297–303

Sandoval N, Siles-Lucas M, Lopez Aban J, Perez-Arellano JL, Garate T, Muro A (2006) Schistosoma mansoni: a diagnostic approach to detect acute schistosomiasis infection in a murine model by PCR. Exp Parasitol 114(2):84–88

Sanpool O, Intapan PM, Thanchomnang T, Janwan P, Lulitanond V, Doanh PN, Van Hien H, do Dung T, Maleewong W, Nawa Y (2012) Rapid detection and differentiation of Clonorchis sinensis and Opisthorchis viverrini eggs in human fecal samples using a duplex real-time fluorescence resonance energy transfer PCR and melting curve analysis. Parasitol Res 111(1):89–96

Sirisinha S, Chawengkirttikul R, Haswell-Elkins MR, Elkins DB, Kaewkes S, Sithithaworn P (1995) Evaluation of a monoclonal antibody-based enzyme linked immunosorbent assay for the diagnosis of Opisthorchis viverrini infection in an endemic area. AmJTrop Med Hyg 52(6):521–524

Sithithaworn P, Haswell-Elkins M (2003) Epidemiology of Opisthorchis viverrini. Acta Trop 88(3):187–194

Sithithaworn P, Pipitgool V, Srisawangwong T, Elkins DB, Haswell-Elkins MR (1997) Seasonal variation of Opisthorchis viverrini infection in cyprinoid fish in north-east Thailand: implications for parasite control and food safety. Bull World Health Org 75(2):125–131

Sithithaworn P, Andrews RH, Petney TN, Saijuntha W, Laoprom N (2012) The systematics and population genetics of Opisthorchis viverrini sensu lato: implications in parasite epidemiology and bile duct cancer. Parasitol Int 61(1):32–37

Sornmani S, Schelp FP, Vivatanasesth P, Patihatakorn W, Impand P, Sitabutra P, Worasan P, Preuksaraj S (1984) A pilot project for controlling O. viverrini infection in Nong Wai, Northeast Thailand, by applying praziquantel and other measures. Arzneimittelforschung 34(9B):1231–1234

Stensvold CR, Saijuntha W, Sithithaworn P, Wongratanacheewin S, Strandgaard H, Ornbjerg N, Johansen MV (2006) Evaluation of PCR based coprodiagnosis of human opisthorchiasis. Acta Trop 97(1):26–30

Umesha KR, Kumar S, Parvathi A, Duenngai K, Sithithaworn P, Karunasagar I (2008) Opisthorchis viverrini: detection by polymerase chain reaction (PCR) in human stool samples. Exp Parasitol 120(4):353–356

WHO (1995) Control of foodborne trematode infections: report of a WHO Study Group. Technical report series (World Health Organization); 849. World Health Organization, Geneva

Wongratanacheewin S, Pumidonming W, Sermswan RW, Maleewong W (2001) Development of a PCR-based method for the detection of Opisthorchis viverrini in experimentally infected hamsters. Parasitology 122(Pt 2):175–180

Wongratanacheewin S, Pumidonming W, Sermswan RW, Pipitgool V, Maleewong W (2002) Detection of Opisthorchis viverrini in human stool specimens by PCR. J Clin Microbiol 40(10):3879–3880

Xia CM, Rong R, Lu ZX, Shi CJ, Xu J, Zhang HQ, Gong W, Luo W (2009) Schistosoma japonicum: a PCR assay for the early detection and evaluation of treatment in a rabbit model. Exp Parasitol 121(2):175–179
Acknowledgment
This study was supported by grants from the Office of the Higher Education Commission, the Liver fluke and Cholangiocarcinoma Research Center (LFCRC), Faculty of Medicine, Khon Kaen University, Thailand and Higher Education Research Promotion and National Research University Project of Thailand, Office of the Higher Education Commission, through health cluster (SHeP-GMS). Kunyarat Duenngai was supported by the CHE-PhD Scholarship. We wish to acknowledge the support of the Khon Kaen University Publication Clinic, Research and Technology Transfer Affairs, Khon Kaen University, for their assistance.
About this article
Cite this article
Duenngai, K., Boonmars, T., Sithithaworn, J. et al. Diagnosis of early infection and post chemotherapeutic treatment by copro-DNA detection in experimental opisthorchiasis. Parasitol Res 112, 271–278 (2013). https://doi.org/10.1007/s00436-012-3134-0
Received:

Accepted:

Published:

Issue Date:
Keywords
Fecal Sample

Praziquantel

Worm Burden

Liver Fluke

Fecal Examination