Abstract
Glutamine synthetase catalyzes the synthesis of glutamine, providing nitrogen for the production of purines, pyrimidines, amino acids, and other compounds required in many pivotal cellular events. Herein, a full-length cDNA encoding Schistosoma japonicum glutamine synthetase (SjGS) was isolated from 21-day schistosomes. The entire open reading frame of SjGS contains a 1,095-bp coding region corresponding to 364 amino acids with a calculated molecular weight of 40.7 kDa. NCBIP blast shows that the putative amino acid of SjGS contains a classic β-grasp domain and a catalytic domain of glutamine synthetase. The relative mRNA expression of SjGS was evaluated in 7-, 13-, 21-, 28-, 35-, and 42-day worms of S. japonicum in the final host and higher expression at day 21, and 42 worms were observed. This protein was also detected in worm extracts using Western blot. Immunofluorescence studies indicated that the SjGS protein was mainly distributed on tegument and parenchyma in 28-day adult worms. The recombinant glutamine synthetase with a molecular weight of 45 kDa was expressed in Escherichia coli and purified in its active form. The enzyme activity of the recombinant protein was 3.30 ± 0.67 U.μg-1. The enzyme activity was highly stable over a wide range of pH (6–9) and temperature (25–40 °C) under physiological conditions. The transcription of SjGS was upregulated in praziquantel-treated worms at 2-, 4-, and 24-h posttreatment compared with the untreated control. As a first step towards the clarification of the role of glutamine synthetase in schistosome species, we have cloned and characterized cDNAs encoding SjGS in S. japonicum, and the data presented suggest that SjGS is an important molecule in the development of the schistosome.
This is a preview of subscription content, log in to check access.
Access options
Buy single article
Instant access to the full article PDF.
US$ 39.95
Price includes VAT for USA
Subscribe to journal
Immediate online access to all issues from 2019. Subscription will auto renew annually.
US$ 199
This is the net price. Taxes to be calculated in checkout.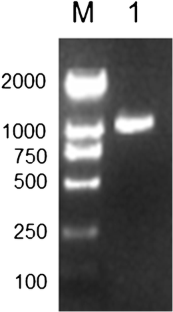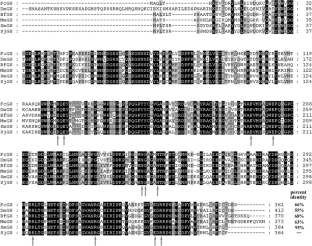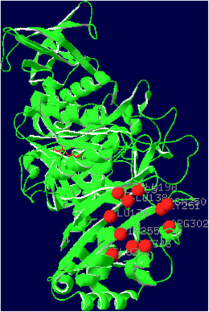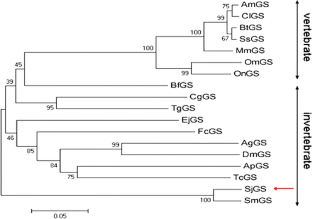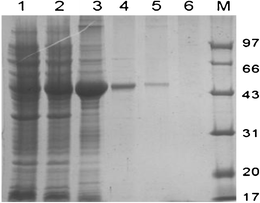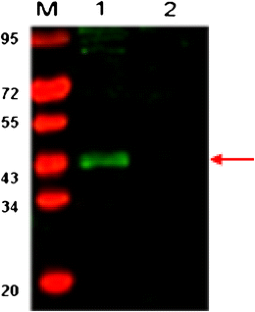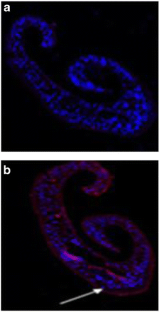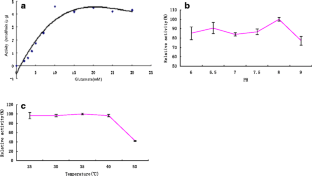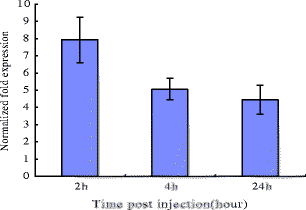 References
Aragon AD, Imani RA, Blackburn VR, Cupit PM, Melman SD, Goronga T, Webb T, Loker ES, Cunningham C (2009) Towards an understanding of the mechanism of action of praziquantel. Mol Biochem Parasitol 164:57–65

Arnaud T, Isabelle B, Dario M (2005) Molecular characterization of the glutamine synthetase gene in the pacific oyster Crassostrea gigas: expression study in response to xenobiotic exposure and developmental stage. Biochim Biophys Acta 1681:116–125

Austgen TR, Chert MK, Moore W, Souba WW (1991) Endotoxin and renal glutamine metabolism. Arch Surg 126:23–27

Austgen TR, Chakrabarti R, Chert MK, Souba WW (1992) Adaptive regulation in skeletal muscle glutamine metabolism in endotoxin-treated rats. J Trauma 32:600–606

Avisar N, Shiftan L, BenDror I, Havazelet N, Vardimon L (1999) A silencer element in the regulatory region of glutamine synthetase controls cell type-specific repression of gene. J Biol Chem 274:11399–11407

Bennett M, Cullimore J (1990) Expression of three plant glutamine synthetase cDNA in Escherichia coli. Eur J Biochem 193:319–324

Bergquist R, Utzinger J, McManus DP (2008) Trick or treat: the role of vaccines in integrated schistosomiasis control. PLoS Neglect Trop D 2:e244

Bradford MM (1976) A rapid and sensitive method for the quantitation of microgram quantities of protein utilizing the principle of protein-dye binding. Anal Biochem 72:248–254

Brown JR, Masuchi Y, Robb FT, Doolittle WF (1994) Evolutionary relationships of bacterial and archaeal glutamine synthetase genes. J Mol Evol 38:566–576

Caizzi R, Bozzetti MP, Caggese C, Ritossa F (1990) Homologous nuclear genes encode cytoplasmic and mitochondrial glutamine synthetase in Drosophila melanogaster. J Mol Biol 212:17–26

Christa L, Simon MT, Flinois JP, Gebhardt R, Brechot C, Laserre C (1994) Overexpression of glutamine synthetase in human primary liver cancer. Gastroenterology 106:1312–1320

Derouiche A, Frotscher M (1991) Astroglial processes around identified glutamatergic synapses contain glutamine synthetase: evidence for transmitter degradation. Brain Res 552:346–350

Gawronski D, Benson DR (2004) Microtiter assay for glutamine synthetase biosynthetic activity using inorganic phosphate detection. Anal Biochem 327:114–118

Gobert GN, Moertel L, Brindley PJ, McManus DP (2009) Developmental gene expression profiles of the human pathogen Schistosoma japonicum. BMC Genomics 10:128

Jamieson BGM (1981) The ultrastructure of the oligochaeta. Academic, London, pp 1–462

Jones MK, McManus DP, Sivadorai P, Glanfield A, Moertel L, Belli SI, Gobert GN (2007) Tracking the fate of iron in early development of human blood flukes. Int J Biochem Cell Biol 39:1646–1658

Jose M, Garcia-Fernhdez AL-R, Humanes L, Dapena JD (1997) Purification and characterization of glutamine synthetase from the green alga Monovaphidium braunii. Plant Sci 123:77–84

Kim WT, Rioult MG, Cornell-Bell AH (1994) Glutamate-induced calcium signaling in astrocytes. Glia 11:173–184

Kumada Y, Takano E, Nagaoka K, Thompson CJ (1990) Streptomyces hygroscopicus has two glutamine synthetase genes. J Bacteriol 172:5343–5351

Lai XF, Gao H, Kong J, Wang QY, Wang WJ, Meng XH (2011) Cloning and characterization of the glutamine synthetase gene from Chinese shrimp Fenneropenaeus chinensis. Aquacult Int 19:873–889

Lapa M, Dias B, Jardim C, Fernandes CJ, Dourado PM, Figueiredo M, Farias A, Tsutsui J, Terra-Filho M, Humbert M, Souza R (2009) Cardiopulmonary manifestations of hepatosplenic schistosomiasis. Circulation 119:1518–1523

Levine RL (1983) Oxidative modification of glutamine synthetase. II. Characterization of the ascorbate model system. J Biol Chem 258:11828–11833

Livak KJ, Schmittgen TD (2001) Analysis of relative gene expression data using real-time quantitative PCR and the 2−ΔΔCT method. Methods 25:402–408

Meister A (1980) Catalytic mechanism of glutamine synthetase: overview of glutamine metabolism. In: Mora J, Palacios R (eds) Glutamine: metabolism, enzymology and regulation. Academic, London, pp 1–40.40

Miller CL, Day TA, Bennett JL, Pax RA (1996) Schistosoma mansoni: l-glutamate induced contractions in isolated muscle fibers; evidence for a glutamate transporter. Exp Parasitol 84:410–419

Muir L, Lee YC (1970) Glycopeptides from earthworm cuticle collagen. J Biol Chem 245:502–509

Myohara M, Niva CC, Lee J (2006) Molecular approach to annelid regeneration: cDNA subtraction cloning reveals various novel genes that are upregulated during the large-scale regeneration of the oligochaete Enchytraeus japonensis. Dev Dyn 235:2051–2070

Niva CC, Lee JM, Myohara M (2008) Glutamine synthetase gene expression during the regeneration of the Annelid Enchytraeus japonensis. DEV Genes Evol 218:39–46

Pal-Bhownick I, Sadagopan K, Vora HK, Sehgal A, Sharma S, Jarori GK (2004) Cloning, over-expression, purification and characterization of Plasmodium falciparum enolase. Eur J Biochem 271:4845–4854

Pesole G, Bozzetti MP, Lanave C, Preparata G (1991) Glutamine synthetase gene evolution: a good molecular clock. Proc Natl Acad Sci 88:522–526

Reyes JC, Florencio FJ (1994) A new type of glutamine synthetase in cyanobacteria: the protein encoded by the glnN gene supports nitrogen assimilation in Synechocystis sp. Strain PCC 6803. J Bacteriol 176:1260–1267

Robert AB, Kaaren AJ, Arthurd R, Mirosolav B, Forrest F, Boris M (1977) Biochemical parameters of glutamine synthetase from Klebsiella aerogenes. J Bacteriol 129:1001–1009

Roig JC, Shenoy VB, Chakrabarti R, Lau JY, Neu J (1995) Localization of rat small intestine glutamine synthetase using immunofluorescence and in situ hybridization. JPEN J Parenter Enteral Nutr 19:179–181

Siddiqui AA, Ahmad G, Damian RT, Kennedy RC (2008) Experimental vaccines in animal models for schistosomiasis. Parasitol Res 102:825–833

Singh J, Joshi MC, Bhatnagar R (2004) Cloning and expression of mycobacterial glutamine synthetase gene in Escherichia coli. Biochem Biophys Res Commun 317:634–638

Southern JA, Parker JR, Woods DR (1987) Novel structure, properties and inactivation of glutamine synthetase cloned from Bacteroides fragilis. J Gen Microbiol 133:2437–2446

Taman A, Ribeiro P (2011a) Glutamate-mediated signaling in Schistosoma mansoni: a novel glutamate receptor is expressed in neurons and the female reproductive tract. Mol Biochem Parasitol 176:42–50

Taman A, Ribeiro P (2011b) Characterization of a truncated metabotropic glutamate receptor in a primitive metazoan, the parasitic flatworm Schistosoma mansoni. PLoS One 6:e27119

Tchuente LA, Shaw DJ, Polla L, Cioli D, Vercruysse J (2004) Efficacy of praziquantel against Schistosoma haematobium infection in children. AmJTrop Med Hyg 71:778–782

Van der Werf MJ, De Vlas SJ, Brooker S, Looman CWN, Nagelkerke NJD, Habbema JDF, Engels D (2003) Quantification of clinical morbidity associated with schistosome infection in sub-Saharan Africa. Acta Trop 86:125–139

Wales PW, Nasr A, de Silva N, Yamada J (2010) Human growth hormone and glutamine for patients with short bowel syndrome. Cochrane Database Syst Rev 6:CD006321

Yang AC, Young MK (1998) Comparative characterization of glutamine synthetase isoforms from Canavalia lineata in biochemical and immunological aspects. Plant Sci 134:171–180

Yang LL, Lv ZY, Hu SM, He SJ, Li ZY, Zhang SM, Zheng HQ, Li MT, Yu XB, Fung MC, Wu ZD (2009) Schistosoma japonicum: proteomics analysis of differentially expressed proteins from ultraviolet-attenuated cercariae compared to normal cercariae. Parasitol Res 105:237–248

You H, Zhang W, Jones MK, Gobert GN, Mulvenna J, Rees G, Spanevello M, Blair D, Duke M, Brehm K, McManus DP (2010) Cloning and characterisation of Schistosoma japonicum insulin receptors. PLoS One 5:e9868

Zhang Q, Hu B, Sun SG, Tong TE (2003) Induction of increased intracellular calcium in astrocytes by glutamate through activating NMDA and AMPA receptors. J Huazhong Univ Sci Technolog Med Sci 23:254–257
Acknowledgments
We are deeply indebted to Hao Li for helping us to infect rabbits in this work. We are also grateful to Zhixin Zhao for providing laboratory facilities. This work was supported by the National Natural Science Foundation of China (no. 31172315) and Special Fund for Agro-Scientific Research in the Public Interest (no. 200903036).
About this article
Cite this article
Qiu, C., Hong, Y., Cao, Y. et al. Molecular cloning and characterization of glutamine synthetase, a tegumental protein from Schistosoma japonicum . Parasitol Res 111, 2367–2376 (2012). https://doi.org/10.1007/s00436-012-3092-6
Received:

Accepted:

Published:

Issue Date:
Keywords
Glutamine Synthetase

Schistosomiasis

White Spot Syndrome Virus

Praziquantel

Glutamine Synthetase Gene