Abstract
The aim of the present study was to test a pellet formulation of Monacrosporium thaumasium in a sodium alginate matrix in the biological control of goat gastrointestinal helminthiasis in a semi-arid region of northeastern Brazil. An area of 2.4 ha was divided into three paddocks, with seven goats kept on each paddock, during the months of March to August 2011: group 1 received 3 g/10 kg live weight of M. thaumasium pellets (NF34a) twice a week; group 2 was given 0.2 mg/kg of 0.2 % moxidectin orally every 30 days; and group 3 received 3 g/10 kg live weight of pellets without fungus twice per week. Each month, two tracer goats was placed in each group for 30 days and then killed and necropsied. The M. thaumasium group showed a 34 % reduction in eggs per gram, higher packed cell volume rates and a lower parasitic load in the tracers compared with the other groups. The 0.2 % moxidectin group had weight gain of 5.7 kg; the M. thaumasium group, 3.6 kg; and the control group had an average reduction in weight of 1.1 kg. The use of M. thaumasium pellets may be effective as an alternative method to control goat gastrointestinal helminthiasis in the semi-arid region of northeastern Brazil.
This is a preview of subscription content, log in to check access.
Access options
Buy single article
Instant access to the full article PDF.
US$ 39.95
Price includes VAT for USA
Subscribe to journal
Immediate online access to all issues from 2019. Subscription will auto renew annually.
US$ 199
This is the net price. Taxes to be calculated in checkout.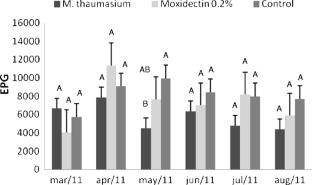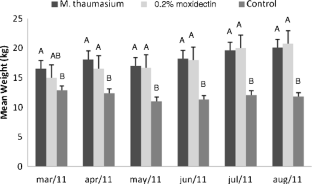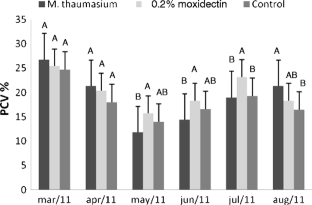 References
Araújo JV (2009) Controle biológico de helmintos gastrintestinais de caprinos e ovinos por fungos nematófagos. In: Cavalcante ACR, Vieira LSV, Chagas ACS, Molento MB (eds) Doenças parasitárias de caprinos e ovinos: epidemiologia e controle, 1st edn. EMBRAPA, Brasília, pp 402–425

Araújo JV, Sampaio WM, Vasconcelos RS, Campos AK (2000) Effects of different temperatures and mineral salt on pellets of Monacrosporium thaumasium—a nematode-trapping fungus. Vet Arhiv 70:181–190

Araújo JV, Assis RCL, Campos AK, Mota MA (2004) Atividade in vitro dos fungos nematófagos dos gêneros Arthrobotrys, Duddingtonia e Monacrosporium sobre nematóides trichostrongilídeos (Nematoda: Trichostrongyloidea) parasitos gastrintestinais de bovinos. Rev Bras Parasitol Vet 13:65–71

Araújo JV, Rodrigues MLA, Silva WW, Vieira LS (2007) Controle biológico de nematóides gastrintestinais de caprinos em clima semi-árido pelo fungo Monacrosporium thaumasium. Pesq Agropec Bras 42:1177–1181

Ayres M, Ayres JRM, Ayres DL, Santos AS (2007) Aplicações estatísticas nas áreas de ciências biológicas, 4th edn. Sociedade Civil Mamirauá, Belém

Campos AK, Araújo JV, Assis RCL, Gandra JR, Guimarães MP (2007) Viabilidade de formulação peletizada do fungo nematófago Monacrosporium sinense, no controle biológico de nematóides gastrintestinais de bezerros. Arq Bras Med Vet Zootec 59:14–20

Carvalho RO, Araújo JV, Braga FR, Ferreira SR, Araújo JM, Silva AR, Frassy LN, Alves CDF (2009) Biological control of Ancylostomosis in dogs using the nematode-trapping fungus Monacrosporium thaumasium in southeastern Brazil. Vet Parasitol 165:179–183

Chandrawathani P, Jammah O, Adnan M, Waller PJ, Larsen M, Gillespie AT (2004) Field studies on the biological control of nematodes parasites of sheep in the tropics, using the microfungus Duddingtonia flagrans. Vet Parasitol 120:177–187

Duddington CL (1955) Notes on the technique of handling predaceous fungi. Trans Br Mycol Soc 38:97–103

Ferreira Neto JM, Viana ES, Magalhães LM (1981) Patologia Clínica Veterinária, 1st edn. Rabelo, Belo Horizonte

Gordon HM, Whitlock HV (1939) A new technique for counting nematode eggs in sheep faeces. J Coun Sci Ind Res 12:50–52

Graminha EBN, Monteiro AC, Silva HC, Oliveira GP, Costa AJ (2005) Controle de nematóides parasitos gastrintestinais por Arthrobotrys musiformis em ovinos naturalmente infestados mantidos em pastagens. Pesq Agropec Bras 40:927–933

Jain NC (1993) Essentials of veterinary hematology, 4th edn. Copyright, Philadelphia

Lackey BA, Muldoon AE, Jaffe BA (1993) Alginate pellet formulation of Hirsutella rhossiliensis for biological control of plant-parasitic nematodes. Biol Contr 3:155–160

Lima WC, Athayde ACR, Medeiros GR, Lima DASD, Borburema JB, Santos EM, Vilela VLR, Azevedo SS (2010) Nematóides resistentes a alguns anti-helmínticos em rebanhos caprinos no Cariri paraibano. Pesq Vet Bras 30:1002–1009

Melo LM, Bevilacqua CML, Araújo JV, Melo ACF (2003) Atividade predatória do fungo Monacrosporium thaumasium contra o nematóide Hemonchus contortus, após passagem pelo trato gastrintestinal de caprinos. Cienc Rural 33:169–171

Paraud C, Chartier C (2003) Biological control of infective larvae of a gastro-intestinal nematode (Teladorsagia circumcincta) and a small lungworm (Muellerius capillaris) by Duddingtonia flagrans in goat faeces. Parasitol Res 89:102–106

Roberts FHS, O'Sullivan JP (1950) Methods of egg counts and larval cultures for strongyles infesting the gastrointestinal tract of cattle. Aust J Agric Res 1:99–102

Rodrigues AB, Athayde ACR, Rodrigues OG, Silva WW, Faria EB (2007) Sensibilidade dos nematóides gastrintestinais de caprinos a anti-helmínticos na mesorregião do Sertão Paraibano. Pesq Vet Bras 27:162–166

Sagués MF, Fusé LA, Fenández AS, Iglesias LE, Moreno FC, Saumell CA (2011) Efficacy of an energy block containing Duddingtonia flagrans in the control of gastrointestinal nematodes of sheep. Parasitol Res 109:707–713

Santos M, Ferraz S, Muchovej J (1991) Detection and ecology of nematophagous fungi from Brazil soils. Nematol Bras 15:121–134

Sanyal PK, Chauhan JB, Mukhopadhyaya PN (2004) Implications of fungicidal effects of benzimidazole compounds on Duddingtonia flagrans in integrated nematode parasite management in livestock. Vet Res Commun 28:375–385

Silva AR, Araújo JV, Braga FR, Frassy LN, Tavela AO, Carvalho RO, Castejon FV (2009) Biological control of sheep gastrointestinal nematodiasis in a tropical region of the southeast of Brazil with the nematode predatory fungi Duddingtonia flagrans and Monacrosporium thaumasium. Parasitol Res 105:1707–1713

Silva BF, Carrijo-Mauad JR, Braga FR, Campos AK, Araújo JV, Amarante AFT (2010) Efficacy of Duddingtonia flagrans and Arthobotrys robusta in controlling sheep parasitic gastroenteritis. Parasitol Res 106:1343–1350

Tavela AO, Araújo JV, Braga FR, Silva AR, Carvalho RO, Araújo JM, Ferreira SR, Carvalho GR (2011) Biological control of cyathostomin (Nematoda: Cyathostominae) with nemathophagous fungus Monacrosporium thaumasium in a tropical southeastern Brazil. Vet Parasitol 175:92–96

Thomaz-Soccol V, Souza FP, Sotomaior C, Castro EA, Milczewski V, Mocelin G, Silva MCP (2004) Resistance of gastrointestinal nematodes to anthelmintics in sheep (Ovis aries). Braz Arch Biol Technol 47:41–47

Ueno H, Gonçalves PC (1998) Manual para diagnóstico das helmintoses de ruminantes, 4th edn. Japan International Cooperation Agency, Tokyo

Vercruyse J, Holdsworth P, Letonja T, Conder G, Amamoto K, Okano K, Rehbein S (2002) International harmonisation of anthelmintic efficacy guidelines. Vet Parasitol 103:277–297

Vieira LS, Berne MEA, Cavalcante ACR, Menezes RCAA (1989) Redução do número de ovos por grama de fezes (OPG) em caprinos medicados com anti-helmínticos. Boletim de Pesquisa 11, 1st edn. EMBRAPA, Sobral, p 18

Vieira LS, Berne MEA, Cavalcante ACR, Costa CAF (1992) Haemonchus contortus resistance to ivermectin and netobimin in Brazilian sheep. Vet Parasitol 45:111–116

Vilela VLR, Solano GB, Araújo MM, Sousa RVR, Silva WA, Feitosa TF, Athayde ACR (2008) Ensaios preliminares para a validação do Método FAMACHA© em condições de semiárido paraibano. Rev Bras Parasitol Vet 17:164–167

Walker HL, Connick WJ (1983) Sodium alginate for production and formulation of mycoherbicides. Weed Sci 31:333–338
Acknowledgments
The authors wish to acknowledge the financial support received from CAPES and FAPEMIG. The experiment was approved by the Ethics Committee of the Universidade Federal de Campina Grande (UFCG), Patos-PB, Brazil on 23 February 2011.
Conflicts of interest
None.
About this article
Cite this article
Vilela, V.L.R., Feitosa, T.F., Braga, F.R. et al. Efficacy of Monacrosporium thaumasium in the control of goat gastrointestinal helminthiasis in a semi-arid region of Brazil. Parasitol Res 112, 871–877 (2013). https://doi.org/10.1007/s00436-012-3078-4
Received:

Accepted:

Published:

Issue Date:
Keywords
Live Weight

Packed Cell Volume

Moxidectin

Nematophagous Fungus

Larval Culture