Abstract
Genetic differentiation between two synonymous echinostomes species, Artyfechinostomum malayanum and Artyfechinostomum sufrartyfex was determined by using the first and second internal transcribed spacers (ITS1 and ITS2), the non-coding region of rDNA as genetic makers. Of the 699 bp of combined ITS1 and ITS2 sequences examined, 18 variable nucleotide positions (2.58 %) were observed. Of these, 17 positions could be used as diagnostic position between these two sibling species, whereas the other one variation was intraspecific variation of A. malayanum. A clade of A. malayanum was closely aligned with A. sufrartyfex and clearly distance from the cluster of other echinostomes. Our results may sufficiently suggest that the current synonymy of these species is not valid.
This is a preview of subscription content, log in to check access.
Access options
Buy single article
Instant access to the full article PDF.
US$ 39.95
Price includes VAT for USA
Subscribe to journal
Immediate online access to all issues from 2019. Subscription will auto renew annually.
US$ 199
This is the net price. Taxes to be calculated in checkout.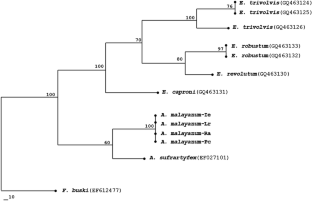 References
Beaver PC, Jung RC, Cupp EW (1984) Clinical parasitology, 9th edn. Lea & Febiger, Philadelphia

Chai JY (2009) Echinostones in humans. In: Fried B, Toledo R (eds) The biology of echinostomes. Springer, Heidelberg

Chai JY, Shin EH, Lee SH, Rim HJ (2009) Foodborne intestinal flukes in Southeast Asia. Korean J Parasitol 47:S69–S102

Felsenstein J (2005) PHYLIP (Phylogeny Inference Package) version 3.6. Distributed by the author. Department of Genome Sciences, University of Washington, Seattle

Ha Duy N, Ermolenko AV, Gerasev PI (2011) Artyfechinostomum sufratyfex Lane, 1915 (Trematoda: Echinostomatidae), a parasite of mammals in Southern Vietnam. Parazitologiia 45:54–59

Huffman JE, Fried B (1990) Echinostoma and echinostomiasis. Adv Parasit 29:215–269

Kostadinova A, Vaucher C, Gibson DI (2002) Redescriptions of two echinostomes from birds in Paraguay, with comments on Drepanocephalus Diet, 1909 and Paryphostomum Diez, 1909 (Digenea: Echinostomatidae). Syst Parasitol 53:147–158

Lane C (1915) Artyfecinostomun sufrartyfex: a new parasitic echinostome of man. Indian J Med Res 2:977–983

Leiper RT (1911) A new echinostome in man. The Journal of the London School of Tropical Medicine 1:27–28

Leung TL, Keeney DB, Poulin R (2009) Cryptic species complexes in manipulative echinostomatid trematodes: when two become six. Parasitology 136:241–252

Lie KJ (1963) Studies on echinostomatidae in Malaya. Z f Parasitenkunde 23:136–140

Maldonado A Jr, Zeitone BK, Amado LA, Rosa IF, Machado-Silva JR, Lanfredi RM (2005) Biological variation between two Brazilian geographical isolates of Echinostoma paraensei. J Helminthol 79:345–351

Miliotis MD, Bier JW (2003) International handbook of foodborne pathogens. CRC, New York

Morgan JA, Blair D (1995) Nuclear rDNA ITS sequence variation in the trematode genus Echinostoma: an aid to establishing relationships within the 37-collar-spine group. Parasitology 111:609–615

Mukherjee RP, Ghosh RK (1968) On the synonymy of the genus Artyfechinostomum Lane 1915 (Trematoda: Echinostomatidae). Proceedings: Plant Sciences 68:52–58

Premvati G, Pande V (1974) On Artifechinostomum malayanum (Leiper, 1911) Mendheim, 1943 (Trematoda: Echinostomatidae) with synonymy of allied species and genera. Proceedings of the Helmintholical Society of Washington 41:151–160

Radomyos P, Radomyos B, Tungtrongchitr A (1994) Multi-infection with helminths in adults from northeast Thailand as determined by post-treatment fecal examination of adult worms. Trop Med Parasitol 45:133–135

Saijuntha W, Sithithaworn P, Wongkham S, Laha T, Pipitgool V, Tesana S, Chilton NB, Petney TN, Andrews RH (2007) Evidence of a species complex within the food-borne trematode Opisthorchis viverrini and possible co-evolution with their first intermediate hosts. Int J Parasitol 37:695–703

Saijuntha W, Sithithaworn P, Duenngai K, Kiatsopit N, Andrews RH, Petney TN (2011a) Genetic variation and relationships of four species of medically important echinostomes (Trematoda: Echinostomatidae) in South-East Asia. Infect Genet Evol 11:375–381

Saijuntha W, Tantrawatpan C, Sithithaworn P, Andrews RH, Petney TN (2011b) Genetic characterization of Echinostoma revolutum and Echinoparyphium recurvatum (Trematoda: Echinostomatidae) in Thailand and phylogenetic relationships with other isolates inferred by ITS1 sequence. Parasitol Res 108:751–755

Sorensen RE, Curtis J, Minchella DJ (1998) Intraspecific variation in the rDNA its loci of 37-collar-spined echinostomes from North America: implications for sequence-based diagnoses and phylogenetics. J Parasitol 84:992–997

Srisawangwong T, Chantaluk S, Sithithaworn P, Charoensiri D (2004) Infectivity, growth and fecundity of Echinostoma malayanum in mice. Southeast Asian J Trop Med Public Health 35:302–305

Waikagul J (1991) Intestinal fluke infections in Southeast Asia. Southeast Asian J Trop Med Public Health 22:158–162

Yamaguti S (1958) Part I. The digenetic trematodes of vertebrates. In: Systema Helminthum, vol. I, Wiley: New York.
Acknowledgments
This research was supported by Thammasat University grant to C. Tantrawatpan and TRF-CHE-MSU (grant no. MRG5480009) to W. Saijuntha. We wish to acknowledge the Faculty of Medicine, Khon Kaen University, Overseas Visiting Professor Program grant. We would like to thanks Dr. Yukifumi Nawa, hosted by Research and Diagnostic Center for Emerging Infectious Diseases, Khon Kaen University for the comments and suggestions. We would like to thank the Deutsche Forschungsgemeinschaft (PE1611/1-3), the National Research Council of Thailand, the International Excellence Fund of ASEAN-EU Year of Science, Technology and Innovation, 2012 for providing funding for cooperative workshops.
About this article
Cite this article
Tantrawatpan, C., Saijuntha, W., Sithithaworn, P. et al. Genetic differentiation of Artyfechinostomum malayanum and A. sufrartyfex (Trematoda: Echinostomatidae) based on internal transcribed spacer sequences. Parasitol Res 112, 437–441 (2013). https://doi.org/10.1007/s00436-012-3065-9
Received:

Accepted:

Published:

Issue Date:
Keywords
Adult Worm

Ventral Sucker

ITS2 Sequence

Internal Transcribe Space Sequence

Rodent Host