Abstract
Due to the difficulty of DNA extraction for Demodex, few studies dealt with the identification and the phyletic evolution of Demodex at molecular level. In this study, we amplified, sequenced, and analyzed a complete (Demodex folliculorum) and an almost complete (D12 missing) (Demodex brevis) ribosomal DNA (rDNA) sequence and also analyzed the primary sequences of divergent domains in small-subunit ribosomal RNA (rRNA) of 51 species and in large-subunit rRNA of 43 species from four superfamilies in Acari (Cheyletoidea, Tetranychoidea, Analgoidea, and Ixodoidea). The results revealed that 18S rDNA sequence was relatively conserved in rDNA-coding regions and was not evolving as rapidly as 28S rDNA sequence. The evolutionary rates of transcribed spacer regions were much higher than those of the coding regions. The maximum parsimony trees of 18S and 28S rDNA appeared to be almost identical, consistent with their morphological classification. Based on the fact that the resolution capability of sequence length and the divergence of the 13 segments (D1–D6, D7a, D7b, and D8–D12) of 28S rDNA were stronger than that of the nine variable regions (V1–V9) of 18S rDNA, we were able to identify Demodex (Cheyletoidea) by the indels occurring in D2, D6, and D8.
This is a preview of subscription content, log in to check access.
Access options
Buy single article
Instant access to the full article PDF.
US$ 39.95
Price includes VAT for USA
Subscribe to journal
Immediate online access to all issues from 2019. Subscription will auto renew annually.
US$ 199
This is the net price. Taxes to be calculated in checkout.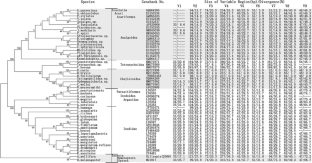 References
Baverstock PR, Johnson AM (1990) Ribosomal RNA nucleotide sequence: a comparison of newer methods used for its determination, and its use in phylogenetic analysis. Aust Syst Bot 3:101–110

De Rojas M, Riazzo C, Callejón R, Guevara D, Cutillas C (2012) Morphobiometrical and molecular study of two populations of Demodex folliculorum from humans. Parasitol Res 110:227–233

Desch CE, Nutting WB (1972) Demodex folliculorum (Simon) and D. brevis (Akbulatova) of man: redescription and revaluation. J Parasitol 58:167–177

Gillespie JJ, Johnston JS, Cannone JJ, Gutell RR (2006) Characteristics of the nuclear (18S, 58S, 28S and 5S) and mitochondrial (12S and 16S) rRNA genes of Apis mellifera (Insecta: Hymenoptera): structure, organization, and retrotransposable elements. Insect Mol Biol 5:657–686

Morsy TA, el Okbi MM, el-Said AM, Arafa MA, Sabry AH (1995) Demodex (follicular mite) infesting a boy and his pet dog. J Egypt Soc Parasitol 25:509–512

Tamura K, Dudley J, Nei M, Kumar S (2007) MEGA4: molecular evolutionary genetics analysis (MEGA) software version 4.0. Mol Biol Evol 24:1596–1599

Thompson JD, Gibson TJ, Plewniak F, Jeanmougin F, Higgins DG (1997) The CLUSTAL_X windows interface: flexible strategies for multiple sequence alignment aided by quality analysis tools. Nucleic Acids Res 25:4876–4882

Toops E, Blagburn B, Lenaghan S, Kennis R, MacDonald J, Christine D (2010) Extraction and characterization of DNA from Demodex canis. Intern J Appl Res Vet Med 8:31–43

Wang YP, Li P, Bing GQ (1998) A case report of human dermatitis caused by canine Demodex. J Norman Bethune Univ Med Sci 24:265 (In Chinese)

Zhao YE, Cheng H (2009) RAPD analysis and sequence alignment of genomic DNA of hair follicle mites Demodex folliculorum and D. brevis (Acari: Demodicidae). Acta Entomol Sin 52:1273–1279 (In Chinese)

Zhao YE, Wu LP (2011) RAPD-SCAR marker and genetic relationship analysis of three Demodex species (Acari: Demodicidae). Parasitol Res. doi:101007/s00436-011-2778-5

Zhao YE, Wu LP (2012) Phylogenetic relationships in Demodex mites (Acari: Demodicidae) based on mitochondrial 16S rDNA partial sequences. Parasitol Res. doi:10.1007/s00436-012-2941-7

Zhao YE, Guo N, Wu LP (2009a) The effect of temperature on the viability of Demodex folliculorum and Demodex brevis. Parasitol Res 105:1623–1628

Zhao YE, Cheng H, Xun M, Wu LP (2009b) Extraction and random primer PCR detection of genomic DNA of parasitic mites Demodex folliculorum and Demodex brevis (Acari: Demodicidae). Acta Entomol Sin 52:929–933 (In Chinese)

Zhao YE, Guo N, Wu LP (2010) The influence of temperature and medium on viability of Demodex folliculorum and Demodex brevis (Acari: Demodicidae). Exp Appl Acarol 54:421–425
Electronic supplementary material
The alignment of a complete nuclear rDNA sequence of Demodex folliculorum (18S, ITS-1, 5.8S, ITS-2 and 28S) and an almost complete sequence of Demodex brevis. ITS-1 and ITS-2 are noted by dark shades, and the 9 variable regions of SSU rDNA and 13 expansion segments of LSU rDNA are noted by light shades. (JPEG 2.30 mb)
About this article
Cite this article
Zhao, Y., Wu, L., Hu, L. et al. Sequencing for complete rDNA sequences (18S, ITS1, 5.8S, ITS2, and 28S rDNA) of Demodex and phylogenetic analysis of Acari based on 18S and 28S rDNA. Parasitol Res 111, 2109–2114 (2012). https://doi.org/10.1007/s00436-012-3058-8
Received:

Accepted:

Published:

Issue Date:
Keywords
rDNA Sequence

Maximum Parsimony Tree

Transcribe Space Region

Meibomian Gland

Expansion Segment