Abstract
The use of chemicals for the control of arthropod pests can be problematic due to the potential for both environmental contamination and resistance development. As a result, there is an increasing interest in nonchemical alternatives, such as biocontrol by entomopathogenic fungi. In the present study, three strains of Metarhizium anisopliae (V245, 3247, and 4456) and one strain of Beauveria bassiana (LM 3.2) were evaluated under laboratory conditions for their virulence towards three life stages of Ornithodoros lahorensis. Groups of eggs, larvae, and adult ticks were treated by immersion in two different suspensions (105 and 107 conidia/ml) of each fungal strain. All treatment and control groups were observed during a 3-week period, and the hatchability of eggs and mortality percentage of larvae and adult ticks were assessed. The effect of fungal strains on egg hatchability and larva and adult mortality was significant and dose dependent compared to the control groups (P < 0.05). The results also showed that the greatest biopesticidal effect was due to strain 4456 of M. anisopliae and LM 3.2 strain of B. bassiana at all tested concentrations, making these fungi potential biological control agents of O. lahorensis reducing the use of chemical acaricides.
This is a preview of subscription content, log in to check access.
Access options
Buy single article
Instant access to the full article PDF.
US$ 39.95
Price includes VAT for USA
Subscribe to journal
Immediate online access to all issues from 2019. Subscription will auto renew annually.
US$ 199
This is the net price. Taxes to be calculated in checkout.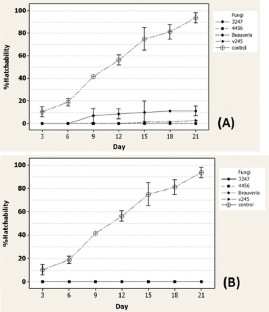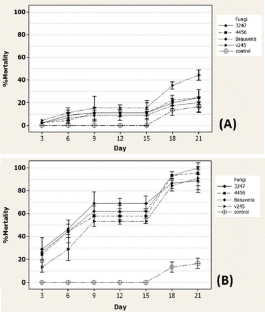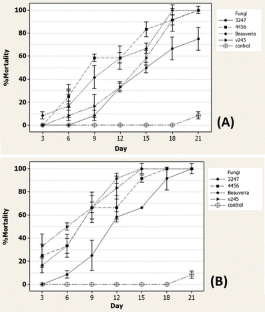 References
Briggs LL, Colwell DD, Wall R (2006) Control of the cattle louse Bovicola bovis with the fungal pathogen Metarhizium anisopliae. Vet Parasitol 142:344–349

Butt TM, Goettel MS (2000) Bioassays of entomogenous fungi. In: Navon A, Ascher KRS (eds) Bioassays of entomopathogenic microbes and nematodes. CAB International, Wallingford, pp 141–195

Charnley AK, Collins SA (2007) Entomopathogenic fungi and their role in pest control. In: Kubicek CP, Druzhinina IS (eds) Environmental and microbial relationships, 2nd edn. Springer, Berlin, pp 159–187

Fraser CM (1986) The Merck veterinary manual, 6th edn. Merck & Co., Rahway

Ghosh S, Azhahianambi P, Furente JDL (2006) Control of ticks of ruminants, with special emphasis on livestock farming systems in India: present and future possibilities for integrated control—a review. Exp Appl Acarol 46:49–66

Goettel MS, Inglis GD (1997) Fungi: hyphomycetes. In: Lacey L (ed) Manual of techniques in insect pathology. Academic, San Diego, pp 213–249

Graf JF, Gogolewski R, Leach-Bing N, Sabatini GA, Molento MB, Bordin EL, Arantes GJ (2004) Tick control: an industry point of view. Parasitology 129:427–442

Gressel J (2001) Potential failsafe mechanisms against the spread and introgression of transgenic hypervirulent biocontrol fungi. Trends Biotechnol 19:149–154

Hajek AE, Delalibera I Jr (2010) Fungal pathogens as classical biological control agents against arthropods. BioControl 55:147–158

Hornbostel VL, Ostfeld RS, Benjamin MA (2005) Effectiveness of Metarhizium anisopliae (Deuteromycetes) against Ixodes scapularis (Acari: Ixodidae) engorging on Peromnyscus leucopus. J Vector Ecol 30:91–101

Kaaya GP, Okech MA (1990) Horizontal transmission of mycotic infection in adult tsetse, Glossina morsitans morsitans. Entomophaga 35:46–57

Kaaya GP, Mwangi EN, Ouna EA (1996) Prospects for biological control of livestock ticks, Rhipicephalus appendiculatus and Amblyomma variegatum, using the entomogenous fungi Beauveria bassiana and Metarhizium anisopliae. J Invertebr Pathol 67:15–20

Kaufman WR (2010) Ticks: physiological aspects with implications for pathogen transmission. Ticks Tick Borne Dis 1:11–22

Mamedkulov K (1993) Tick paralysis in sheep in Turkmenistan farms. Veterinarya-Moskva 1:40–41

Mwangi EN, Kaaya GP, Essuman S, Kimondo MG, Ouna E (1995) Experimental infections of the tick Rhipicephalus appendiculatus with entomopathogenic fungi, Beauveria bassiana and Metarhizium anisopliae, and natural infections of some ticks with bacteria and fungi. J Afr Zool 109(2):151–160

Ostfeld RS, Price A, Hornbostel VL, Benjamin AB, Keesing F (2006) Controlling ticks and tick-borne zoonoses with biological and chemical agents. Bioscience 5:383–394

Pell JK, Eilenberg J, Hajek AE, Steinkraus DC (2001) Biology, ecology and pest management potential of Entomophthorales. In: Butt TM, Jackson C, Magan N (eds) Fungi as biocontrol agents: progress, problems and potential. CAB International, Wallingford, pp 71–153

Pirali-Kheirabadi K, Haddadzadeh H, Razzaghi-Abyaneh M, Bokaie S, Zare R, Ghazavi M, Shams-Ghahfarokhi M (2007) Biological control of Rhipicephalus (Boophilus) annulatus by different strains of Metarhizium anisopliae, Beauveria bassiana and Lecanicillium psalliotae fungi. Parasitol Res 100:1297–1302

Pourseyed SH, Tavassoli M, Bernousi I, Mardani K (2010) Metarhizium anisopliae (Ascomycota: Hypocreales): an effective alternative to chemical acaricides against different developmental stages of fowl tick Argas persicus (Acari: Argasidae). Vet Parasitol 172:305–310

Rafiee A, Rock H (1985) Entomology, 1st edn. Tehran University Press, Tehran

Rahbari S (1995) Studies on some ecological aspects of tick fauna of West Azarbayejan, Iran. J Appl Anim Res 7(2):189–194

Rehner SA (2005) Phylogenetics of the insect pathogenic genus Beauveria. In: Vega FE, Blackwell M (eds) Insect–fungal associations: ecology and evolution. Oxford University Press, Oxford, pp 3–27

Roberts DW, St. Leger RJ (2004) Metarhizium spp., cosmopolitan insect-pathogenic fungi: mycological aspects. Adv Appl Microbiol 54:1–70

Rodriguez-Vivas RI, Alonso-Díaz MA, Rodríguez-Arevalo F, Fragoso-Sanchez H, Santamaria VM, Rosario-Cruz R (2006) Prevalence and potential risk factors for organophosphate and pyrethroid resistance in Boophilus microplus ticks on cattle ranches from the state of Yucatan, Mexico. Vet Parasitol 136:335–342

Rohlfs M, Churchill ACL (2011) Fungal secondary metabolites as modulators of interactions with insects and other arthropods. Fungal Genet Biol 48:23–34

Santi L, Silva WOB, Pinto AFM, Schrank A, Vainstein MH (2010) Metarhizium anisopliae host–pathogen interaction: differential immunoproteomics reveals proteins involved in the infection process of arthropods. Fungal Biol 114:312–319

Schrank A, Vainstein MH (2010) Metarhizium anisopliae enzymes and toxins. Toxicon 56(7):1267–1274

Schulze TL, Jordan RA, Hung RW, Krivenko AJ, Schulze JJ, Jordan TM (2001) Effects of an application of granular carbaryl on nontargets forest floor arthropods. J Econ Entomol 10:149–154

St. Leger RJ, Wang CS (2010) Genetic engineering of fungal biocontrol agents to achieve greater efficacy against insect pests. Appl Microbiol Biotechnol 85:901–907

Tavassoli E, Zare S, Pakdel FG, Tehrani AA, Tavassoli M (2007) Histopathological features of Ornithodoros lahoransis bite on rat. Iran J Parasitol 2(4):17–24

Tavassoli M, Ownag A, Meamari R, Rahmani S, Mardani K, Butt T (2009) Laboratory evaluation of three strains of the entomopathogenic fungus Metarhizium anisopliae for controlling Hyalomma anatolicum anatolicum and Haemaphysalis punctata. Int J Vet Res 3(1):11–15

Telmadarraiy Z, Nasirian H, Vatandoost H, Abuolhassani M, Tavakoli M, Zarei Z, Banafshi O, Rafinejad J, Salarielac S, Faghihi F (2007) Comparative susceptibility of cypermethrin in Ornithodoros lahorensis Neuman and Argas persicus Oken (Acari: Argasidae) field populations. Pak J Biol Sci 10(23):4315–4318

Thomas MB, Read AF (2007) Fungal bioinsecticide with a sting. Nat Biotechnol 25:1367–1368

Wall R, Shearer D (1997) Veterinary entomology, 1st edn. Chapman and Hall International Thompson Publisher Company, London

Zabalgogeazcoa I, Oleaga A, Perez-Sanchez R (2008) Pathogenicity of endophytic entomopathogenic fungi to Ornithodoros erraticus and Ornithodoros moubata (Acari: Argasidae). Vet Parasitol 158:336–343
Acknowledgments
The authors would like to thank Mr. A. Badali for his technical assistance. We would like to sincerely thank the members of the Faculty of Veterinary Medicine and Urmia University Research Council for the approval and support of this research.
About this article
Cite this article
Tavassoli, M., Malekifard, F., Soleimanzadeh, A. et al. Susceptibility of different life stages of Ornithodoros lahorensis to entomopathogenic fungi Metarhizium anisopliae and Beauveria bassiana . Parasitol Res 111, 1779–1783 (2012). https://doi.org/10.1007/s00436-012-3023-6
Received:

Accepted:

Published:

Issue Date:
Keywords
Fungal Strain

Brucellosis

Carbaryl

Cypermethrin

Entomopathogenic Fungus