Abstract
Plasmodium vivax is causing increasingly more cases of severe malaria worldwide. There is an urgent need to reexamine the clinical spectrum and burden of P. vivax so that adequate control measures can be implemented against this emerging but neglected disease. Herein, we report a case of renal acute cortical necrosis and acute kidney injury (AKI) associated with P. vivax monoinfection. Her initial serum creatinine was 7.3 mg/dL on admission. Modification of Diet in Renal Disease (MDRD) Study glomerular filtration rate (GFR) value was 7 mL/min/1.73 m2 (normal kidney function—GFR above 90 mL/min/1.73 m2 and no proteinuria). On follow-up, 5 months later, her SCr. was 2.43 mg/dl with no proteinuria. MDRD GFR value was 24 mL/min/1.73 m2 suggesting severe chronic kidney disease (CKD; GFR less than 60 or kidney damage for at least 3 months), stage 4. Our case report highlights the fact that P. vivax malaria is benign by name but not always by nature. AKI associated with P. vivax malaria can lead to CKD. Further studies are needed to determine why P. vivax infections are becoming more severe.
This is a preview of subscription content, log in to check access.
Access options
Buy single article
Instant access to the full article PDF.
US$ 39.95
Price includes VAT for USA
Subscribe to journal
Immediate online access to all issues from 2019. Subscription will auto renew annually.
US$ 199
This is the net price. Taxes to be calculated in checkout.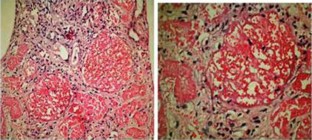 References
Anstey NM, Russell B, Yeo TW, Price RN (2009) The pathophysiology of vivax malaria. Trends Parasitol 25:220–227, Epub 2009 Apr 6

Choi HJ, Lee SY, Yang H, Bang JK (2004) Retinal haemorrhage in vivax malaria. Trans R Soc Trop Med Hyg 98:387–389

Chugh KS, Jha V, Sakhuja V, Joshi K (1994) Acute renal cortical necrosis—a study of 113 patients. Ren Fail 16:37–47

Chung BH, Lee SW, Lee SE, Hwang TJ, Shin HS (2008) Predictors of Plasmodium vivax malaria-induced nephropathy in young Korean men. Nephron Clin Pract 110:c172–c177, Epub 2008 Oct 27

Das BS (2008) Renal failure in malaria. J Vector Borne Dis 45:83–97

Das A, Anvikar AR, Cator LJ, Dhiman RC, Eapen A, Mishra N et al (2012) Malaria in India: The Center for the Study of Complex Malaria in India. Acta Trop 121(3):267–273, Epub 2011 Nov 28

Eiam-Ong S (2003) Malarial nephropathy. Semin Nephrol 23(1):21–33

Franken G, Müller-Stöver I, Holtfreter MC, Walter S, Mehlhorn H, Labisch A, Häussinger D, Richter J (2012) Why do Plasmodium malariae infections sometimes occur in spite of previous antimalarial medication? Parasitol Res doi:10.1007/s00436-012-2851-8

Jensen M, Mehlhorn H (2009) Seventy-five years of Resochin in the fight against malaria. Parasitol Res 105(3):609–627, Epub 2009 Jul 11. Review

Jha V, Chugh KS (1967) Acute kidney injury in malaria. In: Ronco C, Bellomo R, Kellum JA (eds) Critical care nephrology, 2nd edn. Brown, Boston, pp 850–855

Joshi H, Prajapati SK, Verma A, Kang'a S, Carlton JM (2008) Plasmodium vivax in India. Trends Parasitol 24:228–235, Epub 2008 Apr 9. Review

Kochar DK, Singh P, Agarwal P, Kochar SK, Pokharna R, Sareen PK (2003) Malarial hepatitis. J Assoc Physicians India 51:1069–1072

Kochar DK, Saxena V, Singh N, Kochar SK, Kumar SV, Das A (2005) Plasmodium vivax malaria. Emerg Infect Dis 11:132–134

Kochar DK, Pakalapati D, Kochar SK, Sirohi P, Khatri MP, Kochar A, Das A (2007) An unexpected cause of fever and seizures. Lancet 370:908

Kochar DK, Das A, Kochar SK, Saxena V, Sirohi P, Garg S et al (2009) Severe Plasmodium vivax malaria: a report on serial cases from Bikaner in northwestern India. AmJTrop Med Hyg 80:194–198

Kochar DK, Das A, Kochar A, Middha S, Acharya J, Tanwar GS et al (2010) Thrombocytopenia in Plasmodium falciparum, Plasmodium vivax and mixed infection malaria: a study from Bikaner (Northwestern India). Platelets 21(8):623–627, Epub 2010 Nov 4

Kute VB, Trivedi HL, Vanikar AV, Shah PR, Gumber MR, Patel HV et al (2012) Plasmodium vivax malaria-associated acute kidney injury, India, 2010–2011. Emerg Infect Dis 18(5):842–845. doi:10.3201/eid1805.111442

Mueller I, Galinski MR, Baird JK, Carlton JM, Kochar DK, Alonso PL et al (2009) Key gaps in the knowledge of Plasmodium vivax, a neglected human malaria parasite. Lancet Infect Dis 9(9):555–566

Prakash J, Singh AK, Kumar NS, Saxena RK (2003) Acute renal failure in Plasmodium vivax malaria. J Assoc Physicians India 51:265–267

Richter J, Franken G, Mehlhorn H, Labisch A, Häussinger D (2010) What is the evidence for the existence of Plasmodium ovale hypnozoites? Parasitol Res 107(6):1285–1290, Epub 2010 Oct 5

Saxena V, Garg S, Tripathi J, Sharma S, Pakalapati D, Subudhi AK et al (2012) Plasmodium vivax apicoplast genome: a comparative analysis of major genes from Indian field isolates. Acta Trop 122:138–149, Epub 2012 Jan 10

Singh H, Parakh A, Basu S, Rath B (2011) Plasmodium vivax malaria: is it actually benign? J Infect Public Health 4:91–95. doi:10.1016/j.jiph.2011.03.002

Singhal MK, Arora P, Kher V, Pandey R, Gulati S, Gupta A (1997) Acute cortical necrosis in falciparum malaria: an unusual cause of end-stage renal disease. Ren Fail 19:491–494

Sonkar SK, Uniyal R, Sonkar GK (2011) Three unusual presentations of Plasmodium vivax malaria. Trop Doct 41:240–241, Epub 2011 Sep 16

Srivastava HC, Yadav RS (2000) Malaria outbreak in a tribal area of Gujarat state, India. Southeast Asian J Trop Med Public Health 31(2):219–224

Tanwar GS, Khatri PC, Sengar GS, Kochar A, Kochar SK, Middha S et al (2011) Clinical profiles of 13 children with Plasmodium vivax cerebral malaria. Ann Trop Paediatr 31:351–356

von Seidlein L, Olaosebikan R, Hendriksen IC, Lee SJ, Adedoyin OT, Agbenyega T et al (2012) Predicting the clinical outcome of severe falciparum malaria in African children: findings from a large randomized trial. Clin Infect Dis 54(8):1080–1090

Yadav RS, Sampath TRR, Sharma VP, Adak T, Ghosh SK (1998) Evaluation of lambdacyhalothrin-impregnated bednets in a malaria endemic area of India. Part 3. Effect on malaria incidence and clinical measures. J Am Mosq Control Assoc 14:444–450
About this article
Cite this article
Kute, V.B., Vanikar, A.V., Ghuge, P.P. et al. Renal cortical necrosis and acute kidney injury associated with Plasmodium vivax: a neglected human malaria parasite. Parasitol Res 111, 2213–2216 (2012). https://doi.org/10.1007/s00436-012-2975-x
Received:

Accepted:

Published:

Issue Date:
Keywords
Malaria

Glomerular Filtration Rate

Acute Kidney Injury

Severe Malaria

Cerebral Malaria