Abstract
Curcumin (diferuloyl methane) is a major curcuminoid from Curcuma longa that exhibits various pharmacological effects and has shown multiple beneficial activities. Our understanding of its anticarcinogenic and other activities occurring through curcumin-induced apoptosis in several cancer cells has greatly expanded in recent years. Lymphatic filariasis is a worldwide health problem causing global disability in humans and is caused by filarial nematodes. Development of efficient strategies to promote programmed cell death in filarial worms remains a key challenge for anti-filarial drug developing research and a crucial unmet medical need. In this study, we have taken molecular and biochemical approaches toward understanding the molecular basis for curcumin-mediated anti-filarial activity in the filarial nematode Setaria cervi. Results of MTT assay showed that curcumin causes a significant reduction in viability of Mf and adults and thus acts as a potent macro- and micro-filaricidal agent. Hoechst staining, TUNEL staining, showed several apoptotic nuclei in different parts of curcumin-treated adults. At 25 μM concentration it showed chromosomal DNA fragmentation in adult worms. Our results indicate that curcumin decreases protein and mRNA expression levels of anti-apoptotic gene ced-9 and enhances both the levels of pro-apoptotic genes ced-3 and ced-4 in a dose-dependent manner. All these observations ascertained the apoptogenicity of curcumin at a minimum concentration of 50 μM in this filarial worm. Furthermore, we showed that curcumin causes depletion of parasitic glutathione level, enhances the activities of glutathione S-transferase and superoxide dismutase and stimulates rapid generation of reactive oxygen species (ROS). Here, we present molecular evidence on curcumin-induced apoptosis in the filarial nematode S. cervi with probable involvement of ROS in a caspase-dependent manner.
This is a preview of subscription content, log in to check access.
Access options
Buy single article
Instant access to the full article PDF.
US$ 39.95
Price includes VAT for USA
Subscribe to journal
Immediate online access to all issues from 2019. Subscription will auto renew annually.
US$ 199
This is the net price. Taxes to be calculated in checkout.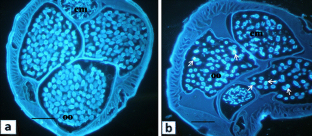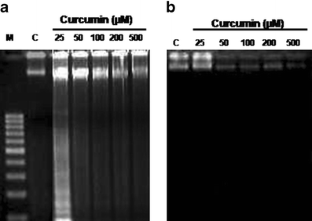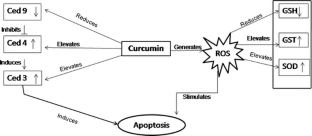 References
Akhtar MS, Iqbal Z, Khan MN, Lateef M (2000) Anthelmintic activity of medicinal plants with particular reference to their use in animals in the Indo-Pakistan subcontinent. Small Rumin Res 38:99–107

Atsumi T, Fujisawa S, Tonosaki K (2005) Relationship between intracellular ROS production and membrane mobility in curcumin- and tetrahydrocurcumin-treated human gingival fibroblasts and human submandibular gland carcinoma cells. Oral Dis 11:236–242

Bhaumik S, Anjum R, Rangaraj N, Pardhasaradhi BVV, Khar A (1999) Curcumin mediated apoptosis in AK-5 tumor cells involves the production of reactive oxygen intermediates. FEBS Lett 456:311–314

Bradford MM (1976) A rapid and sensitive method for the quantitation of microgram quantities of protein utilizing the principle of protein-dye binding. Anal Biochem 72:248–254

Chanvorachote P, Pongrakhananon V, Wannachaiyasit S, Luanpitpong S, Rojanasakul Y, Nimmannit U (2009) Curcumin sensitizes lung cancer cells to cisplatin-induced apoptosis through superoxide anion-mediated Bcl-2 degradation. Cancer Invest 27:624–635

Chao JW, Lee KS, Kim CW (2007) Curcumin attenuates the expression of IL-1β, IL-6, and TNF-α as well as cyclin E in TNF-α-treated HaCaT cells; NF-κB and MAPKs as potential upstream targets. Int J Mol Med 19:469–474

Cheng AL, Hsu CH, Lin JK, Hsu MM, Ho YF, Shen TS, Ko JY, Lin JT, Lin BR, Ming-Shiang W, Yu HS, Jee SH, Chen GS, Chen TM, Chen CA, Lai MK, Pu YS, Pan MH, Wang YJ, Tsai CC, Hsieh CY (2001) Phase I clinical trial of curcumin, a chemopreventive agent, in patients with high-risk or premalignant lesions. Anticancer Res 21:2895–2900

Chiumiento L, Bruschi F (2009) Enzymatic antioxidant systems in helminth parasites. Parasitol Res 105:593–603

Choi HS, Kim JW, Cha YN, Kim C (2006) A quantitative nitroblue tetrazolium assay for determining intracellular superoxide anion production in phagocytic cells. J Immunoass Immunochem 27:31–44

Circu ML, Aw TY (2010) Reactive oxygen species, cellular redox systems and apoptosis. Free Radic Biol Med 48:749–762

Comley JCW, Rees MJ, Turner CH, Jenkins DC (1989) Colorimetric quantitationof filarial viability. Int J Parasitol 19:77–83

Conradt B (2009) Genetic control of programmed cell death during animal development. Annu Rev Genet 43:493–523

Conradt B, Horvitz HR (1998) The C. elegans protein EGL-1 is required for programmed cell death and interacts with the Bcl- 2-like protein CED-9. Cell 93:519–529

Debrah AY, Mand S, Marfo-Debrekyei Y, Batsa L, Pfarr K, Buttner M, Adjei O, Buttner D, Hoerauf A (2007) Macrofilaricidal effect of 4 weeks of treatment with doxycycline on Wuchereria bancrofti. Trop Med Int Health 12:1433–1441

Deeb D, Jiang H, Gao X, Al-Holou S, Danyluk AL, Dulchavsky SA, Gautam SC (2007) Curcumin [1,7-bis(4-hydroxy-3-methoxyphenyl)-1-6-heptadine-3,5-dione;C21H20O6] sensitizes human prostate cancer cells to tumor necrosis factor-related apoptosis-inducingligand/Apo2L-induced apoptosis by suppressing nuclear factor-κB via inhibition of the prosurvival Akt signaling pathway. J Pharmacol Exp Ther 321:616–625

Dhillon N, Aggarwal BB, Newman RA, Wolff RA, Kunnumakkara AB, Abbruzzese JL, Ng CS, Badmaev V, Kurzrock R (2008) Phase II trial of curcumin in patients with advanced pancreatic cancer. Clin Cancer Res 14:4491–4499

Flomerfelt FA, Briehl MM, Dowd DR, Dieken ES, Miesfeld RL (1993) Elevated glutathione S-transferase gene expression is an early event during steroid-induced lymphocyte apoptosis. J Cell Physiol 154:573–581

Habig WH, Pabst MJ, Jakoby WB (1974) Glutathione S-transferases: The first enzymatic step in mercapturic acid formation. J Biol Chem 249:7130–7139

Higuchi Y (2004) Glutathione depletion-induced chromosomal DNA fragmentation associated with apoptosis and necrosis. J Cell Mol Med 8:455–464

Kane DJ, Sarafian TA, Anton R, Hahn H, Gralla EB, Valentine JS, Ord T, Bredesen DE (1993) Bcl-2 inhibition of neural death: decreased generation of reactive oxygen species. Science 262:1274–1277

Kerr JF, Wyllie AH, Currie AR (1972) Apoptosis: a basic biological phenomenon with wide-ranging implications in tissue kinetics. Br J Cancer 26:239–257

Khanbolooki S, Nawrocki ST, Arumugam T, Andtbacka R, Pino MS, Kurzrock R, Logsdon CD, Abbruzzese JL, McConkey DJ (2006) Nuclear factor-κB maintains TRAIL resistance in human pancreatic cancer cells. Mol Cancer Ther 5:2251–2260

Kuhar M, Imran S, Singh N (2007) Curcumin and quercetin combined with cisplatin to induce apoptosis in human laryngeal carcinoma hep-2 cells through the mitochondrial pathway. J Cancer Mol 3:121–128

Lee JW, Hong HM, Kwon DD, Pae HO, Jeong HJ (2010) Dimethoxycurcumin, a sructural analogue of curcumin, induces apoptosis in human renal carcinoma caki cells through the production of reactive oxygen species, the release of cytochrome c, and the activation of caspase-3. Korean J Urol 51:870–878

Li X, Wang J, Manley JL (2005) Loss of splicing factor ASF/SF-2 induces G2 cell cycle arrest and apoptosis but inhibits internucleosomal DNA fragmentation. Gene Dev 19:2705–2714

Magalhães LG, Machado CB, Morais ER, Moreira EBC, Soares CS, da Silva SH, Da Silva Filho AA, Rodrigues V (2009) In vitro schistosomicidal activity of curcumin against Schistosoma mansoni adult worms. Parasitol Res 104:1197–1201

Mengome LE, Akue JP, Souza A, Tchoua GRF, Emvo EN (2010) In vitro activities of plant extracts on human Loa loa isolates and cytotoxicity for eukaryotic cells. Parasitol Res 107:643–650

Misra N, Sharma M, Raj K, Dangi A, Srivastava S, Misra-Bhattacharya S (2007) Chemical constituents and antifilarial activity of Lantana camara against human lymphatic filariid Brugia malayi and rodent filariid Acanthocheilonema viteae maintained in rodent hosts. Parasitol Res 100:439–448

Misra S, Verma M, Mishra SK, Srivastava S, Lakshmi V, Misra-Bhattacharya S (2011) Gedunin and photogedunin of Xylocarpus granatum possess antifilarial activity against human lymphatic filarial parasite Brugia malayi in experimental rodent host. Parasitol Res 109:1351–1360

Molyneux DH, Bradley M, Hoerauf A, Kyelem D, Taylor MJ (2003) Mass drug treatment for lymphatic filariasis and onchocerciasis. Trends Parasitol 19:516–522

Nagajyothi F, Zhao D, Weiss LM, Tanowitz HB (2012) Curcumin treatment provides protection against Trypanosoma cruzi infection. Parasitol Res. doi:10.1007/s00436-011-2790-9

Nayak A, Gayen P, Saini P, Maitra S, Sinha Babu SP (2011) Albendazole induces apoptosis in adults and microfilariae of Setaria cervi. Exp Parasitol 128:236–242

Nijhoff WA, Groen GM, Peters WHM (1993) Induction of rat hepatic and intestinal glutathione S-transferases and glutathione by dietary naturally occurring anticarcinogens. Int J Oncol 3:1131–1139

Nisha M, Kalyanasundaram M, Paily KP, Abidha VP, Balaraman K (2007) In vitro screening of medicinal plant extracts for macrofilaricidal activity. Parasitol Res 100:575–579

Patel BB, Sengupta R, Qazi S, Vachhani H, Yu Y, Rishi AK, Majumdar AP (2008) Curcumin enhances the effects of 5-fluorouracil and oxaliplatin in mediating growth inhibition of colon cancer cells by modulating EGFR and IGF-1R. Int J Cancer 122:267–273

Pias EK, Ekshyyan OY, Rhoads CA, Fuseler J, Harrison L, Ty A (2003) Differentia effects of superoxide dismutase isoform expression on hydroperoxide induced apoptosis in PC-12 cells. J Biol Chem 278:13294–13301

Piwocka K, Jaruga E, Skierski J, Gradzka I, Sikora E (2001) Effect of glutathione depletion on caspase-3 independent apoptosis pathway induced by curcumin in Jurkat cells. Free Radic Biol Med 31:670–678

Raamsdonk JMV, Hekimi S (2010) Reactive oxygen species and aging in Caenorhabditis elegans:causal or casual relationship? Antioxid Redox Signal 13:1911–1953

Rajeswari A (2006) Curcumin protects mouse brain from oxidative stress caused by 1-methyl-4-phenyl-1,2,3,6-tetrahydro pyridine. Eur Rev Med Pharmacol Sci 10:157–161

Ramasubramaniaraja R, Niranjan Babu M (2010) Antihelminthic studies and medicinal herbs—an overview. IJPSRR 5:39–47

Rao R, Weil GJ (2002) In vitro effects of antibiotics on Brugia malayi worm survival and reproduction. J Parasitol 88:605–611

Rao UR, Salinas G, Mehta K, Klei TR (2000) Identification and localization of glutathione S-transferase as a potential target enzyme in Brugia species. Parasitol Res 86:908–915

Reddien PW, Andersen EC, Huang MC, Horvitz HR (2007) DPL-1 DP, LIN-35 Rb and EFL-1 E2F act with the MCD-1 zinc-finger protein to promote programmed cell death in Caenorhabditis elegans. Genetics 175:1719–1733

Reddya VN, Kasaharaa E, Hiraokab M, Lina LR, Hoc YS (2004) Effects of variation in superoxide dismutases (SOD) on oxidative stress and apoptosis in lens epithelium. Exp Eye Res 79:859–868

Sandur SK, Ichikawa H, Pandey MK, Kunnumakkara AB, Sung B, Sethi G, Aggarwal BB (2007) Role of pro-oxidants and antioxidants in the anti- inflammatory and apoptotic effects of curcumin (diferuloylmethane). Free Radic Biol Med 43:568–580

Schwab AE, Boakye DA, Kyelem D, Prichard RK (2005) Detection of benzimidazole resistance-associated mutations in the filarial nematode Wuchereria bancrofti and evidence for selection by albendazole and ivermectin combination treatment. AmJTrop Med Hyg 73:234–238

Selkirk ME, Smith VP, Thomas GR, Gounaris K (1998) Resistance of filarial nematode parasites to oxidative stress. Int J Parasitol 28:1315–1332

Sen S, Sharma H, Singh N (2005) Curcumin enhances vinorelbine-mediated apoptosis in NSCLC cells by the mitochondrial pathway. Biochem Biophys Res Commun 331:1245–1252

Senoo-Matsuda N, Hartman PS, Akatsuka A, Yoshimura S, Ishii N (2003) A complex II defect affects mitochondrial structure, leading to ced-3 and ced-4 dependent apoptosis and aging. J Biol Chem 278:22031–22036

Shahiduzzaman M, Dyachenko V, Khalafalla RE, Desouky AY, Daugschies A (2009) Effects of curcumin on Cryptosporidium parvum in vitro. Parasitol Res 105:1155–1161

Sharma RA, Euden SA, Platton SL, Cooke DN, Shafayat A, Hewitt HR, Marczylo TH, Morgan B, Hemingway D, Plummer SM, Pirmohamed M, Gescher AJ, Steward WP (2004) Phase I clinical trial of oral curcumin: biomarkers of systemic activity and compliance. Clin Cancer Res 10:6847–6854

Shishodia S, Amin HM, Lai R, Aggarwal BB (2005a) Curcumin (diferuloylmethane) Inhibits constitutive NF-κB activation, induces G1/S arrest, suppresses proliferation, and induces apoptosis in mantle cell lymphoma. Biochem Pharmacol 70:700–713

Shishodia S, Sethi G, Aggarwal BB (2005b) Curcumin: getting back to the roots. Ann N Y Acad Sci 1056:206–217

Sikora E, Zmijewska AB, Magalska A, Piwocka K, Mosieniak G, Kalinowska M, Widlak P, Cymerman IA, Bujnicki JM (2006) Curcumin induces caspase-3-dependent apoptotic pathway but inhibits DNA fragmentation factor 40/caspase-activated Dnase endonuclease in human jurkat cells. Mol Cancer Ther 5:927–934

Singh A, Rathaur S (2010) Combination of DEC plus aspirin induced mitochondrial mediated apoptosis in filarial parasite Setaria cervi. Biochimie 92:894–900

Singhal SS, Awasthi S, Pandya U, Piper JT, Saini MK, Cheng JZ, Awasthi YC (1999) The effect of curcumin on glutathione-linked enzymes in K562 human leukemia cells. Toxicol Lett 109:87–95

Slatko BE, Taylor MJ, Foster JM (2010) The Wolbachia endosymbiont as an anti-filarial nematode target. Symbiosis 51:55–65

Srinivasan L, Mathew N, Muthuswamy K (2009) In vitro antifilarial activity of glutathione S-transferase inhibitors. Parasitol Res 105:1179–1182

Srinivasan L, Mathew N, Karunan T, Muthuswamy K (2011) Biochemical studies on glutathione S-transferase from the bovine filarial worm Setaria digitata. Parasitol Res 109:213–219

Susan M, Rao MNA (1992) Induction of glutathione S-transferase activity by curcumin in mice. Drug Res 42:962–964

Syng-Ai C, Kumari AL, Khar A (2004) Effect of curcumin on normal and tumor cells: role of glutathione and bcl-2. Mol Cancer Ther 3:1101–1108

Thayyullathil F, Chathoth S, Hago A, Patel M, Galadari S (2008) Rapid reactive oxygen species (ROS) generation induced by curcumin leads to caspase-dependent and independent apoptosis in L929 cells. Free Radic Biol Med 45:1403–1412

Turner JD, Mand S, Debrah AY, Muehlfeld J, Pfarr K, McGarry HF, Adjei O, Taylor MJ, Hoerauf A (2006) A randomized, double-blind clinical trial of a 3-week course of doxycycline plus albendazole and ivermectin for the treatment of Wuchereria bancrofti infection. Clin Infect Dis 42:1081–1089

Voehringer DW (1999) BCL-2 And glutathione: alterations in cellular redox state that regulate apoptosis sensitivity. Free Radic Biol Med 27:945–950

Wang S, Zhao Y, Wu L, Tang M, Su C, Hei TK, Yu Z (2007) Induction of germline cell cycle arrest and apoptosis by sodium arsenite in Caenorhabditis elegans. Chem Res Toxicol 20:181–186

Wang J, Qi L, Zheng S, Wu T (2009) Curcumin induces apoptosis through the mitochondria-mediated apoptotic pathway in HT-29 cells. J Zhejiang Univ Sci 10:93–102

Watson JL, Hill R, Yaffe PB, Greenshields A, Walsh M, Lee PW, Giacomantonio CA, Hoskin DW (2010) Curcumin causes superoxide anion production and p53- independent apoptosis in human colon cancer cells. Cancer Lett 297:1–8

WHO (1999) Building partnerships for lymphatic filariasis: strategic plan. Geneva: World Health Organization. WHO/FIL/99.198WHO/l

Wu YC, Stanfield GM, Horvitz HR (2000) NUC-1, a Caenorhabditis elegans DNase II homolog, functions in an intermediate step of DNA degradation during apoptosis. Gene Dev 14:536–548

Wyllie AH (1980) Glucocorticoid-induced thymocyte apoptosis is associated with endogenous endonuclease activation. Nature 284:555–556

Yadav VR, Prasad S, Kannappan R, Ravindran J, Chaturvedi MM, Vaahtera L, Parkkinen J, Aggarwal BB (2010a) Cyclodextrin-complexed curcumin exhibits anti-inflammatory and antiproliferative activities superior to those of curcumin through higher cellular uptake. Biochem Pharmacol 80:1021–1032

Yadav M, Singh A, Rathaur S, Liebau E (2010b) Structural modeling and simulation studies of Brugia malayi glutathione-S-transferase with compounds exhibiting antifilarial activity: implications in drug targeting and designing. J Mol Graph Model 28:435–445

Yanase S, Onodera A, Tedesco P, Johnson TE, Ishii N (2009) SOD-1 deletions in Caenorhabditis elegans alter the localization of intracellular reactive oxygen species and show molecular compensation. J Gerontol A Biol Sci Med Sci 64:530–539

Yuan J, Horvitz HR (2004) A first insight into the molecular mechanisms of apoptosis. Cell S116:S53–S56

Yuste VJ, Bayascas JR, Llecha N, Sanchez-Lopez I, Boix J, Comella JX (2001) The absence of oligonucleosomal DNA fragmentation during apoptosis of IMR-5 neuroblastoma cells. J Biol Chem 276:22323–22331

Zucker B, Hanusch J, Bauer G (1997) Glutathione depletion in fibroblasts is the basis for apoptosis-induction by endogenous reactive oxygen species. Cell Death Differ 4:388–395
Acknowledgments
We thank the Department of Biotechnology, Ministry of Science and Technology, Government of India, New Delhi for supporting this work by a grant (grant no. BT/PR8779/Med/14/1282/2007). The authors Ananya Nayak and Prajna Gayen were supported by a fellowship from the Council of Scientific and Industrial Research (CSIR), India. S.P.S.B. is a Professor of Parasitology at the Department of Zoology, Visva-Bharati University, Santiniketan, India.
Conflict of interest
The authors have nothing to disclose.
Additional information
Ananya Nayak and Prajna Gayen contributed equally in this paper.
About this article
Cite this article
Nayak, A., Gayen, P., Saini, P. et al. Molecular evidence of curcumin-induced apoptosis in the filarial worm Setaria cervi . Parasitol Res 111, 1173–1186 (2012). https://doi.org/10.1007/s00436-012-2948-0
Received:

Accepted:

Published:

Issue Date:
Keywords
Curcumin

Adult Worm

Lymphatic Filariasis

Curcumin Treatment

Filarial Nematode