Abstract
In the present study, we found that 129S1 mice are resistant to the infection with Plasmodium yoelii 17XL, which is highly virulent and causes lethal infection in various strains of mice. In contrast, IFN-γ receptor-deficient (IFN-γR−/−) mice on the 129S1 background were much more susceptible than 129S1 mice with intraperitoneal infection with 1 × 105 parasitized erythrocytes. The mortality in 129S1 and IFN-γR−/− mice was 11.6 and 79.4 %, respectively. Following inoculation of the parasites, both 129S1 and IFN-γR−/− mice showed a progressive increase in parasitemia. Growth rate of malaria parasites at the early stages of infection in the IFN-γR−/− mice was faster than that in 129S1 mice, and this difference in growth rate might cause the earlier death of IFN-γR−/− host from day 8 of infection than that of 129S1. In surviving mice of both strains, however, malaria parasites in their bloodstream began to decrease in number right after a peak of parasitemia and were not detectable by a microscopic examination during the observation period. Next, we investigated the cytokine and antibody production in 129S1 and IFN-γR−/− mice during infection. An analysis of cytokines showed that serum IFN-γ and IL-4 levels elevated significantly from day 1 and day 4 of infection, respectively, in both 129S1 and IFN-γR−/− mice when compared with the levels from the uninfected controls. Following the infection, significantly higher levels of malaria-specific IgG1 and IgG2a antibodies in the infected 129S1 mice were detected from day 15, and these elevations were coincident with the decrease of parasitemia. On the other hand, the levels of malaria-specific antibodies in IFN-γR−/− mice had a tendency to elevate on day 21 but did not reach statistical significance. The present data indicate that IFN-γR plays an essential role in mediating the early immune mechanisms induced by the infection of erythrocytic stages of P. yoelii 17XL parasite, leading to host survival.
This is a preview of subscription content, log in to check access.
Access options
Buy single article
Instant access to the full article PDF.
US$ 39.95
Price includes VAT for USA
Subscribe to journal
Immediate online access to all issues from 2019. Subscription will auto renew annually.
US$ 199
This is the net price. Taxes to be calculated in checkout.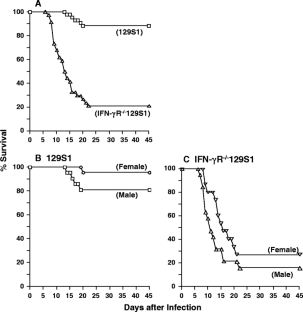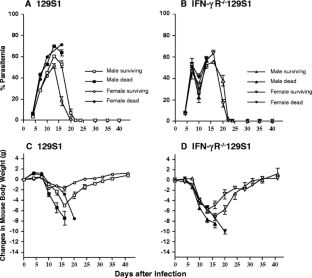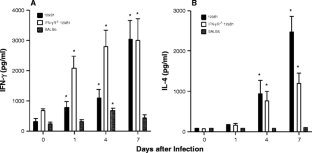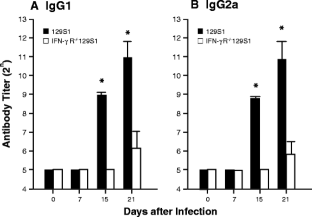 References
Amani V, Vigario AM, Belnoue E, Marussig M, Fonseca L, Mazier D, Renia L (2000) Involvement of IFN-γ receptor-mediated signaling in pathology and anti-malarial immunity induced by Plasmodium berghei infection. Eur J Imunol 30:1646–1655

Chang K-H, Stevenson MM (2004) Malarial anaemia: mechanisms and implications of insufficient erythropoiesis during blood-stage malaria. Int J Parasitol 34:1501–1516

Clark IA, Hunt NH, Butcher GA, Cowden WB (1987) Inhibition of murine malaria (Plasmodium chabaudi) in vivo by recombinant interferon-γ or tumor necrosis factor, and its enhancement by butylated hydroxyanisole. J Immunol 139:3493–3496

Dalton DK, Pitts-Meek S, Keshav S, Figari IS, Bradley A, Stewart TA (1993) Multiple defects of immune cell function in mice with disrupted interferon-γ genes. Science 259:1739–1742

Favre N, Ryffel B, Bordmann G, Rudin W (1997) The course of Plasmodium chabaudi chabaudi infections in interferon-gamma receptor deficient mice. Parasite Immunol 19:375–383

Goldman IF, Qari SH, Skinner J, Oliveira S, Nascimento JM, Povoa MM, Collins WE, Lal AA (1992) Use of glass beads and CF11 cellulose for removal of leukocytes from malaria-infected human blood in field settings. Mem Inst Oswaldo Cruz 87:583–587

Huang S, Hendriks W, Althage A, Hemmi S, Bluethmann H, Kamijo R, Vilcek J, Zinkernagel RM, Aguet M (1993) Immune response in mice that lack the interferon-γ receptor. Science 259:1742–1745

Ishih A, Ikeya C, Yanoh M, Takezoe H, Miyase T, Terada M (2001) A potent antimalarial activity of Hydrangea macrophylla var. Otaksa leaf extract against Plasmodium yoelii 17XL in mice. Parasitol Int 50:33–39

Ishih A, Nagata T, Kobayashi F, Miyase T, Terada M (2004) Cytokine and antibody production during the course of resolution in Plasmodium yoelii 17XL-infected BALB/c mice treated with febrifugine and isofebrifugine mixture from leaves of Hydrangea macrophylla var. Otaksa. Parasitol Res 94:176–182

Jacobs P, Radzioch D, Stevenson MM (1996) In vivo regulation of nitric oxide production by tumor necrosis factor alpha and gamma interferon, but not by interleukin-4, during blood stage malaria in mice. Infect Immun 64:44–49

Kobayashi F, Morii T, Matsui T, Fujino T, Watanabe Y, Weindanz WP, Tsuji M (1996) Production of interleukin 10 during malaria caused by lethal and nonlethal variants of Plasmodium yoelii yoelii. Parasitol Res 82:385–391

Langhorne J, Evans CB, Asofsky R, Taylor DW (1984) Immunoglobulin isotype distribution of malaria-specific antibodies producing during infection with Plasmodium chabaudi adami and Plasmodium yoelii. Cellular Immunol 87:452–461

Langhorne J, Gillard S, Simon B, Slade S, Eichmann K (1989) Frequencies of CD4+ T cells reactive with Plasmodium chabaudi chabaudi: distinct response kinetics for cells with Th1 and Th2 characteristics during infection. Int Immunol 1:416–424

Li C, Seixas E, Langhorne J (2001) Rodent malarias: the mouse as a model for understanding immune responses and pathology induced by the erythrocytic stages of the parasite. Med Microbiol Immunol 189:115–126

Majarian WR, Daly TM, Weidanz WP, Long CA (1984) Passive immunization against murine malaria with an IgG3 monoclonal antibody. J Immunol 132:3131–3137

Matsumoto S, Yukitake H, Kanbara H, Yamada H, Kitamura A, Yamada T (2001) Mycobacterium bovis bacillus calmette-guerin induces protective immunity against infection by Plasmodium yoelii at blood-stage depending on shifting immunity toward Th1 type and inducing protective IgG2a after the parasite infection. Vaccine 19:779–787

Pattaradilokrat S, Cheesman SJ, Carter R (2008) Congenicity and genetic polymorphism in cloned lines derived from a single isolate of a rodent malaria parasite. Mol Biochem Parasitol 157:244–247

Shear HL, Srinivasan R, Nolan T, Ng C (1989) Role of IFN − γ in lethal and non lethal malaria in susceptible and resistant murine hosts. J Immunol 143:2038–2044

Shear HL, Marino MW, Wanidworanun C, Berman JW, Nagel RL (1998) Correlation of increased expression of intercellular adhesion molecule-1, but not high levels of tumor necrosis factor-α, with lethality of Plasmodium yoelii 17XL, a rodent model of cerebral malaria. AmJTrop Med Hyg 59:852–858

Smith EC, Taylor-Robinson AW (2003) Parasite-specific immunoglobulin isotypes during lethal and non-lethal murine malaria infections. Parasitol Res 89:26–33

Stevenson MM, Riley EM (2004) Innate immunity to malaria. Nature Reviews 4:169–180

Stevenson MM, Tam M-F (1993) Differential induction of helper T cell subsets during blood-stage Plasmodium chabaudi AS infection in resistant and susceptible mice. Clin Exp Immunol 92:77–83

Stevenson MM, Tam MF, Belosevic M, van der Meide PH, Podoba JE (1990) Role of endogeneous gamma interferon in host response to infection with blood-stage Plasmodium chanadi AS. Infect Immun 58:3225–3232

Taylor DW, Pacheco E, Evan's CB, Asofsky R (1988) Inbred mice infected with Plasmodium yoelii differ in their antimalarial immunoglobulin isotype response. Parasite Immunol 10:33–46

Taylor-Robinson AW (2010) Regulation of immunity to Plasmodium: implications from mouse models for blood stage malaria vaccine design. Exp Parasitol 126:406–414

Tsuji M, Miyahira Y, Nussenzweig RS, Aguet M, Reichel M, Zavala F (1995) Development of antimalarial immunity in mice lacking IFN-γ receptor. J Immunol 154:5338–5344

von der Weid T, Langhorne J (1993) The role of cytokines produced in the immune response to the erythrocytic stages of mouse malarias. Immunobiology 89:397–418

Waki S, Uehara S, Kanbe K, Ono K, Suzuki M, Nariuchi H (1992) The role of T cells in pathogenesis and protective immunity to murine malaria. Immunology 75:646–651

Weidanz WP, Long CA (1988) The role of T cells in immunity to malaria. Prog Allergy 41:215–252

White WI, Evans BE, Taylor DW (1991) Antimalarial antibodies of the immunoglobulin G2a isotype modulate parasitemias in mice infected with Plasmodium yoelii. Infect Immun 59:3547–3554

Yoshida A, Koide Y, Uchijima M, Yoshida TO (1995) Dissection of strain difference in acquired protective immunity against Mycobacterium bovis Calmette-Guerin Bacillus (BCG). J Immunol 155:2057–2066

Yoshida A, Nagata T, Uchijima M, Koide Y (2001) Protective CTL response is induced in the absence of CD4+ T cells and IFN-γ by gene gun DNA vaccination with a minigene encoding a CTL epitope of Listeria monocytogenes. Vaccine 19:4297–4306
About this article
Cite this article
Ishih, A., Nagata, T. & Kobayashi, F. The course of a primary infection of Plasmodium yoelii 17XL in both 129S1 and IFN-γ receptor-deficient mice. Parasitol Res 111, 593–600 (2012). https://doi.org/10.1007/s00436-012-2873-2
Received:

Accepted:

Published:

Issue Date:
Keywords
Malaria

Erythrocytic Stage

129S1 Mouse

Rodent Malaria Parasite

Parasitemia Peak