Abstract
Despite the increasing knowledge of the immunobiology and epidemiology of parasitic helminths of the gastrointestinal system and the cardiorespiratory system, complications arising from infections of animals and humans with these parasites are a major clinical and economic problem. This has been attributed to the high incidence of these parasites, the widespread emergence of multi-drug resistant parasite strains and the lack of effective vaccines. Efforts to develop and produce vaccines against virtually all helminths (with the exception of Dictyocaulus viviparus and some cestode species) have been hindered by the complexity of the host–parasite relationship, and incomplete understanding of the molecular and immune regulatory pathways associated with the development of protective immunity against helminths. Novel genomic and proteomic technologies have provided opportunities for the discovery and characterisation of effector mechanisms and molecules that govern the host–parasite interactions in these two body systems. Such knowledge provided clues on how appropriate and protective responses are elicited against helminths and, thus, may lead to the development of effective therapeutic strategies. Here, we review advances in the immune response to selected helminths of animal health significance, and subsequent vaccine potential. The topics addressed are important for understanding how helminths interact with host immune defences and also are relevant for understanding the pathogenesis of diseases caused by helminths.
This is a preview of subscription content, log in to check access.
Access options
Buy single article
Instant access to the full article PDF.
US$ 39.95
Price includes VAT for USA
Subscribe to journal
Immediate online access to all issues from 2019. Subscription will auto renew annually.
US$ 199
This is the net price. Taxes to be calculated in checkout.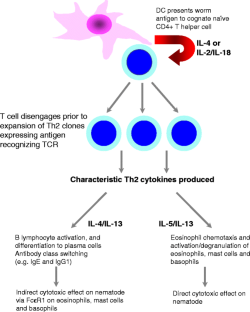 References
Almeria S, Canals A, Zarlenga DS, Gasbarre LC (1997) Quantification of cytokine gene expression in lamina propria lymphocytes of cattle following infection with Ostertagia ostertagi. J Parasitol 83:1051–1055

Al-Qaoud KM, Abdel-Hafez SK (2008) The induction of T helper type 1 response by cytokine gene transfection protects mice against secondary hydatidosis. Parasitol Res 102:1151–1155

Antonelli LR, Dutra WO, Oliveira RR, Torres KC, Guimarães LH, Bacellar O, Gollob KJ (2006) Disparate immunoregulatory potentials for double-negative (CD4− CD8) alpha beta and gamma delta T cells from human patients with cutaneous leishmaniasis. Infect Immun 74:6317–6323

Arechavaleta F, Molinari JL, Tato P (1998) A Taenia solium metacestode factor nonspecifically inhibits cytokine production. Parasitol Res 84:117–122

Ashraf M, Urban JF, Lee TD, Lee CM (1988) Characterization of isolated porcine intestinal mucosal mast cells following infection with Ascaris suum. Vet Parasitol 29:143–158

Balic A, Bowles VM, Meeusen EN (2002) Mechanisms of immunity to Haemonchus contortus infection in sheep. Parasite Immunol 24:39–46

Balic A, Cunningham CP, Meeusen EN (2006) Eosinophil interactions with Haemonchus contortus larvae in the ovine gastrointestinal tract. Parasite Immunol 28:107–115

Bao S, McClure SJ, Emery DL, Husband AJ (1996) Interleukin-5 mRNA expressed by eosinophils and gamma/delta T cells in parasite-immune sheep. Eur J Immunol 26:552–556

Barriga OO, Al-Khalidi NW (1986) Humoral immunity in the prepatent primary infection of dogs with Echinococcus granulosus. Vet Immunol Immunopathol 11:375–89

Bazzocchi C, Genchi C, Paltrinieri S, Lecchi C, Mortarino M, Bandi C (2003) Immunological role of the endosymbionts of Dirofilaria immitis: the Wolbachia surface protein activates canine neutrophils with production of IL-8. Vet Parasitol 117:73–83

Bendixsen T, Emery DL, Jones WO (1995) The sensitization of mucosal mast cells during infections with Trichostrongylus colubriformis or Haemonchus contortus in sheep. Int J Parasitol 25:741–748

Bisset SA, Vlassoff A, Douch PG, Jonas WE, West CJ, Green RS (1996) Nematode burdens and immunological responses following natural challenge in Romney lambs selectively bred for low or high faecal worm egg count. Vet Parasitol 61:249–263

Bisset SA, Morris CA, McEwan JC, Vlassoff A (2001) Breeding sheep in New Zealand that are less reliant on anthelmintics to maintain health and productivity. N Z Vet J 49:236–246

Bojalil R, Terrazas LI, Govezensky T, Sciutto E, Larralde C (1993) Thymus-related cellular immune mechanisms in sex associated resistance to experimental murine cysticercosis (Taenia crassiceps). J Parasitol 79:384–389

Brown WC, Davis WC, Dobbelaere DA, Rice-Ficht AC (1994) CD4+ T cell clones obtained from cattle chronically infected with Fasciola hepatica and specific for adult worm antigen express both unrestricted and Th2 cytokine profiles. Infect Immun 62:818–827

Canals A, Zarlenga DS, Almeria S, Gasbarre LC (1997) Cytokine profile induced by a primary infection with Ostertagia ostertagi. Vet Immunol Immunopathol 58:63–75

Claerebout E, Knox DP, Vercruysse J (2003) Current research and future prospects in the development of vaccines against gastrointestinal nematodes in cattle. Expert Rev Vaccines 2:147–157

Claerebout E, Vercauteren I, Geldhof P, Olbrechts A, Zarlenga DS, Goddeeris BM, Vercruysse J (2005) Cytokine responses in immunized and non-immunized calves after Ostertagia ostertagi infection. Parasite Immunol 27:325–331

Clery D, Torgerson P, Mulcahy G (1996) Immune responses of chronically infected adult cattle to Fasciola hepatica. Vet Parasitol 62:71–82

Corba J, Armour J, Roberts RJ, Urquhuart GM (1971) Transfer of immunity to Fasciola hepatica infection by lymphoid cells. Res Vet Sci 12:292–295

Dalton JP, Neill SO, Stack C, Collins P, Walshe A, Sekiya M, Doyle S, Mulcahy G, Hoyle D, Khaznadji E, Moire N, Brennan G, Mousley A, Kreshchenko N, Maule AG, Donnelly SM (2003) Fasciola hepatica cathepsin L-like proteases: biology, function, and potential in the development of first generation liver fluke vaccines. Int J Parasitol 33:1173–1181

Dawson HD, Beshah E, Nishi S, Solano-Aguilar G, Morimoto M, Zhao A, Madden KB, Ledbetter TK, Dubey JP, Shea-Donohue T, Lunney JK, Urban JF (2005) Localized multigene expression patterns support an evolving Th1/Th2-like paradigm in response to infections with Toxoplasma gondii and Ascaris suum. Infect Immun 73:1116–1128

de Aluja AS, Villalobos AN, Plancarte A, Rodarte LF, Hernandez M, Zamora C, Sciutto E (1999) Taenia solium cysticercosis: immunity in pigs induced by primary infection. Vet Parasitol 81:129–135

De Marez T, Cox E, Claerebout E, Vercruysse J, Goddeeris BM (2000) Identification of Ostertagia ostertagi specific cells in bovine abomasal lymph nodes. Vet Immunol Immunopathol 157:69–77

Deplazes P, Thompson RC, Constantine CC, Penhale WJ (1994) Primary infection of dogs with Echinococcus granulosus: systemic and local (Peyer's patches) immune responses. Vet Immunol Immunopathol 40:171–184

Díaz A, Ferreira AM, Nieto A (1995) Echinococcus granulosus: interactions with host complement in secondary infection in mice. Exp Parasitol 80:473–482

Díaz MA, Villalobos N, de Aluja A, Rosas G, Goméz-Conde E, Hernández P, Larralde C, Sciutto E, Fragoso G (2003) Th1 and Th2 indices of the immune response in pigs vaccinated against Taenia solium cysticercosis suggest various host immune strategies against the parasite. Vet Immunol Immunopathol 93:81–90

Ferreira AM, Breijo M, Sim RB, Nieto A (2000) Contribution of C5-mediated mechanisms to host defence against Echinococcus granulosus hydatid infection. Parasite Immunol 22:445–53

Finkelman FD, Madden KB, Cheever AW, Kotona IM, Morris SC, Gately MK, Hubbard BR, Gause WC, Urban JF (1994) Effects of IL-12 on immune responses and host protection in mice infected with intestinal nematode parasites. J Exp Med 179:1563–1572

Fu Y, Saint-André Marchal I, Marchal T, Bosquet G, Petavy AF (2000) Cellular immune response of lymph nodes from dogs following the intradermal injection of a recombinant antigen corresponding to a 66 kDa protein of Echinococcus granulosus. Vet Immunol Immunopathol 74:195–208

Gómez-Muñoz MT, Canals-Caballero A, Almeria S, Pasquali P, Zarlenga DS, Gasbarre LC (2004) Inhibition of bovine T lymphocyte responses by extracts of the stomach worm Ostertagia ostertagi. Vet Parasitol 120:199–214

Hagberg M, Wattrang E, Niskanen R, Tråvén M, Höglund J, Lundén A (2005) Mononuclear cell subsets in bronchoalveolar lavage fluid during Dictyocaulus viviparus infection of calves: a potential role for gamma/delta TCR-expressing cells in airway immune responses? Parasite Immunol 27:151–161

Hagberg M, Lundén A, Höglund J, Morrison DA, Waller KP, Wattrang E (2008) Characterization of bovine lymphocytes stimulated in vitro by Dictyocaulus viviparus homogenate. Parasite Immunol 30:342–353

Hammeberg B, Williams JF (1978) Interaction between Taenia Taeniaeformis and the complement system. J Immunol 120:1033–1038

Herd RP, Chappel RJ, Biddell D (1975) Immunization of dogs against Echinococcus granulosus using worm secretory antigens. Int J Parasitol 5:395–399

Hoste H, Torres-Acosta JF (2011) Non chemical control of helminths in ruminants: adapting solutions for changing worms in a changing world. Vet Parasitol 180:144–154

Hoyle DV, Taylor DW (2003) The immune response of regional lymph nodes during the early stages of Fasciola hepatica infection in cattle. Parasite Immunol 25:221–229

Huerta M, de Aluja AS, Fragoso G, Toledo A, Villalobos N, Hernández M, Gevorkian G, Acero G, Díaz A, Alvarez I, Avila R, Beltrán C, García G, Martínez JJ, Larralde C, Sciutto E (2001) Synthetic peptide vaccine against Taenia solium pig cysticercosis: successful vaccination in a controlled field trial in rural Mexico. Vaccine 20:262–266

Imai S, Tezuka H, Furuhashi Y, Muto R, Fujita K (2001) A factor of inducing IgE from a filarial parasite is an agonist of human CD40. J Biol Chem 49:46118–46124

Isogai S, Rubin A, Maghni K, Ramos-Barbon D, Taha R, Yoshizawa Y, Hamid Q, Martin JG (2003) The effects of CD8+ gammadelta T cells on late allergic airway responses and airway inflammation in rats. J Allergy Clin Immunol 112:547–555

Isogai S, Athiviraham A, Fraser RS, Taha R, Hamid Q, Martin JG (2007) Interferon-gamma-dependent inhibition of late allergic airway responses and eosinophilia by CD8+ gammadelta T cells. Immunology 122:230–238

Johnson DR, Sales J, Matthews JB (2005) Local cytokine responses in Dictyocaulus viviparus infection. Vet Parasitol 128:309–318

Kassis AI, Tanner CE (1977) Echinococcus multilocularis: complement's role in vivo in hydatid disease. Exp Parasitol 43:390–395

Kataria AK, Kataria N, Gahlot AK (2007) Radioimmunometric quantification of serum IgE of small ruminants naturally infected with gastrointestinal worms. Indian J Anim Sci 77:136–138

Kato N, Nonaka N, Oku Y, Kamiya M (2005) Modified cellular immune responses in dogs infected with Echinococcus multilocularis. Parasitol Res 95:339–345

Knapp NH, Oakley GA (1981) Cell adherence to larvae of Dictyocaulus viviparus in vitro. Res Vet Sci 31:389–391

Kooyman FN, Yatsuda AP, Ploeger HW, Eysker M (2002) Serum immunoglobulin E response in calves infected with the lungworm Dictyocaulus viviparus and its correlation with protection. Parasite Immunol 24:47–56

Lacette JP, Shoemaker CB, Richter D, Arcos L, Pante N, Cohen C, Bing D, Nicholson-Weller A (1992) Paramyosin inhibits complement C1. J Immunol 148:124–128

Lahn M (2000) The role of gammadelta T cells in the airways. J Mol Med 78:409–425

Lightowlers MW, Gemmell MA, Harrison GLB, Heath DD, Rickard MD, Roberts MG (1992) Control of tissue parasites. II. Cestodes. In: Yong WK (ed) Animal parasite control utilizing biotechnology. CRC, Boca Raton

Marcos-Atxutegi C, Kramer LH, Fernandez I, Simoncini L, Genchi M, Prieto G, Simón F (2003) Th1 response in BALB/c mice immunized with Dirofilaria immitis soluble antigens: a possible role for Wolbachia? Vet Parasitol 112:117–130

Matthews JB, Davidson AJ, Freeman KL, French NP (2001) Immunisation of cattle with recombinant acetylcholinesterase from Dictyocaulus viviparus and with adult worm ES products. Int J Parasitol 31:307–317

Meeusen EN, Piedrafita D (2003) Exploiting natural immunity to helminth parasites for the development of veterinary vaccines. Int J Parasitol 33:1285–1290

Mejia JS, Carlow KS (1994) An analysis of the humoral immune response of dogs following vaccination with irradiated infective larvae Dirofilaria immitis. Parasite Immunol 16:157–164

Mejri N, Gottstein B (2009) Echinococcus multilocularis metacestode metabolites contain a cysteine protease that digests eotaxin, a CC pro-inflammatory chemokine. Parasitol Res 105:1253–1260

Miquel N, Roepstorff A, Bailey M, Eriksen L (2005) Host immune reactions and worm kinetics during the expulsion of Ascaris suum in pigs. Parasite Immunol 27:79–88

Moreno M, Benavidez U, Carol H, Rosenkranz C, Welle M, Carmona C, Nieto A, Chabalgoity JA (2004) Local and systemic immune responses to Echinococcus granulosus in experimentally infected dogs. Vet Parasitol 119:37–50

Moser R, Fehr J, Olgiati L, Bruijnzeel PLB (1992) Migration of primed human eosinophils across cytokine-activated endothelial cell monolayers. Blood 79:2937–2945

Nakagawa M, Yoshihara S, Suda H, Ikeda K (1983) Pathological studies on white spots of the liver in fattening pigs. Natl Inst Anim Health Q (Tokyo) 23:138–149

O'Brien LM, Fitzpatrick E, Baird AW, Campion DP (2008) Eosinophil–nerve interactions and neuronal plasticity in rat gut associated lymphoid tissue (GALT) in response to enteric parasitism. J Neuroimmunol 197:1–9

Oshiro TM, Macedo MS, Macedo-Soares MF (2005) Anti-inflammatory activity of PAS-1, a protein component of Ascaris suum. Inflamm Res 54:17–21

Oshiro TM, Enobe CS, Araújo CA, Macedo MS, Macedo-Soares MF (2006) PAS-1, a protein affinity purified from Ascaris suum worms, maintains the ability to modulate the immune response to a bystander antigen. Immunol Cell Biol 84:138–144

Prieto G, McCall JW, Venco L, Genchi M, Simon F, Genchi C (2001) IgG response against infective larvae of Dirofilaria immitis in experimentally infected cats. Vet Res 32:93–96

Raadsma HW, Kingsford NM, Suharyanta STW, Piedrafita D (2007) Host responses during experimental infection with Fasciola gigantica or Fasciola hepatica in Merino sheep I. Comparative immunological and plasma biochemical changes during early infection. Vet Parasitol 143:275–286

Rainbird MA, Macmillan D, Meeusen EN (1998) Eosinophil-mediated killing of Haemonchus contortus larvae: effect of eosinophil activation and role of antibody, complement and interleukin-5. Parasite Immunol 20:93–103

Roepstorff A, Eriksen L, Slotved HC, Nansen P (1997) Experimental Ascaris suum infection in the pig: worm population kinetics following single inoculations with three doses of infective eggs. Parasitology 115:443–452

Sayers G, Good B, Hanrahan JP, O'Donovan J, Mulcahy G, Sweeney T (2008) Breed differences in mucosal and systemic antibody response to nematode infection in sheep: an important role for IgE? Parasitology 135:71–80

Schnieder T, Daugschies A (1993) Dose-dependent pathophysiological changes in cattle experimentally infected Dictyocaulus viviparus. Zentralbl Veterinarmed B 40:170–180

Serradell MC, Guasconi L, Cervi L, Chiapello LS, Masih DT (2007) Excretory–secretory products from Fasciola hepatica induce eosinophil apoptosis by a caspase-dependent mechanism. Vet Immunol Immunopathol 117:197–208

Serradell MC, Guasconi L, Masih DT (2009) Involvement of a mitochondrial pathway and key role of hydrogen peroxide during eosinophil apoptosis induced by excretory–secretory products from Fasciola hepatica. Mol Biochem Parasitol 163:95–106

Shakya KP, Miller JE, Horohov DW (2009) A Th2 type of immune response is associated with increased resistance to Haemonchus contortus in naturally infected Gulf Coast Native lambs. Vet Parasitol 163:57–66

Shaw R, Pfeffer A, Bischof R (2009) Ovine IgE and its role in immunological protection and disease. Vet Immunol Immunopathol 132:31–40

Shoda LK, Rice-Ficht AC, Zhu D, McKown RD, Brown WC (1999) Bovine T cell responses to recombinant thioredoxin of Fasciola hepatica. Vet Parasitol 82:35–47

Simón F, Kramer LH, Román A, Blasini W, Morchón R, Marcos-Atxutegi C, Grandi G, Genchi C (2007) Immunopathology of Dirofilaria immitis infection. Vet Res Comm 31:161–171

Sironi M, Bandi C, Sacchi L, Di Sacco B, Damiani G, Genchi C (1995) A close relative of the arthropod endosymbiont Wolbachia in a filarial worm. Mol Biochem Parasitol 74:223–227

Smith WD, Zarlenga DS (2006) Developments and hurdles in generating vaccines for controlling helminth parasites of grazing ruminants. Vet Parasitol 139:347–359

Steenhard NR, Kringel H, Roepstorff A, Thamsborg SM, Jungersen G (2007) Parasite-specific IL-4 responses in Ascaris suum and Trichuris suis-infected pigs evaluated by ELISPOT. Parasite Immunol 29:535–538

Sutherland IA, Leathwick DM (2011) Anthelmintic resistance in nematode parasites of cattle: a global issue? Trends Parasitol 27:176–181

Taylor MJ, Cross HF, Bilo K (2000) Inflammatory responses induced by the filarial nematode Brugia malayi are mediated by lipopolysaccharide-like activity from endosymbiotic Wolbachia bacteria. J Exp Med 191:1429–1436

Taylor MJ, Cross HF, Ford L, Makunde WH, Prasad GBKS, Bilo K (2001) Wolbachia bacteria in filarial immunity and disease. Parasite Immunol 23:401–409

Terrazas LI, Bojalil R, Govezensky T, Larralde C (1998) Shift from an early restrictive Th1-type immune response to a late permissive Th2-type response in murine cysticercosis (Taenia crassiceps). J Parasitol 84:74–81

Tezuka H, Imai S, Muto R, Furuhashi Y, Fujita K (2002) Recombinant Dirofilaria immitis polyprotein that stimulates murine B cells to produce nonspecific polyclonal immunoglobulin E antibody. Infect Immun 70:1235–1244

Turner EL, Berberian DA, Dennis EW (1933) Successful artificial immunization of dogs against Taenia Echinococcus. Proc Soc Exp Biol Med 30:618–619

Urban JF, Kotona IM, Paul WE, Finkelman FD (1991) Interleukin 4 is important in protective immunity to gastrointestinal nematode infection in mice. Proc Natl Acad Sci USA 88:5513–5517

Uston PI, Urban JF, Ashraf M, Lee CM, Ampy FR (2007) L3L4ES antigen and secretagogues induce histamine release from porcine peripheral blood basophils after Ascaris suum infection. Parasitol Res 100:603–611

Van Milligen FJ, Cornelissen B, Bokhout BA (1999) Protection against Fasciola hepatica in the intestine is highly correlated with eosinophil and immunoglobulin G1 responses against newly excysted juveniles. Parasite Immunol 21:243–251

van Riet E, Everts B, Retra K, Phylipsen M, van Hellemond JJ, Tielens AG, van der Kleij D, Hartgers FC, Yazdanbakhsh M (2009) Combined TLR2 and TLR4 ligation in the context of bacterial or helminth extracts in human monocyte derived dendritic cells: molecular correlates for Th1/Th2 polarization. BMC Immunol 10:9

Verastegui M, Gilman RH, Gonzales A, Garcia HH, Gavidia C, Falcon N, Bernal T, Arana Y, Tsang VC (2002) Cysticercosis working group in Peru. Taenia solium oncosphere antigens induce immunity in pigs against experimental cysticercosis. Vet Parasitol 30:49–62

Vercruysse J, Knox DP, Schetters TP, Willadsen P (2004) Veterinary parasitic vaccines: pitfalls and future directions. Trends Parasitol 20:488–492

Walsh KP, Brady MT, Finlay CM, Boon L, Mills KH (2009) Infection with a helminth parasite attenuates autoimmunity through TGF-β-mediated suppression of Th17 and Th1 responses. J Immunol 183:1577–1586

Yoshida M, Nakagaki K, Nogami S, Harasawa R, Maeda R, Katae H, Hayashi Y (1997) Immunologic protection against canine heartworm infection. J Vet Med Sci 12:1115–1121

Zhang W, Moreau E, Peigné F, Huang W, Chauvin A (2005) Comparison of modulation of sheep, mouse and buffalo lymphocyte responses by Fasciola hepatica and Fasciola gigantica excretory–secretory products. Parasitol Res 95:333–338

Zhang W, Zhang Z, Shi B, Li J, You H, Tulson G, Dang X, Song Y, Yimiti T, Wang J, Jones MK, McManus DP (2006) Vaccination of dogs against Echinococcus granulosus, the cause of cystic hydatid disease in humans. J Infect Dis 194:966–974
About this article
Cite this article
Foster, N., Elsheikha, H.M. The immune response to parasitic helminths of veterinary importance and its potential manipulation for future vaccine control strategies. Parasitol Res 110, 1587–1599 (2012). https://doi.org/10.1007/s00436-012-2832-y
Received:

Accepted:

Published:

Issue Date:
Keywords
Echinococcus

Mucosal Mast Cell

Adult Tapeworm

Wolbachia Surface Protein

Secondary Challenge