Abstract
The Qinghai–Tibetan Plateau (QTP, in western China), which is the largest and highest plateau on Earth, is a highly epidemic region for Echinococcus spp. We collected 70 Echinococcus samples from humans, dogs, sheep, yaks, plateau pikas, and voles in eastern and southern Qinghai and genotyped them using the mitochondrial DNA marker cytochrome oxidase subunit I gene and maximum parsimony and Bayesian reconstruction methods. Based on the 792-bp sequence matrix, we recorded 124 variable sites, of which, 115 were parsimony-informative. Thirty-four haplotypes (H1–H34) were detected, of which H1–H15, H16–H17, and H18–H34 belonged to Echinococcus shiquicus, Echinococcus multilocularis, and Echinococcus granulosus, respectively. Within 26 human isolates, three were identified as E. multilocularis and 23 were E. granulosus. We also detected a dual infection case in a dog with E. multilocularis and E. granulosus. The intraspecific haplotype (Hd ± SD) and nucleotide (Nd ± SD) diversity of E. shiquicus (0.947 ± 0.021; 0.00441 ± 0.00062) was higher than that for E. granulosus (0.896 ± 0.038; 0.00221 ± 0.00031) and E. multilocularis (0.286 ± 0.196; 0.00036 ± 0.00025). Moreover, the haplotype network of E. shiquicus showed a radial feature rather than a divergent feature in a previous study, indicating this species in the QTP has also evolved with bottleneck effects.
This is a preview of subscription content, log in to check access.
Access options
Buy single article
Instant access to the full article PDF.
US$ 39.95
Price includes VAT for USA
Subscribe to journal
Immediate online access to all issues from 2019. Subscription will auto renew annually.
US$ 199
This is the net price. Taxes to be calculated in checkout.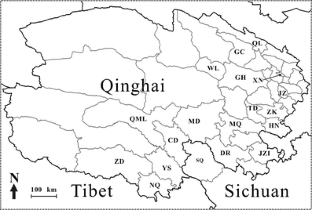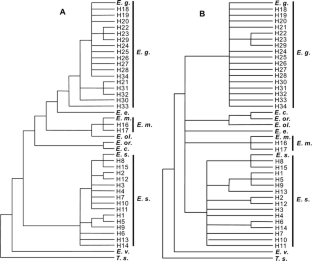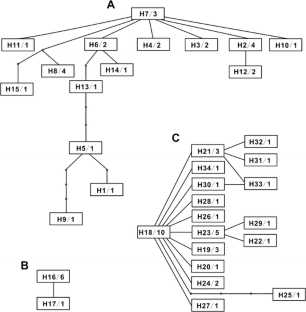 References
Badaraco JL, Ayala FJ, Bart JM, Gottstein B, Haag KL (2008) Using mitochondrial and nuclear markers to evaluate the degree of genetic cohesion among Echinococcus populations. Exp Parasitol 119:453–459

Bart JM, Bart JM, Abdukader M, Zhang YL, Lin RY, Wang YH, Nakao M, Ito A, Craig PS, Piarroux R, Vuitton DA, Wen H (2006) Genotyping of human cystic echinococcosis in Xinjiang, PR China. Parasitology 133:571–579

Clement M, Posada D, Crandall KA (2000) TCS: a computer program to estimate gene genealogies. Mol Ecol 9:1657–1659

Craig PS (2006) Epidemiology of human alveolar echinococcosis in China. Parasitol Int 55:S221–S225

Craig P, Budke CM, Schantz PM, Li T, Qiu J, Yang Y, Zeyhle E, Rogan MT, Ito A (2007) Human echinococcosis: a neglected disease? Trop Med Health 35:283–292

Eckert J, Gemmel MA, Meslin F-X, Pawlowski ZS (eds) (2001) WHO/OIE manual on echinococcosiss in humans and animals: a public health problem of global concern. Genevan, Paris

Gan W, Zhao G, Xu H, Wu W, Du W, Huang J, Yu X, Hu X (2010) Reverse vaccinology approach identify an Echinococcus granulosus tegumental membrane protein enolase as vaccine candidate. Parasitol Res 106:873–882

Huelsenbeck JP, Ronquist F (2001) MRBAYES: Bayesian inference of phylogeny. Bioinformatics 17:754–755

Hüttner M, Nakao M, Wassermann T, Siefert L, Boomker JD, Dinkel A, Sako Y, Mackenstedt U, Romig T, Ito A (2008) Genetic characterization and phylogenetic position of Echinococcus felidis Ortlepp, 1937 (Cestoda: Taeniidae) from the African lion. Int J Parasitol 38:861–868

Li T, Ito A, Nakaya K, Qiu J, Nakao M, Zhen R, Xiao N, Chen X, Giraudoux P, Craig PS (2008) Species identification of human echinococcosis using histopathology and genotyping in northwestern China. Trans Roy Soc Trop Med Hyg 102:585–590

Librado P, Rozas J (2009) DnaSP v5: a software for comprehensive analysis of DNA polymorphism data. Bioinformatics 25(11):1451–1452

Liu J, Yang TN (1994) Case report: double types hydatid in one human. Agr Reclam Med 16:135–136

Ma SM, Maillard S, Zhao HL, Huang X, Wang H, Geng PL, Bart JM, Piarroux R (2008) Assessment of Echinococcus granulosus polymorphism in Qinghai Province, People's Republic of China. Parasitol Res 102:1201–1206

Maggiore MA, Albanese AA, Gende LB, Eguaras MJ, Denegri GM, Elissondo MC (2011) Anthelmintic effect of Mentha spp. essential oils on Echinococcus granulosus protoscoleces and metacestodes. Parasitol Res. doi:10.1007/s00436-011-2595-x

Moro P, Schantz PM (2009) Echinococcosis: a review. Int J Infect Dis 13:125–133

Nakao M, Sako Y, Yokoyama N, Fukunaga M, Ito A (2000) Mitochondrial genetic code in cestodes. Mol Biochem Parasitol 111:415–424

Nakao M, Sako Y, Ito A (2003) Isolation of polymorphic microsatellite loci from the tapeworm Echinococcus multilocularis. Infect Genet Evol 3:159–163

Nakao M, McManus DP, Schantz PM, Craig PS, Ito A (2007) A molecular phylogeny of the genus Echinococcus inferred from complete mitochondrial genomes. Parasitology 134:713–722

Nakao M, Li T, Han X, Ma X, Xiao N, Qiu J, Wang H, Yanagida T, Mamuti W, Wen H, Moro PL, Giraudoux P, Craig PS, Ito A (2010) Genetic polymorphisms of Echinococcus tapeworms in China as determined by mitochondrial and nuclear DNA sequences. Int J Parasitol 40(3):379–385

Posada D, Crandall KA (1998) Modeltest: testing the model of DNA substitution. Bioinformatics 14(9):817–818

Pour AA, Hosseini SH, Shayan P (2011) Comparative genotyping of Echinococcus granulosus infecting buffalo in Iran using cox1 gene. Parasitol Res 108:1229–1234

Qiu JM, Liu FJ, Wang H, Ito A, Schantz PM (1999) A survey of hydatid disease (echinococcosis) in Tibetan population in China: correlation of ultrasound and radiologic imaging and serologic results. Arch Int Hidatidosis 33:211–213

Sharbatkhori M, Harandi MF, Mirhendi H, Hajialilo E, Kia EB (2011) Sequence analysis of cox1 and nad1 genes in Echinococcus granulosus G3 genotype in camels (Camelus dromedarius) from central Iran. Parasitol Res 108:521–527

Sikó SB, Deplazes P, Ceica C, Tivadar CS, Bogolin I, Popescu S, Cozma V (2011) Echinococcus multilocularis in south-eastern Europe (Romania). Parasitol Res 108:1093–1097

Smith AT, Foggin JM (1999) The plateau pika (Ochotona curzoniae) is a keystone species for biodiversity on the Tibetan plateau. Anim Conserv 2:235–240

Swofford DL (2002) PAUP*: phylogenetic analyses using parsimony (*and other methods). Version 4. Sinauer, Sunderland

Thompson JD, Gibson TJ, Plewniak F, Jeanmougin F, Higgins DG (1997) The CLUSTAL_X windows interface: flexible strategies for multiple sequence alignment aided by quality analysis tools. Nucl Acid Res 25:4876–4882

Wen H, Zhang YL, Bart JM, Giraudoux P, Vuitton DA, Ma XD, Zou LY, Miao YQ, Craig PS (2006) Mixed infection of Echinococcus granulosus and Echinococcus multilocularis in dog. Chin J Parasitol Parasitic Dis 24(1):10–13

Wu T (2001) The Qinghai-Tibetan plateau: how high do Tibetans live? High Alt Med Biol 2:489–499

Xiao N, Qiu J, Nakao M, Li T, Yang W, Chen X, Schantz PM, Craig PS, Ito A (2005) Echinococcus shiquicus n. sp., a taeniid cestode from Tibetan fox and plateau pika in China. Int J Parasitol 35:693–701

Xiao N, Nakao M, Qiu J, Budke CM, Giraudoux P, Craig PS, Ito A (2006a) Short report: dual infection of animal hosts with different Echinococcus species in the eastern Qinghai-Tibet Plateau Region of China. Amer J Trop Med Hyg 75(2):292–294

Xiao N, Qiu J, Nakao M, Li T, Yang W, Chen X, Schantz PM, Craig PS, Ito A (2006b) Echinococcus shiquicus, a new species from the Qinghai-Tibet Plateau Region of China: discovery and epidemiological implications. Parasitol Int 55:S233–S236

Yang YR, Rosenzvit MC, Zhang LH, Zhang JZ, McManus DP (2005) Molecular study of Echinococcus in west-central China. Parasitology 131:547–555

Zeng C (2006) Epidemic situation of echinococcosis in southern plateau regions of Qinghai Province. Chin J Endemiol 25(5):583–584
Acknowledgments
This study was supported by the Science and Technology Plan of Qinghai Province (2010-Z-742), the General Programs of the National Natural Science Foundation of China (no. 31101628), the West Light Foundation of The Chinese Academy of Sciences to G. Lin (2011–2013), and the Asia/Africa Scientific Platform Fund from the Japan Society for the Promotion of Science to A. Ito (2006–2011).
Additional information
Junying Ma, Hu Wang, Philip S. Craig, and Akira Ito contributed equally to this article.
About this article
Cite this article
Ma, J., Wang, H., Lin, G. et al. Molecular identification of Echinococcus species from eastern and southern Qinghai, China, based on the mitochondrial cox1 gene. Parasitol Res 111, 179–184 (2012). https://doi.org/10.1007/s00436-012-2815-z
Received:

Accepted:

Published:

Issue Date:
Keywords
Echinococcosis

Echinococcus

Cystic Echinococcosis

Echinococcus Granulosus

Cystic Echinococcosis