Abstract
The responses of the Nigerian West African Dwarf sheep to experimental infections with two of its most important gastrointestinal (GI) nematodes, namely, Haemonchus contortus and Trichostrongylus colubriformis were studied by means of two measures of parasitological response, namely, faecal egg count (FEC) and worm burden (Wb), and three measures of host pathology, namely, packed cell volume (PCV), body weight (Bwt) and body condition score (BCS). Following exposure to weekly escalating infections (60% H. contortus and 40% T. colubriformis) starting with single doses of 500 infective larvae (L3) at week 1, 1,000 L3 at week 2, 2,000 L3 at week 3 and 4,000 L3 at week 4, two distinctive worm burden response phenotypes were readily recognisable, namely, low Wb (LWb) and high Wb (HWb) phenotypes. The percentage of inoculums (adults and immature stages) recovered at necropsy were 3.75% and 33.08% respectively for H. contortus and T. colubriformis. The results showed that the FECs of the lambs belonging to the LWb phenotype were significantly lower than the FECs of their HWb counterpart. Among the measures of host pathology tested, the LWb phenotype sheep had similar Bwt, PCV and BCS to the uninfected control sheep, whereas the HWb phenotype sheep had significantly lower values than their LWb counterparts and the control sheep towards the end of the experiment. There was a highly significant positive correlation between worm burden transformed as log10 (Wb + 10) and the average of D56 and D59 FECs. A highly significant negative correlation also was obtained between log10 (Wb + 10) and the PCV, Bwt and BCS. The low percentage of H. contortus inoculums recovered at necropsy suggested that the sheep may be resistant to their most important GI nematode, H. contortus but less so to T. colubriformis.
This is a preview of subscription content, log in to check access.
Access options
Buy single article
Instant access to the full article PDF.
US$ 39.95
Price includes VAT for USA
Subscribe to journal
Immediate online access to all issues from 2019. Subscription will auto renew annually.
US$ 199
This is the net price. Taxes to be calculated in checkout.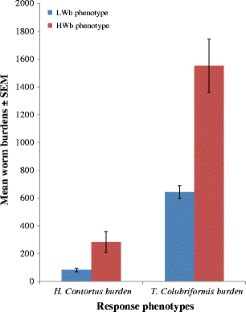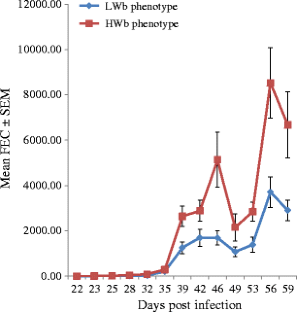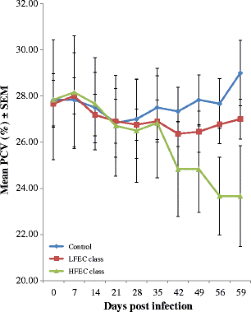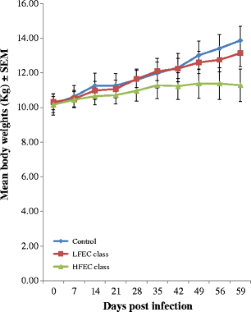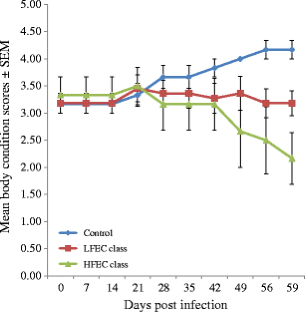 References
Barger IA (1996) Prospects for integration of novelparasite control options into grazing systems. Int J Parasitol 26:1001–1007

Barger IA (1999) The role of epidemiological knowledge and grazing management for helminth control in small ruminants. Int J Parasitol 29:41–47

Behnke JM, Chiejina SN, Musongong GA, Fakae BB, Ezeokonkwo RC, Nnadi PA, Ngongeh LA, Ebene JE, Wakelin D (2006) Naturally occurring variability in some phenotypic markers and correlates of haemonchotolerance in West African dwarf goats in a sub-humid zone of Nigeria. Vet Parasitol 141:107–121

Behnke JM, Chiejina SN, Musongong GA, Nnadi PA, Ngongeh LA, Abonyi A, Fakae BB (2011) Resistance and resilience of traditionally managed West African Dwarf goats from the savanna zone of northern Nigeria to naturally acquired trypanosome and gastrointestinal nematode infections. J Helminthol 85(1):80–91

Bisset SA, Morris CA (1996) Feasibility and implications of breeding sheep for resilience to nematode challenge. Int J Parasitol 26:857–868

Bisset SA, Vlassoff A, Douch PG, Jones WE, West CJ, Green RS (1996) Nematode burdens and immunological responses following natural challenge in Romney lambs selectively bred for low and faecal worm egg counts. Vet Parasitol 61:249–263

Chiejina SN (1986) The epizootiology and control of parasitic gastroenteritis of domesticated ruminants in Nigeria. Helminthol Abstract 55:413–429

Chiejina SN (1987a) Parasitic gastroenteritis in cattle and small ruminants: pathogenesis, diagnosis and treatment. Zariya Vet 2(2):45–64

Chiejina SN (1987b) Some parasitic diseases of intensively managed West African Dwarf sheep and goats in Nsukka, eastern Nigeria. British Vet J 143:264–272

Chiejina SN, Sewell MM (1974) Experimental infections with Trichostrongylus colubriformis in lambs: worm burden, growth rate and host resistance resulting from prolonged escalating infections. Parasitol 69:301–314

Chiejina SN, Fakae BB, Behnke JM, Nnadi PA, Musongong GA, Wakelin D (2002) Expression of acquired immunity to a local isolate of Haemonchus contortus by the Nigerian West African Dwarf goat. Vet Parasitol 104:229–242

Chiejina SN, Musongong GA, Fakae BB, Behnke JM, Ngongeh LA, Wakelin D (2005) The modulatory influence of Trypanosoma brucei on challenge infection with Haemonchus contortus in Nigerian West African Dwarf goats segregated into weak and strong responders to nematodes. Vet Parasitol 128:29–40

Chiejina SN, Behnke JM, Musongong GA, Nnadi PA, Ngongeh LA (2009) The responses of Nigerian West African Dwarf goat to experimental infections with Trypanosoma brucei and Haemonchus contortus. Small Rum Res 85:91–98

Chiejina SN, Behnke JM, Nnadi PA, Ngongeh LA, Musongong GA (2010) Resistance and resilience of West African Dwarf goats of the Nigerian savanna zone exposed to experimental escalating primary and challenge infections with Haemonchus contortus. Vet Parasitol 171(1–2):81–90

Chiezey NP, Oyedipe EO (2009) Variability in the response of Yankasa sheep to graded experimental infections of Haemonchus contortus. Res J Parasitol 4(2):45–55

Dacie JV, Lewis SM (1975) Practical haematology, 8th edn. Churchill Livingstone, London, p 609

Davies G, Stear MJ, Benothman M, Abuagob O, Kerr A, Mitchell S, Bishop SC (2006) Quantitative trait loci associated with parasitic infection in Scottish blackface sheep. Heredity 96:252–258

Eysker M, Ogunsusi RA (1980) Observation of epidemiological and clinical aspects of gastrointestinal helminthiasis in sheep in Northern Nigeria during the rainy season. Res Vet Sci 28:58–62

Fakae BB, Chiejina SN, Behnke JM, Ezeokonkwo RC, Nnadi PA, Onyenwe WI, Gilbert FS, Wakelin D (1999) The response of Nigerian West African Dwarf goats to experimental infections with Haemonchus contortus. Res Vet Sci 66:147–158

Fakae BB, Musongong GA, Chiejina SN, Behnke JM, Ngongeh LA, Wakelin D (2004) Variability in the resistance of the Nigerian West African Dwarf goats to abbreviated escalating trickle and challenge infections with Haemonchus contortus. Vet Parasitol 122:51–65

Gatenby RM (1986) Sheep production in the tropics and subtropics. Longman Group Ltd, Essex, Trop Agric Series

Geary TM, Thompson DP, Klein R (1999) Mechanism-based screening: discovery of the next generation of anthelmintics depends upon more basic research. Int J Parasitol 29:105–112

Gray GD (1991) In: Owen JB, Axford RF (eds) Breeding for resistance to trichostrongyle nematodes in sheep. CAB International, Wallingford, pp 139–161

Hansen J, Perry B (1994) The epidemiology, diagnosis and control of helminth parasites of ruminants. ILRAD, Nairobi, Kenya. Xt. 171 pp

Hooda V, Yadav CL, Chaudhri SS, Rajpurohit BS (1999) Variation in resistance to haemonchosis: selection of female sheep resistant to Haemonchus contortus. J Helminthol 73:137–142

MAFF (1977) Manual of veterinary laboratory diagnostic techniques. Bulletin number 18. Ministry of Agriculture Fisheries and Food. HMSO, London, pp 5–50

Mandonnet N, Aumont G, Fleury J, Gruner L, Bouix J, Khang JV (1996) Genetic variability in resistance in Creole goats to natural infection to trychostrongylids in Guadeloupe. Ann New York Acad Sci 791:421–431

Musongong GA, Fakae BB, Chiejina SN, Nnadi PA (2003) A method for the isolation of a field strain of Haemonchus contortus and its maintenance in the West African Dwarf goat. J Sust Agric Env 5:287–292

Over HJ, Jansen J, Von Olm PW (1992) Distribution and impact of helminth diseases of livestock in developing countries. Food and Agricultural Organization of the United Nations animal production and health paper no. 96. FAO, Rome

Patterson DM, Jackson F, Huntley JF, Stevenson LM, Jones DG, Jackson E, Russell AJ (1996) Studies on caprine responsiveness to nematodiasis: segregation of male goats in 'responders' and 'non-responders'. Int J Parasitol 26:187–194

Pralomkarn W, Pandey VS, Ngampongsai W, Choldumrongkul S, Saithanoo S, Rattaanachon L, Verhulst A (1997) Genetic resistance of three genotypes of goats to experimental infection to Haemonchus contortus. Vet Parasitol 68:79–90

Russel A (1991) Body condition scoring of sheep. In: Boden E (ed) Sheep and goat practice. Bailliere Tindall, Philadelphia, p 3

Smith WD (1999) Prospects for vaccines of helminth parasites of grazing ruminants. Int J Parasitol 29:17–34

Vagenas D, Jackson F, Russell AJ, Merchant M, Wright IA, Bishop SC (2002) Genetic control of resistance to gastro-intestinal parasites in crossbred cashmere-producing goats: responses to selection, genetic parameters and relationships with production traits. Anim Sci 74:199–208

van Wyk JA (2001) Refugia—overlooked as perhaps the most potent factor concerning the development of anthelmintic resistance. Ondersteport J Vet Res 68(1):55–67

Waller PJ (1997a) Anthelmintic resistance. Vet Parasitol 72:391–412

Waller PJ (1997b) Sustainable helminth control of ruminants in developing countries. Vet Parasitol 71:195–207
About this article
Cite this article
Idika, I.K., Chiejina, S.N., Mhomga, L.I. et al. Responses of the humid zone ecotype of the Nigerian West African Dwarf sheep to mixed infections with Haemonchus contortus and Trichostrongylus colubriformis . Parasitol Res 110, 2521–2527 (2012). https://doi.org/10.1007/s00436-011-2794-5
Received:

Accepted:

Published:

Issue Date:
Keywords
Packed Cell Volume

Body Condition Score

Worm Burden

Anthelmintic Resistance

West African Dwarf