Abstract
Despite the availability of different therapeutic options, canine visceral leishmaniosis (CVL) remains a challenging disease to treat. Recently miltefosine has been registered for use in dogs, and different studies have demonstrated its leishmanicidal effect. Moreover, it has been suggested that fluoroquinolones, compared to standard chemotherapeutic agents, could be an effective and pragmatic alternative to treat CVL. The efficacy of miltefosine and marbofloxacin alone or in combination with allopurinol against clinical strains of Leishmania infantum was assessed in vitro by incubating increasing concentrations of the drugs with a standard parasite inoculum. Miltefosine was significantly more efficacious than marbofloxacin (P < 0.05) against the two strains of L. infantum either alone or in combination with allopurinol. Both drugs were significantly (P < 0.05) more efficacious when associated with allopurinol than alone.
This is a preview of subscription content, log in to check access.
Access options
Buy single article
Instant access to the full article PDF.
US$ 39.95
Price includes VAT for USA
Subscribe to journal
Immediate online access to all issues from 2019. Subscription will auto renew annually.
US$ 199
This is the net price. Taxes to be calculated in checkout.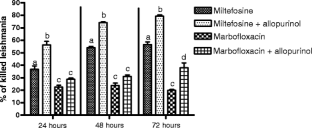 References
Arthur G, Bittman R (1998) The inhibition of cell signalling pathways by anti-tumour ether lipids. Biochim Biophys Acta 1390:85–102

Aste G, Di Tommaso M, Steiner JM (2005) Pancreatitis associated with N-methylglucamine therapy in a dog with leishmaniosis. Vet Res Comm 29(2):269–272

Badolato R, Sacks DL, Savoia D, Musso T (1996) Leishmania major: infection of human monocytes induces expression of IL-8 and MCAF. Exp Parasitol 82:21–26

Baneth G, Shaw SE (2002) Chemotherapy of canine leishmaniosis. Vet Parasitol 106(4):315–324

Barratt G, Saint-Pierre-Chazalet M, Loiseau PM (2009) Cellular transport and lipid interactions of miltefosine. Curr Drug Metab 10:247–255

Berkovic C, Grunwald U, Menzel W, Unger C, Hiddemann W, Fleer EA (1995) Effects of hexadecylphosphocholine on membrane phospholipid metabolism in human tumor cells. Eur J Cancer 31:2080–2085

Bianciardi P, Fasanella A, Foglia Manzillo V, Trotta T, Pagano A, Sorino S, Gradoni L, Oliva G (2004) The efficacy of enrofloxacin, alone or combined with metronidazole, in the therapy of canine leishmaniasis. Parasitol Res 93:486–492. doi:10.1007/s00436-004-1170-0

Bianciardi P, Brovida C, Valente M, Aresu L, Cavicchioli L, Vischer C, Giroud L, Castagnaro M (2009) Administration of miltefosine and meglumine antimoniate in healthy dogs: clinicopathological evaluation of the impact on the kidneys. Toxicol Pathol 37(6):770–775

Cavaliero T, Arnold P, Mathis A, Glaus T (1999) Clinical, serologic, and parasitologic follow-up after long-term allopurinol therapy of dogs naturally infected with Leishmania infantum. J Vet Intern Med 13(4):330–334

Chakraborty AK, Majumder HK (1993) A type 1DNA topoisomerase from the kinetoplast hemoflagellate Leishmania donovani. Biochem Biophys Res Commun 30:257–263

Denerolle P, Bourdoiseau G (1999) Combination allopurinol and anti- 294 mony treatment versus antimony alone and allopurinol alone in 295 the treatment of canine leishmaniasis (96 cases). J Vet Intern Med 296 13(5):413–415

Ferreira JM, Guerra JA, Magalhães BM, Coelho LI, Maciel MG, Barbosa MG (2009) Chronic chagasic cardiopathy in Amazon region: an etiology to remember. Arq Bras Cardiol 93(6):e93–95, e107–109

Gramiccia M, Gradoni L (2005) The current status of zoonotic leishmaniases and approaches to disease control. Int J Parasitol 35(11–12):1169–1180

Ikeda-Garcia FA, Lopes RS, Ciarlini PC et al (2007) Evaluation of renal and hepatic functions in dogs naturally infected by visceral leishmaniosis submitted to treatment with meglumine antimoniate. Res Vet Sci 83:105–108

Luz RI, Vermeersch M, Dujardin JC, Cos P, Maes L (2009) In vitro sensitivity testing of Leishmania clinical field isolates: preconditioning of promastigotes enhances infectivity for macrophage host cells. Antimicrob Agents Chemother 53(12):197–203

Mandal G, Sarkar A, Saha P, Singh N, Sundar S, Chatterjee M (2009) Functionality of drug efflux pumps in antimonial resistant Leishmania donovani field isolates. Indian J Biochem Biophys 46(1):86–92

Manna L, Gravino AL, Picillo E, Decaro N, Buonavoglia C (2008) Leishmania DNA quantification by real-time PCR in naturally infected dogs treated with miltefosine. Ann N Y Acad Sci 1149:358–360

Manna L, Vitale F, Reale S, Picillo E, Neglia G, Vescio F, Gravino AE (2009) Study of efficacy of miltefosine and allopurinol in dogs with leishmaniosis. Vet J 182(3):441–445

Maroli M, Gradoni L, Oliva G, Castagnaro M, Crotti A, Lubas G, Paltrinieri S, Roura X, Zini E, Zatelli A (2010) Guidelines for prevention of leishmaniasis in dogs. J Am Vet Med Assoc 236(11):1200–1206

Mateo M, Maynard L, Vischer C, Bianciardi P, Mirò G (2009) Comparative study on the short term efficacy and adverse effects of miltefosine and meglumine antimoniate in dogs with natural leishmaniosis. Parasitol Res 105:155–162

Miró G, Oliva G, Cruz I, Cañavate C, Mortarino M, Vischer C, Bianciardi P (2009) Multicentric, controlled clinical study to evaluate effectiveness and safety of miltefosine and allopurinol for canine leishmaniosis. Vet Dermatol 20(5–6):397–404

Noli C, Auxilia ST (2005) Treatment of canine Old World visceral leishmaniasis: a systematic review. Vet Dermatol 16(4):213–232

Prescott JF, Baggot DJ, Walker RD (2000) Fluoroquinolones. In: Giguère S et al (eds) Antimicrobial therapy in veterinary medicine, 3rd edn. Iowa State University Press/Ames, Iowa, pp 315–338

Pujals G, Suñé-Negre JM, Pérez P, García E, Portus M, Tico JR, Miñarro M, Carrió J (2008) In vitro evaluation of the effectiveness and cytotoxicity of meglumine antimoniate microspheres produced by spray drying against Leishmania infantum. Parasitol Res 102:1243–1247. doi:10.1007/s00436-008-0901-z

Raether W, Seidenath H, Hofmann J (1989) Potent antibacterial fluoroquinolones with marked activity against Leishmania donovani in vivo. Parasitol Res 75:412–413

Rougier S, Vouldoukis I, Fournel S, Pérès S, Woehrlé F (2008) Efficacy of different treatment regimens of marbofloxacin in canine visceral leishmaniosis: a pilot study. Vet Parasitol 153:244–254

Roura X (2010) Treatment of canine leishmaniosis. Proc of 2nd International Congress on Canine Leishmaniosis, 79–93

Seifert K, Escobar P, Croft SL (2010) In vitro activity of anti-leishmanial drugs against Leishmania donovani is host cell dependent. J Antimicrob Chemother 65(3):508–511

Slunt KM, Grace JM, MacDonald TL, Pearson RD (1996) The effect of mitonafide analogs on topoisomerase II of Leishmania chagasi. Antimicrob Agents Chemother 40:706–709

Torres M, Bardagi M, Roura X, Zanna G, Ravera I, Ferrer L (2011) Long term follow-up of dogs diagnosed with leishmaniosis (clinical stage II) and treated with meglumine antimoniate and allopurinol. Vet J 188(3):346–351. Epub 2010

Unger C, Damenz W, Fleer EA, Kim DJ, Breiser A, Hilgard P, Engel J, Nagel G, Eibl H (1989) Hexadecylphosphocholine, a new ether lipid analogue: studies on the anti-neoplastic activity in vitro and in vivo. Acta Oncol 28:213–217

Vermeersch M, da Luz RI, Toté K, Timmermans JP, Cos P, Maes L (2009) In vitro susceptibilities of Leishmania donovani promastigote and amastigote stages to antileishmanial reference drugs: practical relevance of stage-specific differences. Antimicrob Agents Chemother 53(9):3855–3859

Vouldoukis I, Drapier JC, Nussler AK, Tselentis Y, Da Silva OA, Gentilini M, Mossalayi DM, Monjour L, Dugas B (1996) Canine visceral leishmaniasis: successful chemotherapy induces macrophage antileishmanial activity via the l-arginine nitric oxide pathway. Antimicrob Agents Chemother 40:253–256

Vouldoukis I, Rougier S, Dugas B, Pino P, Mazier D, Woehrlè F (2006) Canine visceral leishmaniasis: comparison of in vitro activity of marbofloxacin, meglumine antimoniate and sodium stibogluconate. Vet Parasitol 135:137–146

Wadhone P, Maiti M, Agarwal R, Kamat V, Martin S, Saha B (2009) Miltefosine promotes IFN-dominated anti-leishmanial immune response. J Immunol 182:7146–7154

Yoon S, Kim H, Lee Y, Kim S (2011) Bacteremia caused by Corynebacterium amycolatum with a novel mutation in gyrA gene that confers high-level quinolone resistance. Korean J Lab Med 31(1):47–48

Zhang R, Shang L, Jin H, Ma C, Wu Y, Liu Q, Xia Z, Wei F, Zhu XQ, Gao H (2010) In vitro and in vivo antileishmanial efficacy of nitazoxanide against Leishmania donovani. Parasitol Res. doi:10.1007/s00436-010-1906-y
About this article
Cite this article
Farca, A.M., Miniscalco, B., Badino, P. et al. Canine leishmaniosis: in vitro efficacy of miltefosine and marbofloxacin alone or in combination with allopurinol against clinical strains of Leishmania infantum . Parasitol Res 110, 2509–2513 (2012). https://doi.org/10.1007/s00436-011-2792-7
Received:

Accepted:

Published:

Issue Date:
Keywords
Allopurinol

Clinical Strain

Miltefosine

Leishmania Infantum

Meglumine Antimoniate